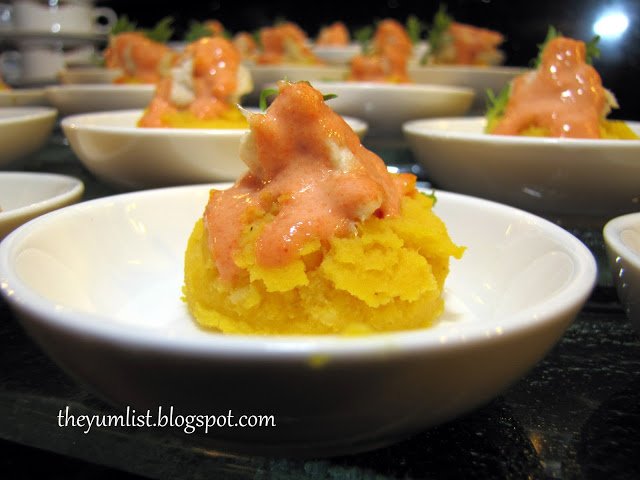 Causa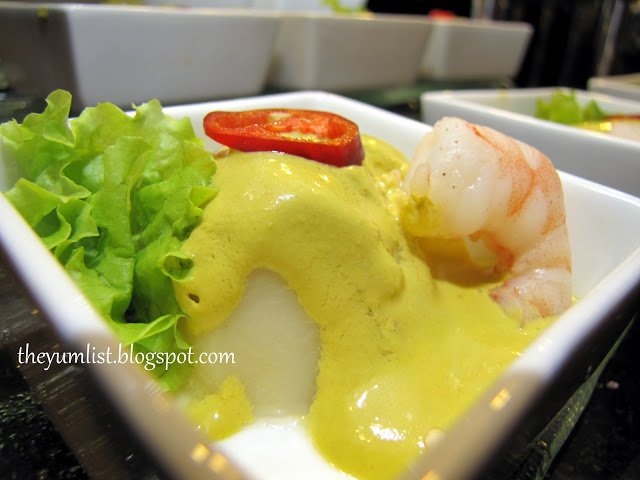 Papas a la Huacaina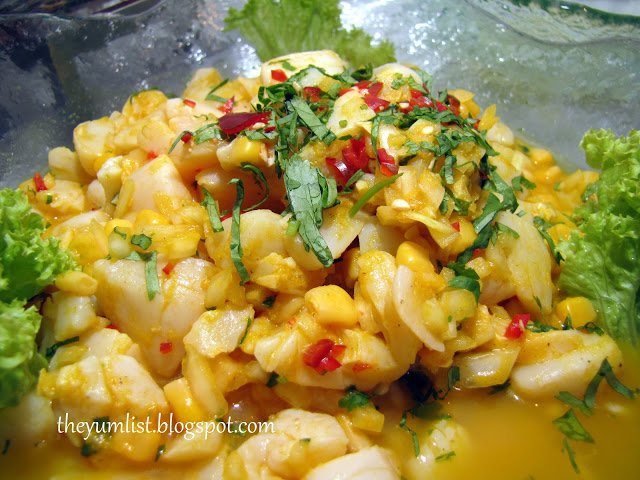 Ceviche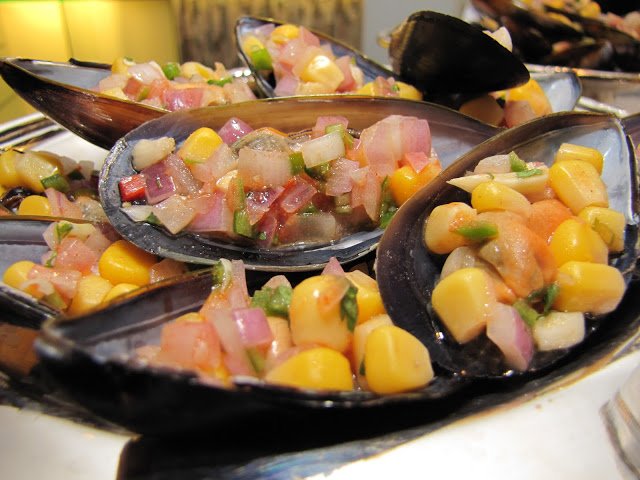 Mussels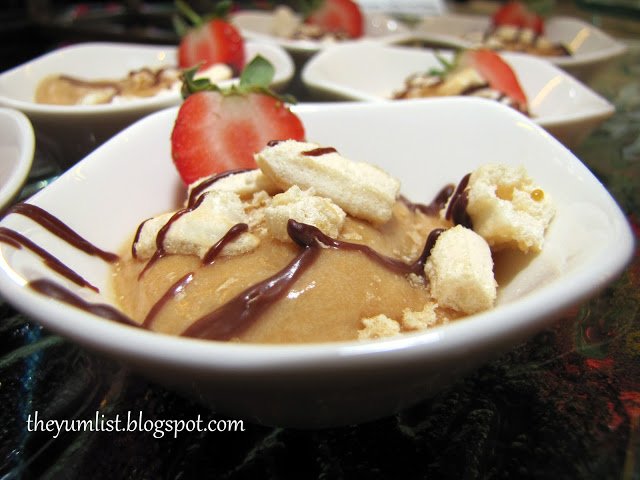 Cherimoya Dessert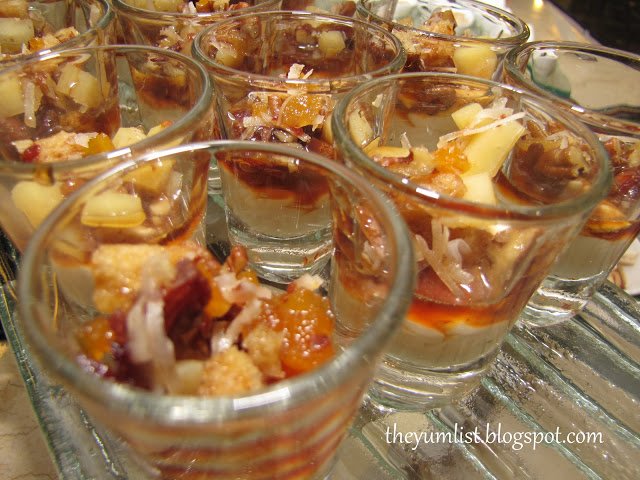 Ran Fanote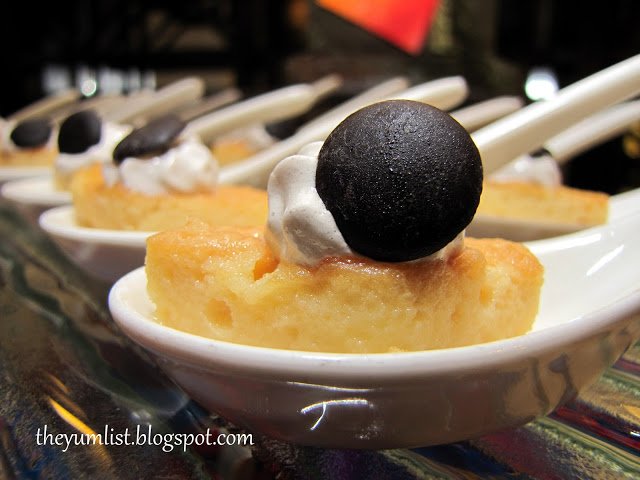 Torta de Tres Leches
Peruvian Buffet at the Ritz Carlton, Kuala Lumpur, Malaysia
Cancel all of your dinner plans for the next five days and make a
reservation for the Peruvian buffet at the Ritz!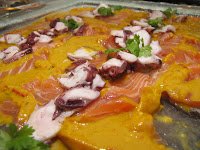 Peruvian gastronomy is known amongst South Americans as
lo mejor
(the best). Of course, each
Latin countryman is proud of their national cuisine, but there seems to be a
general consensus, that when it comes to delectable dishes, the Peruvians are
leading the pack.
Combining a wide mix of cultures and a vast range of terrain
producing incredibly diverse ingredients, the cuisine from this region is nothing
less than a foodie's dream. From the Andes to the Pacific, the extensive
diversity of quality produce has led to a seemingly innumerable collection of
plates that are uniquely Peruvian.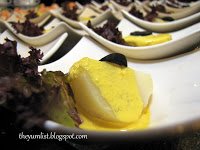 Starter
Three chefs from the J.W. Marriot, Peru and 100s of kilos of
ingredients (mostly potatoes, seafood and spices) have arrived to Malaysian
shores ready to introduce their culinary treasures to KLites. Even after our
second night of dining here, we remained impressed with the most comprehensive
themed buffet I've seen in the city. We were amazed to see the entire spread
(not just a section) filled with exclusively Peruvian food.
A long time fan of food from this region, I have for many
years missed the home made dishes of my darling friend Rosa Maria – the
Peruvian wonder woman who first introduced me to scrumptious Peruvian plates
from her kitchen (and a whole lot of other wisdom that came as a compulsory
side dish with each serve).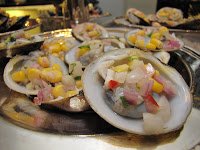 Conchas
Without naming every single item on the buffet, the picks I
believe you must get on your plate are: Causa (yellow mashed potato topped with
crab tuna or chicken salad, lime and chili); Papas a la Huacaina (boiled potatoes
topped with a creamy chili sauce); Ceviche (no less than five varieties of fish
marinated in lime juice producing a magnificently succulent tang of slurpy
addiction); Seafood Soup; Suspiro Limeño (Lima Whisper – traditional pudding
made with condensed and evaporated milks); Ran Fañote (cream cheese, topped
with lime zest, nuts, apricots, grated coconut, toasted bread and drenched in
sticky honey) and; any of the desserts containing cherimoya (a fruit commonly
used in Peruvian food).
It would be hard to imagine a Peruvian feast without the national
cocktail, Pisco Sour. Fortunately there's no need to as the buffet comes with
two per diner.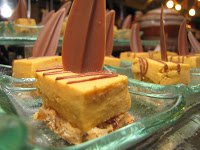 Peruvian Dessert
The spread is only running for six days and the menu will
change nightly so you can come every day and taste something new. The buffet is
open from 7:30pm daily but will only run until Tuesday October 16th,
so be advised to get in early as you will want to return. Priced at RM180++ per
person some of you might gasp at the numbers. The reality though, is that three
chefs and a mountain of ingredients have been transported across oceans from
the other side of the world and, well, it is at the Ritz. Compared to a plane
ticket, it's a good deal.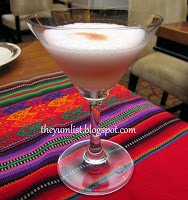 Pisco Sour
Reason to visit: a rare chance to dine on authentic Peruvian
food in KL prepared by three top chefs and ingredients all the way from Peru.
Cesar's
Level One
Ritz Carlton, Kuala Lumpur
168 Jalan Imbi
55100 Kuala Lumpur
Malaysia
+6 03 2142 8000