Jim Thompson Tea Room, Cameron Highlands Resort, Malaysia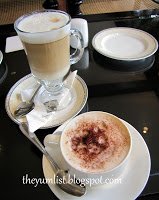 Latte and Cappuccino
The Jim Thompson Tea Room looks over the verdant fairways and giant pines of the Cameron Highlands golf course. Glaucous hill peaks protruding through the mist provide the backdrop, while soft celestial music streaming from surround sound speakers hints at the mystery encircling the heights.
Sharing the kitchen with The Dining Room of Cameron Highlands Resort, the menu contains a selection of the lighter items seen at dinner, with the addition of lunchier options too in the form of pies and burgers.
Taking advantage of the gorgeous produce grown in the region you can't go wrong with orders of salads, vegetables and anything berry. Our Caesar Salad was a simple mix of gloriously crisp romaine lettuce leaves with traditional condiments topped with Cajun spiced chicken. As is often the case in Malaysian restaurants, chefs are not stingy with their dressings, so if you lean towards liking a little less rather than more, do ask for it on the side.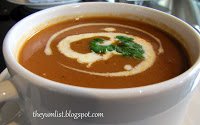 Lobster Bisque RM30
The Home Cured Salmon Gravlax was another example of garden fresh leaves. Sprightly lettuce and frisee sided the pink rectangle of fish and a honey mustard and walnut dressing delivered tangy vigor. For a location in the mountains, the Lobster Bisque topped with Bulla cream was an intense brew of richness, tasting as good as any found on the coast.
Eating our mains and gazing out the window we could have believed we were in the English countryside. With parsley mashed potatoes, peas, Vichy style carrots, mushroom gravy and flaky pastry, the Farmhouse Style Pie filled with chicken, leek and mushrooms looked as good as it tasted.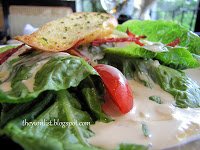 Caesar Salad RM30
The Classic American Wagyu Burger starred 250gms of wagyu beef patty in a double decker stack. Cheesy fries, homemade slaw, pineapple fritters and highland chutney were supporting actors. Of course hubby demolished the mound without leaving a trace and mumbled something about wondering if another order would last until we got back to KL. (My thoughts – definitely not if in the same car as him!)
Jim Thompson Tea Room is also an elegant spot for an afternoon high tea.  A tiered tray displays: savoury sandwiches including tuna, smoked salmon, egg and cress, cream cheese and cucumber; an assortment of delicate cakes and pastries; house baked English scones with home made strawberry jam and Devon clotted cream; and bulging Highland strawberries and chocolate sauce. Choose from seven teas including black and flavoured teas to complement the set. This sweet pick-me-up was seen enjoyed by both hotel and walk-in guests. I hear it's one of the best valued on the hill.
Afternoon High Tea is served daily from 3-6pm. It costs RM35 for one person of RM60 for two. Lunch is chosen from an a la carte menu.
Reason to visit:  Caesar Salad, Classic American Wagyu Burger, Farmhouse Style Pie, Afternoon High Tea, charming colonial setting overlooking pines and golf greens, signature YTL service
Jim Thompson Tea Room
Cameron Highlands Resort
By the Golf Course
39000 Tanah Rata
Cameron Highlands
Pahang, Malaysia
YTL Travel Centre
+6 03 2783 1000
Fax: +603 2148 7397