| | |
| --- | --- |
| Smell – Pan Seared Fragrant Bean Stuffed Giant Fresh Scallops RM68 | |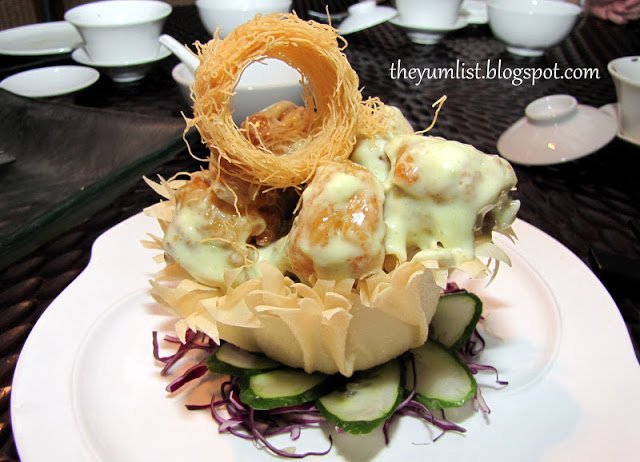 Touch – Signature Thousand Threaded Lion Head Prawn RM68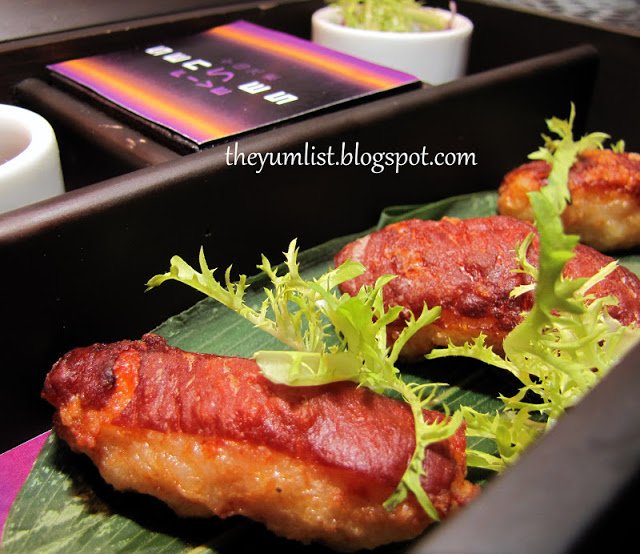 Hearing – House Fried Crispy Pork Intestines Hong Kong Style RM28
House Fried Crispy Pork Intestines Hong Kong Style in a Music Box!
Home Made Silken Tau Fu F Golden Corn Oat Glaze RM12
Five Sens5es, The Westin, Kuala Lumpur, Malaysia
Round tables, natural colours trimmed with multiple shades of grey, dim lighting, oriental music, and an open steaming kitchen make up the contemporary Chinese setting of Five Sen5es at The Westin Kuala Lumpur. Authentic Cantonese cuisine and some sense inspiring creative menus are what
entice repeat visitors.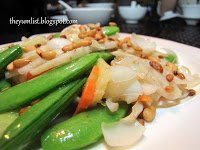 Now serving pork, and aside from a comprehensive a la carte menu, Five Sen5es features a different bill of fare every season specifically designed to stimulate each of our senses.
Our Autumn sensory excursion took us on a voyage of Taste with Secret Double Boiled Tau Fu Fa. Chef's secret clear broth steaming with soft bean curd carved in the shape of a chrysanthemum flower arrived with three types of mushrooms on the side. Morel, shimeji and enoki mushrooms, each added a spoon at a time, provided a central theme escorted by an elevation in intensity with the inclusion of each.
Our sense of Smell was kindled with Pan Seared Fragrant Bean Stuffed Giant Fresh Scallops. A torching of the petai beans on top of the sea creatures caused the pungent aroma of the bean to waft up and tickle our noses. Layered with asparagus and mushrooms this was an unsurpassed plate.
A bountiful basket of Signature Thousand Threaded Lion Head Prawns stimulated the sense of Touch. Taken with special cold metal chopsticks, the hot succulent prawns were a direct contrast to the cool steel, eating utensils. A wasabi mayonnaise contributed further invigoration with its sinus
clearing strength.
We heard the next dish before we saw it. Featuring the sense of Hearing, House Fried Crispy Pork Intestines Hong Kong Style came inside a wind up music box! The impact of teeth biting into the crunchy fried rolls also sent a crackle up to our ears. Chef's secret recipe plum sauce and shredded salad leaves were afterthoughts on the side. Although this dish was the least appealing to my taste buds, it was the most intriguing generating childhood nostalgia of a less hurried life and the wonder that such simple things as a music box could bring.
Dessert, Home Made Silken Tau Fu Fa Golden Corn Oat Glaze, engaged the sense of Sight and was presented in numerous stages. First, a creamy sauce was poured over an oat glaze into a martini glass forming a snow white cone. A colour and shape dimension slid in with a spoon of round yellow corn kernels and black dots of basil seeds. Finally the vase was crossed with a stick threaded
with mint and a blueberry.In reality, all dishes were an awakening of the senses – not just a meal, but a perceptual expedition provoking an expanded awareness causing us to slow down and appreciate the ingenuity of each dish and our sensory reactions to it.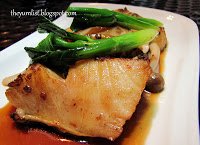 Reason to visit: trendy  Asian ambience with excellent service and sense–ational menu, Secret Double Boiled Tau Fu Fa, Pan Seared Fragrant Bean Stuffed Giant Fresh Scallops, Signature Thousand Threaded Lion Head Prawns
Five Sen5es
The Westin Kuala Lumpur
199 Jalan Bukit Bintang
Malaysia
+6 03 2773 8338
Open daily for lunch from 11:30am to 2:30pm and dinner from
5:30pm to 10:30pm
Starwood Preferred Guests receive a 15% discount when dining
at Five Sen5es.