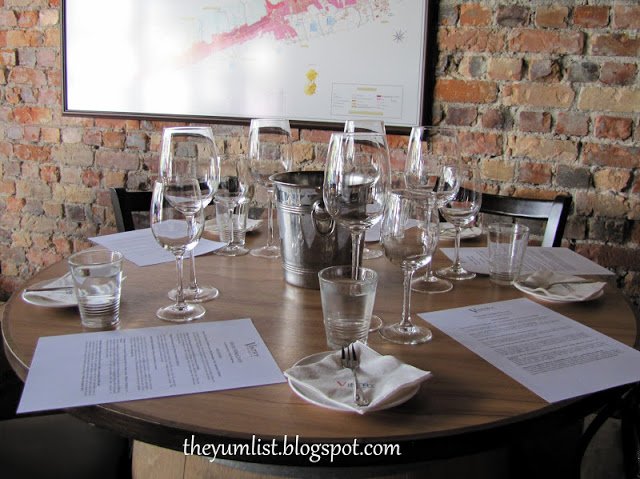 Wine Chat @Vintry Ampang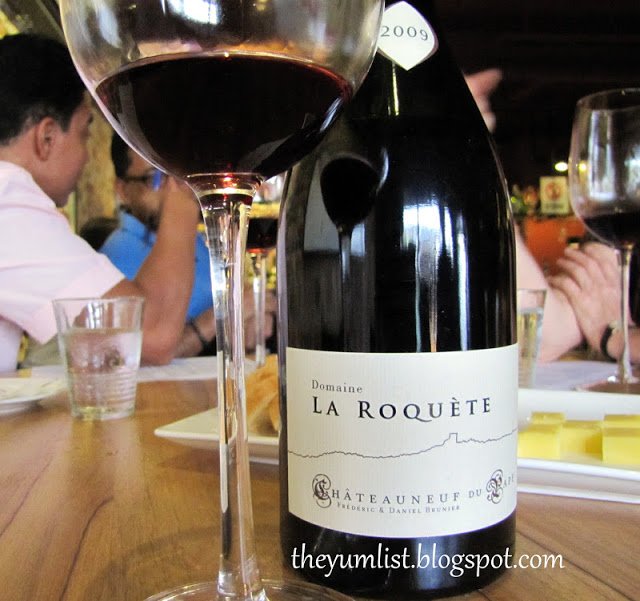 Domaine de la Roquette Chateaueneuf du Paper 2009
Vintry Ampang Wine Chat, Kuala Lumpur, Malaysia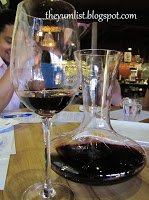 Mystery Wine
Warm and articulate, Yin How Wong is a gracious guide. Owner
of Vintry, he is brimming with knowledge but able to communicate so that even
newbies to the intricacies of wine feel able. He introduced us to our first
Wine Chat at the Ampang outlet, which saw six wines swirled, sniffed, sipped
and studied. All were chosen for the facts that the organizer finds them
interesting and they're not available on regular retail shelves. A seventh wine
was kept secret to the end, but more about that later.
Rows of wine bottles were the backdrop to enormous barrel
based tables set with fine glasses and tasting notes. Vintry has a rustic
appeal and one of the joys of dining/ imbibing there is the wine cellar
ambience.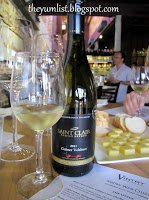 Browsing the list for the Wine Chat, I was pleased to see
some bottles that I'd never tasted, happy to see both new and old world wines
and intrigued to try Greek wine from one of their most famous producers. Here's
what I tasted and learned:
Saint Clair Gruner
Veltliner 2011 (Marlborough, New Zealand) RM98
Described as a drop with lots of personality, this
indigenous Austrian grape grown in New Zealand, was rich, had more body and
handles slightly heavier dishes than the usual NZ white wine varietals.
Nose: nectarines,
peaches, aromatic, New Zealand in character
Palate: crisp and
taut with stone fruit and hints of sweet spice and musk, pineapple, citrus,
guava, lemony, less New Zealand and more 'old world' in palate
Pair with: chicken,
pork, mushroom sauce
Out of the two whites we tried, both girls at our table
LOVED this one naming it a party drink exuding a similar mood as champagne.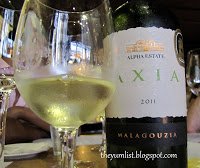 Alpha Estate Malagouzia 2011
Next up was an unusual selection, Alpha Estate Malagouzia 2011 (Amyndeon, Greece) RM85
Not common in Malaysia, it was a fantastic opportunity to
try this Greek wine.
Nose: peach, grass,
nutty
Palate: fleshy,
fresh, stone fruit, notes of honeysuckle, minerals, dry,
Pair with: salad,
grilled seafood such as octopus or calamari
Hauts de Poujeaux
2007 (Moulis, France) RM120
Not your typical rich Beaudeaux cabernet, sauvignon, merlot
blend but lighter, so very palatable and fairly open so you can enjoy it
reasonably young.
Nose: cedar,
currants, cherry
Palate: moderate
soft tannins provide structure
Pair with: grilled
meats such as steak, lamb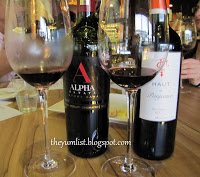 Alpha Estate Red 2008 &
Hauts de Poujeaux 2007
Alpha Estate Red 2008
(Amyndeon, Greece) RM149
This round, a red from Greece, a syrah, merlot, xinomavro
blend sourced from vineyards 620-690 metres above sea level.
Nose: earthy,
leather
Palate: long
finish, dry
Pair with: red
meats
Domaine de la
Roquette Chateaueneuf du Paper 2009 (Rhone, France) RM190
There are 13 permitted grape varieties that can be used to
make this wine. The most common blends use five or six. This one uses four.
Nose: red berry,
dusty floral, mineral
Palate: strawberry,
raspberry, Mediterranean herbs
Pair with: grilled
and herb based dishes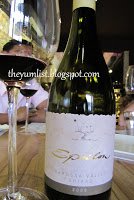 Massena Epsilon Shiraz 2009
Massena Epsilon
Shiraz 2009 (Barossa Valley, Australia) RM108
There's no hiding I have taste buds for Aussie wines, so
it's not a surprise that I found this red from the Barossa Valley the most
likeable.
Nose:
blackberries, black currant, black cherries, Indian spices, red blossoms
Palate: crisp
acid, grainy tannins, long fruity finish, easy drinking, well balanced
Pair with: hearty
grilled steak, osso bucco, braised lamb
Finishing with a game, we were sufficiently lubricated to
forget inhibitions and participate without reservations. Guests were furnished
with a tasting portion of a Mystery Wine and a number of multiple choice
questions were put forward. A winner was identified through a process of
elimination – if you got a round wrong you're out of the game. The last person
left standing (me!) won a bottle of something we had tasted during the Wine
Chat. It was quite an impelling way to put what you had learned into application.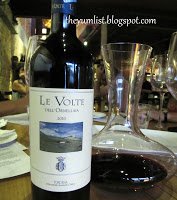 Mystery Wine – Italian Sangiovese
Wine Chats by Vintry cost RM30 per person for a two hour
wine journey. For wines purchased on the
day you receive an additional 20% discount and the RM30 participation fee is
discounted off any purchases you make. Email
[email protected]
to get yourself on the invite list for the next tasting.
Reason to visit: a palatial education for a value price by a
certified wine expert in a very pleasant environment
Vintry Ampang
24 Persiaran Ampang
55000 Kuala Lumpur
Malaysia