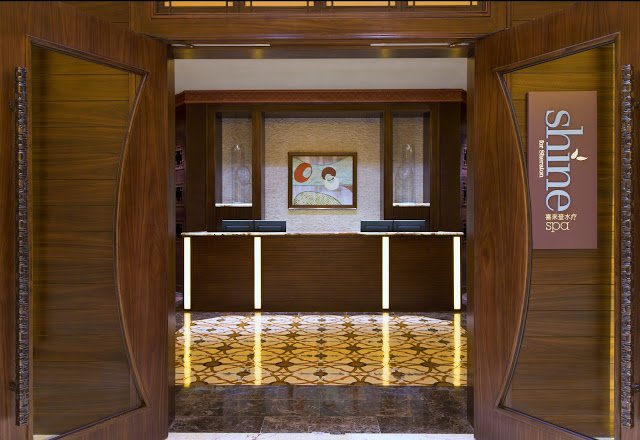 Shine Spa for Sheraton Reception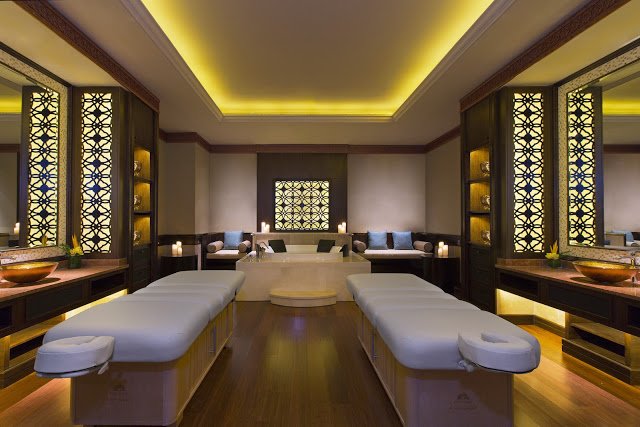 Deluxe Suite Therapy Room
Shine Spa for Sheraton at Sheraton Macau Hotel
by Kristin Cosgrove
Upon making my reservation for reflexology at Sheraton
Macau's Shine Spa I knew I was lucky just to get an appointment. The newly-opened Earth Tower of the hotel
(the Sky Tower opens next year) was fully booked and so was the spa. Luckily I was able to squeeze in a 60 minute
reflexology appointment, albeit with a male therapist. I reluctantly agreed, knowing it was my only
chance to get in. I'm so glad I did!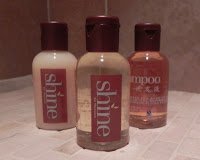 My arrival to the spa was met with gracious front desk staff
and I only had to wait a minute or so for Eduardo, my therapist, to lead to me
to my luxurious therapy suite. The suite had its own private bath, complete with shower, toilet, sink and many hair
products with which to freshen up after a relaxing treatment. The therapy room itself was a bit clinical,
but very pleasant. Eduardo invited me to
sit on the small settee to have some tea while he asked about any problem spots. My feet have taken a beating on my concrete
floors at home, and I told him my troubles.
After a short conversation, I proceeded to the massage
table, which was adjusted to my liking so my upper body could be partly
elevated. When he began, I realized I
never had true reflexology before. Eduardo
clearly knew his craft, and was able educate me on the parts of the body he was
helping through the massage. He
identified tender areas and speculated on causes, and gave me advice on at-home
treatments I could do to help my aching arches.
The treatment itself was top-notch. I was kept warm with a blanket over my robe
and felt very at ease. The music was
soothing and the lavender pillow placed on my eyes smelled heavenly and relaxed
me even more.
A few minutes into the treatment though, the sounds of a
drill and construction from next door began to grow and distracted me
throughout. I mentioned it, and Eduardo
reluctantly suggested trying to find another room, but I was too comfortable
where I was and didn't want to waste any treatment time moving all my things. I mentioned the noise to the spa's front
desk; they were aware of the problem and apologized profusely, saying it would
only persist for another day or two and that their requests to halt the construction had been ignored. I
can only imagine how much nicer my therapy would have been without the noise! Luckily, even the distraction couldn't dampen
the benefits of my reflexology treatment; I left the spa feeling like I was
walking on air, rejuvenated and energized, ready to explore old
town Macau by foot for the rest of the afternoon.
I wasn't fortunate enough to try the Shine Spa signature spa
treatments, which when explained to me sounded really unique
and I thought worth mentioning here. For these treatments, Shine Spa fuses Eastern and Western traditions inspired by
the five elements of Feng Shui: wood, fire, earth, metal and water. To gauge which treatment best suited to the
client, a therapist determines the guest's Chinese zodiac sign, favorite
season, favorite color, favorite flavor and most active time of the day. With
this information, the therapist customizes the guest's treatment for the day, which
could include treatments like a Bamboo Lava Massage (wood), Hydracure Facial
(water), or the Antiaging Remineralizing Facial (metal) among many others. Ultimately though, the choice is up to you. Choose such therapies a la carte or bundle them as your heart desires.
In my tour of the spa I was also very impressed with the
extravagant Deluxe Suite Therapy Rooms, equipped to spoil and pamper you and your
loved one with luxurious therapies.
A group room is also available for larger parties; six multifunctional
beds are equipped for quick transformation into pedicure stations, manicure
chairs, or for massages, allowing each guest to customize while enjoying a
group atmosphere.
Shine Spa for Sheraton is open daily from 10am – 11pm.
Reason to Visit: Unique offerings, customizable experiences and professional, well-trained staff.
Shine Spa for Sheraton
3rd Floor, Sheraton Macau Hotel
Cotai Strip Taipa
Macau, Macau SAR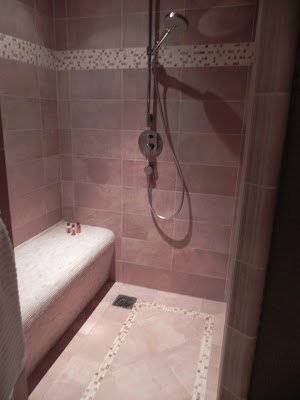 Shower in Therapy Suite Washroom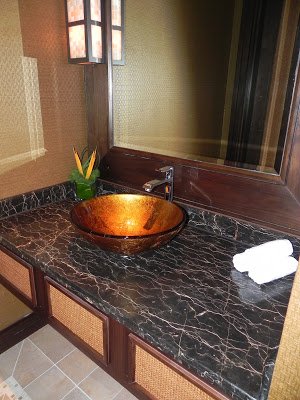 Vanity in Therapy Suite Washroom