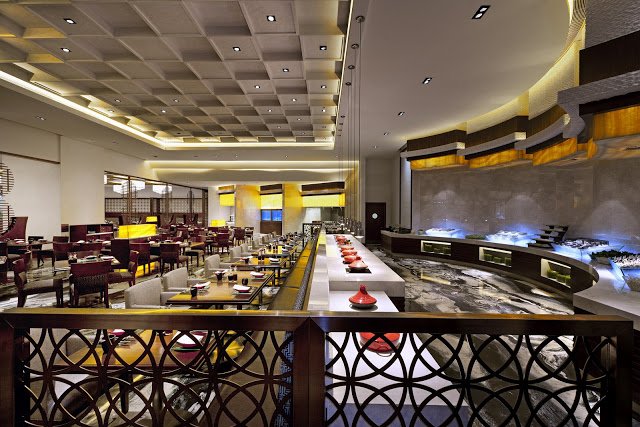 Xin Dining Room and Buffet Area
Xin, Sheraton Macau Hotel, Cotai Central 
by Kristin Cosgrove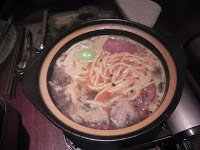 Hot Pot
The first visit I made to Xin, Sheraton Macau's Asian restaurant,
it was a spectacle celebrating the opening of the Sheraton Macau Hotel. An
amazing quartet of women performing on traditional Chinese instruments
serenaded us and a talented performer adept in the art of Chinese
face-changing, or "biàn liǎn," enthralled. The restaurant, housed nearby in the
connected Shoppes at Cotai Central, has been open for a few months and looks to
be enjoying a brisk business.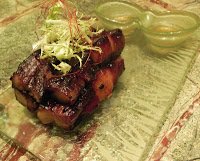 Iberico Pork at Xin
The food at Xin was very tasty. I sampled the "rich" cut iberico pork char sui, which mouth-wateringly good,
tender and juicy with every bite. I also
enjoyed the roast duck and mandarin with betel leaves.  The crunch of the leaves mixed with the
sweet, spicy and moist duck for a rich and textured experience. I have to give special mention of the
beverage, a fantastic blend of mango juice, lychee puree, grapefruit juice and
soda called Oriental Pearl. During my
next visit I was sure to sample more drinks, including the Saipan Island, a
mixture of crushed lychees, strawberry juice, passion fruit syrup, cranberry
and apple juice. Delicious! I added black pearls (tapioca) to my drink –
other options include grass jellies or aloe vera.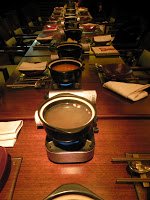 Hot Pot Heaven
My later visit confirmed that dinner at Xin was gratifying
even without the entertainment. My large
party of 12 gathered for the interactive hot pot experience at Xin, its
specialty. The broth was ordered and
poured. I chose the Sichuan broth, though
my Chinese friends warned that my choice would be too spicy for my sensitive
western palette; we were all surprised it was actually only moderately so, but
very delicious. I sampled a friend's
traditional herbal Chinese broth – also very nice.
The buffet for the hot pot ingredients included an impressive
array of very fresh seafood like abalone, clams, oysters, mussels and
more, along with raw and precooked meats. I enjoyed the pre-cooked sausage and the choices of already mixed dishes
including a tasty roasted sweet potato dish, braised beef cheeks and several
chicken and vegetable combinations.
Service at Xin was generally good; our broth was kept topped
up, and requests were immediately attended to. Drinks were a bit slow, and alcohol content was questioned (the mojitos
were very watery), but complaints were rectified quickly with a friendly
attitude.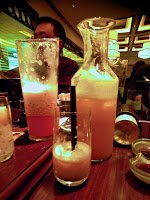 Juice Drinks at Xin
The atmosphere of Xin is muted, blending with the rest of
the Sheraton design aesthetic, which I find rather corporate and businesslike
for a fun night out. I think rather it
was the steam of the hot pots and the liveliness of the company that really
gave Xin its self-described "festive" atmosphere. But the food is good and overall experience
left me wanting to come back for more.
Xin is open from Noon – 10:30pm.
Reason to Visit: Fresh seafood hot pot buffet, central location, yummy signature juice drinks.
Xin
Level One, Shoppes at Cotai Central
Cotai Strip Taipa, Macau S.A.R.
Phone: +853 8113 1200
Website: CLICK HERE