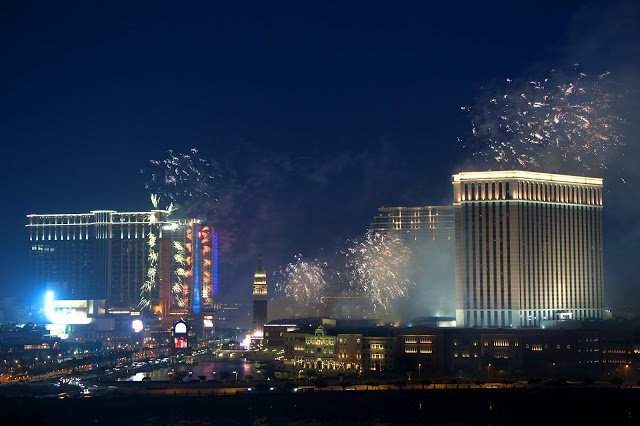 Sheraton Macau Hotel, Cotai Central Opening Ceremony Fireworks
Sheraton Macau Hotel, Cotai Central
by Kristin Cosgrove
"We want to reproduce the capital of entertainment [Las Vegas] in Asia, for Asians," says Sheldon Adelson, chairman of Las Vegas Sands Corp and its Macau unit, Sands China Ltd. He is one step closer to realizing that goal, as the Cotai Strip revealed the newest gem in its rapidly
expanding crown last week, the Sheraton Macau Hotel, Cotai Central. In the heart of the Cotai Strip, the world's largest Sheraton
is in a prime position for guests to explore the best the strip has to offer.
The hotel is part of Sands Cotai Central, an enormous complex
that also houses two other hotels, around 100
shops and two casinos. Shoppers, gamblers and entertainment seekers will undoubtedly
find the Sheraton perfectly poised to accommodate all their needs, and business
travelers will appreciate the massive meeting space available and the many
touches catering to those who have serious work to be done.
I would be hard pressed to find a more convenient location
to stay on the Cotai Strip than the Sheraton.
Located in Cotai Central, right across from the extravagant Venetian
Resort and adjacent to the City of Dreams mega resort complex, the Sheraton allowed me an accommodating hub from which to base my
explorations and (duty free!) shopping.
My Deluxe Twin room was shiny-new, aesthetically pleasing
and comfortable with all the expected amenities of a Sheraton. I liked the playful splash of color in the
carpet which cut the corporate vibe of the room a bit and added a touch of fun.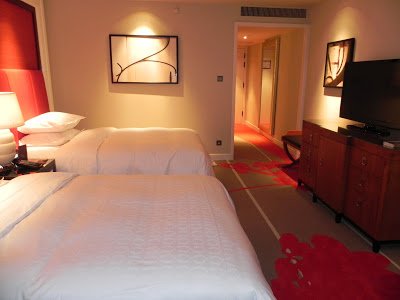 Deluxe Twin Room
The air con was perfectly set at 24C on low fan speed; I
didn't have to touch it once during my three night stay! Considering I'm constantly adjusting at other
hotels and never comfortable, this is saying a lot. Plus, it was at just the right temperature to
be able to snuggle in and appreciate the luxurious bedding, drifting into
dreamland surrounded by the fluffy clouds of a perfect down comforter. (It's the little things.)
Along with the bedding, the quality of the bathroom linens
left me wondering where I could order some for home; the towels and robe were
positively voluptuous!
Beyond the comfy confines of my room, the staff was friendly
and abundant, eager to help and much appreciated when it came time to navigate
my way back to my room through the maze of halls and elevators. Most of the staff spoke English easily, and
those who did not were quick to escort me to someone who could.
Food:
The morning after a night of partying pool-side, I was famished and eager to try the bright and spacious all-day buffet, Feast. An array of Asian and western fare greeted me, and I was thrilled to happen upon some spicy little numbers – croissants stuffed with spicy chicken topped with melted cheese. (Yum!) I was also happy to get crispy and juicy slices of thick bacon, hard to find in my current home city of KL. In all, food at Feast was fair, but not great.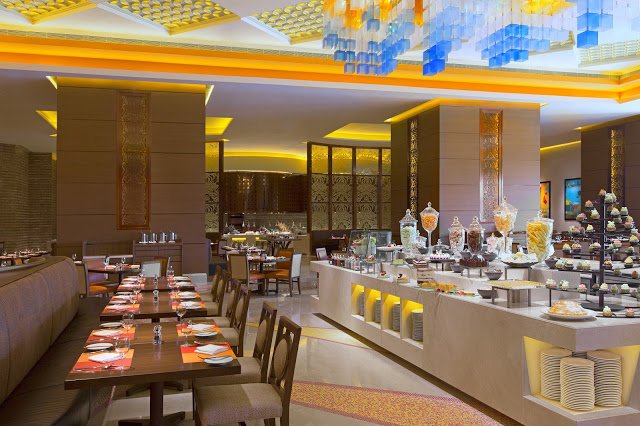 Feast Buffet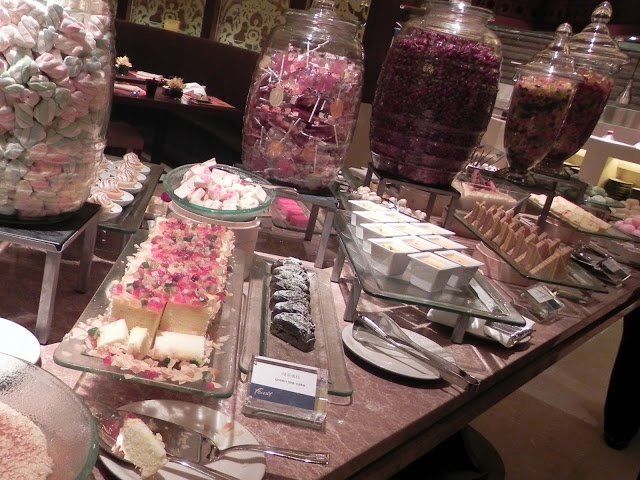 Dessert Bar at Feast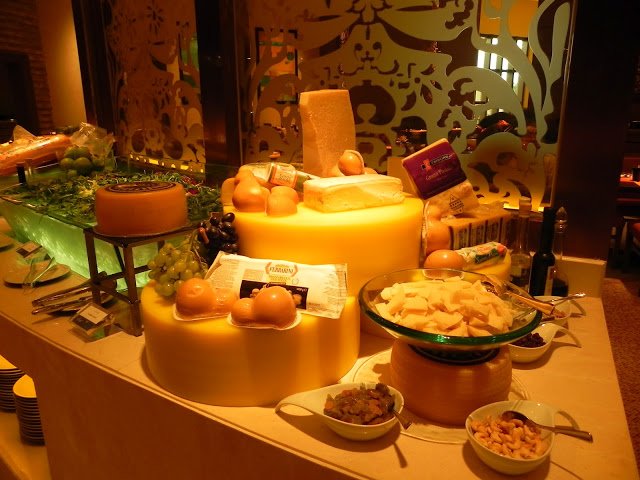 Feast Buffet
The food in the other Sheraton restaurants was slightly better; I dined at both Bene, serving hearty Italian fare, and Xin, a hotpot modern Asian restaurant. I wasn't able to sample enough at Bene to give a proper review, but two trips to Xin gave me what I think was an accurate measure of their food. (Stay tuned for tomorrow's post.)
Sheraton Club:
For about $50 USD per night, guests can upgrade to a Club Room, giving them
access to this well-equipped club including a dining and lounge area with
comfortable seating for 274, a full breakfast buffet and all-day snacking. Free wi-fi, computers and use of business
equipment make it a perfect place for meetings, or catching up on office work.
Club guests also have exclusive use of the pool-side cabanas, a definite plus
in my book.
Sheraton Club Lounge
The hotel has three pools, or rather, three pool areas. At the Sala pool, rather than having a
massive swimming area to go with the massive property, Sheraton opted to portion
the pool into 10 plunge pools. They didn't have a big "wow" factor, but did give a feeling of intimacy and
privacy which would be hard to achieve with one large and open swimming area.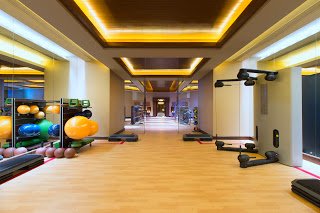 Sheraton Macau Fitness Center
Fitness: Had I
the urge to work off all the egg tarts I ate on my trip to Macau (alas, I did not), the Sheraton's Fitness Center would
have been the perfect place. It is very
state-of-the-art with enthusiastic and knowledgeable staff on hand to help
learn the machines and give pointers.
Friends who took advantage of the gym seemed very pleased with their
experience and I was impressed when I toured the facility.
Shine Spa: The spa was a nice escape and has unique facilities catering to groups or couples in the mood for a nice splurge. (Also coming up later this week my Shine Spa at Sheraton review. Spoiler alert – I liked it!)
Casino: Though it seems bizarre not to be mentioned on their website, the Sheraton does have a casino on the main level, called Pacifica. It wasn't yet bustling with the excitement of a large gambling crowd, but that also means it isn't very smoky like some of the other nearby casinos. I also appreciated that I didn't have to go through the casino to get my room. Often the case in Las Vegas, the slot machines entice me to casually drop change into them as I walk through, and invariably it costs me money just to get to my room!
It's worth mentioning (and obvious) that more hotels are planned for the Cotai Strip, including the Parisian, complete with a 1/2 size replica of the Eiffel Tower. But even with more on the horizon, I suspect that Sheraton's brand recognition, attention to quality and prime location will keep it a destination for business and leisure travelers alike.
Reason to visit: Prime location in the midst of all the action, great meeting and conference facilities, good service and quality amenities.
Sheraton Macao Hotel, Cotai Central
Cotai Strip® Taipa, Macau SAR, P.R. China