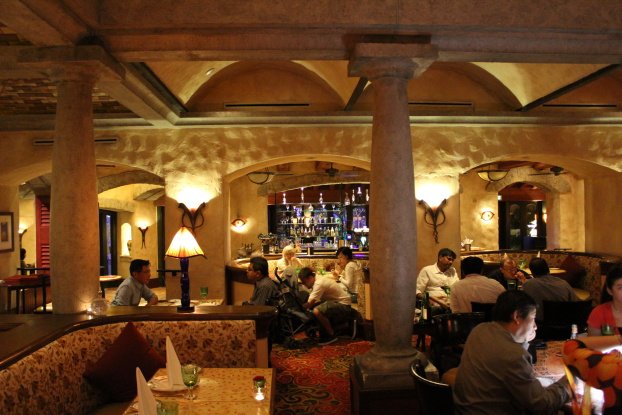 James Gibbs tested the RM75 Italian Set Menu that is part of the Sheraton Hotel chain's 75 anniversary celebrations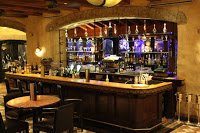 If you've been having recent thoughts that there may be a lack of romance in your life… or, otherwise, you may just have an irrepressible craving for fine cuisine from the Mediterranean, there is elegant and wonderful restaurant right here in the heart of Kuala Lumpur that will fulfill all your requirements.
All you need to do is throw on a nice outfit, slap on a little Gucci perfume or aftershave and then head with your partner in tow to the piazza on the 5th floor of the Sheraton Imperial Hotel in Jalan Suntan Ismail that is celebrating its 75th anniversary.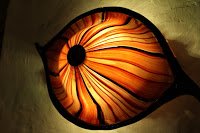 Sheraton hotels and Resorts are celebrating, with a series
of activities, 75 years of hospitality where the brand has been providing exclusive
accommodation for travelers around the world. Here, they are offering a RM75
special menu that includes a choice of entrées, mains and desserts. Now you can
have a premium romance experience while still having enough cash left over to
buy the ring – how good is that!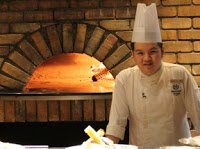 As you travel up in the lift to the Villa Danieli Restaurant
it is like you are being magically transported to somewhere in the Adriatic.
The restaurant beckons you inside with its rustic, charming interior that just oozes
with romance. One would not be surprised to see Michelangelo or Leonardo
sitting in the corner with a little cappuccino froth on the moustache
discussing their latest artistic creations or encounters.
The quality of the
fittings and ambience is second to none. From the murals above to the erotically
feminine lighting and marble (all imported from Italy), there have been absolutely
no compromises. For sure the bar area has the perfect ambience to unwind and
relax with its harmony of lighting, design and soothing Italian tunes. Additionally, there is no doubting the authenticity of the wood fired pizza
oven – with a real wood fire within – surely the source of some spectacular pizza creations!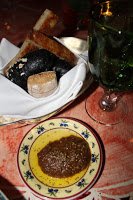 Right after sitting down the immersion in Italian taste
experiences begins. It is not often that a bread basket earns a great deal of
mention, though here, it was outstanding. Italians have long been masters of the art
of great bread and here Allessandro Graziosi, the Head Chef De Cuisine,
originally from Milan, explained some of the apothecary behind his perfect penne.
Most notable were the dark chocolate coloured buns that have been created partially
from, can you believe it, vegetable ash! Yep that's right, in true Italian style,
they cremate vegies until they are just ash, then sift, purify and filter the
remnants that are then added to the other fully imported bread making ingredients. Altogether, this becomes what is possibly the finest set of buns on the planet –
these puppies are amazing; with a soft interior with a slightly springy texture
on the outside. Served with other equally tasty breads together with an aromatic
black tomato dip, this really set the stage for the other culinary experiences
to come. I would go back there just to eat these entrees alone!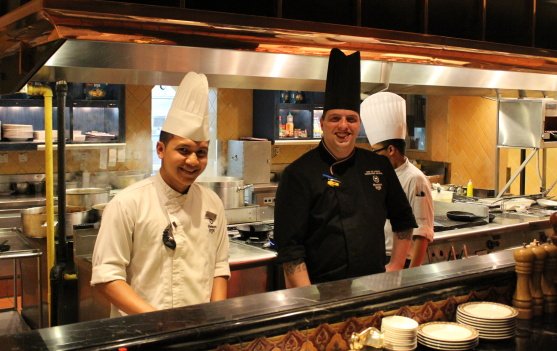 Allessandro is a perfect illustration of why Italy excels as
one of the world's most famous sources of hospitality and cuisine. He explained in a friendly and enthusiastic
style, "In order to guarantee the quality of the food, we have to bring a lot
of ingredients here by air from Italy. For example, from the north of Italy, we
bring meat, cheese, truffles and tomatoes. This helps us in creating the
authentic dining experience for all our guests. Here we see a lot of families on
outings and we are always happy to have many couples that come here to make
proposals for marriage for the for obvious reasons of the romantic environment
together with our exciting menu."
The following dishes that were tasted that night were Burratina
alla Mediterranea – Fresh Buffalo's Burratina cheese with tangy salad. Great
dish – I wondered who had the job of milking the buffalo? For main, I chose the
subtly flavoured Oven Baked Sea Bass Carpaccio with fresh thyme, asparagus and
Kalmata olive dust. Now just where else in Malaysia could you unearth a combination
like that? The finale was the signature dish Tiramisu with a hint of booze – perfect
to round out the evening.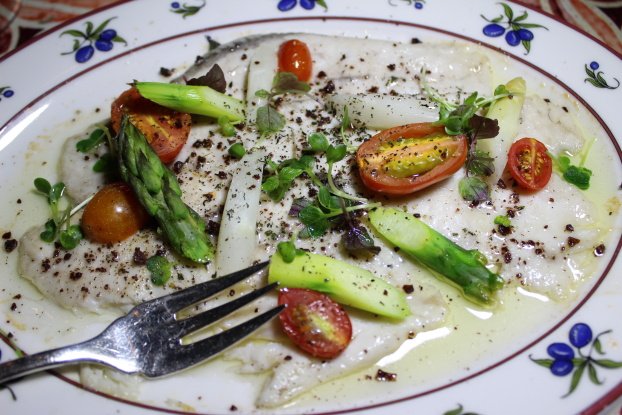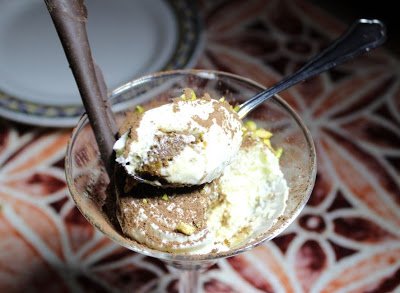 Now I just gotta go back again and
tackle the other items on the special menu together with that great looking wine
collection. I think the seared, sliced and gratin Australian beef rump with
rosemary beef juice and roasted lemon potatoes will be more than enough to temp
my return.
This special 75 anniversary, 75 Ringgit offer will continue
only until November 14 so you need not hesitate in getting into town to
enjoy some of Malaysia's finest Italian food. Other anniversary offering include
75 free room nights being given away each day. and breakfast at 1937 prices –
US$0.95!
Reason to visit: Excellent value meals with the chance to win a free night at the Sheraton Imperial