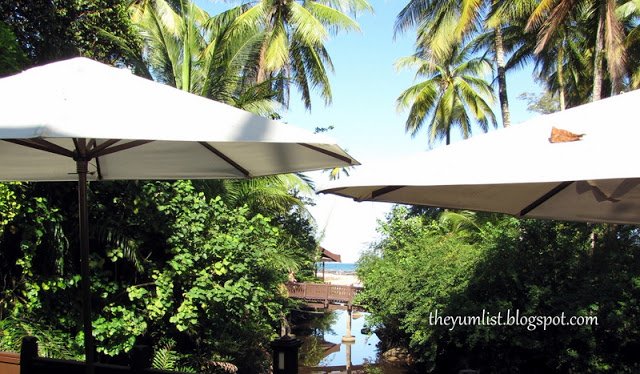 Di Atas Sungei, Tanjong Jara Resort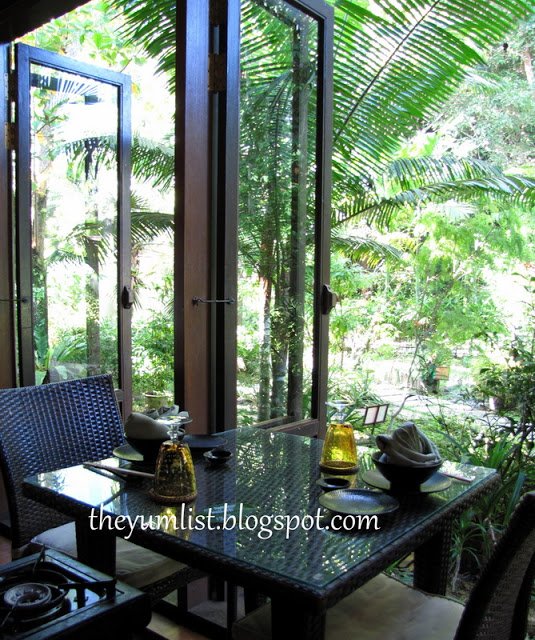 Seating Area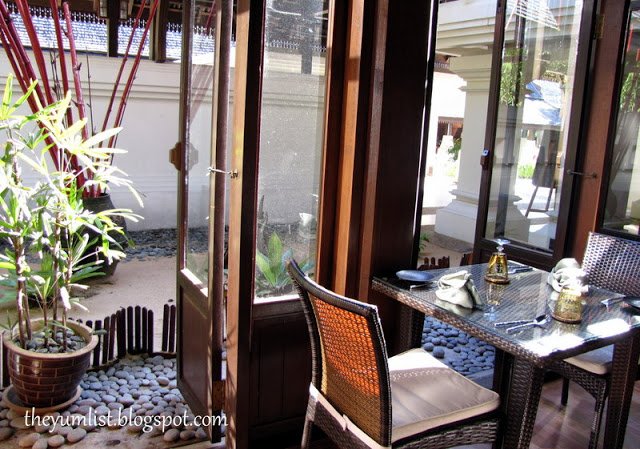 More seating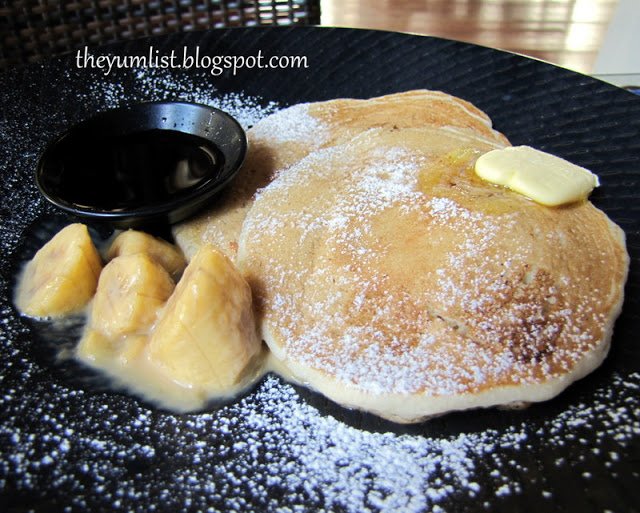 Banana Pancakes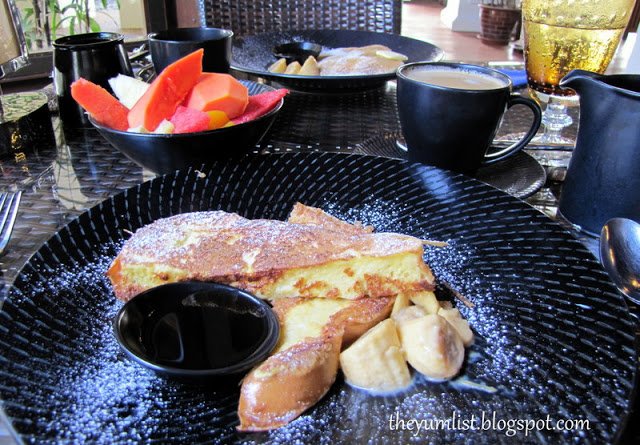 French Toast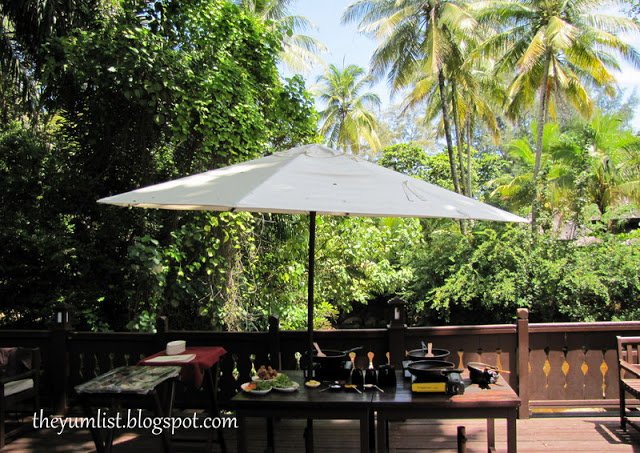 Cooking Class on the deck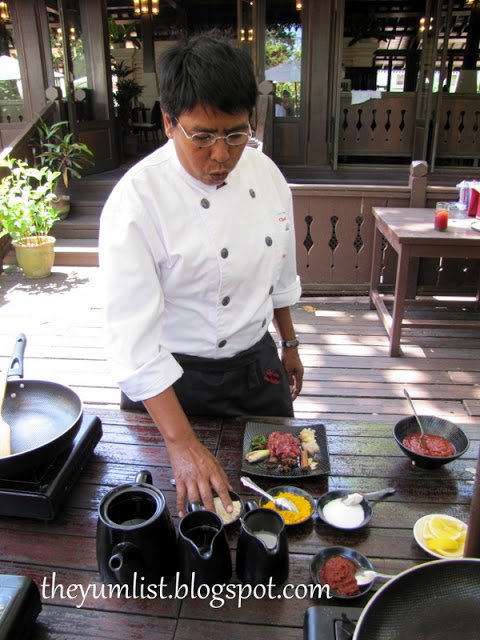 Chef Ann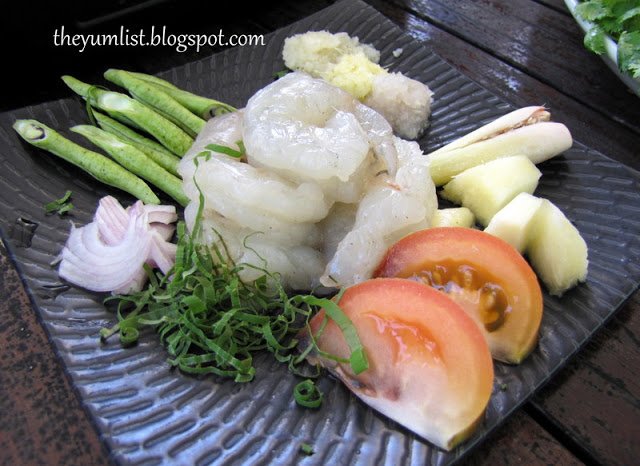 Ingredients for prawn dish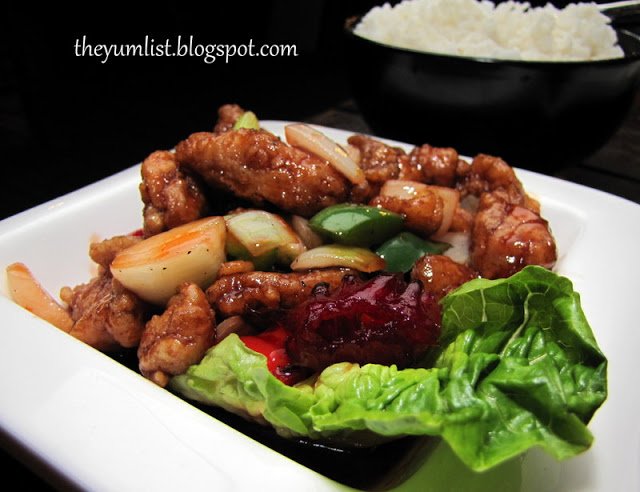 Roselle Chicken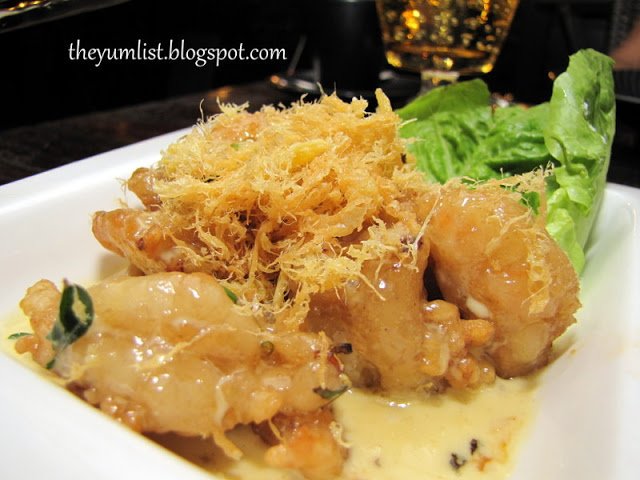 Buttermilk Prawns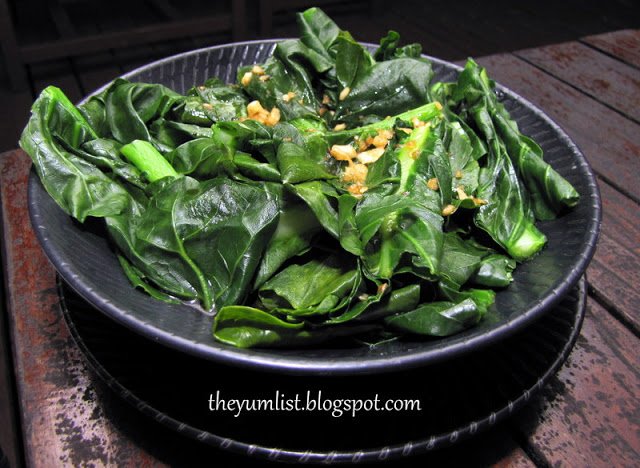 Steamed Green Vegetables with Garlic
Di Atas Sungei, Tanjong Jara
Resort, Terangganu Malaysia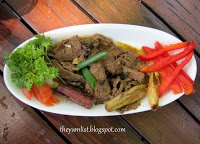 Beef Rendang
Ensconced between giant vine covered trees, the Malay
architecture of Di Atas Sungei blends discretely into the natural environment.
A dark timber deck dotted with white umbrellas offers a sunny space overlooking
the river, while the high ceilings and cooler interior provides respite from
the heat. This is where breakfast is served, cooking classes transpire and, a
unique dinner experience awaits the adventurous.
The day begins with a semi buffet offering the usual fruit,
cereal, breads, noodles and freshly squeezed juices. Your main dish is ordered
from a menu of a select few items and the chefs will do their best to cater to
your individual preferences such as my order of "egg white omelette with veges,
cooked with no oil or butter." Hubby was content with banana pancakes with
syrup and I also enjoyed thick slices of French toast.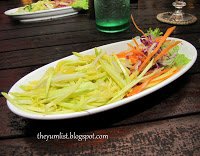 Mango Salad
In the evenings, Chef Ann and her crew of Menu Masters
wander the tables telling of what has been brought fresh at the market that
morning. They check in with you how you feel: are you a little or a lot hungry;
like spicy or not; want western or Asian; healthy or deep fried; seafood or
meat; vegetables? Quite the character, Chef Ann herself is an attraction.
Knowing her product, cooking method and customers well, she pleases the palates
of the masses with a few quick questions.
For appetizer we began with a tangy mango salad. Loving that
we had the option of customizing to our tastes we chose no prawns and just a
touch of chili. We'd heard wonderful things about the Buttermilk Prawns and
seeing they were one of the items picked up that day from the market we had no
hesitation in ordering them. The prawns are quickly deep fried in whipping
cream from London (we were told the quality of the cream is very important) then
topped with egg yolk that his been whisk fried in hot oil producing hairy like
strips and intertwined with curry leaves. This dish is a must order in my
books. Roselle (also known as hibiscus), the local flower, had to appear in
some dish and Chef Ann recommended the Roselle Chicken. Similar to sweet and
sour, you experience a slight lip pursing sourness, saliva producing sweetness
and a nose clearing bite as an aftershock. Seasonal vegetables steamed with
garlic were our feeble attempt at balancing out our unlean options.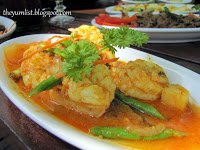 Prawns Coconut Milk & Lemon Grass
If you'd like to spend a little more personal time with Chef
Ann or discover what goes into some of the local dishes, a Cooking Class is
just the right option. Held on the deck of Di Atas Sungei in good weather (or
inside in rain) this is exactly the type of lesson I like to take. Basking in
the great outdoors, everything is already chopped for you and the cleaning too
taken care of. All you have to do is focus on mixing the ingredients together
and eating them afterwards. If only cooking at home could be so easy.
Cooking classes are scheduled daily at 1:30pm at a cost of
RM150 which includes, the class, refreshments, the meal, a souvenir apron and
quality time with Chef Ann. Meals can be ordered a la carte at Di Atas Sungei
or come as part of an all inclusive package (highly recommended).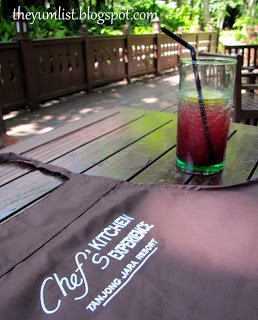 Cooking Class
Celebrity Chef Ann, excellent service and a unique 'no menu'
experience make Di Atas Sungei a noteworthy place to dine if on the East Coast.
Reason to visit: a
unique 'no menu' experience, cooking class with the good humoured celebrity
Chef Ann, tranquil natural setting over the creek
Di Atas Sungei
Tanjong Jara Resort
Batu 8 off Jalan Dungun
23000 Dungun
Terangganu, Malaysia
YTL Travel Centre
+6 03 2783 1000