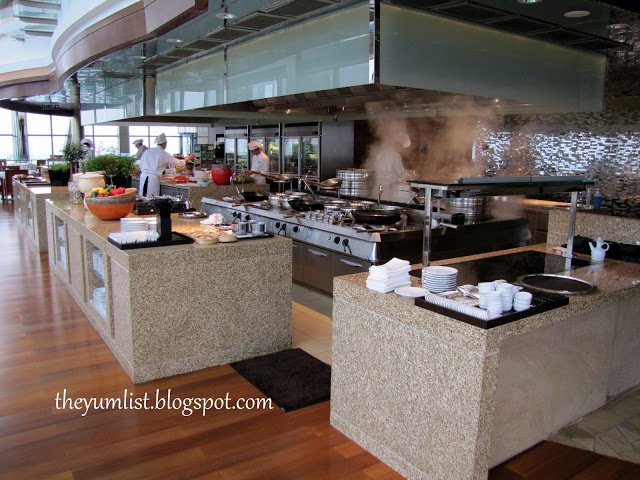 Thirty8 Grand Hyatt Kuala Lumpur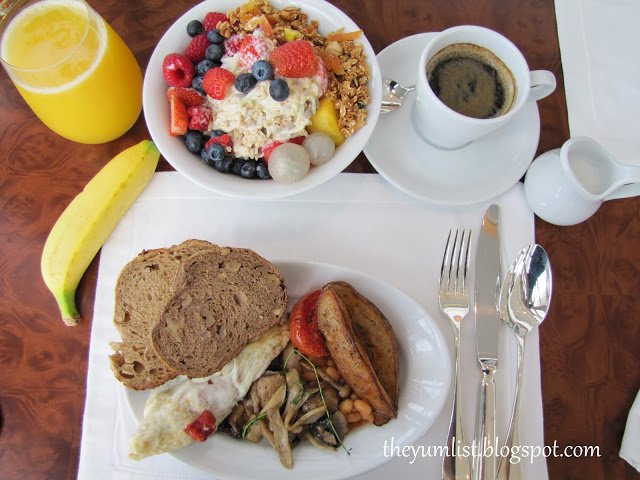 Buffet Breakfast priced at RM68++ per person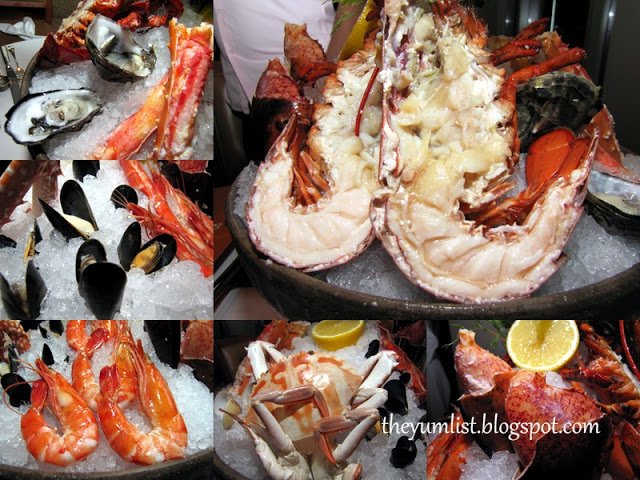 Seafood platter for two persons RM360
Boston lobster, tiger prawns, seasonal oysters, Alaskan king
crab legs, flower crab, clams and black mussels. Prawns come straight from the
tank and are boiled upon request.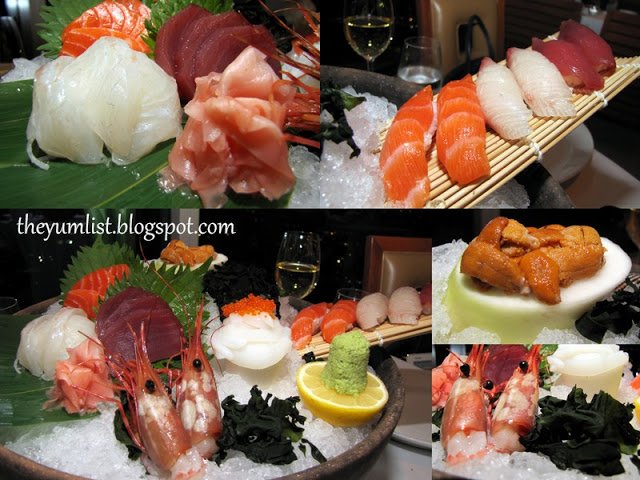 Sashimi Platter RM 150
Snapper with shredded radish, tuna, Tasmanian
ocean trout (lighter in colour but better in taste than Norwegian salmon),
prawns, seaweed, salmon, tuna and amberjack sushi, sea urchin, squid topped
with flying fish roe – everything except for the tuna comes from Japan. The tuna
comes from the Indian sea.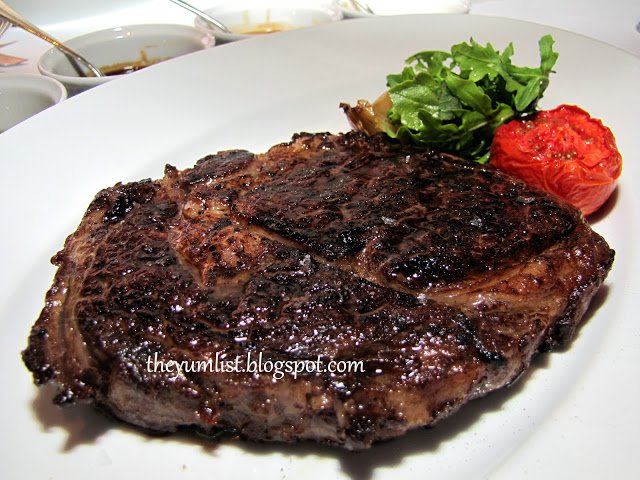 Rib Eye M7 Wagyu 350g RM300
With choice of Bearnaise, mushroom, green peppercorn and chimichuri sauces.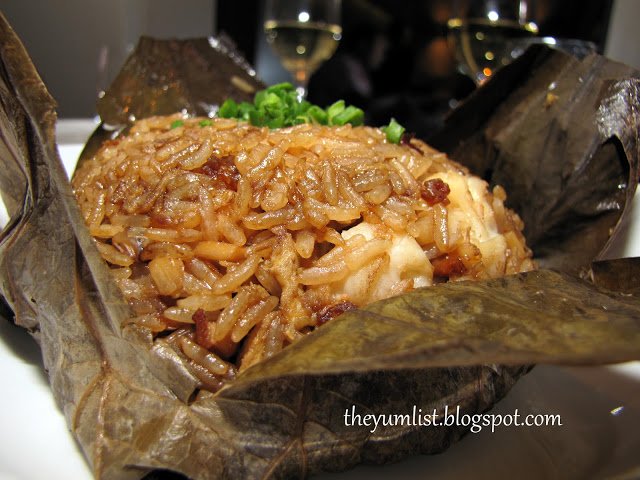 Baked Rice in Lotus Leaf RM25 – this was supposed to be a side dish but is so grand could be a filling main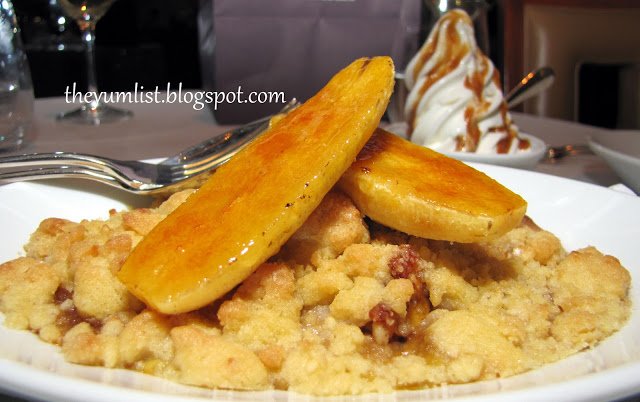 Banana, Pineapple and Coconut Crumble with vanilla soft serve ice cream RM18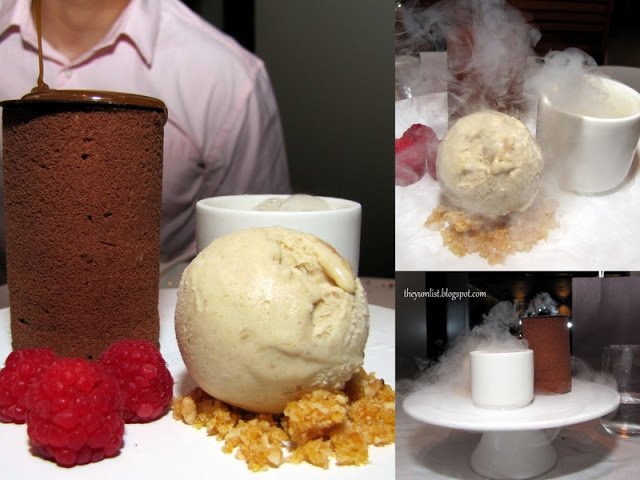 Signature Cake RM18 – Layered soft chocolate cake, fresh berries and banana ice
cream is hidden by a glass cover spewing fog from a bowl of dried ice – it makes a definite entrance
Thirty8, Grand Hyatt Kuala
Lumpur, Malaysia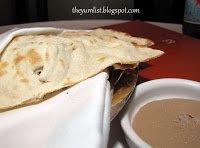 Naan with Duck Liver Pate
There can be no finer kickoff to your day than a buffet
breakfast at Thirty8, Grand Hyatt Kuala Lumpur. Located on the thirty eighth
floor, 360 degree cityscapes are a definite allurement. Colossal windows stream
the morning sun waking up even the sleepiest of diners. Live cooking stations
divided succinctly into Western and Asian sections spill scrumptious aromas
from the kitchen and, wait staff continually greet you by name checking in on
your satisfaction level.
Live egg, waffle, pancake and noodle stations are well
organized amongst a spread catering to even the fussiest of eaters. Full fat
milk, low fat milk, skim milk and soya milk alongside bowls of cereals, bircher
muesli and home made sticky toasted granola – possibly one of the most
scrumptious I've ever had, bowls of berries, dried fruits, fresh fruits, nuts,
home made breads (fig and walnut, rye, grain, baguette… the list goes on),
yoghurts… and that is just a small section – of which I had trouble getting
past. Unpack the other stations in much the same way and you see a good variety
of options as a common thread.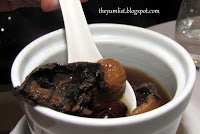 Double Boiled Chicken Soup RM30
wolfberries, mushrooms, Chinese dates
and herbs sweetened with lychees
The uncomplicated layout and sleek design is just as spectacular
at night. Sunset is a magical time to visit as you watch the daylight fade and
the city begin to luminesce. A stool or
lounge chair at the wine bar looking directly out to the twin towers is a
perfect perch for a pre-dinner drink.
Quite a diverse menu is on show with Japanese, western and
local chefs all ready to take charge of their own specialties. Duck liver pate
served with naan bread is the standard on the table – a welcome diversion from
the common olive oil and balsamic. This unlikely fusion brought magic to our
tongues. Cool sweet pate with salty warm naan proved an intercultural marriage of
success.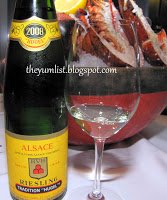 Alsace Riesling HVH
An impressive menu of wines by the glass beats the boredom
of your average KL offerings. Five whites, five reds, one champagne brut and
one champagne rose make up the list. Struck by so much choice, the sommelier kindly
allowed us to taste the three we were deciding between before committing. With
a fantastic knowledge of wines he guided us through each wine by taste, bouquet
and a little history.
The label of Billecart –Salmon is a rare find in Kuala
Lumpur and good value at RM49 per glass. Alsace Riesling HVH from France proved
light and easy drinking. We ended up choosing though a Cloudy Bay from New
Zealand, Te Koko. Priced at RM280++ per bottle this sauvignon blanc is aged in
a French oak barrel so an earthy characteristic is present, not common in your
typical whites from this region. It's easily confused with an old world wine
with its woody notes. With such a fragrant aroma, I could almost use this one
as a perfume. Sniffing my glass gave me almost as much pleasure as sipping.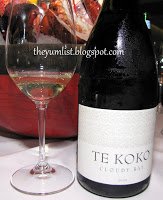 Te Koko
The evening we dined saw a mind-boggling quantity of food
consumed. From a fresh Seafood Platter on ice, to Double Boiled Chicken Soup, a
Sashimi Platter, Rib Eye M7 Wagyu, Banana Pineapple and Coconut Crumble to
their Signature Cake – which finished the meal with a real "wow" factor – it
was hard to stop. The Signature dessert came out in clouds (literally) of
mystery on a white platter with a bubbling mist seen underneath a glass cover.
Lifting the top, the misty surrounds (created by dry ice) slowly dissipated
leaving a luscious tower of dark mousse and chocolate cake aside a scrumptious
ball of banana ice cream. This is a decadent dream for any sweet tooth.
With excellent views, informative staff and an extensive
menu still unexplored, Thirty8 at Grand Hyatt Kuala Lumpur will be seeing us
again.
Reason to visit:
sleek contemporary ambience, 360 degree city views, buffet breakfast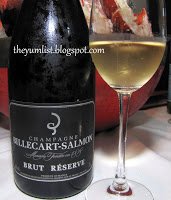 Billecart – Salmon
Thirty8
Grand Hyatt Kuala
Lumpur
12 Jalan Pinang

50450 Kuala
Lumpur
Malaysia

Tel: +60 3
2182 1234
Fax: +60 3
2182 1288
Open 6am – 11pm