Writer Polly Szantor and photographer Vicki Fennessy watch celebrity chef Anna Olson in
action
Chef Anna Olson breezed into the kitchen like a fresh wind across the Canadian prairie, full of energy and vigour. I found this rather spectacular, since she'd only just arrived in KL from Ontario about two hours earlier. Already impressed by her stamina, I found her enthusiasm contagious I was eager to watch her in action, making a savoury Tortière and a Pumpkin Brulée Tart.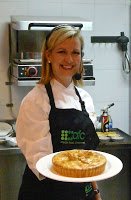 Tortière is a traditional French Canadian Christmas dish, made with ground meat in various combinations of ground beef, veal and pork. Chef Anna chose to make it out of ground beef, which she sautéed with onions and spices.  She efficiently created a fairly fragile pastry, which would result in a flaky nest for the meat. She was generous with her tips for making the pastry work in our hot, humid climate.  I must confess that I avoid making pastry in Malaysia, though air-conditioning would certainly help. Even if you're cooking in air-con, the pastry should rest in the fridge for an hour or so before rolling, which makes it easier to work with.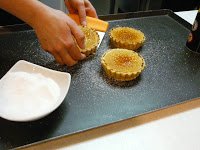 The Pumpkin Brulée was a real winner for me. Chef Anna added cream cheese to the pumpkin purée so there's a cheesecake quality to the finished product.  The pastry for this tart is more robust and pliable…a paté sucrée really…which can stand a bit more bashing around. This is a pastry I'd feel more comfortable making here.  For the brulée topping, Chef Anna suggested that if you don't have a blowtorch, the dusting of sugar on the tart could be caramelized under a very hot grill. Now there's a good idea.
I was part of a round-table discussion after the presentation and Chef Anna told us that when she was growing up she spent a lot of time in the kitchen with her grandmother, learning about Eastern European
food. Many of her grandmother's favourite recipes have now become treasures to her, and she shares them in her latest AFC show Bake with Anna Olson.  Sour cream doughnuts were a special treat but also cabbage rolls, potato cheddar perogies and prune perogies with a caramel sauce. Anna isn't against the idea of making healthy changes to the recipes, for example she uses brown rice instead of white rice in the cabbage rolls, and she's certain her grandma would approve.
Chef Anna loves cooking so much that she can work on her TV show for 10 hours in the studio then go home and cook for pleasure. She obviously has a rare passion for food, and it helps to explain her lively and down-to-earth programmes.
Reason for Watching: To enjoy Chef Anna's competent culinary skills and to learn new recipes that you can easily make at home.
Bake with Anna Olson airs on Tuesdays at 9pm on the Asian Food Channel, Astro channel 703 in Malaysia.