The Malaysian International Gourmet Festival ended with a party abounding with food, music, dance, drinks and lots of cheeky fun. Dato Steve Day made his own very special Gangnam Style entrance, which turned out to be a huge crowd pleaser. Later on in the evening this year's taste pleasers were announced… The event's press team though have wrapped it up all so eloquently, so here I insert their words below:
"The month-long premium dining extravaganza culminated
in a Grand Finale held at Sunway Lagoon's Surf Beach. Hundreds of distinguished
guests and media turned up in their beachwear to celebrate the occasion along
with the 28 Festival Master Chefs. While an endless free flow of beverages kept
the crowd animated, an array of food stations resembling hawker stalls dished
out succulent local favourites like Curry Laksa, Char Kuay Teow, Kajang Satay,
Yong Tau Foo, Mee Rebus and Rojak Pasembor. The climax of the evening was the
awards ceremony, where 144 of the gold and silver chef statues were bestowed on
the Master Chefs. The evening's entertainment included fire-eaters, dancers;
British boy band, The London Boys; and the Alma Latina band that elevated the
already titillating atmosphere with fast rhythms, smooth beats, and vigorous
dances, with the crowd joining in on some of the dance action.
Finally, the proceedings moved to The
Lighthouse where late night snacks and a DJ kept the party pulsating until the
wee hours of the morning, bringing to a close the 12th incarnation of
the Malaysia International Gourmet Festival."
And the winners are… again, straight from the talented press team who have so articulately captured the night.
"The Hills Are 'Olive' With The Sound
Of Success
Maxims Genting's The Olive devoured
the competition by scooping top honours at the 12th Malaysia
International Gourmet Festival (MIGF).
Sunway Lagoon, 5th November – Gold became The Olive's 'new colour' after it
clinched the Golden Cauldron by winning the Best All-round Restaurant title at
the Grand Finale of the 12th Malaysia International Gourmet
Festival. It was one of a 'buffet' of awards gobbled up by the Western
Continental fine-dining establishment, including in the Chef Congeniality category
– snagged, for the second consecutive time, by its highly-charismatic Master
Chef (considered quite a 'dish' by the ladies), Daniel Sheen. Bagging a
heartburn-inducing 8 awards for the evening, The Olive's other accolades include:
Judges' Choice of Most Outstanding Cuisine at the Gala Launch; Fine Dining
Awards' Most Outstanding Main Course; and Judges' Choice for Best Marketed
Restaurant. Brandishing the monumental Golden
Cauldron trophy – to exuberant cheers and jubilant applause by his
palate-pleased patrons – the fiery-clad Chef Sheen, flanked by his virtuoso
team and beaming representatives of Maxims Genting, stood tall as testament to
the sizzling, world-class level of Malaysia's flavourful fine-dining scene."
(I was lucky enough to sample The Olive's MIGF menu so you can read my review here. But.. back to some more borrowed words from the press team…)
"Also high in the esteem of
gourmands were the 27 other participating restaurants, whose superlative teams,
sensational settings and sinfully-exquisite fare created inimitable fine-dining
experiences worthy of MIGF's other special statuettes. Like The Olive, several restaurants
raked in multiple awards – among them, Cuisine Gourmet by Nathalie (Peoples'
Choice for Most Outstanding Cuisine at the Gala Launch; Judges' Choice for Most
Creative Festival Menu; Fine Cuisine Awards for Most Outstanding Starter) and Imperial
Rama (Judges' Choice for Most Creative Restaurant Station at the Gala Launch;
Judges' Choice for Best Marketed Restaurant; Festival Diners' Awards for Most
Outstanding Cuisine; and Fine Cuisine Awards Most Outstanding Appetiser.) Fellow
MIGF winners in the 27 award categories included The Westin KL's Five Sen5es,
Qba and Prego; Makan Kitchen, L'Heritage, The Pomelo, West Lake Garden,
Dynasty, Grill 582 and New Orleans Bar and; Grill. A special, cherry-on-top
achievement was attained by The Sunway Group upon being awarded the prestigious
Outstanding Festival Achievement Award."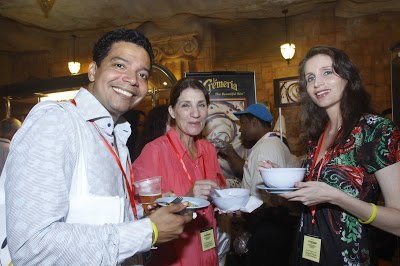 Handsome guests enjoying a bite before some dancing 😉
To see more photos from the event and bookmark the site for next year's festival, check out
www.migf.com