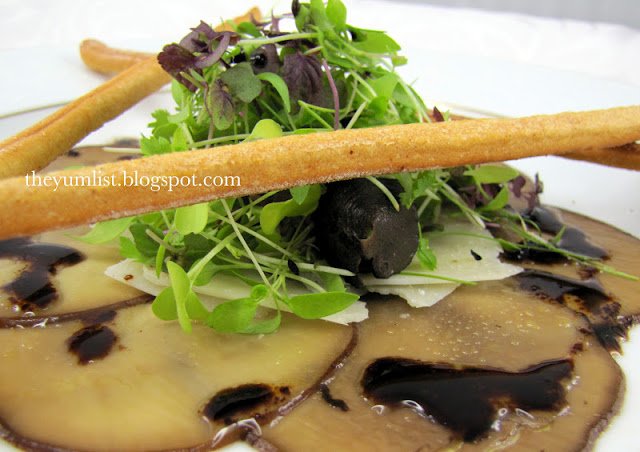 Starter – Portobello Carpaccio Pecorino, Grissini, Balsamic, Soft Herb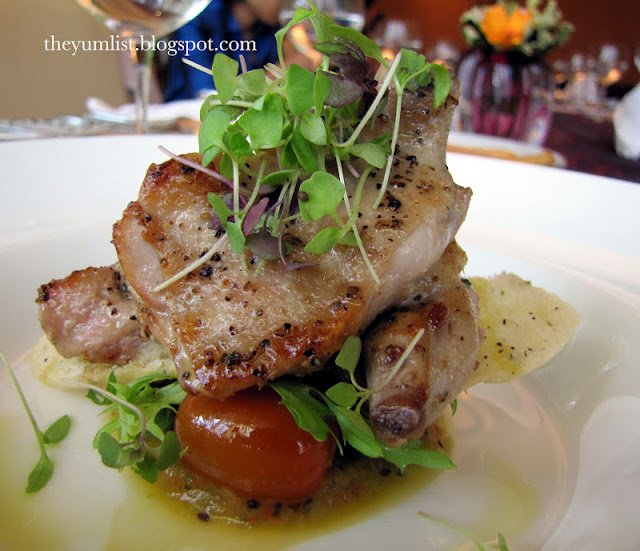 Entrée – Spatchcock Confit, Baby Romas's, Frisee, Kiwi Gazpacho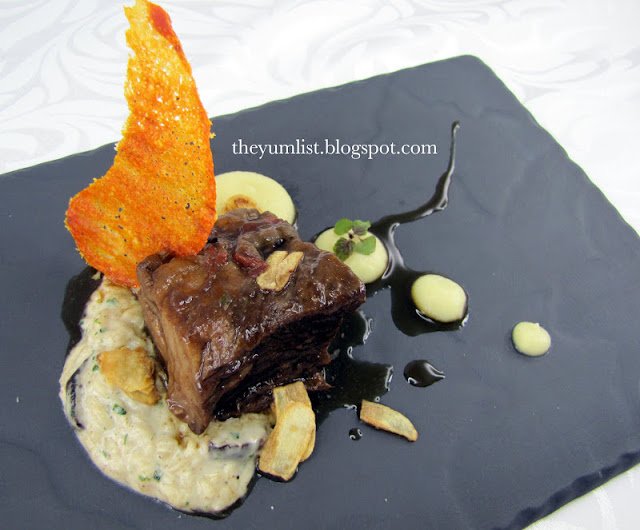 Main Course – Wagyu Short Rib Smoked Porcini Risotto, Parsnip Puree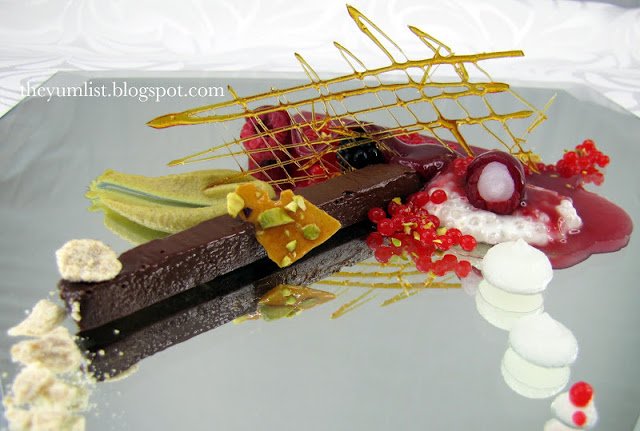 Dessert – Black Forest Molecular with Raspberry, bitter chocolate, coconut sago, pistachio
The Olive, MIGF Menu, Maxim's, Genting Highlands, Malaysia
In the name of a culinary adventure, we recently escaped to
the cool climate, lush green hills and colossal structures of Genting Highlands.
A reasonable, 45 minute drive from the city saw us meandering up a serpentine
road surfacing at a mist girdled peak. Stepping out of the car, coats were
buttoned, hands rubbed vigorously (both in excitement and an effort to warm up)
and a smile from ear to ear endorsed this well received change in temperature.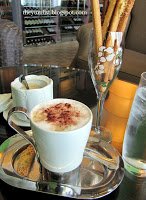 Cappuccino
Crisp air though was not the only lure, The Olive, Maxim's
continental fine dining restaurant, is offering a specially crafted menu in
conjunction with the Malaysia International Gourmet Festival. That, along with the
promise of relief from the heat and, the reputation of good humoured Aussie
chef, Daniel Sheen, gave us more than enough rationale to make the trek.
Three years running, Chef Daniel has created menus in line
with the Malaysian International Gourmet Festival's theme. This year's leitmotif,
Classical Chefs, is understood at The Olive through a traditional menu
celebrating the natural textures, flavours and aromas of high quality
ingredients and offers a molecular twist at the end of a common thread.
The set dinner menu launched with a captivating starter, Portobello
Carpaccio. The earthy rich flavour of almost transparent wafers of mushroom
rounds was delicately balanced with a sharp pecorino, balsamic vinegar, soft
herbs and topped with crunchy grissini. Followed by a full-bodied Celeriac Veloute
with salted cod mousse and truffle oil, we found the opening statement to be an
unbeatable lead.
Poultry and meat made a marvelous middle. A tower of Spatchcock
Confit sat atop layers of baby Roma tomatoes, frisee and a sweet kiwi gazpacho.
The main course, Wagyu Short Rib, was delivered on a black slate with smoked
porcini risotto and white drops of parsnip puree provided a visual contrast to
the sable plate. Silence swept the table for the duration of consumption of
this dish. Sliced with a butter knife, the beef literally fell apart and deliquesced
in the mouths of diners accompanied by 'mmms' of admiration.
The dessert lent itself to a surprise ending moving in the
opposite direction of the 'classical' theme. A molecular deconstruction of a
Black Forest Cake disappeared from plates rather swiftly, leaving little
evidence of the detour off the expected path. A compilation of bitter
chocolate, raspberry, coconut sago and pistachio reflecting off a mirrored
plate was not only a spectacle for the eyes, but a thrill too for the tongue.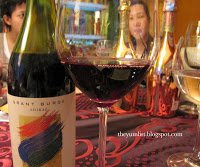 Australian Shiraz, Grant Burge
While we didn't go for the complete wine paired menu we
couldn't help but engage in a glass of their house selection – after all fine
dining and wining are pretty much imprinted on our genes (at least that's our
excuse). Sourced from the Barossa Valley Australia, The Olive's house red is a
bona fide crowd pleaser – literally! The team appoints a house wine by procuring
guest feedback. This particular choice is the result of a tasting session with
a gathering of around 20 aunties, 20 uncles and a troupe of young ladies and gentlemen
from the casino. Out of a number of possibles, this smooth red came out the
victor. So when, staff at Genting say that they value their guests' opinions,
they're truly mean it.
The Olive's Malaysia International Gourmet Festival menu is
available from the 1st to the 30th of October at RM298++
per person without wine pairing and RM398++ with wine pairing. The intimate
restaurant only seats 75 diners including two private rooms so a reservation is
recommended. The Olive is pork free and open daily for dinner from 6pm. Lunch
is available Sundays and Public Holidays.
Reason to visit: A mini adventure, only a 45 minute drive from
KL, with rewards of fine food, an extensive well chosen wine list and a refreshingly
cool climate.
The Olive
Lobby Floor, Maxims Genting
Genting Highlands Resort
69000 Genting Highlands
Malaysia
+ 6 03 6105 9668