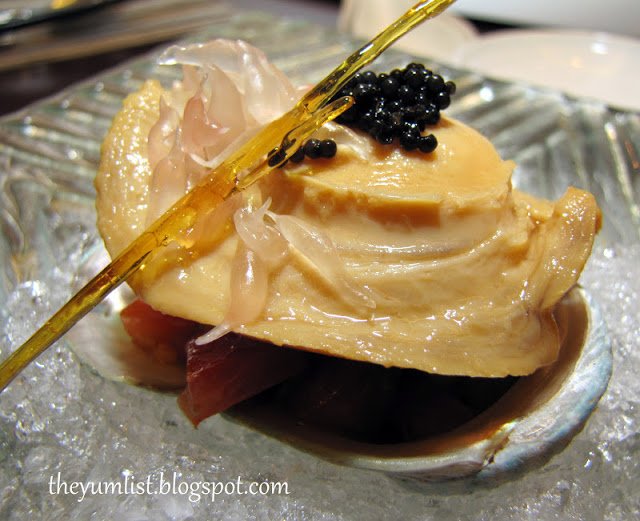 Hunan Ice Chilled Whole Baby Abalone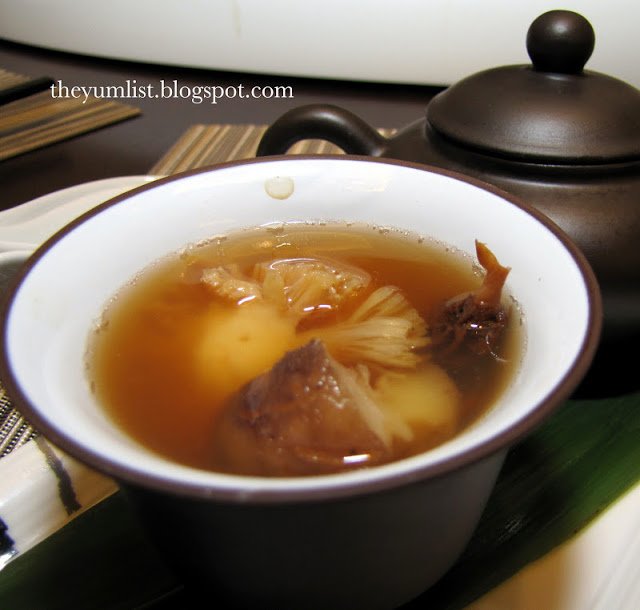 Double Boiled Kung Fu Soup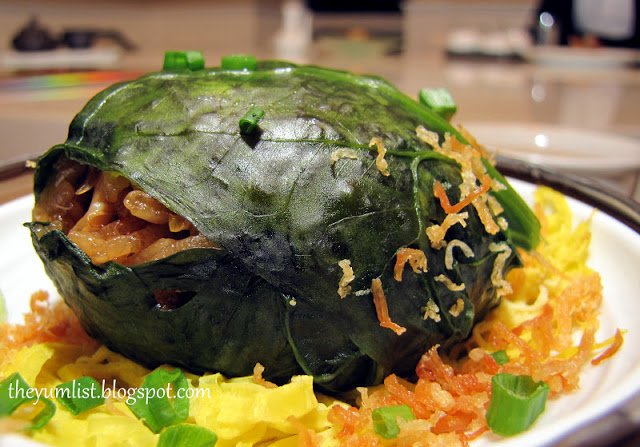 Sun Dried Scallops with Glutinous Rice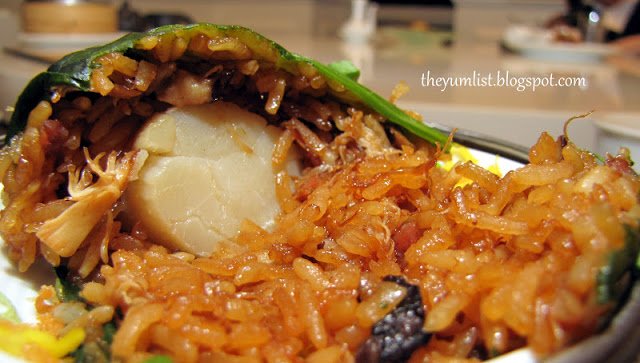 Sun Dried Scallops with Glutinous Rice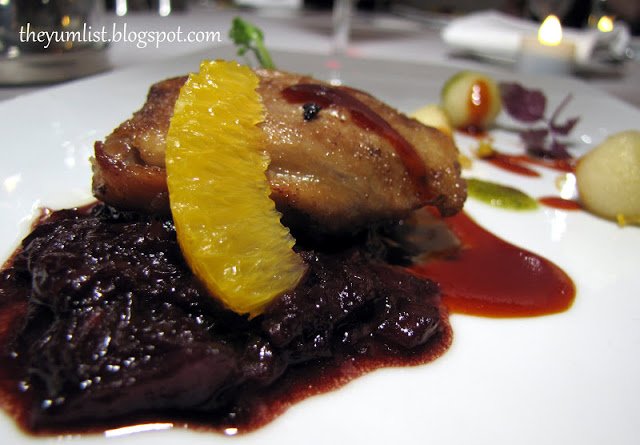 Duck Confit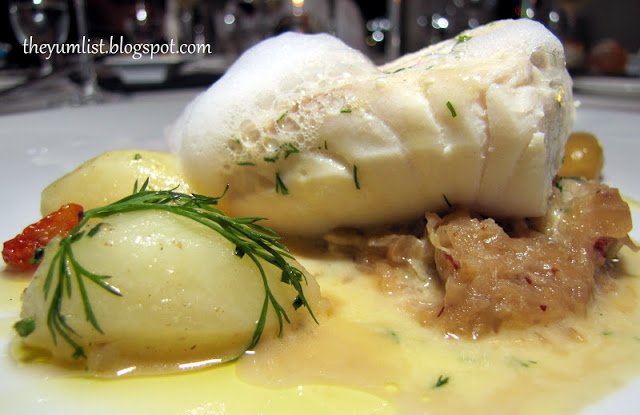 Halibut Fillet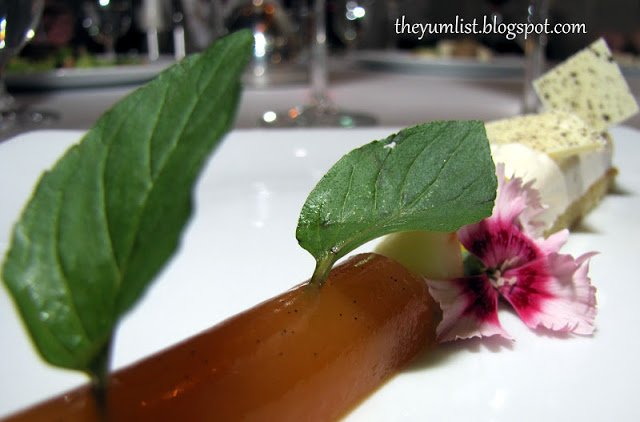 White and Orange Dessert
MIGF Menus at Lai Po Heen and Mandarin Grill, Mandarin Oriental Kuala
Lumpur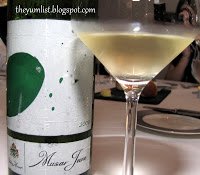 Musar Jeune Blanc
Mandarin
Oriental Kuala Lumpur has not one but two restaurants participating in the
Malaysian International Gourmet Festival. In line with the classical theme for
this year expect to find classic Chinese dishes at Lai Po Heen masterminded by
Chef Ricky and traditional European cuisine at Mandarin Grill skillfully
crafted by Chef Reto.
Sampling
the first half of a menu by the Chinese competitor and the second part by the
European contestant we were fortunate enough to have a tasting of the best of
both.
Lai
Po Heen presented our appetizer, soup and rice dish. Hunan Ice Chilled Whole
Baby Abalone with fresh pomelo, avocado, kiwi and spicy sesame sauce provided a
substantial hint of the freshness and quality of ingredients that were to come.
The mingling of the citrusy pomelo, fruity kiwi, creamy avocado and salty
caviar seasoned the shellfish with a lovely tang.
Doubled
Boiled Kung Fu Soup with premium dried seafood, cordyceps, American ginseng, morel
mushrooms and baby cabbage won the approval of all at our table. Although
brimming with mysterious creatures from the sea, it was the burly broth that
had guests slobbering.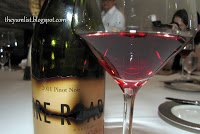 Fire Road Pinot Noir
Fixing
an end to the trial of Chinese dishes, the Sun Dried Scallops with Glutinous
Rice delivered a pleasurable conclusion. This jewel of the sea bundled in a
sphere of tasty rice and gift wrapped in a shawl of spinach acrest a steaming
dim sum basket was the most favoured dish for both hubby and myself from Lai Po
Heen – winning our approval partly for the taste but also for the packaging.
The Mandarin
Grill put forth a starter, a main course, dessert and petit fours. Duck Leg
Confit a la Orange with braised apple, red cabbage and roasted potato dumpling
began our exploration of their menu and set our western biased taste buds into
a delightful spin. Matched with a soft pinot noir, this was my pick of the
evening.
The
main, a fleshy wedge of Halibut Fillet Winemaker Style, collaborated constructively
with Champagne Choucroute, Pomee Chateaux (barrel shaped potatoes) and peeled caramelized
grapes. A Musar Jeune Blanc with its zesty crispness and tropical aromas
cooperated well with the seafood.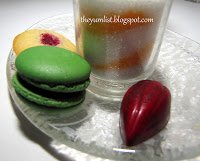 Petit Fours
A White
and Orange dessert was contemporary in look, but classic in taste. Thin logs of
sacher sponge with bourbon vanilla bavarois and orange custard crossed our
plates, elegantly decorated with a delicate flower. The usual finish of coffee
or tea and petit fours brought something unexpected. A classic macaron,
raspberry truffle and jam sponge tart where watched over by two chocolates on a
stick. A calamansi sorbet hiding inside a yellow ball of white chocolate left
us all with an exhilarating surprise. Biting into the canary coloured orb
startled guests with a cold sweet liquid oozing into the mouth followed by the
icy tart sorbet. Unanticipated, this led to a tasty and amusing close.
Lai
Po Heen and the Mandarin Grill both offer two set dinner menus for each outlet
and a separate lunch menu, catering for a variety of budgets and appetites. A
special wine list for the month includes both new and old world wines from RM38
per glass and RM190 per bottle.
Reason to visit: special MIGF menus for
the month of October
Lai
Po Heen and Mandarin Grill
Mandarin
Oriental Kuala Lumpur
Kuala Lumpur
City Centre
50088 Kuala
Lumpur
Malaysia
+6 03 2380 8888