Four Points By Sheraton, Sandakan, Sabah
by Kristin Cosgrove
Situated on the Eastern tip of Malaysian Borneo, Sandakan is
quickly gaining a reputation for being the gateway to Borneo's abundant
wildlife. While its neighbor to the west, Kota Kinabalu, may have more notoriety, Sandakan's tourism board is hard
at work raising awareness of the city's nearby gems, among them historical
landmarks, the orangutan and sun bear sanctuaries and the spectacular
rainforest experience. (See my upcoming
post on Things To See Around Sandakan.)
Needless to say, when the opportunity came for me to venture
to Borneo, I was thrilled. But as much
as I fancy myself the outdoor, backpacking type, in actuality I find great comfort
in knowing that after a long day of adventure-seeking, I can retire to a nice
hotel room where the wi-fi is fast, the water is hot, the food is good, and I
can find some fun without going far. In that order. Especially when traveling with my
kids!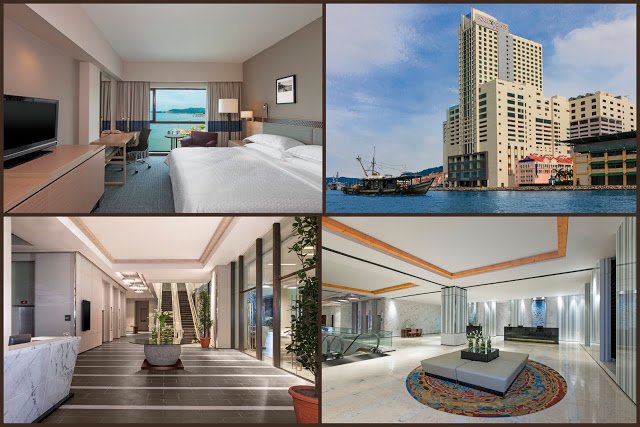 Homey but upscale, Four Points by Sheraton is all about simple comforts
Four Points by Sheraton provided all this and then some, a
great place to recoup and unwind after a long, hot day in the jungle. It
is the only international hotel brand in the city, elevating the
hospitality industry in Sandakan, both metaphorically and literally – the hotel
stands as the tallest building in the city at 27 floors.
Upon check-in, I find the hotel immediately warm and
welcoming, its small lobbies and friendly service hospitable and comforting.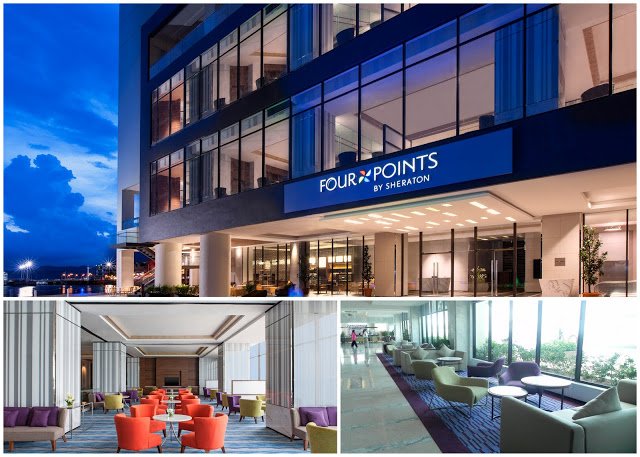 Comfortable lobbies make for nice places to relax and hang out with friends
The dusty blue carpet with white accents and brown waves mimics
the sea that lies just outside and the purple and orange chairs give the lobby
lounge a playful punch. If we weren't in
the tropics, a fireplace would fit in perfectly with the coziness. I feel right at home.
Four Points in Sandakan is comprised of 300 rooms, most of
them with a gorgeous view of the Sulu Sea and nearby islands. The large picture window in the bathroom room
really opens up the space and though I was afraid I might be seen, I liked the idea that I could even shower with a spectacular sea
view!
The rooms contain all the amenities one would expect in a
four star hotel, plush bathrobes, a good iron, plus a really nice hair dryer. I only mention the hair dryer because it's a
pet peeve of mine when hotels only provide the cheap and flimsy hair dryers
mounted on the walls. I mean, why
bother? Those things take forever! But I digress… It also has really fast wi-fi with a no-fuss log in. Just click and surf!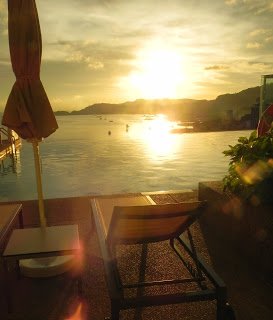 Gorgeous sunsets from the infinity pool
Four Points Sandakan boasts a simple yet beautiful infinity
pool on the 13th floor. Situated
very near the elevators and just down the hall from the Eatery, it is a
conveniently located area in which to cool off and enjoy the sunset. An open-air, covered lounge area sits
adjacent, and comfortable lounge chairs are a welcome place to enjoy a good
book or watch the kids splash around.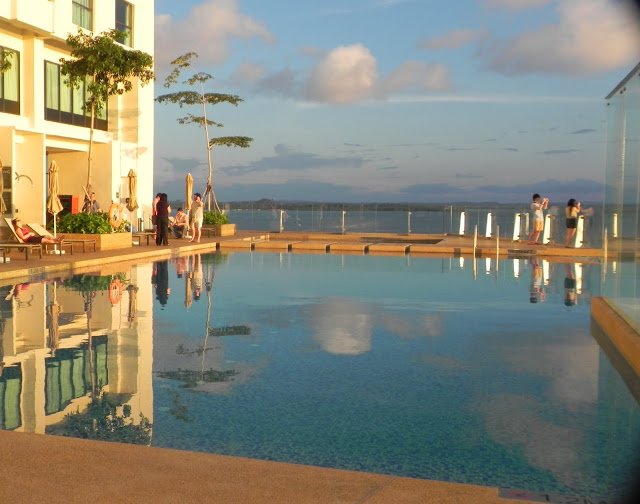 Four Points' infinity pool is the perfect place to cool off
Look over the edge at dusk and, thirteen floors below, one
sees the locals and a few tourists lining the scenic waterfront promenade, also
enjoying the sunset.This new central business district is
actually built up on reclaimed land and is part of the Sandakan Harbour Square
development, which includes the Harbour Mall Sandakan shopping center (the
only lifestyle mall in Sandakan), and the largest convention center, both with
direct access from the hotel.
The area around the hotel is coming into its own, so don't
expect clean perfection, but don't let it deter you either. The water and promenade does contain debris,
but with the gorgeous views and elevated pools
and rooms, it's easy enough to overlook and ignore.
As a brand, Four Points by Sheraton prides itself on
uncomplicated accommodation at reasonable prices. If you've stayed at one before, you know what
to expect; they are all meant to feel the same, no matter where you are. For me, I'd rather save my surprises for my
walks in the jungle, and know I'm coming "home" to familiar simplicity where my
family I can relax and be ourselves, a place like Four Points Sandakan.
Speaking of adventures, the hotel is happy to make
arrangements for site-seeing and I'm told can often get better deals than if
you go it alone. Make it easy on yourself and just drop them a line, tell them what you want to do, and let them arrange it for you. Happy
eco-travels!
Reason To Visit: Simple pleasures, great views and a convenient place to call home base while seeing the nearby eco and historic sites.
Four Points by Sheraton
Sandakan Harbour Square
Sandakan, 90000 Malaysia
Phone: (60)(89) 244 888
Website: Click Here