Polly Szantor and photographer Cheryl Hoffmann enjoy an inspired Chinese New Year set menu at The Hilton, Kuala Lumpur.
Dining at
atmospheric Chynna took me back to the little lanes and alleys of ancient
Pingyao, a historic walled city in Shanxi Province; there was something so authentically Chinese here, so enticingly foreign. The table settings were delightful, with beautiful
hand-painted plates showing scenes of China in days gone by.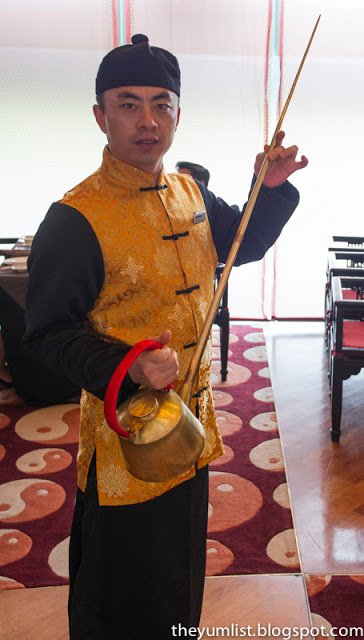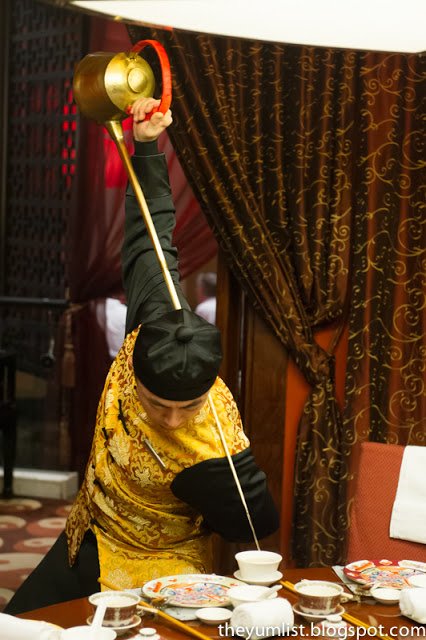 To add to the
ambience, we had an unheralded visit from the Tea Master, who twirled and juggled his long-spouted
teapot, before pouring accurately into tiny cups from a great height. The first taste of the blend of 8
herbal teas was sweet but subsequent sips revealed complex flavours that teased
the palate.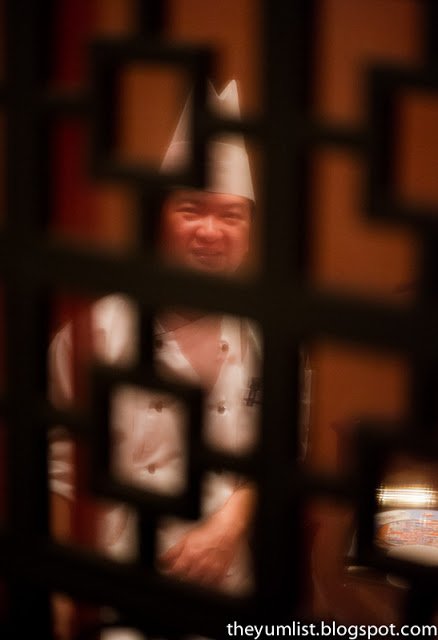 Award-winning Executive
Chef Lam Hock Hin has created four special set menus especially for Chinese New
Year and Chynna is the perfect place to celebrate the beginning of the Year of
the Black Water Snake.
We sampled Set
Menu 3, Scholarly Honour of Rank and Wealth, and were lucky to try two of Chef
Lam's Yee Sang combinations.
(There are five varieties on the a la carte menu.) His signature Hakka-style Lao Sang was
served with Sea Bird's Nest and MD2 pineapple from the Philippines. The flavour was reminiscent of Yee Sang
that I've enjoyed in the past, enhanced with the sweet sour pineapple. The unexpected Lei Cha Lao Sang, making
use of well-bruised basil and rice-bran oil, emanated a wonderful green
fragrance and tasted fresh and healthy. I couldn't decide which I preferred, meaning that I had to keep trying a
little bit more of each!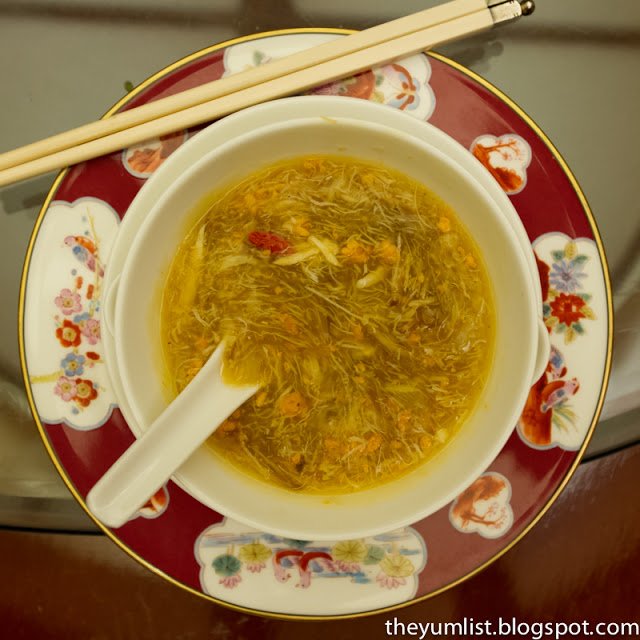 Thick and rich,
the Shanghai-style Braised Shredded Abalone with Sea Cucumber and Fish Maw was
brimming with fine strands of abalone, sliced mushrooms and sea cucumber –
another healthy and tasty dish.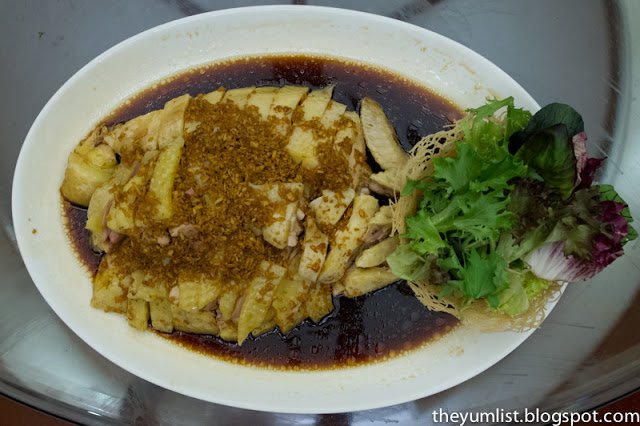 The intriguingly
named Poached, Free-range Eunuch Chicken with Wincarnis Sauce refers to a capon,
which is a castrated chicken. Chef
Lam explained that capons can weigh up to 5kgs, and are prized for the
distinctive texture of their flesh, which is neither tender nor tough. Chef described it best by calling it
"crunchy", and indeed there was a bounce to the meat that I've never experienced
before. Wincarnis is a British
tonic wine, invented over a hundred years ago. It imbued the sauce with herbal overtones, which
complemented the poached chicken without overpowering it.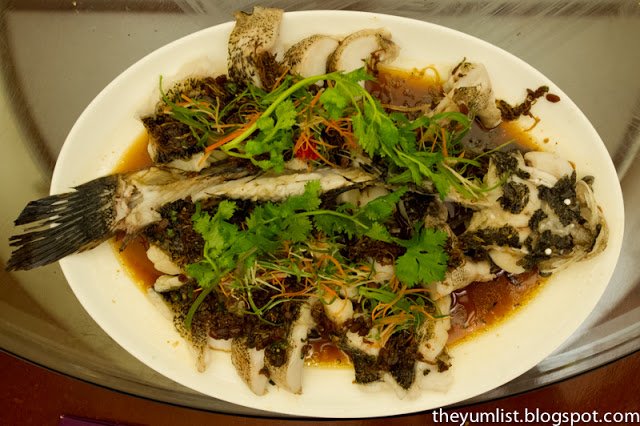 The Steamed
Marble Goby didn't have the most attractive face at the table, however its
flesh was sweet and tender and the accompanying Tauchu Chili Sauce added exactly
the right amount of spice.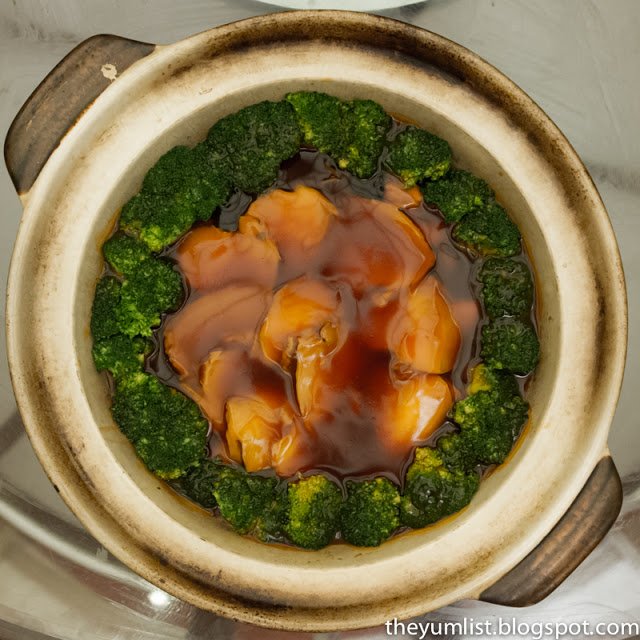 Doesn't the
glistening Braised Abalone in
Dried Scallop Sauce look enticing?
This dish, with its generous portions of abalone, sun-dried oysters and sea cucumber,
evoked the smell and taste of the ocean on a clear blue day.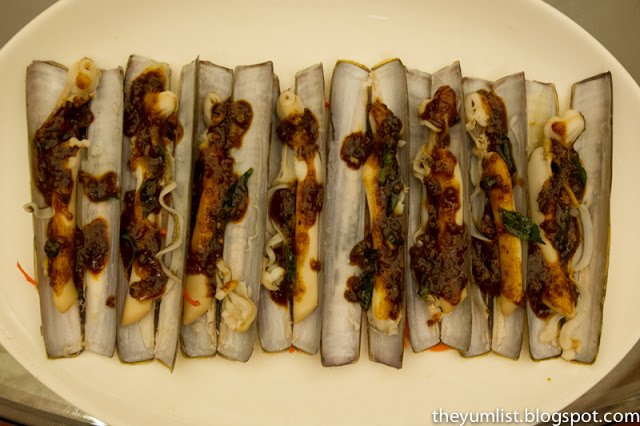 These large
Bamboo Clams with Spicy Home-made Dried Shrimp Sauce were sweet and only a
little chewy. The sauce was
perfect – not too spicy but zingy enough to perk up the taste buds.
The Bean
Vermicelli with Minced Meat Sichuan Style, aptly nicknamed Ants on Trees, was my sort of dish. I love chewy noodles, and these were
prepared with very little oil and super-finely ground chicken. They were spicy but not burningly so
and I ate every last strand.

I often find a
lotus and red date dessert rather tasteless, but Chef Lam's version was much
more appealing, with slightly sour red dates and a refreshing sweetness to the
liquor. The only fried dish on the
menu was the traditional Deep-fried Nian Gao with banana. A crispy bite revealed the chewy
glutinous rice flour filling surrounding sweet banana – a fitting end to a most
delectable and refined meal.

In addition to
the main dining area there are several private rooms, making Chynna the ideal
venue for business, family or romantic dining. Almost all the dishes were either braised, steamed, poached
or boiled, so it's a remarkably healthy CNY menu. Also, Chynna is a pork-free restaurant and they
do NOT serve Shark's Fin. Bravo
Chynna!


Reason to visit: To taste authentic, wholesome Chinese
food in a beautiful setting.

Prices for the
set menus range from 178.80++ per person to RM398.80++ per person for a table
of 10 guests. Hilton Premier Cardholders enjoy discounts
of 20% off the set menus, while CIMB World Mastercard, Visa Infinite and Visa
Signature, CIMB Platinum, Gold and Classic Credit Cardholders are entitled to a
15% discount.
Hilton Kuala
Lumpur Hotel
3 Jalan Stesen
Sentral
Kuala Lumpur
50470
"The Yum List supports a shark's fin free Chinese New Year for the prosperity of our oceans and the sustainable future of our global community."