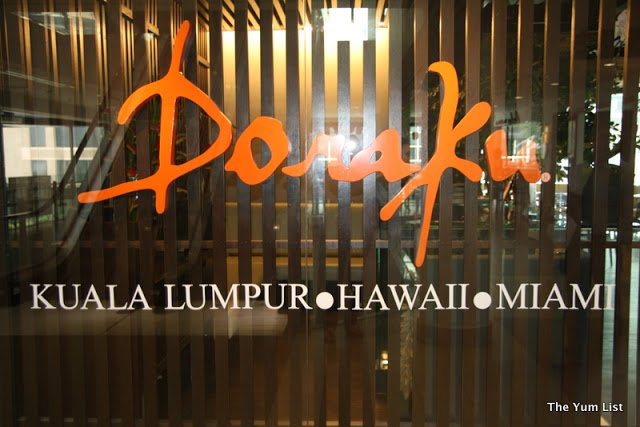 Doraku Japanese Restaurant
by Lisa Mangelsdorf
Kuala
Lumpur certainly has no shortage of fine sushi restaurants but Doraku presents
a unique and refreshing twist to traditional Japanese cuisine with subtle hints
of Latin American and SE Asian flavors.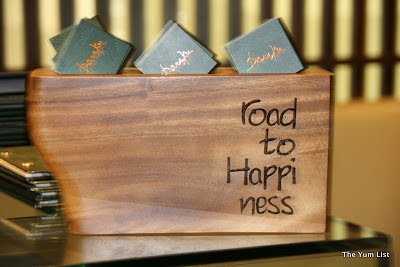 Executive Chef
Yutaro Tsuchiya, once mentored by Japanese Iron Chef Hiroyuki Sakai, selects from only the finest ingredients and freshest herbs to
ensure the highest quality of flavors in each hand crafted dish. He brings
familiar dishes to life with creative, subtle and complimentary flavors such as green
chili, mango salsa and garlic aioli.
Conveniently
located in the Life Centre on Jln. Sultan Ismail, Doraku offers an elegant indoor and outdoor dining
setting complimented by warm dark wood furniture and floors for an intimate
dining atmosphere. Attention to small details from Japanese lanterns blowing in
the open windows to traditional earthenware for spices and sake complete the eastern ambiance.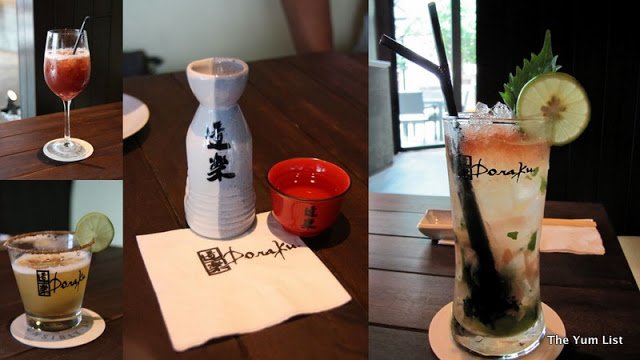 Before indulging on the "Valentine" Set meal we decided to have a sampling of a few the many fusion cocktails from the extensive bar menu. These included…
Sake
Sangria – Much like its Latin cousin but with a distinct after taste of Sake.
Asian
Mojito – A creative refreshing version of an old favorite! The Shiso leaf gives this a distinctive
Japanese flavor.
Ume
Margarita – My favorite! A whole plum pit
is at the bottom of the glass letting you know exactly what to expect. The sweetness of the Japanese plum is the
perfect balance to the tangy fresh lime and Sauza Gold.
Hot
and Cold Sake – Hand selected to suit your taste, both were the perfect companions
to the variety of dishes tasted.
The plentiful seven course Valentine set meal was a delightful variety of hot and cold dishes, each with it's own special flavour or certain "je ne sais quoi?"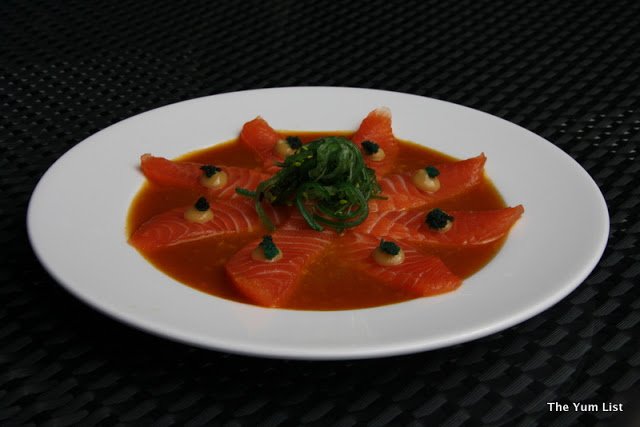 Salmon
Carpaccio – 28 RM
Melt
in your mouth delicacy. The salmon carpaccio floats lightly in a gentle ginger
sauce and topped with the perfect amount of Tobiko for a beautiful burst of
color.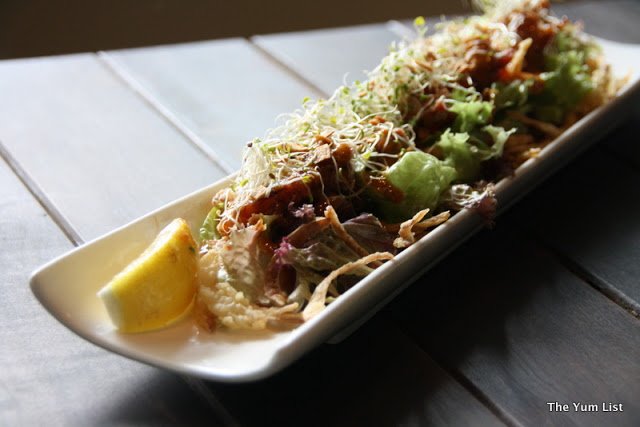 Spicy
Garlic Shrimp – 32 RM
This lightly fried and mildly spicy dish has a lot going on, including a fresh bed of spring salad and tempura onions. These came in very handy for soaking up the wonderful soy and garlic aioli at the end!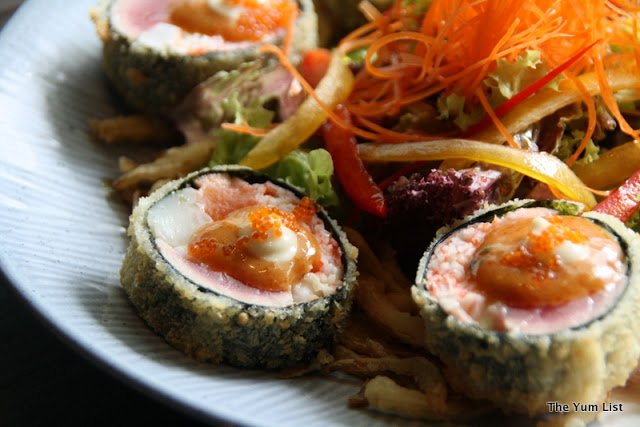 Emperor Roll – 38 RM

This
riceless roll was a favorite at the table. Tuna, crab, shrimp, scallop and avocado
all rolled up tight in nori and Panko the flash fried for an extra crunch. Very unique.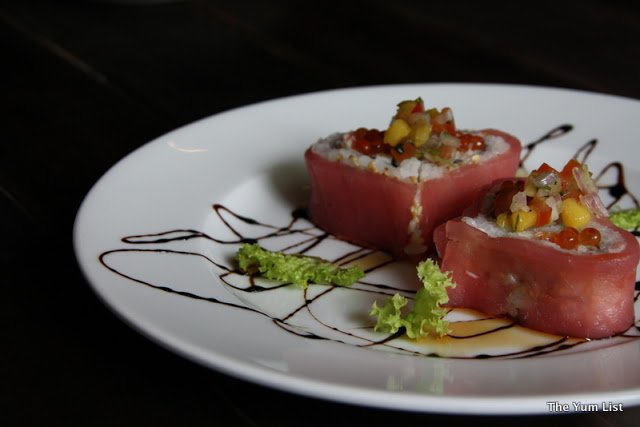 Lover's Roll – A special roll created for the Valentine set!
Tuna Sashimi wrapped "lovingly" around the rice and mild salsa in a sweet heart shape.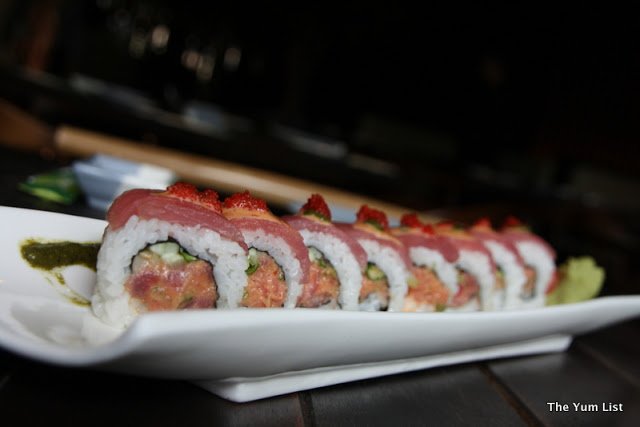 God
of Fire – 33 RM
Sushi
roll with a Malaysian kick! The little
green chili tucked inside this spicy tuna roll looks innocent but got us all
right at the end. The perfect Malay twists to a classic sushi.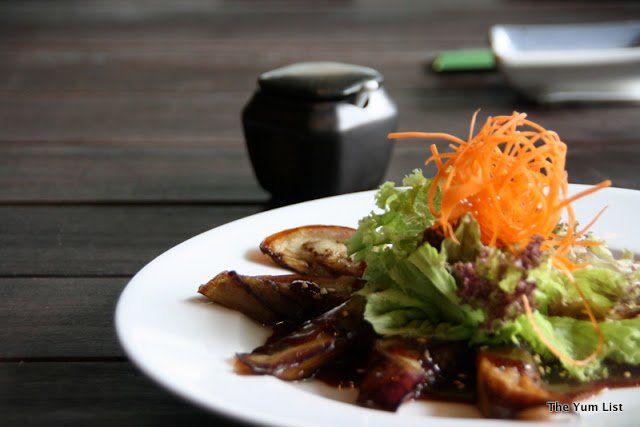 Eggplant Miso

Delicate eggplant deep fried to an almost creamy texture with served with a light but sweet miso glaze.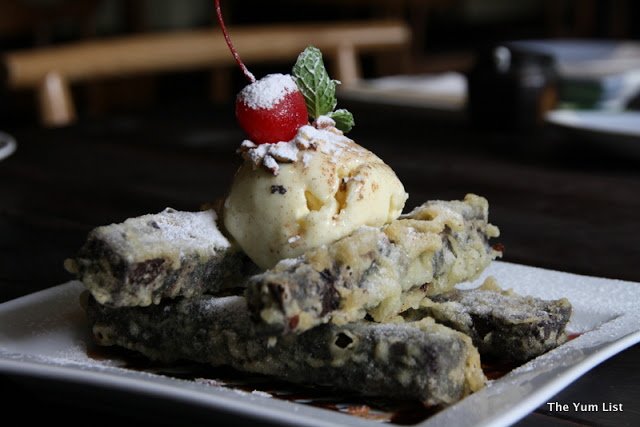 Tempura
Brownie
The
name says it all… or so I thought. Much better than anyone could have imagined.
The brownie was so moist it was almost like a molten lava cake. The
light tempura batter gave just a hint of savory to compliment the sweet. A must have!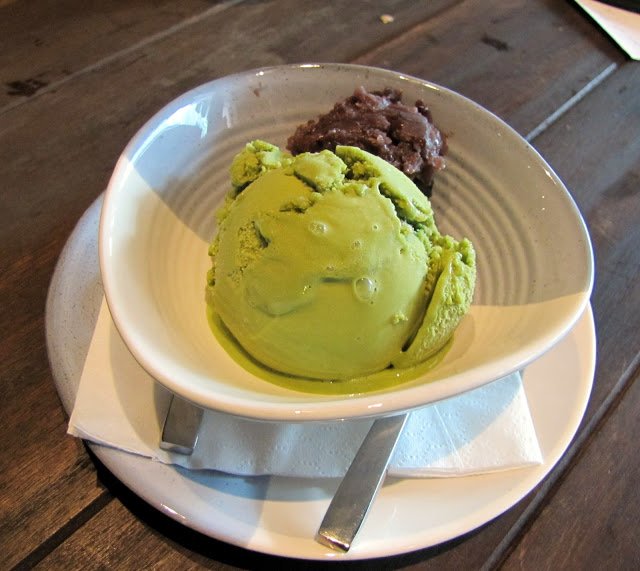 Macha Ice Cream 9RM

Not
part of the Valentine set but we had to try – glad we did! Rich, creamy homemade ice cream that finishes
with the perfectly bitter Macha. A perfect Green Tea finish to a perfect meal!

Reasons
to Visit: lovely interior and outdoor seating, delicious fusion cocktails and
food, friendly staff and good value for money.

Doraku Sushi and Sake Bar

Mezzanine Floor, Life
Centre