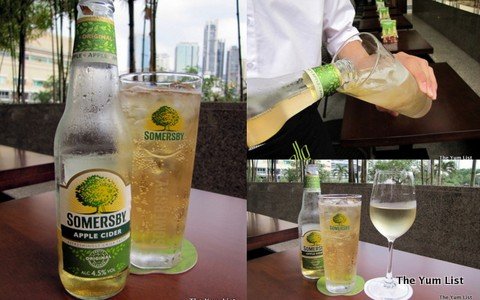 Somersby Apple Cider and White Wine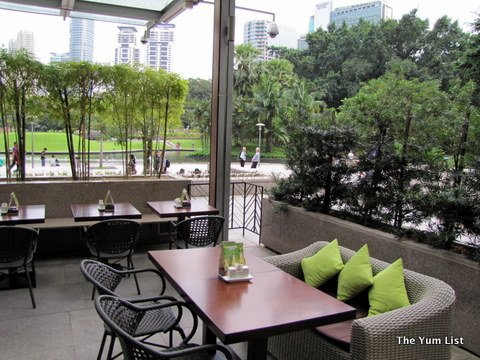 Green and Fountain Views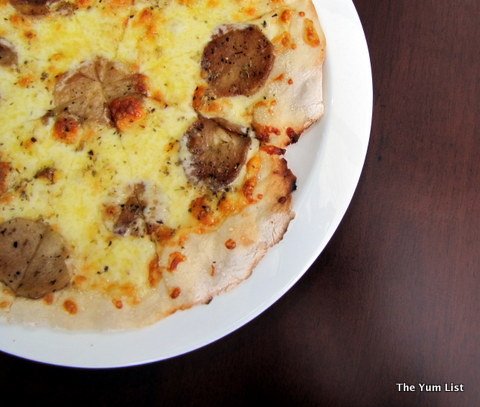 Pizza Bianco con le Patate – white pizza with potato slices and cheese on a thin crust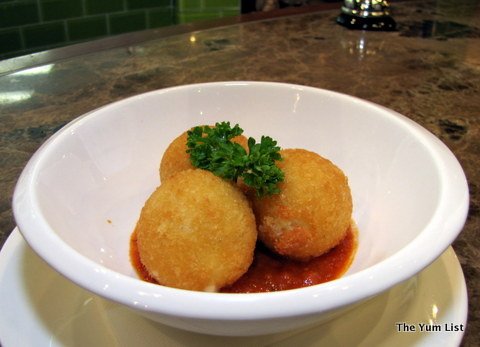 Arancini di Riso  – fried rice balls in tomato sauce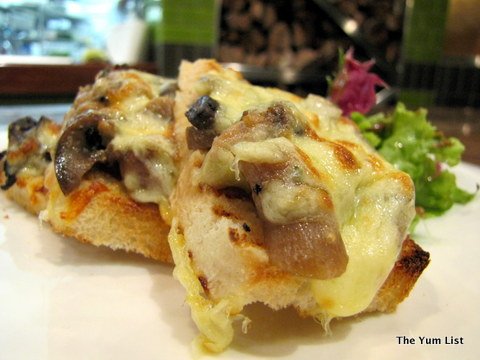 Bruschetta di Boccaldo – mushroom and cheese topped toasted bread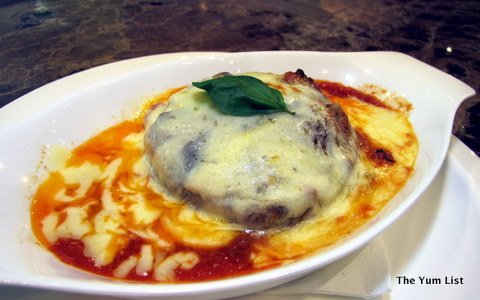 Melanzane alla Parmigiana – Eggplant Lasagna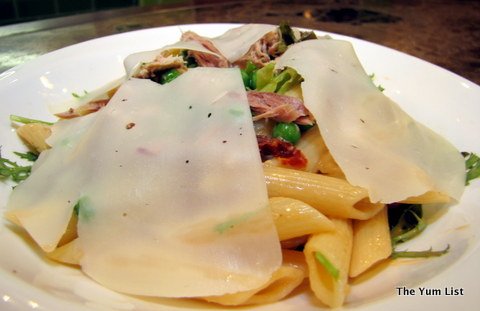 Insalata di Pasta – pasta salad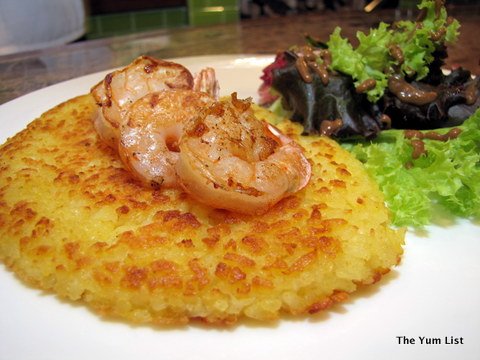 Risotto al Salto con Gamberoni – pan fried risotto and prawns
Piccata di Manzo – beef with capers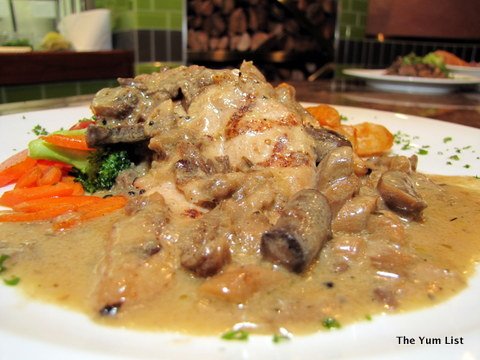 Petto di Pollo al Funghi – chicken breast with mushroom sauce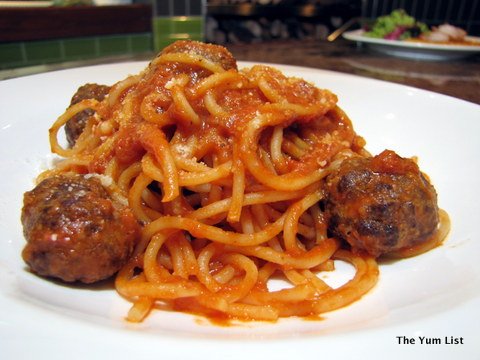 Pasta al Pomodoro con Polpettine – spaghetti and meatballs in tomato sauce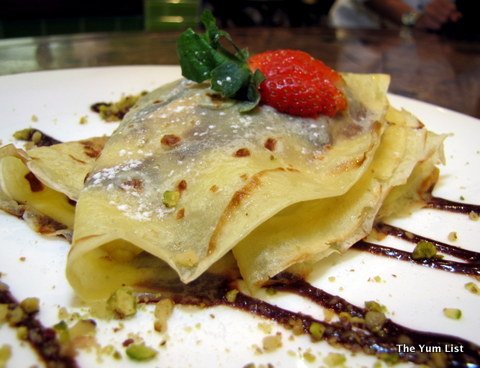 Botta di Banana – banana crepes with chocolate sauce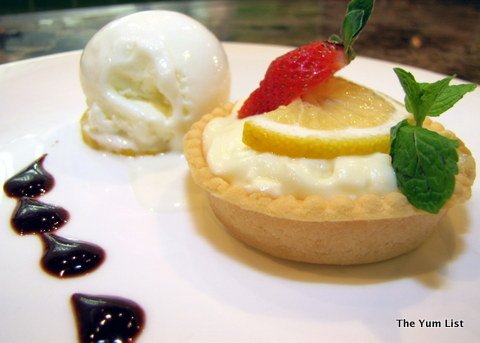 Crostata al Limone – citrus cream tart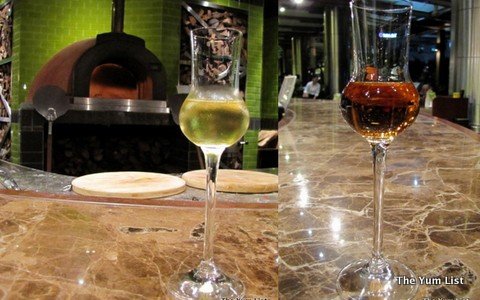 Home Made Limoncello and Grappa de Amarone
Limoncello, KLCC, Kuala Lumpur
Words: Kristin Cosgrove Pictures: The Yum List
When I was young, I dreamt of marrying into an Italian family. My mother-in-law would be a kind, plump Italian woman who loved to cook. Our family would gather around the antique wooden dining table and feast on her homemade pasta, sipping red wine and arguing loudly using lots of hand gestures while Puccini opera played in the background.
It is possible I watched too many movies as a child…
I didn't marry an Italian, but my love affair with Italian food continues, so I was eager to try the new casual Italian dining restaurant, Limoncello, in Suria KLCC. Owned by the same group as
Weissbrau
 and 
Spasso Milano
in Pavilion, Limoncello will soon be joined by its fine-dining sister restaurant, Svago which is set to open just upstairs.
Situated water-side just beyond Starbucks, Limoncello offers a break from the hustle-bustle of the mall while offering a view of the fountains which, when I visited, were lit up and dancing colorfully in the dinnertime dusk. The bright green pillows and tiles at the service counter and even the lime-green menus give a cheery pop to the airy and relaxed atmosphere.
With two menus to choose from – the Svago snacks menu and the Limoncello main menu – diners have a good variety of dishes at a wide range of price points. Service was attentive and the food service was reasonably quick.
Our tasting began with the Pizza Bianco Con Le Patate – a wood-fired white pizza with potatoes (RM26.80). Carbohydrate redundancy aside, it went down really well with my bottle of sweet Sommersby hard cider.
The Arancini di Riso (RM14.80), fried risotto balls, were bite-sized pieces of heaven – crispy on the outside and creamy/cheesy on the inside, set atop a thin layer of tangy red sauce. Yummy! We also tasted the Bruschetta di Boccaldo – tasty mushroom and cheese-topped bruschetta (RM18.80) and Isalata di Pasta (RM 24.80). Both were agreeable and the salad, which includes tuna and crab sticks, is hefty enough to serve as a light main dish. Salads on other tables looked of ample size as well.
If you're like me and like to scrape the pan of the risotto for the crispy bits when you make it at home, you'll love the pan-fried risotto with prawns "Risotto al Salto con Gamberoni" (RM36.80).   It's crusty genius in every bite of this flattened pancake of risotto!
Limoncello's main dishes are nicely varied and well portioned, enough to leave the diner satisfied, but not so much you need to take home leftovers. The Piccata di Manzo was on the more expensive side (RM62.80) but was superb. The beef was incredibly tender and flavorful, combining well with the crisp greens and the light lemon sauce.
Italian staples were also well received including Pasta al Pomodoro con Polpettine (spaghetti and meatballs) (RM28.80) and Melanzane Alla Parmigiana (eggplant parmesan). Monica loved the eggplant parmesan and I can't wait to bring my kids back so they can discover what real spaghetti tastes like (apparently boiling dried noodles into oblivion like I do at home isn't it!)
Dessert included Crostata al Limone (RM18.80), a lemon tart which I would probably pass on next time, only because the crust was a bit pasty for my taste. The large plate of Botta di Banana (RM18.80) – banana crepes – on the other hand, was moist and sweet and we made short work of them despite our stuffed bellies.
For a place called Limoncello one would think you would find the Italian liqueur on the printed menu.  It isn't there, but it is available if you ask for it. We tried the digestif, homemade by the restaurant's manager. What a treat! It was sweet and smooth and delicious. Alternatively, try the Grappa, also traditionally served after dinner in Italy to aid digestion of heavy meals. It was strong and warm, tingling all the way down deep into the belly.
On a subsequent visit to Limoncello this past weekend with friends, I was a little nervous about making our after-dinner movie in time. Sometimes new restaurants can be a little slow as the kitchen works out the kinks. But I needn't have worried. The service was consistently attentive and the food was quick enough that we still had time to peruse the mall after paying the bill. I reordered several of the dishes and found them as equally appetizing as the first visit. The Ravioli di Manza my husband ordered deserves special mention as being outstanding. The portion was rather small for the price, but the perfectly al dente ravioli in olive oil was rich and delicious.
Reason to Visit: Upscale casual Italian in a relaxed and cheery setting, perfect for both relaxing after a day at the park or a pre-movie dinner date.
Limoncello
Suria KLCC
Kuala Lumpur City Centre
50088 Kuala Lumpur
Phone: 03 – 21630188