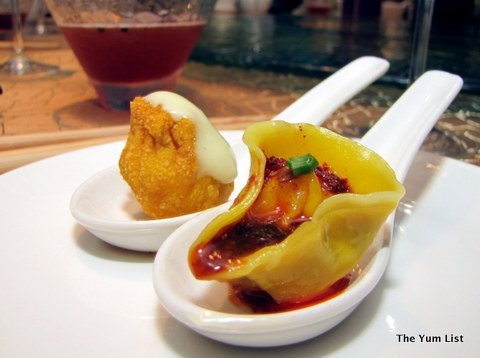 Mini – dumplings to alleviate rumbling tummies
Chinese New Year Menu, Five
Sen5es, The Westin, Kuala Lumpur, Malaysia
As the Chinese New Year approaches, restaurants busily try to outcompete
each other with the most luxurious offerings of indulgence. Yee Sang and
seafood are musts on every menu, but Five Sen5es has also considered those
who'd like to bring in the New Year with some liquid divinity too. Three specially
formulated mocktails and some heart warming Chinese Rice Wine are sure to keep
those who prefer sipping over chewing cheerfully satisfied.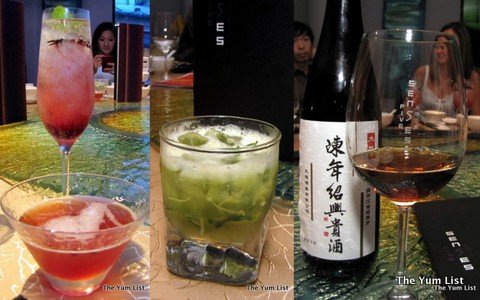 Mocktails and Rice Wine
The
Palatial Bloom is an eye opening bomb with Redbull providing enough caffeine to
alertly see the end to the year of the Dragon. Topped up with manggis charge,
madu tualang and blackcurrant juice, the fruits soften the hit of the Redbull.
The Prismatic Surprise is a bubbly concoction presented in a champagne glass
consisting of hibiscus and blackcurrant tea, lime juice, soda and garnished
with mint. The second orders at our table though were of the Euphoric Freeze, a
green appley mix of ginger, mint and hazelnut syrup.
While
the mocktails started the meal with a sweet fruity awakening, a Chinese Rice
Wine ensured each dish was digested with our bodies a' burning on the inside.
Dramatically poured through a fabulous Riedel snake shaped decanter, the waiter
demonstrated skill and care when siphoning the liquid into each glass. While
some guests stopped at the first sip, others bravely charged on declaring the
brew as improving with each swig.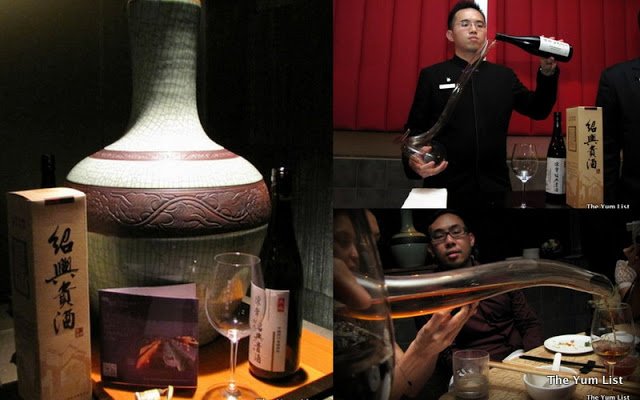 Chinese Rice Wine Poured from a Snake Shaped Riedel Decanter
Tossing of the Yee Sang is always an acrobatic start. With giant sized chopsticks giving a head start to the hurling, a well pitched salad not only gives hopes of a prosperous year ahead but too of an awesome meal to come. Here are the dishes found on the Abundance Silver Dragon set menu: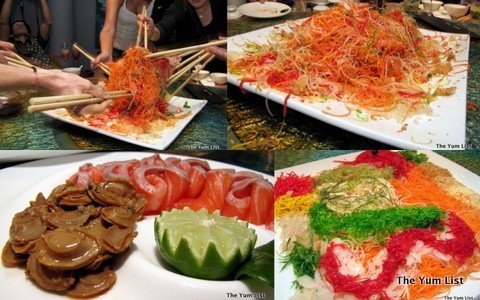 Jade Abalone and Norway Salmon Fish 'Lou' Yee Sang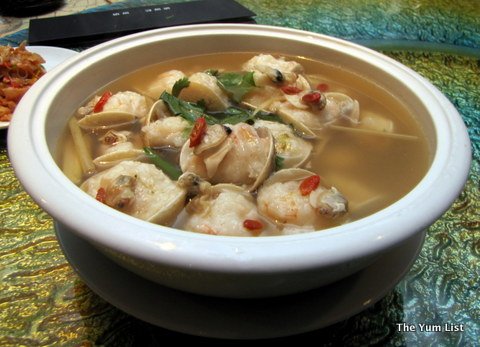 Master Poached Sea Pearl Prawn Clam in Superior Broth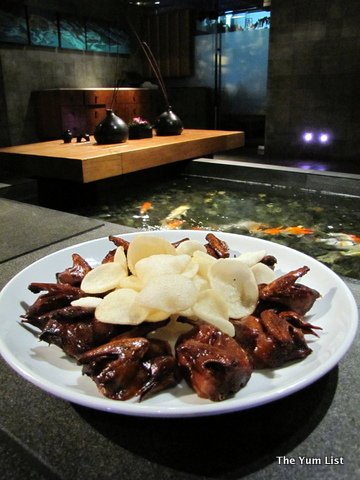 Charcoal Roasted 'Sar Tian' Five Sen5es Pigeon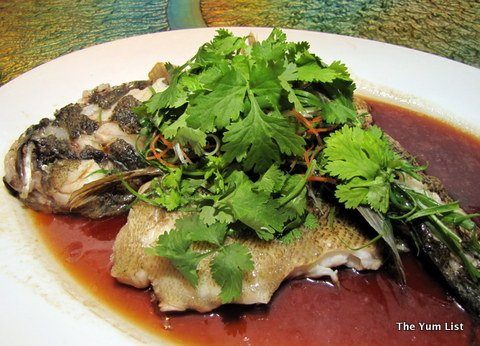 Cantonese Steamed Longevity Goby Fish in Soy Sauce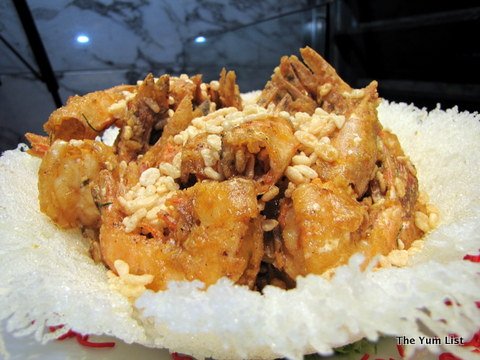 Signature Golden Sand Prawns with Crispy Rice Cereal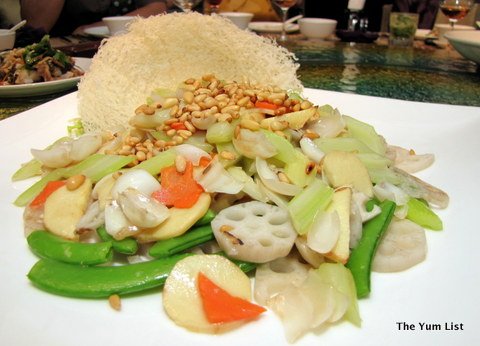 Near Year Teeth Mushrooms Fried with Garden Vegetables and Roasted Pine Nuts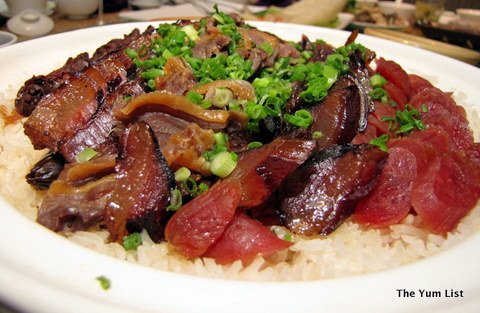 Secret Slow Boiled 'Hong Kong' Style Wax Meat Casserole Rice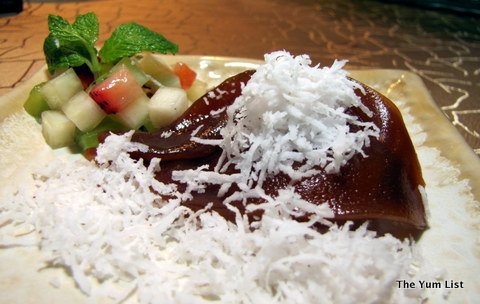 Japanese Sweetened Yam Gold Coin Chinese New Year 'Nian Gou'
Our
favourites of the evening were, without question, the luscious Master Poached Sea Pearl Prawn Clams in Superior
Broth and the Japanese Sweetened Yam Gold Coin Chinese New Year 'Nian Gou'
Presentation. Prawns and clams were
mushed together, returned to the shell then immersed in a bubbly broth. A sharp
edge from the ginger root gave the soup a lip sucking edge. The sticky yam
centred glutinous rice coins and shredded coconut finished the meal with a mild
sweetness and gooey morishness.
Five Sen5es offers four Chinese New Year Set Menus ranging in price from
RM880++ to RM1388++ for a table of ten. The dishes pictured above are from the
most luxurious of the offerings, the Abundance Silver Dragon line up. Special a
la carte items are available alongside the set menus from January 9 until
February 24, 2013.
Reason to visit: Master Poached Sea Pearl Prawn Clams in Superior Broth, Japanese
Sweetened Yam Gold Coin Chinese New Year 'Nian Gou' Presentation, rice wine
poured from a snake decanter
Five Sen5es
THE WESTIN
KUALA LUMPUR
199 Jalan
Bukit Bintang, 55100 Kuala Lumpur, Malaysia
+6 03 2731
833
"The Yum List supports a shark's fin free Chinese New Year for the prosperity of our oceans and the sustainable future of our global community."