Celebrity Chef Sam Leong and Tao Chinese Cuisine at the InterContinental Kuala Lumpur
Hammers have been a pounding and walls have been a crashing
at the InterContinental Kuala Lumpur over the last few months. A spanking new
lobby, lounge and brasserie brought the year to a close and a sparklingly overhauled
Chinese restaurant has opened the current one.
Tao, named after a peach tree originating in China, brings a
refreshed contemporary look to the restaurant with an eye teasing crystal
ceiling, contrasting shelves of Chinese ceramics and panels of flower blossomed
walls lightening the mood. The menu too has been revamped and guests can look
forward to traditional dishes such as Peking Duck spruced up with the additions
of foie gras, eringi mushrooms or truffles!
This post though, is focused on one of a series of events to
celebrate the opening of Tao Chinese Cuisine – a contemporary Chinese set menu
by Celebrity Chef and Master of Modern Chinese Cuisine, Chef Sam Leong. Awards,
TV shows and books fill his resume and for most of you he probably needs no
introduction, so lets cut to the food.
Turning traditional dining on its head, Chef Leong reverses
the order of the menu by presenting the main dish first and heading backwards
all the way down to the amuse bouche served second to last (dessert is still in its
rightful place). Also uncommon for Chinese cuisine is the fact every course is
plated. There are no sharing dishes or uncomfortable moments of wondering who's
going to get the last bite.
Here's what we devoured: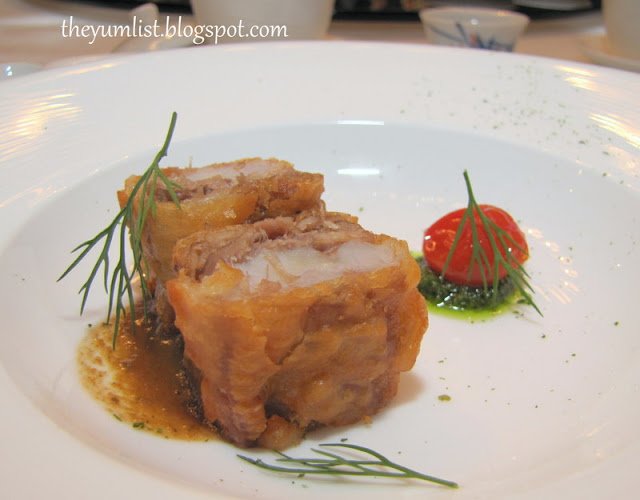 Crispy Duck Confit Stuffed with Radish Cake and drizzled with Mushroom Sauce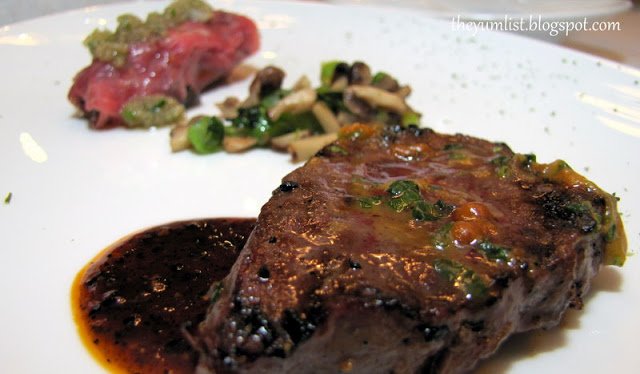 Char Grilled Wagyu Beef with Sea-Urchin, Sashimi Wagyu Beef andPan Seared Foie Gras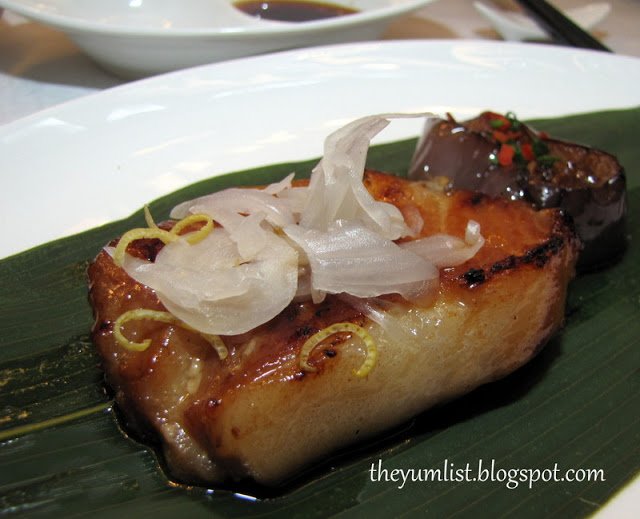 Char Grilled Black Cod Fish with Wok-Fried Eggplant in XO Sauce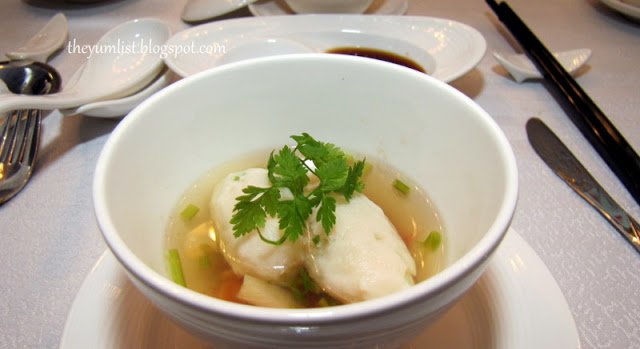 Slow Cooked Scallop Mousse in Spicy Thai Consomme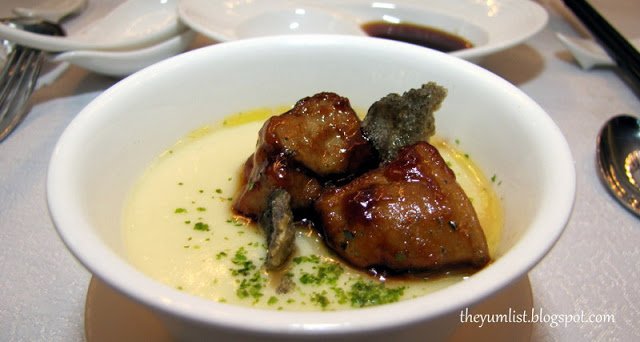 Steamed Chawanmushi with Crispy Salmon Skin and Foie Gras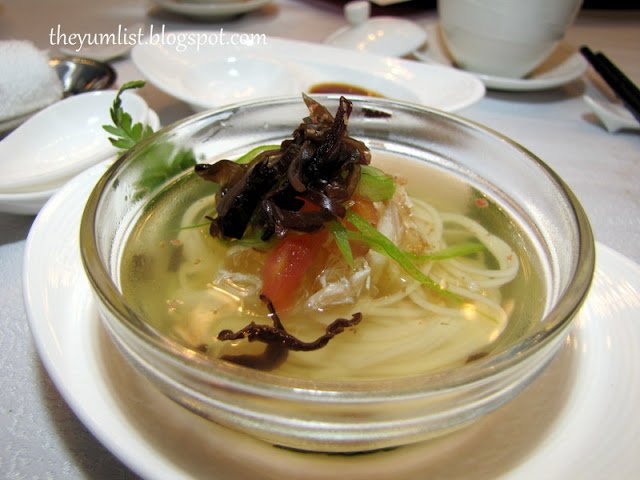 Chilled Home Made La Mian with Crab Meat in Hot and Sour Consomme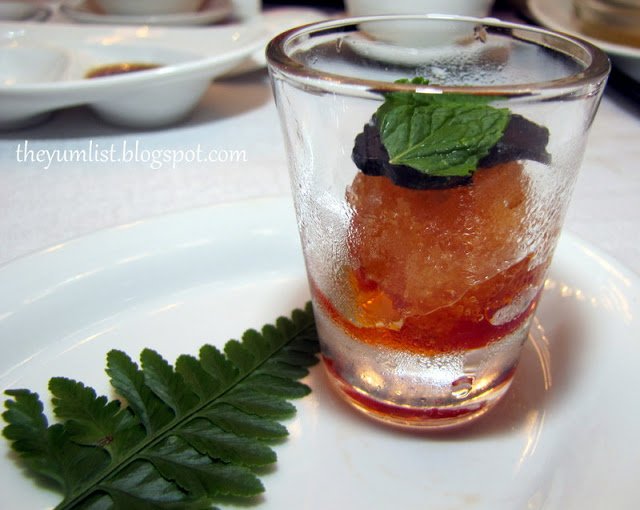 Cherry Tomato Sorbet Marinated with Salted Plum and Honey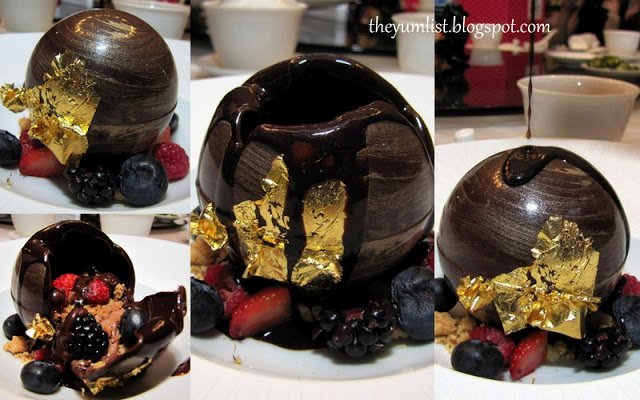 Maraicbo Chocolate and Berry Sphere with Chinese Warm Chocolate Tea
And… not to be outdone by the guest celebrity chef… Executive Chef Darrell J. O'Niell finished the menu with a bomb of sweetness. A Maraicbo Chocolate and Berry Sphere with Chinese Warm Chocolate Tea ended the meal with a dramatic finale. Globular cacao desserts arrived plated with gold leaf awaiting a hot chocolate stream, which was soon poured over the orbs deliquescing the once hard shell and revealing a hazel coloured mousse comforting a bevy of berries – an adult version of a Kinder Surprise (or so the chef says).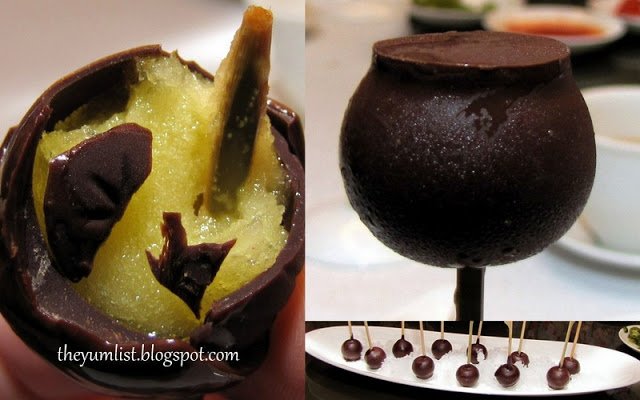 Chocolate Coated Orange Sorbet Lollypops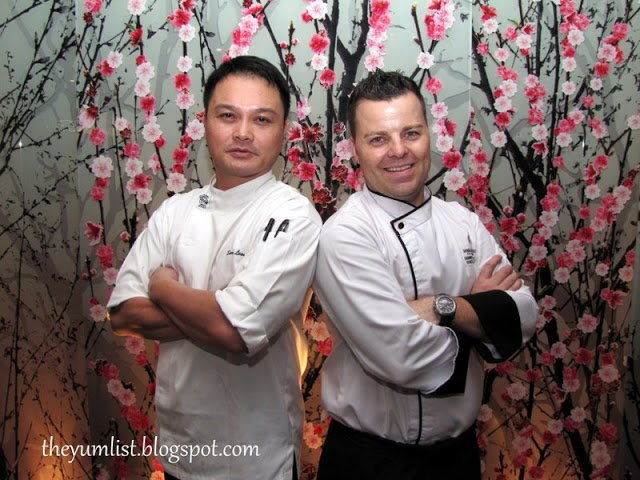 Chefs Sam Leong and Darrell J. O'Niell
If opening week is anything to judge by, it looks like Tao Chinese Cuisine is going to be a hot number for the year of the snake. Gong Xi Fa Cai!
Tao is opened for lunch every Monday to Friday from 12noon to 2:30pm, Saturday, Sunday and Public Holiday 11am to 2:30pm, and for dinner daily from 6:30pm until 10:30pm.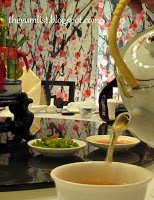 Tea
Reason to visit: stylish dining in the vibrant new setting with a revamped menu to explore luxuries such as Peking Duck with Truffles!
Tao Chinese Cuisine
InterContinental Kuala Lumpur
165 Jalan Ampang
50450 Kuala Lumpur
Malaysia
+6 03 2161 1111
"The Yum List supports a shark's fin free Chinese New Year for the prosperity of our oceans and the sustainable future of our global community."