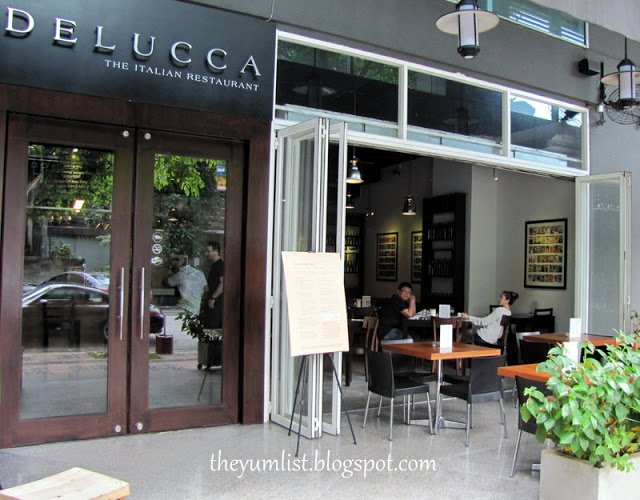 Delucca Italian Restaurant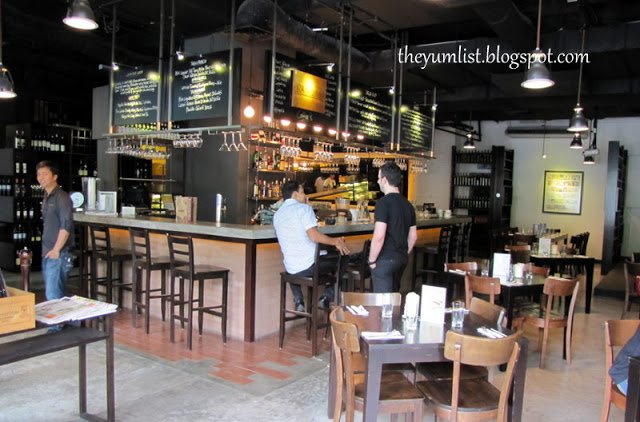 Delucca Interior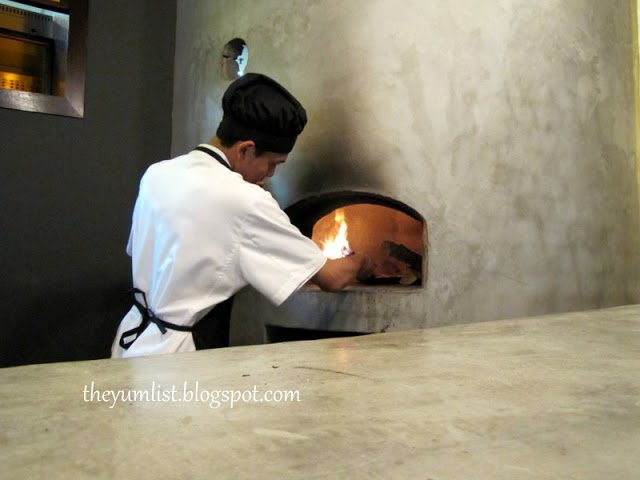 Wood Fired Oven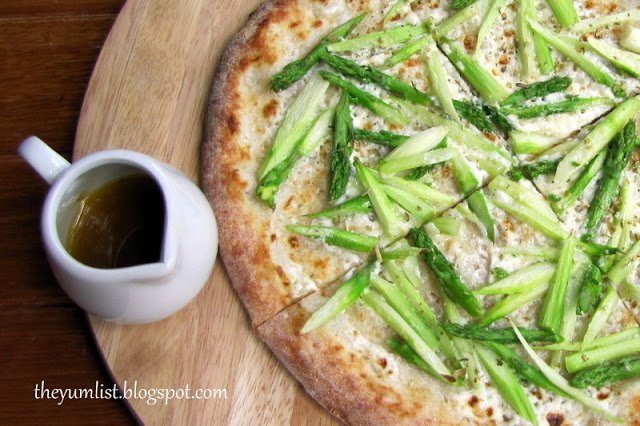 Asparagus and Ricotta Pizza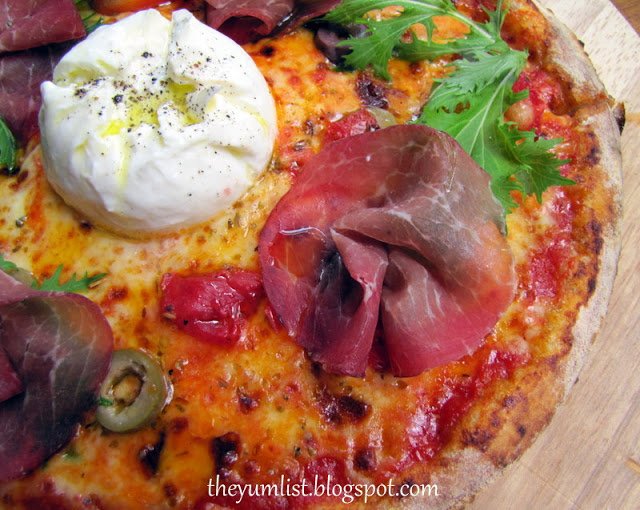 Burratina and Bresaola Pizza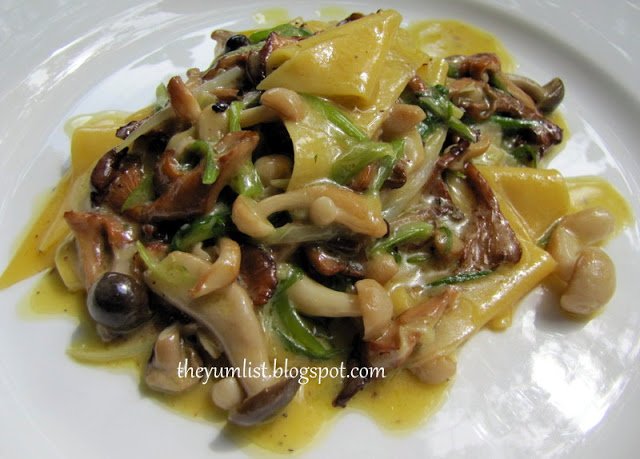 Home Made Mushroom and Scallion Pasta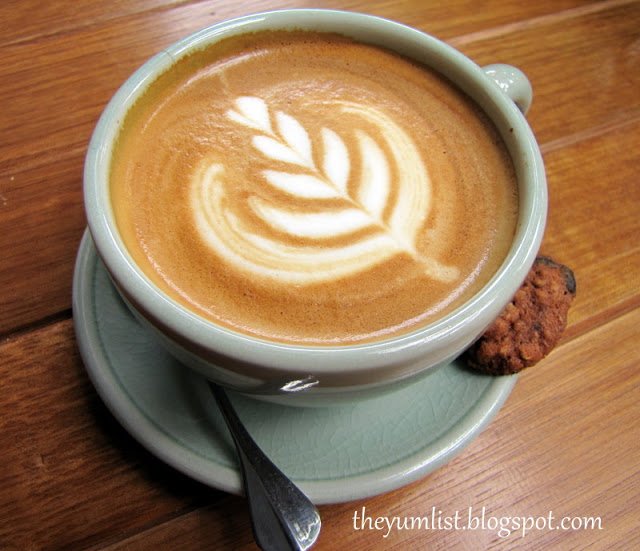 Rare to find in Kuala Lumpur is a truly excellent cup of coffee. Delucca though is an exception and serves up an exceptional brew with the help of RAW coffee.
Delucca,
Italian Restaurant, Changkat Bukit Bintang, Malaysia
*** Sadly Delucca has recently closed. 🙁
Could this be the best pizza in town? Hubby thinks so, and I have to
agree. A faintly chewy crust with a whisper of smoke from the wood fired oven
and candid combinations of high quality toppings have ruined our taste buds for
any other pizza. Chef Afiq, of Delucca Italian Restaurant, seems to have uncovered
a magical marriage of ingredients, proportions and cooking method to form an
unrivaled (in my humble opinion) pizza, unlike any other I've experienced in KL.
Delucca recently underwent a makeover, which saw the simplification of
their colour scheme, a streamlining of the space and, the introduction of a handsome
wood fired grill. Still standing at the centre of attention is the island bar, but
a green outdoor patio too makes an inviting spot for coffee and, a table at the
back is a flawless location for a bottle of red and also rewarded with views of
flickering flames from the new oven.
An apt start to any meal, or alone as an afternoon bite, is the
Asparagus and Ricotta Pizza. Fresh tender sprigs of green vegetable are
supported as the protagonists by soft white cheese, a speckling of black pepper
and a drizzling of brown butter. Supped with a chilled dry white, such as a
pinot grigio, this pizza should be on your 'to order' list.
The Burratina with Bresaola Pizza is an exemplar of the KISS (Keep It
Simple Stupid) principle. When you have superb ingredients there is no need for
complicated production. Quality is allowed to shine, without hindrance. Soft
white cheese dribbled with olive oil and herbs, delicate shavings of air-dried
beef, virescent rocket and red and green olives (not the canned type but the
marinated moist plump variety) sit atop the slender crust. The crust too is an
essential character in this composition. Made with caputo flour, the base is a
tad thicker than the common super thin versions found around town, giving it a
vaguely chewy texture and a flavour all of its own – no plates are ever seen
with the crust edges leftover in this restaurant – every morsel of the pizza is
usually devoured.
Not being able to resist home made anything, we too sampled the house
made Mushroom Pasta with Scallions and Brown Butter. Packed with ingredients
and full bodied, meat lovers might find it hard to believe this is a vegetarian
meal. It was so tasty and filling, even hubby had no carnivorous complaints. Pastas
and pizzas are accompanied with shredded parmesan and chili flakes, although we
found neither were needed.
Pizzas range from RM24 to RM46 and pastas can be ordered starter or main
meal size and vary between RM28 and RM59. Delucca is open Tuesday to Sunday
from 10am – 11pm (the kitchen closes 3-6pm but coffee, drinks and desserts are
still available).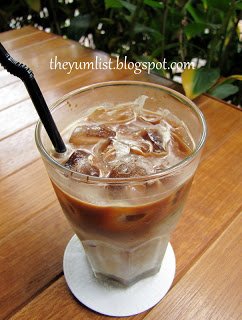 Iced Latte
Reason to visit: wood fired pizza,
home made pasta, friendly chic ambience, excellent coffee
Delucca, The Italian Restaurant
Open Tuesday to Sunday from 10am –
11pm (kitchen closes 3 -6pm)
Parking readily available in the lot
underneath
One Residency
Jalan Mesui (off Jalan Nagasari)
50200 Kuala Lumpur
Malaysia