Road Trip – Stop, Revive, Survive – Coffs Harbour to the Gold Coast
The best way to see Australia is by hiring a car and driving yourself. Distances are long and public transport is effective, but not convenient. A road trip allows you to stop and take things at your own leisure. A popular drive is from the Gold Coast down to Sydney or vice versa. This post highlights a section of that drive between Coffs Harbour and the Gold Coast. You should take advantage of not only the beautiful scenery but also use the transit as a chance to taste some delicious local produce.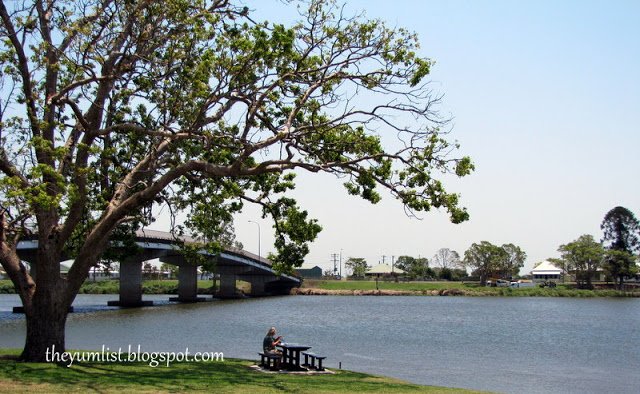 The Woodburn riverside park is the ideal spot for a picturesque picnic. Equipped with public toilets and well shaded tables, the park makes a great stop, revive, survive break from your road trip to the Gold Coast.
Woodburn is a popular stop, revive, survive stop about 1 1/2 hours south of the Gold Coast and 170km north of Coffs Harbour. This riverside village is the perfect spot to grab a cuppa, a meat pie and something sweet from the bakery and head across the road to a shady spot under a tree to enjoy your down to earth Aussie cuisine with views of the river. Here are our favourite spots to grab a bite to take away in Woodburn.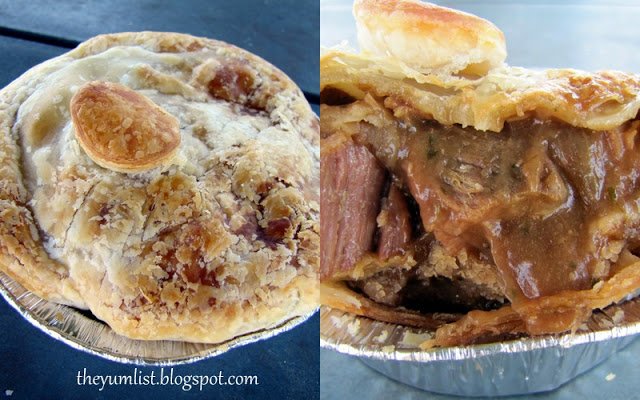 Classic Meat Pie from Pot Belly Pies
Pot Belly Pies
A visit to Australia is not complete without at least one sampling of a classic Aussie Meat Pie. Pot Belly Pies has a reputation for making one of the best. From the classic steak and mushroom to the more gourmet asparagus and chicken, you can't go wrong. The usual tomato sauce topping is absolutely unnecessary here as the quality of the meat and pastry are without need of support. Thick chunks of steak and thinly sliced mushroom swim in thick gravy and are encase in a pastry that is unique to Australia – not the light flaky French layers, but a truly Australian breed of dough distinct to the land down under.
Pot Belly Pies
River St
Woodburn
NSW
Australia
+61 0414 753 972
Second stop should be to Rich River Coffee which brews up Botero beans to make any form of espresso coffee you desire. A hot dry Aussie summer though is well matched with a chilled Iced Latte – made to your request – syrup, no sweetener, skim milk, whipped cream – however you desire.
Rich River Coffee
Shop 2 – 119
River St
Woodburn, NSW
Australia
+61 02 66 822747
[email protected]
Passionfruit Tart, Wurlitzer Bakery
Wurlitzer Bakery
Finally grab a sweet pick-me-up at Wurlitzer Bakery right next door to Rich River Coffee. Known for their Mini Carrot Cupcakes, you need to get in early as they sell out fast. If they're gone already though, (as was the case when I passed through – word from my mum though that they are delicious) ask the friendly staff what else they recommend. Above you can see a Passionfruit Tart – sweet, tangy and a pastry often found in Aussie bakeries, also a good suggestion.
Wurlitzer Bakery
Shop 1/119 River St.
Woodburn
NSW, Australia
+ 61 02 6682 2533
Between Woodburn and Byron Bay you'll find the modernisation of the highway has bi-passed a number of the charming towns in recent years. Ballina can make a nice detour, but if you don't want to take the extra 10km stretch of road to get there, the Macadamia Castle is found on the highway, not far from the Ballina turn off.
Famous for their pancakes (over 10 drool worthy varieties on the menu), the Macadamia Castle also features locally made goodies, organic local coffee, of course macadamias in all forms and flavours, and a play area for the kiddos to have a break too.
Macadamia Castle
1699 Pacific Highway
Knockrow
NSW 2479
Australia
5 minutes south of Bangalow, 10 minutes north of Ballina
+61 02 6687 8432
www.macadamiacastle.com.au
[email protected]
Open daily from 8am to 5pm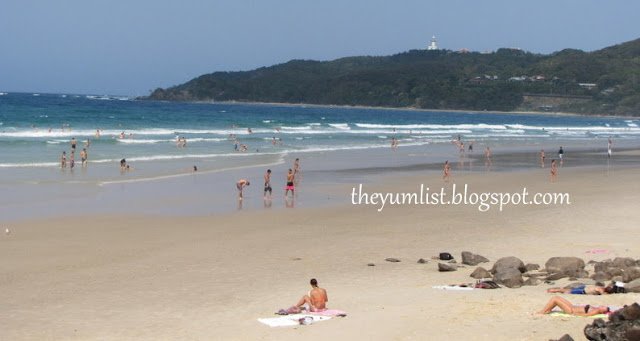 Byron Bay
Byron Bay is worthy of not only a stop, but a stopover. The most easterly point of Australia boasts a laid back beachy hippy lifestyle with an abundance of fresh local organic produce. Here are a couple of The Yum List's favourite spots to grab a bite.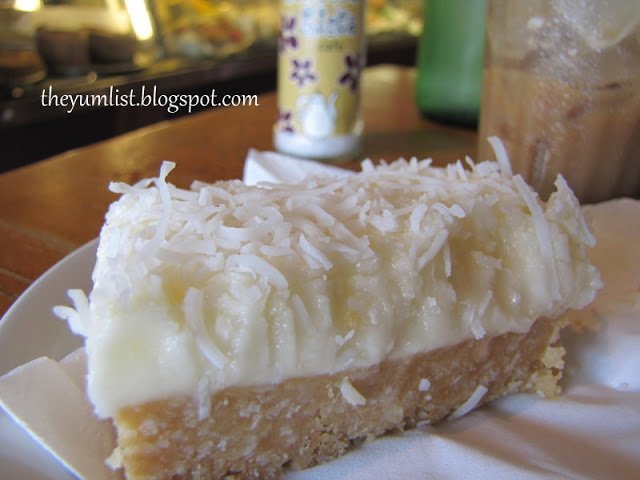 Lemon Bliss Slice, Twisted Sista
Twisted Sista
Huge meals, delicious sandwiches and sumptious sweets can be found at Twisted Sista Cafe in Byron Bay. Sweet tooths will go wild over the portions, richness and variety of the lush goodies here. Try the Passionfruit Cheesecake, Lindt Chocolate Mousse Cake, Lemon Bliss and the Macadamia Caramel Slice for pure indulgence. Servings are enormous so be prepared for a serious sugar high.
Twisted Sista Cafe
Shop 1, 4 Lawson Street
Byron Bay, NSW
Australia
[email protected]
+61 02 6685 6810
Open 7 days from 7am until 5:30pm.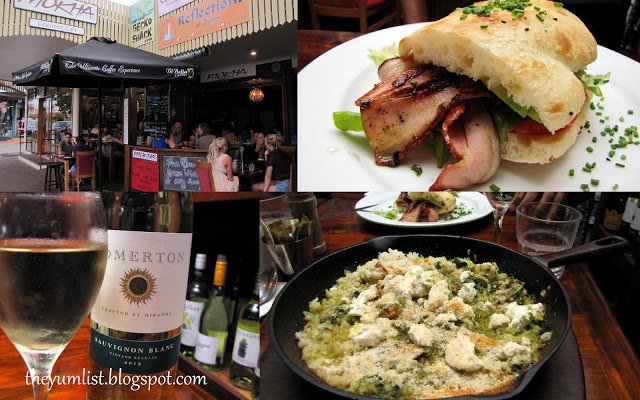 Mokha
Mokha
Good value mains with a cosy intimate atmosphere is what Mokha on Lawson provides. Live entertainment, fast service and handsome presentation are further reasons for a visit. With a convenient location on the main drag, it's easy to locate and kind to the wallet, especially if you enjoy a glass of wine with your meal. Specials often include a drop of red or white with every principle plate ordered.
Mokha on Lawson
Shop 2 Feros Arcade
2 Lawson St.
Byron Bay, NSW
Australia
+61 02 6685 7726
[email protected]
Open for breakfast, lunch and dinner seven days a week