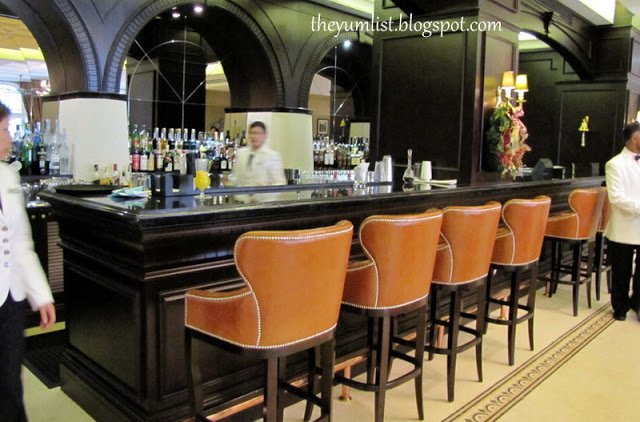 The Bar, The Majestic Hotel Kuala Lumpur – The best place to settle for live entertainment and a good story.
Classic Cocktails and a Tall Tale or Two at The Bar, The Majestic Hotel Kuala Lumpur
"Reminiscent of the
halcyon days of British Malaya, relax and enjoy vintage cocktails of the time."
As a well-bred Australian I know that the best spot for a
drink and a story is at the bar. True bartenders are not only experts in mixing
up spirituous beverages, but skilled tale weavers too. Never quite knowing what
percentage of a story is being spun, you can be assured as the night goes on
and the drinking progresses that you'll be believing each tale closer to fact
than fabrication. This is what I look for in a good watering hole and this is
what I found at The Bar at the Majestic Hotel Kuala Lumpur.
Meet Johnnie Yap, the humble chief barman, concoctor of
cocktails and teller of yarns. You'll find no molecular contrivances or
inventions with weird syrups and unidentifiable ingredients behind his bar –
just real fruit and real liquor. The olden days are preserved in a list of
Classic Cocktails, each accompanied with a story of origin, compiled in a
charming menu printed in old ink and, with pictures capturing the magic of
colonial times.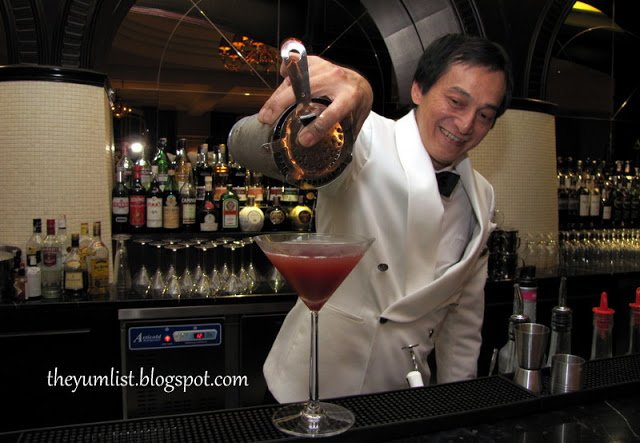 Barman Johnnie
We tried the following cocktails and were not disappointed
by one: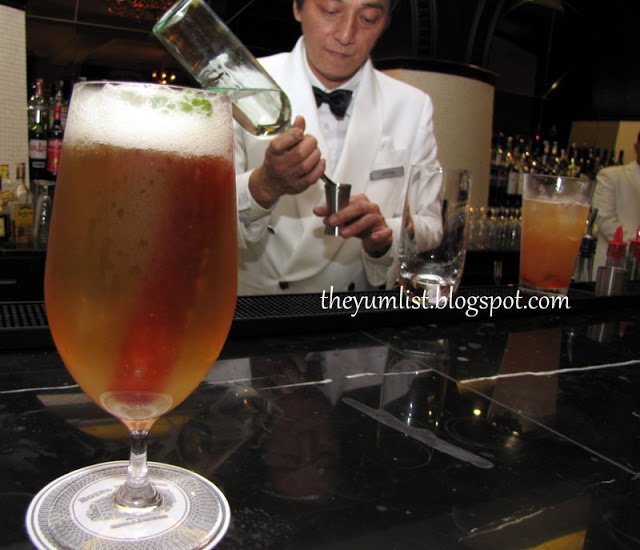 Code 55 and 2 Bulat –
beer, lemonade, gin, whiskey, grenadine. Inspired by a story that happened in this very bar a long
time ago… a lady stormed angrily into the bar and sat herself down next to a
gentleman guest and his mistress. The captain approached the lady (also not the
wife) trying to defuse the situation asking what she'd like to drink. She
replied "code 55 and 2 bulat." The barman was flummoxed as he'd heard never
heard of such a cocktail. Later he realized that the dame was requesting her
weapon of battle, "Colt 55 and 2 bullets."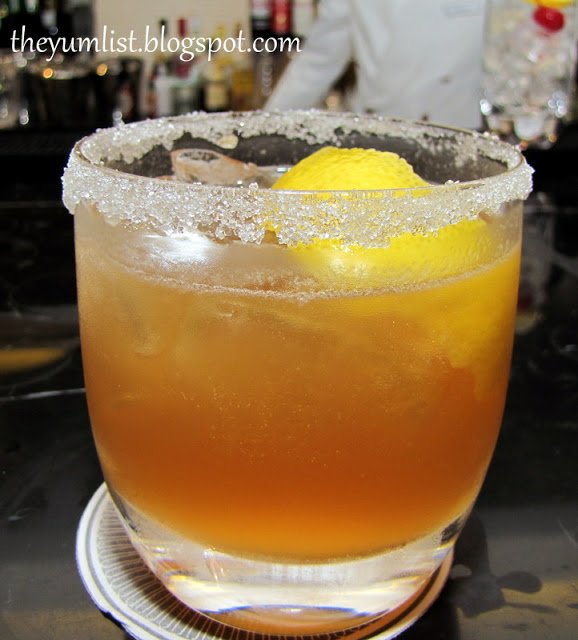 Brandy Crusta – brandy,
Cointreau, lemon juice, sugar, Angostura bitters rimmed with sugar.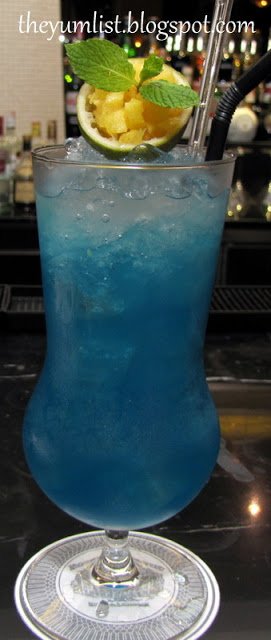 Tanqueray Blue – Tanqueray
10 gin, lemon juice, sugar syrup, cranberry juice and blue ginger infusion. Blue
ginger is native to Malaysia but not available commercially so the syrup is
made in house. An interesting fact is that blue ginger is not actually blue but
more of a pinkish colour. This mixture includes citrus Curacao forming the
skyish hue. This is a long refreshing citric drink, decorated with half a lime
scooped out, filled with finely chopped pineapple and topped with a mint sprig.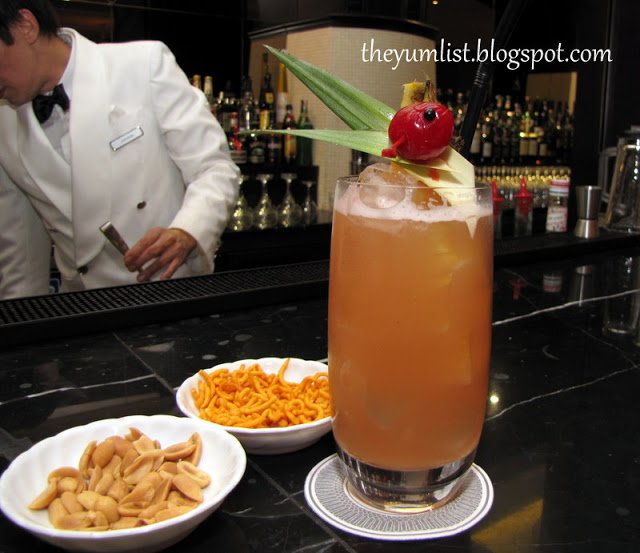 Jungle Bird – Campari,
rum, lime, sugar and pineapple juice.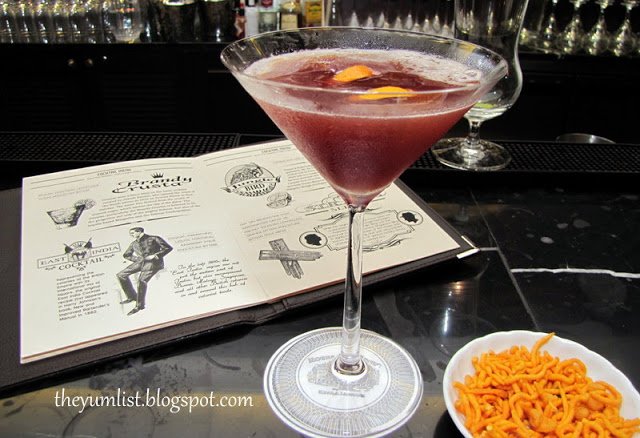 East India Cocktail – cognac, maraschino liquor, Cointreau, raspberry syrup and Angostura bitters.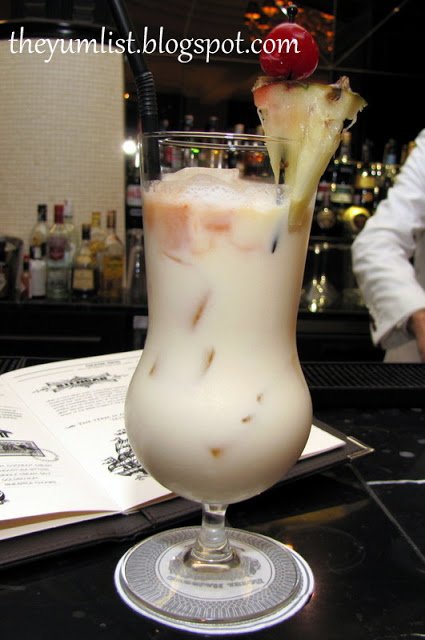 The Malayan Colada – Cocount cream, Angostura bitters,
single cream, salt, golden rum and pineapple chunks. A local twist on the
classic piña colada, The Barman presents his own take on this deep tropical
beverage.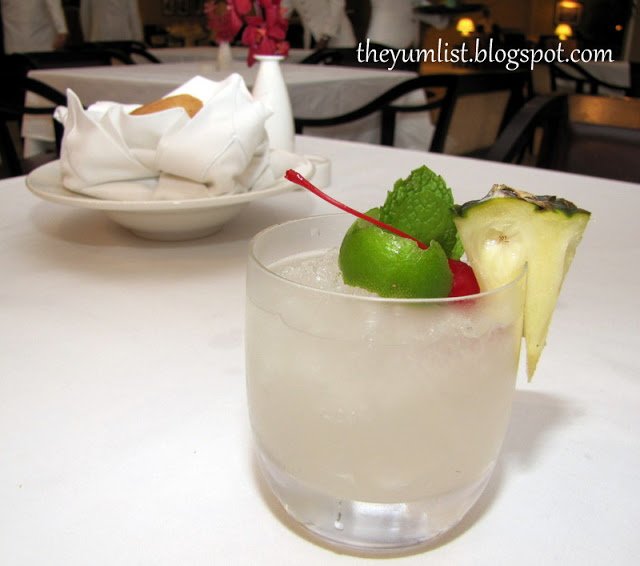 Mai Tai – rum,
crème de almond, pineapple juice and triple sec.
The dulcet harmonies of The Soliano's vocalist accompanied
by sexy taps on the ivory, strums of the double bass and a regular thrum on the
drum kit maintain the classic ambience and add excitement to the air.
All cocktails are priced at RM48++. While the bartender is
willing to make drinks to your requests, it's highly encouraged that you try
the classics to have full appreciation of The Bar.
Reason to visit: vintage cocktails and
ambience from a bygone era, live music by The Solianos, a yarn spun by the
barman Mr. Johnnie Yap.
The Bar
The
Majestic Hotel Kuala Lumpur
5
Jalan Sultan Hishamuddin
50000
Kuala Lumpur
Malaysia
www.majestickl.com
+6
03 2785 8000