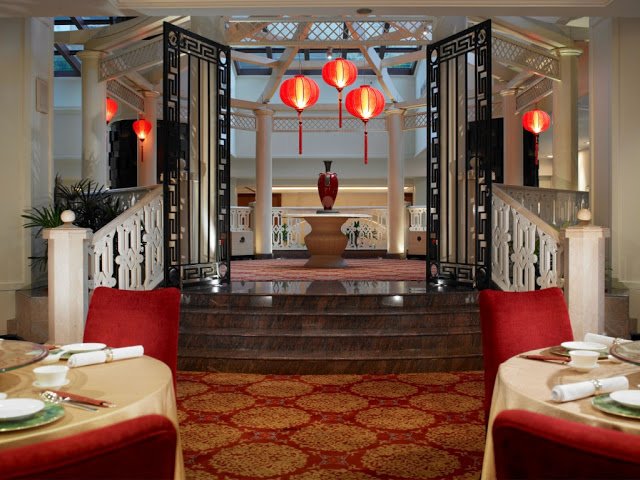 Celestial Court, Sheraton Imperial Kuala Lumpur Hotel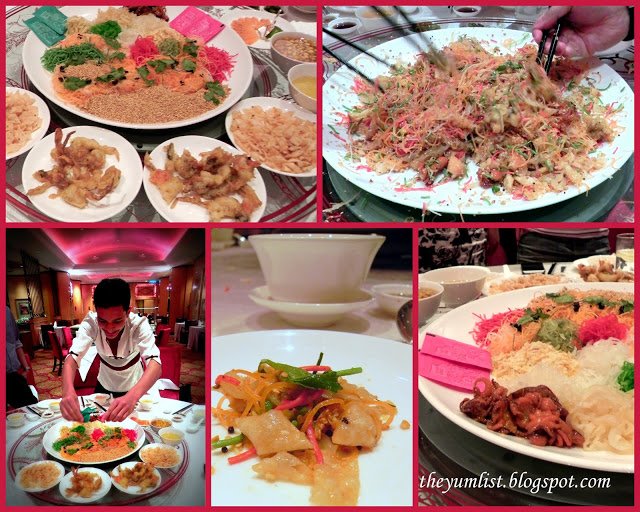 Yee Sang with Combination or Crispy Soft Shell Crab, Sliced Salmon and Japanese Octopus
Chinese New Year Menu at Celestial Court, Sheraton Imperial Kuala Lumpur
By Kristin Cosgrove
I'll admit my palate is a bit naïve when it comes to traditional Chinese New Year dishes, but each dish served from the Celestial Court's Chinese New Year menu tempts the taste buds of both the expats (my husband and me) and the locals alike at a recent tasting.
The restaurant, located in the Sheraton Imperial Kuala Lumpur Hotel, is elegant and warmly decorated, with cushy
chairs that I sink into happily. Tea is
poured as we await the traditional Chinese New Year dish, Yee Sang. Celestial court has four Yee Sangs to choose
from this Chinese New Year, and we are lucky to try one with a twist – a Japanese fusion-style Yee Sang with Combination of Crispy Soft
Shell Crab, Sliced Salmon and Japanese Octopus. The dish festively commemorates the year of
the snake, as the carrots are molded into the shape of a snake and surrounded
by colorful ingredients. Plates of
salmon, tempura shrimp, octopus and soft-shell crab are presented separately, awaiting
the traditional toss. Dots of caviar
pepper the top, and Chef Tommy combines the remaining ingredients while
bestowing wishes of prosperity and good luck in the coming year. Our group digs in quickly and
enthusiastically, tossing the salad as the beautiful mess spills out onto the
table. Finally – a reason to
legitimately play with our food! Eating
the Yee Sang was almost as much fun; it is just the right mix of flavor,
crunch, colors and moisture. It sings
with the sublime tang of mango-plum sauce.
One of my favorite dishes of the evening (and one of the prettiest) is the Wok Fried assorted Seafood with Macadamia Nut Served in Nest. Just look at this beauty! The warm nuttiness of macadamias give a crunch with snappy veggies and the well-prepared shrimp and seafood – a satisfying blend.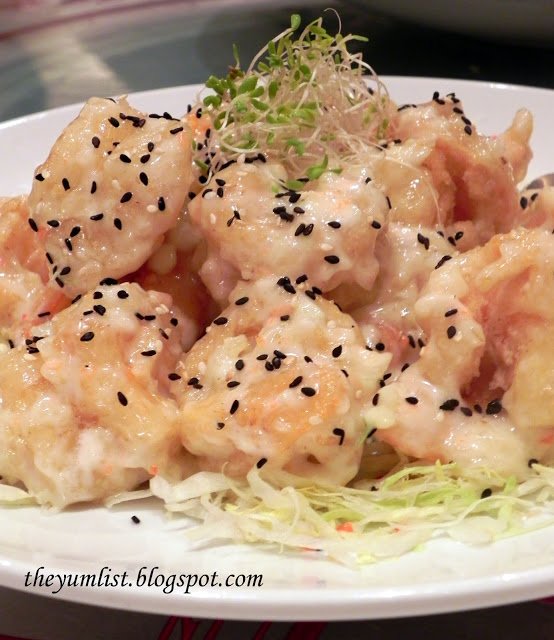 Crispy Prawns with Mayonnaise
Big, succulent pieces of Crispy
Prawns with Mayonnaise are served with black sesame seeds and alfalfa
sprouts. This, my friends, is my
favorite dish of the evening. The
perfectly cooked prawns are springy and sweet with a hint of crunch and an
added bit of earthiness from the sprouts. Really heavenly.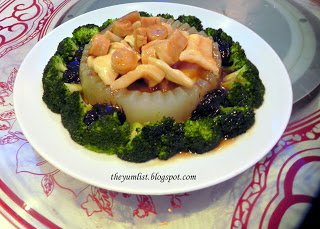 Braised Dried Seafood and Sea Moss in Winter Melon
Braised Assorted Dried
Seafood and Sea Moss Served in Winter Melon is an interesting dish and
artfully presented. Served with
broccoli, this dish is a nice combination of flavors.
Not in the mood for seafood?
The Roasted Chicken with Ginger,
Garlic and Spicy Flavor is a delight.
Again, the dish gives the eyes as much pleasure as the mouth; when it is
served I quickly notice the top of the food is actually "alive" with
movement! Thin shavings of fish flakes
are curling atop the warm chicken as if fluttering in a light wind. Chewy and salty, the flakes add a smoky
flavor to the tender chicken. The sauce
has a spicy kick that I adore. Definitely
add this to your "must order" list.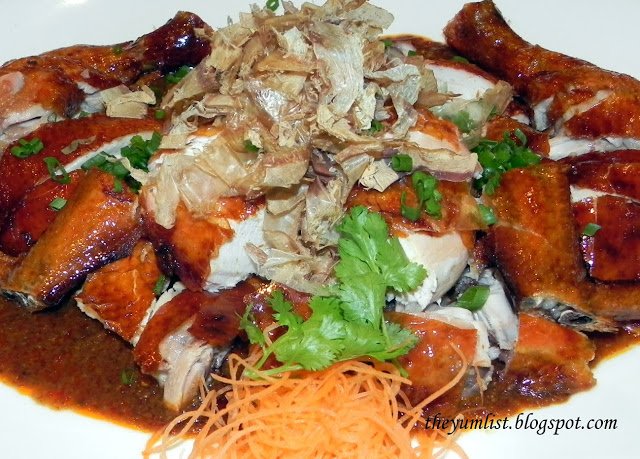 Roasted Chicken with Ginger, Garlic and Spicy Flavor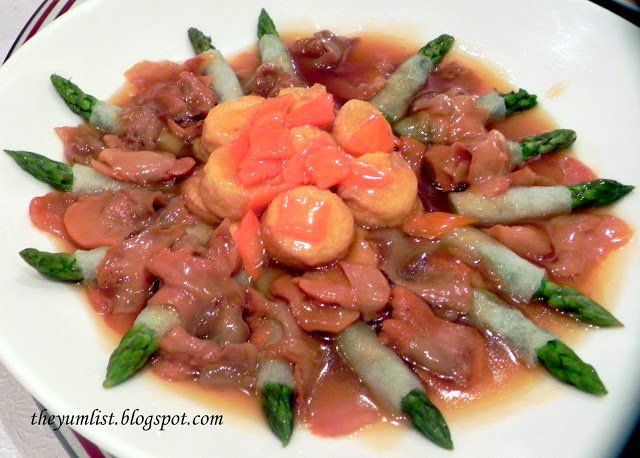 Braised Yu Fungus, Bamboo Pith with Australian Asparagus and Japanese Bean Curd
A fine vegetarian choice on the menu is the Braised Yu Fungus, Bamboo Pith with
Australian Asparagus and Japanese Bean Curd. A crown of custard-like bean curd tops the
dish, some of the best I've had, containing an egg-like texture and
flavor. The asparagus is nestled in the
bamboo pith, the bitterness of the vegetable balancing the relative sweetness
of the fungus and carrot as well as the buttery flavor of the bean curd.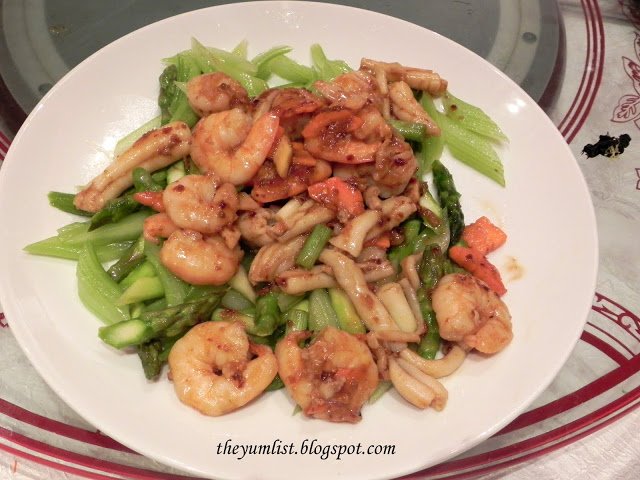 Sauteed Osmanthus Clam, Shrimps with XO Sauce and Garden Greens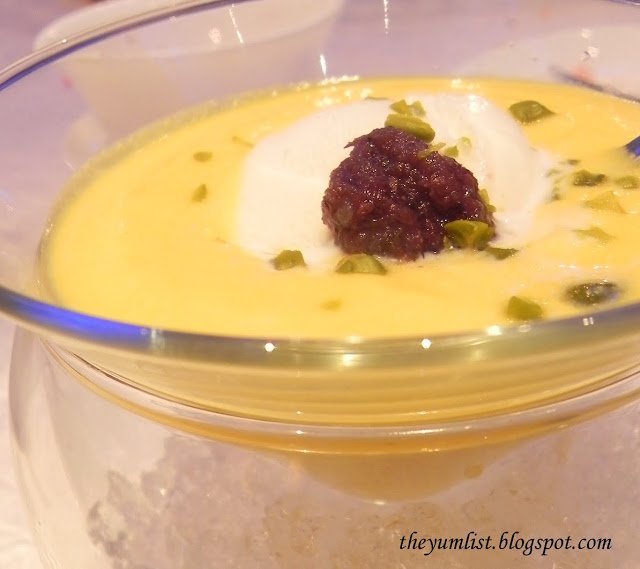 Pumpkin Puree with Coconut Gelato
Ending the meal is a pretty plate of fruit set on ice and then a
gorgeous bowl of Pumpkin Puree with Coconut Gelato. Topped with dollop hint of red beans and a smattering of pistachios, this
dessert is seemingly simple, but really special. One bite of the creamy puree makes me "ooh" and "ahh", and after adding a tad of the gelato onto my spoon I am head over heels in
love.
Celestial Court's Chinese New Year menu is available 7
January to 24 February 2013. Choose from
the a la carte menus with dishes priced from RM38++ upwards, or spoil guests
with one of three exclusive nine-course set menus starting at RM1,499++ for a
party of 10.
Reason to Visit: Chinese New Year dishes that are a feast for the eyes as well as the taste buds including unique and tasty Yee Sang compositions and a comfortable but elegant atmosphere.
Hours: Monday – Saturday, 12:00 PM – 2:30 PM; Daily 6:30 PM – 10:30 PM; Sunday and Public Holidays, 10:00 AM – 2:30 PM.
Celestial Court Restaurant
Sheraton Imperial Kuala Lumpur Hotel
Kuala Lumpur, Malaysia
Reservations: +6 03-2717-9900
"The Yum List supports a shark's fin free Chinese New Year for the prosperity of our oceans and the sustainable future of our global community."