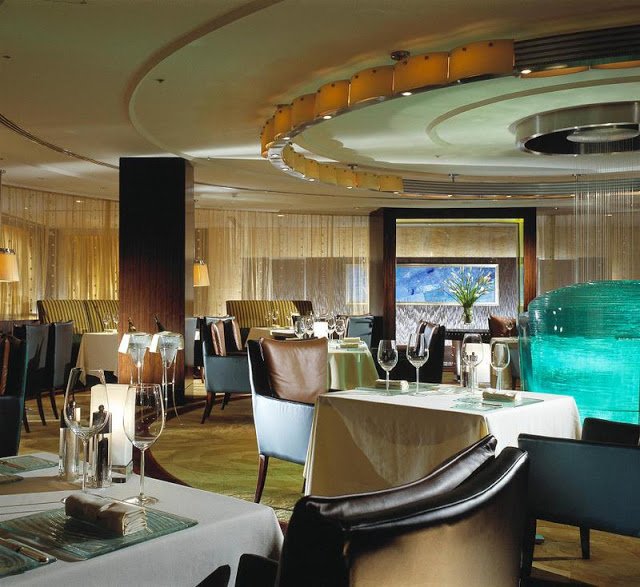 Lafite, Shangri-La Kuala Lumpur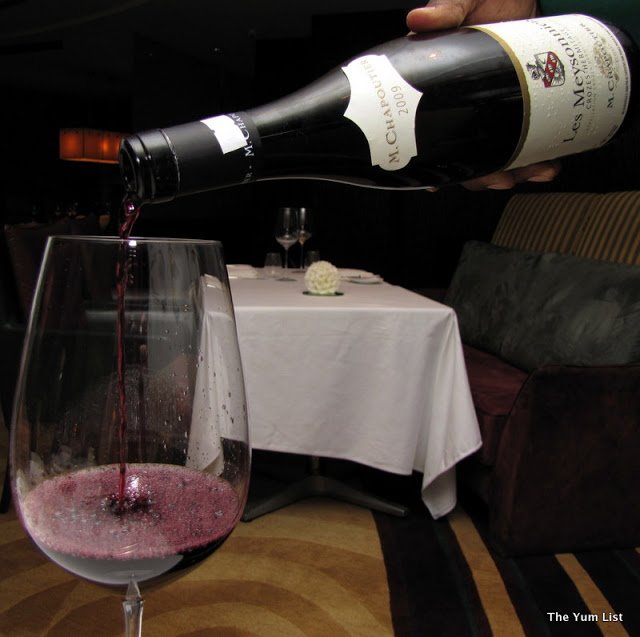 Les Meysonniers, Syrah, M. Chapoutier, Rhone Valley, France, 2009
Valentine's Menu at Lafite, Shangri-La Kuala Lumpur, Malaysia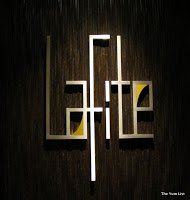 Lafite
Flowers, chocolates, fine dining and declarations of love – it doesn't matter how down to earth and openly discouraging of frivolous sop a girl is, she still secretly yearns for all four on Valentine's day. And… this year, I want the fine dining part to be at Lafite!
Enormous glass installations, exceptional service and, heavenly aromas drifting from fresh flowers and aromatherapy oils compose the setting of Lafite, Shangri-La Kuala Lumpur's fine dining establishment. Making style seem effortless, tables are simply dressed with white linens, oversized wine glasses and floral adornments. Intimate booths or romantic tables overlooking the garden through windowed walls, cover your seating options in a restaurant with a reputation in KL as being one of the finest.
Serving seasonal modern European cuisine, Lafite's head chef, John Nash, is kept on his toes creating 20 new dishes every 45 days keeping guests deliciously engaged with the ever-evolving line up. Originally haling from the USA, Chef John has travelled and cooked the world. He relies on his classical French training to form the base of his designs, and then draws inspiration from seasonal produce and life experiences. Commonly starting with a time-honoured recipe, he often twists the dish by replacing a traditional ingredient with an unorthodox one. This Valentine's Day, diners can look forward to an eight course menu fashioned by the chef himself featuring scrumptious dishes from the February array with a couple of romantic turns along the way. Don't be alarmed though, you'll find no gimmicky red heart shaped meals here (thank goodness!), just exquisitely good food.
While making your wine selections and deciding on the main, a tray of homemade breads – rye hard roll, mini French baguette and Parker house rolls – is served. Quality French butter sprinkled with salt speaks to you, "Great start."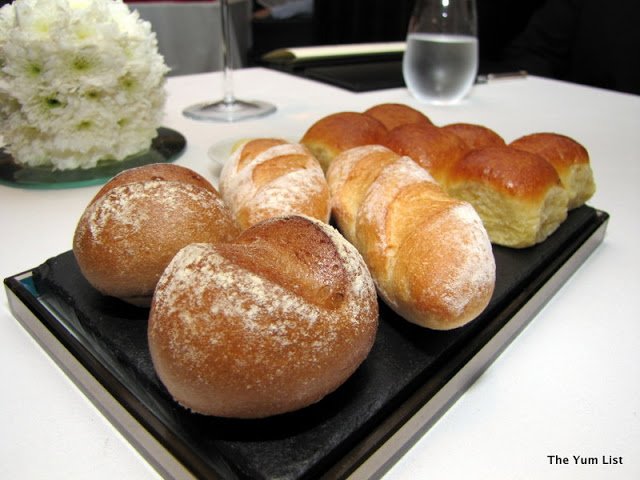 Home Made Bread and French Butter Sprinkled with Salt – French Baguette, Rye Hard Roll, Parker House Roll
Lafite's eight course Valentine's menu begins with Qwehli Prawn and Crab Salad. Local mud crabs mashed with African prawns, sprinkled with a Japanese seven spice blend and crested with prink grapefruit, avocado, caviar and frisée, performs its role in waking up the palate and rousing the tongue for more.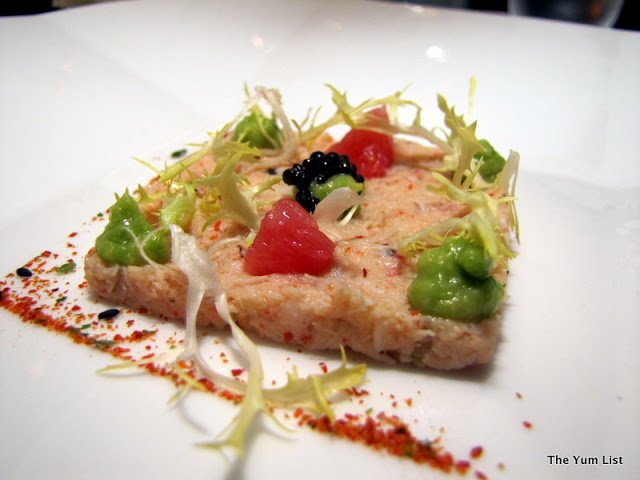 Qwehli Prawn and Crab Salad
Creamed Barley, flavoured with garlic, pickled lemon and parmesan follows. Prepared risotto style, the grain's chewy texture is a perfect contrast to the rich sauce. Baked parmesan builds a salty wafer and slender yellow streaks of citrus zest cut through the cream.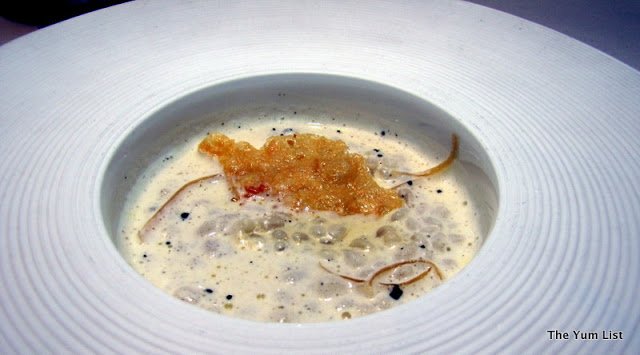 Creamed Barley
The next dish resembles a radiant garden with its red, azure and green hues. Tuna Poached in Olive Oil sees the fish, slightly pink inside, warmed in a citrus infused oil, dotted with orange segments and fresh flowers, topped with a deep fried basil leaf and sided with a Kalamata olive tapenade. Finished with a balsamic reduction, it's another respectable example of delicateness worth savouring slowly.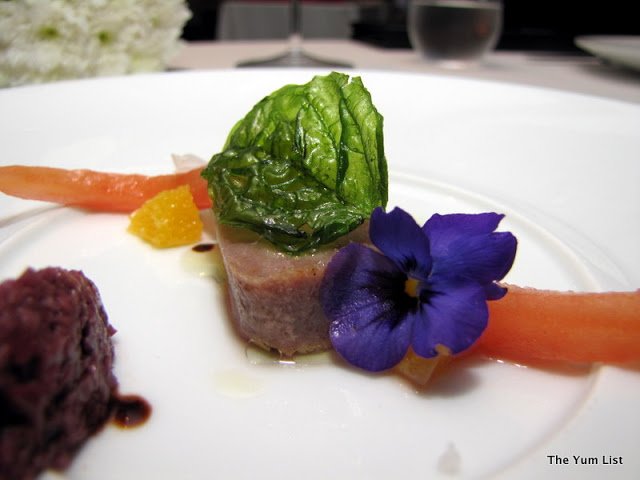 Tuna Poached in Olive Oil
Crispy Seabream with Hokkaido Scallop and Charred Greens is detected before it arrives. The scent of blackened spring onions reaches your nose before the plate meets the table. Seafood is pan seared to a slight crispness outside and wet tenderness within. Truffle emulsion, baby carrots, julienne zucchini and micro greens accompany the goodness.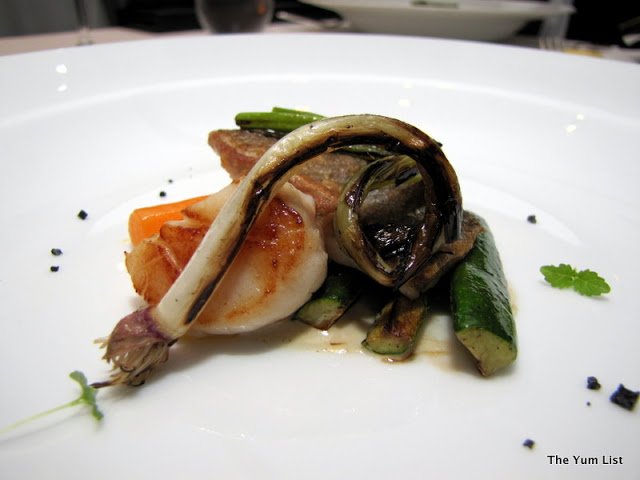 Crispy Seabream with Hokkaido Scallop and Charred greens
As the meal progresses, so do the intensity of flavours as is witnessed with the Foie Gras and Beef Cheek Ravioli. A hash of braised beef cheek is so fine, it's almost a pulp providing a neat distinction to the al dente pasta and slice of foie gras. A touch of fruitiness in the apple and pear chutney balances out the richness of the meat.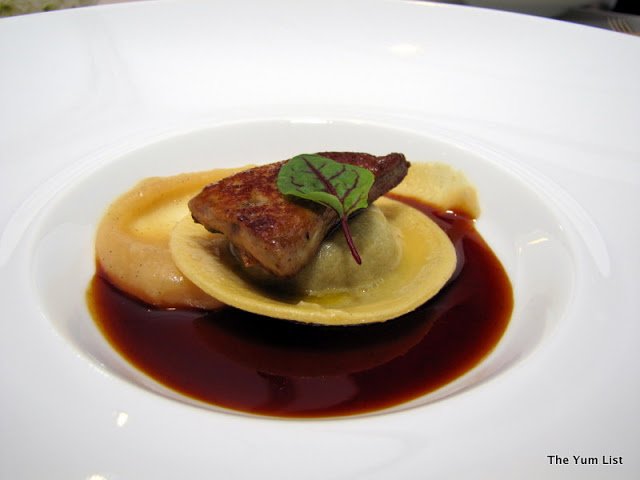 Foie Gras and Beef Cheek Ravioli
Pink Verjus Sorbet is timed well. Made from unfermented grape juice with a touch of syrup, these icy orbs are served on a black platter sprinkled with fresh flowers and shared between two. No ordinary sorbet, the juice that goes into this palate cleanser is priced at over RM100 for a half bottle! Valentine's Day might be one of the few occasions meriting such a treat.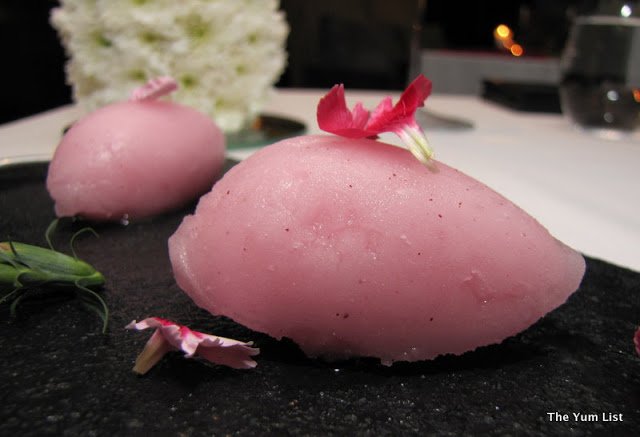 Pink Verjus Sorbet
The main is a choice of beef or lamb. The Braised Lamb Shank, baked for 24 hours falls off the bone. This is my favourite course of the night and comes with black-eyed beans, a couscous stew and finely chopped cauliflower.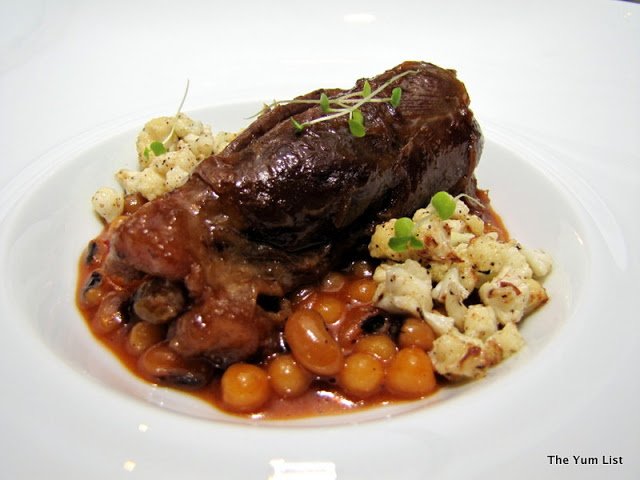 Braised Lamb Shank
Roasted Wagyu Striploin tops charred onion and potato. Mini red onions sport more bite than their older siblings and a cream cheese based garlic dip is so scrumptious it is cleaned off the plate (bread, steak or finger – do try to be polite and remember the setting though!).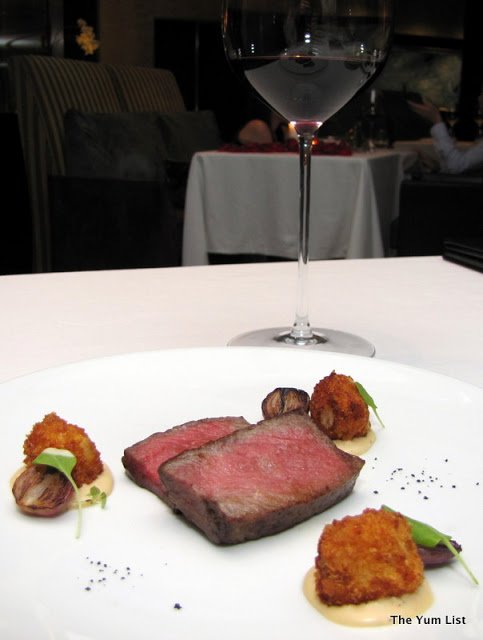 Roasted Wagyu Striploin
Dessert brings the fruit of love in the form of a Spiced Strawberry Cobbler with Balsamic Ice Cream. Such an undeniably mouth watering finish, might leave you wondering who you adore more, your partner or the chef?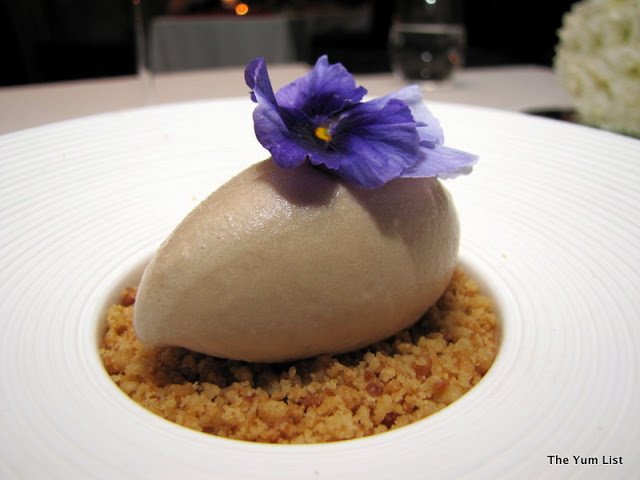 Spiced Strawberry Cobbler with Balsamic Ice Cream
The Valentine's set menu at Lafite is priced at RM900++ per couple. Reservations are strongly advised.
Reason to visit: impeccable service that is distinctly 'Shangri –La', Braised Lamb Shank, Spiced Strawberry Cobbler with Balsamic Ice Cream, Pink Verjus Sorbet, Creamed Barley, Qwehli Prawn and Crab Salad, an exceptional list of champagne (at least 40!)
Lafite
Shangri-La Hotel Kuala Lumpur
11 Jalan Sultan Ismail
Kuala Lumpur 50250
Malaysia
+6 03 2074 3525