The Chinese know so well how to celebrate with food, and with Chinese New Year on the horizon there's no shortage of restaurants offering wonderful set menus to usher in the Year of the Snake. The Phoenix Restaurant at the Holiday Inn, Glen Marie is no exception, and Executive Chef Francis Lau has created exceptional dishes to ensure that you honour the New Year in style.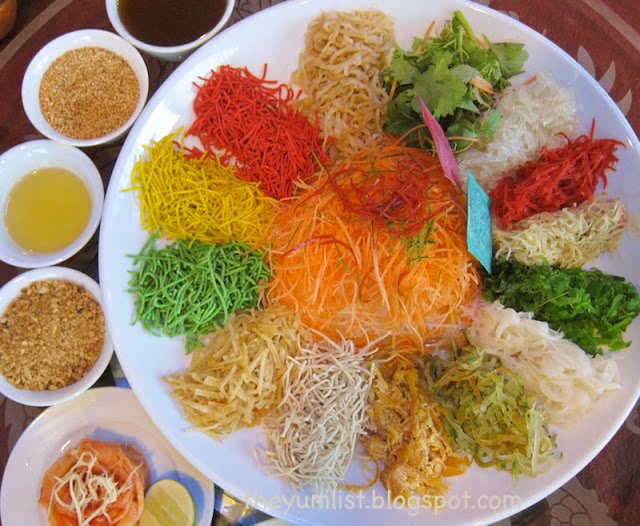 No CNY celebration would be complete without tossing noodles for good luck. The Yee Sang menu includes versions with Sea Bass, Salmon, Jellyfish, Octopus, and Top Shell Abalone, plus there are Japanese and Vegetarian options – certainly something for everyone.  I had the good fortune to try the Golden Phoenix set, which began with Salmon Yee Sang.This was followed by Braised Shark's Fin Soup with Bamboo Pith and Crabmeat. This vegetarian version (bravo to the Holiday Inn for refusing to serve real Shark's Fin for the past two years) was
thick, rich and tasty. There was plenty of crabmeat and the bamboo pith added an interesting texture.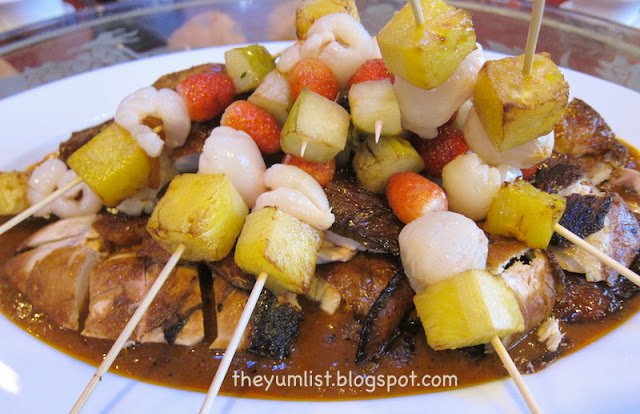 The Crispy Roasted Chicken in Mongolian Sauce was full of flavour. The chicken was exceptionally tasty, complemented beautifully by the peppery sauce made of chilli sauce, black pepper and condensed milk. The fruit kebabs were an inspired and attractive accompaniment.  I may even try this one at home!  It's simple yet highly effective.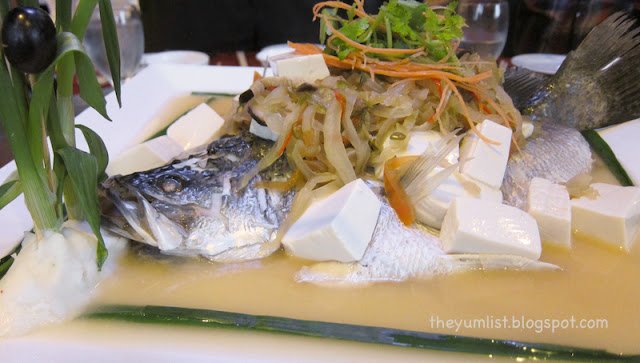 The fish course was a healthy Steamed Sea Bass, in Teow Chew Sauce, served with tofu, pickled vegetables and chilli. The sour, tangy vegetables contrasted well with the delicate fish.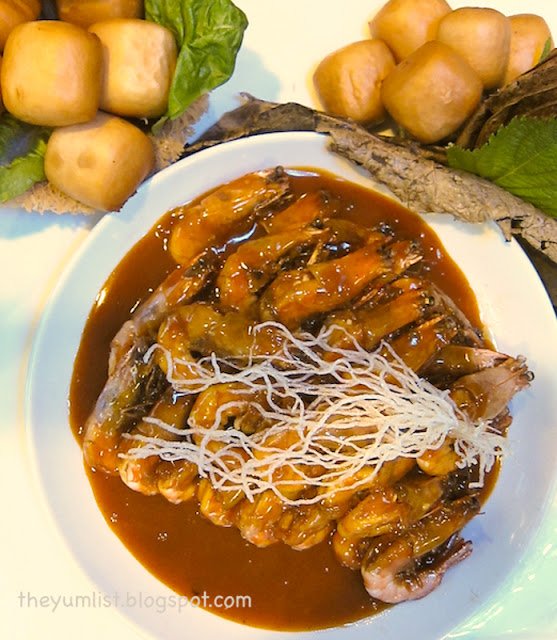 Prawns came next in a spicy, sweet and sour Vietnamese Sauce, accompanied by Mantou, slightly sweet, deep-fried puffs of bread. They were so delicious dipped in the tangy sauce that I had to move into denial mode. A second helping would have been wonderful but calorifically suicidal.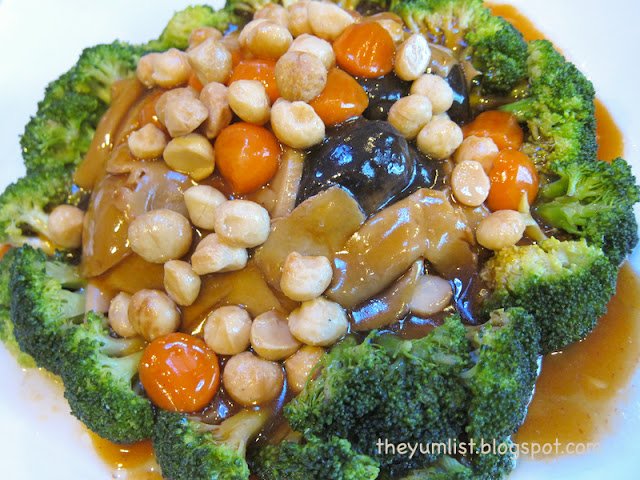 This dish looked like sliced abalone but was actually Braised Mushrooms, Beancurd Skin and Vegetables with a topping of sweet, crunchy macadamia nuts. It was another wholesome addition to the menu, allowing diners to keep right on eating without feeling too replete.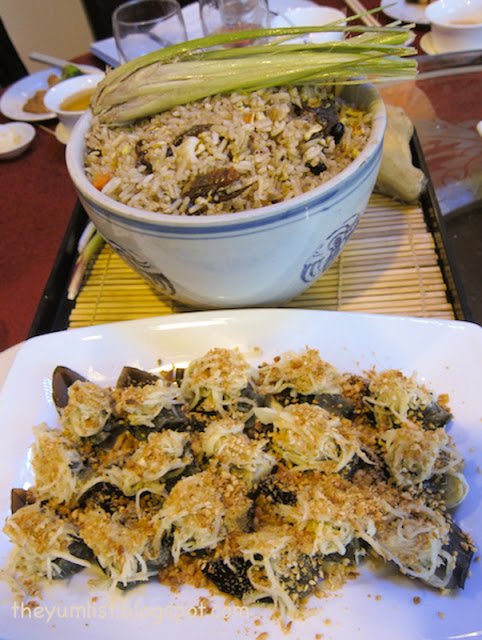 The final savoury course was Seafood Rice served with Century Egg. The fried rice was made with a minimum of oil, and I particularly enjoyed the topping of shredded, pickled ginger on the black eggs. I ate half of half an egg, and I think my Chinese friends will be proud of me.  I thought it might be auspicious or something!  It's never a good idea to pass up opportunities to increase one's luck.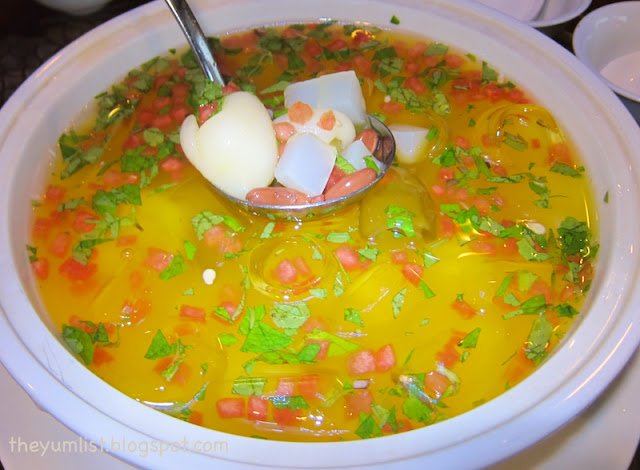 The Chilled Rambutan with Nata de Coco, enhanced with mint, watermelon and orange juice, was very refreshing and less sugary than usual.
Finally, we enjoyed two sweet cakes: a traditional crispy Fried Nian Gao with Chocolate Topping and an attractive, corn-shaped pancake with red bean filling. I liked them both, and once again had to hold myself back from reaching for a second helping.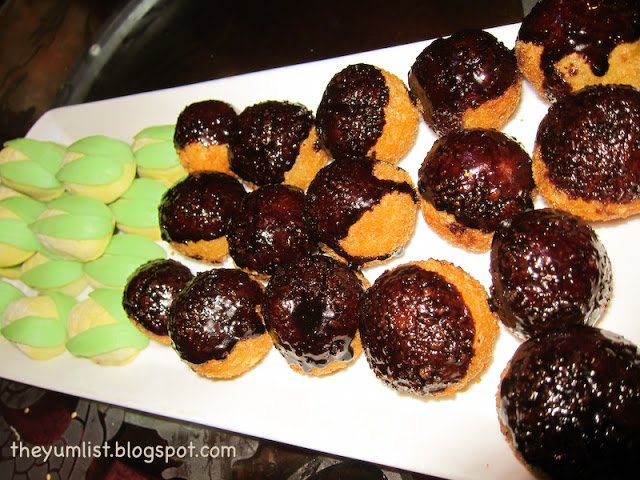 Although the pork-free Phoenix Restaurant is somewhat lacking in ambience, it more than redeems itself by the quality of its food.  I was impressed with the presentation of Chef Lau's dishes too.  He used pandan leaves with black olive "flowers", and even dead leaves, most effectively. The regular dining room seats fifty but can expand to accommodate 500.  There is also a private room seating up to 12 people.
I sampled the Golden Phoenix Set A, which is designed for 10 persons. It comes with complimentary St Remy Brandy for RM1188++.  There are many other set menu options, ranging from RM388++ for 2 to 3 people to RM1588 ++ for 10 diners (which includes Abalone dishes and Red Grouper).
Reason to visit:  Chef Lau uses a minimal amount of oil to produce tasty, nourishing dishes with well-balanced flavours. I'd certainly return to dip another Mantou in the Vietnamese Sauce!
Phoenix Restaurant
Holiday Inn Kuala Lumpur, Glenmarie
1 Jalan Usahawan U1/8, Seksyen U1
40250 Shah Alam,
Selangor,
Malaysia
"The Yum List supports a shark's fin free Chinese New Year for the prosperity of our oceans and the sustainable future of our global community."