From Japan, With Love
Fu-Rin's Valentine's Day Menu Strikes Straight at the Heart
To me, the quintessential element of a Japanese meal is in both its green tea, and of course in the potency of the wasabi. Both iconic staples and flavours of Japanese cuisine, I believe one can tell from either or both, just what to expect from their culinary experience. Two distinctly different flavours, but so in tune with the Japanese culinary mind the world over, they participate through a meal as support for everything else, softening or heightening our palette, so other subtle flavours can be enhanced and further appreciated.
With Valentine's Day just around the corner, I was invited to experience the 'love offerings' of Fu Rin Japanese Restaurant at Holiday Inn Glenmarie. A typically Japanese restaurant with all the usual trimmings, one felt slightly transformed out of Petaling Jaya for a while. Simple, elegant décor, set within cultivated gardens, and just a touch of rain outside (ok, so that was courtesy of nature, not the restaurant) set a great tone for a romantic dinner for two.
As is customary, piping hot green tea was served as my date and I took our seats. Here's the first indication as to what to expect. Gentle, mild green tea with just a hint of an after-taste was served – yes, it met my requirements, and moreover, nicely quenched my thirst after the wet drive outside. Plentifully refilled, it was like a never ending elixir throughout the evening – one well appreciated.
Scene change; end of movie; to our last dish – dessert. So what, prey tell, does green tea or wasabi have to do with dessert? Icecream, green tea icecream! Yes, another fantastic Japanese infusion, bringing a western favourite in line with Japanese taste buds. Silky, creamy green tea icecream, that simply did, melt in our mouths. Personally, I am pretty sure this is no commercial variety, as it was without doubt one of the best green tea icecream's I have had in years. I would love to put in a standing order – should they deliver to the greater PJ area?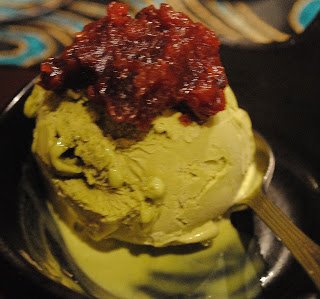 So with both the start and the crescendo of our meal executed to perfection, it's time to share the journey between. With a distinctly seafood theme, the Valentine's Day menu represented love through flavour, texture, and presentation – creating symbiotic blends of flavours, yet fascinating textural contrasts – somewhat similar to a perfect relationship – compatibility yet embracing difference.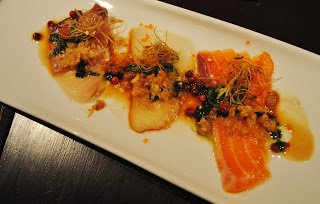 The starter was a simple dish – prawn on cucumber. A delicate cold prawn, served on cucumber with a sweet and sour sauce, was accompanied by a crisp rosemary tempura. Distinctively rosemary, with a mild smoky flavour, and an incredibly thin deep-fried whitebait wafer, was set against a trio of scallops, marinated in baby roe, served on an orange slice with a mild mayonnaise. With Himalayan rock salt drizzled between, and red pepper citrus sauce, the combination came together perfectly as a set of delightful surprises.
The next plate elevated our taste buds with the serving of a trio of sashimi salmon, white tuna, and yellow tail. Delicately laced with thinly julienned deep fried leek, tempura crumbs, whole red peppers (which packed a sweetness rather than a punch), and baby roe. Light soy was drizzled over all three; this added just the right level of acidity to give the dish amazing balance. I was looking around, desperately wishing I could ask for a repeat serving, although knowing that there was a lot more to come.
Our palettes were cleansed with a traditional miso soup. An earthy black bean broth with fresh miso; enoki mushrooms joined the party with small chunks of tofu to add substance to the soup. Delicious and hearty, and a great break between the more substantial parts of our meal.
Palette cleansed, the main arrived – two tender fillets of grilled salmon, served upon tempura asparagus stalks, with a side of asparagus spears lavishly dressed in a thick cream sauce (with just a hint of lemon). Salmon was grilled in a mild teriyaki marinade, with a sweet soy base.
Plating was superb, with ground paprika sprinkled surrounding the dish; we quickly learnt that this added an extra kick if dipped in by the salmon.
I guess, given that in 2013, the Year of the Snake, Valentine's Day and the Chinese New Year celebrations have a close temporal alignment, the inevitable yee-sang was to be served. I've always found Japanese yee-sang to be something quite special. This nine item yee-sang, generously topped with sashimi salmon had a great balance of sweetness and acid, along with smoothness and crunch. Something for everyone, I would say.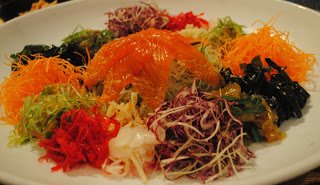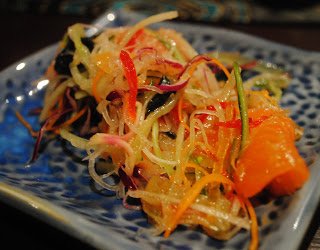 And now I find myself back to the ice-cream. Yes, it may be simple, but at the end of a meal so full of wonderful flavours, it is sublime to have something so simple and flavoursome to put a fitting end to the meal.
I learned afterwards that this restaurant, under our host, Chef Mike, has won best Japanese Restaurant in Malaysia three times already. I am not surprised, as attention to detail in every aspect is evident, and it certainly did leave me with a glow in my heart as well as warmth in my stomach.
Oh, so you ask about the wasabi? Well, it didn't feature prominently in this menu, but being the type of person I am, I asked for some to be brought to the table. Perfect to add that little bite to the sashimi, even to dip the prawns. Yes, the wasabi passed the test too! I will be back.
Fu-Rin Japanese Restaurant
Holiday Inn Kuala Lumpur Glenmarie,
No. 1, Jalan Usahawan U1/8,
Seksyen U1, Shah Alam,
40250 Selangor.
Tel: 03-7802 5288