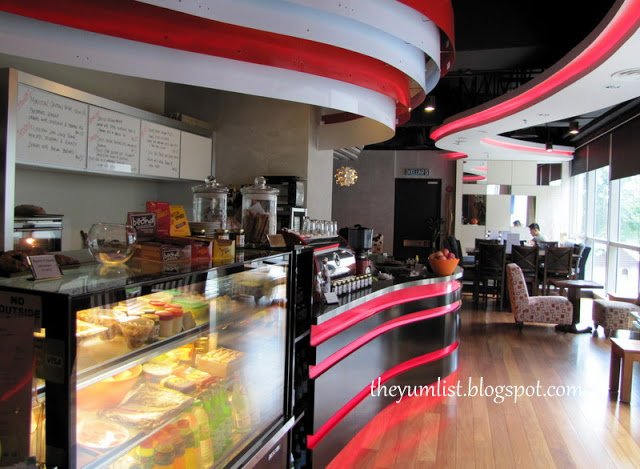 The Daily Habit, Chi Fitness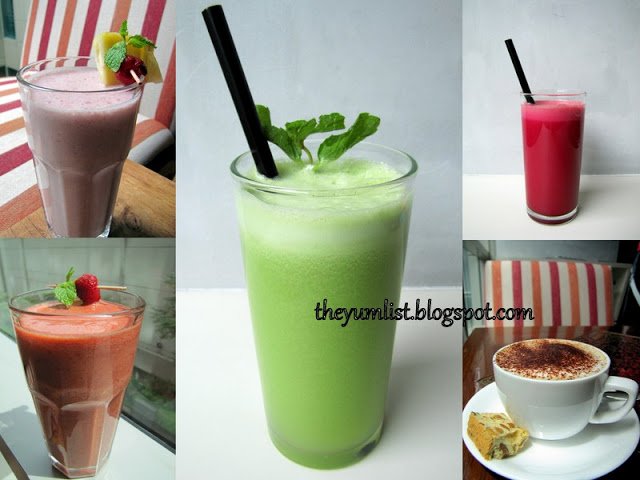 Fresh Juices and Smoothies – That's Amore RM16: banana, strawberries, pineapple, coconut milk and soy milk; Fountain of Youth RM18: apples, strawberries, raspberries and wolfberries; Agua Fresca RM10: celery, cucumber, apple, lime and mint; Clean Red RM12: beetroot, carrot, apple and ginger; Cappuccino RM10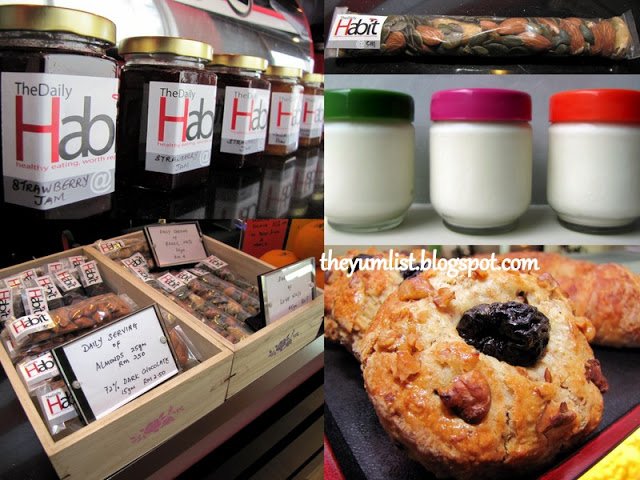 Home made jams and chutneys, snack pack of nuts, home made yoghurt, wholemeal scones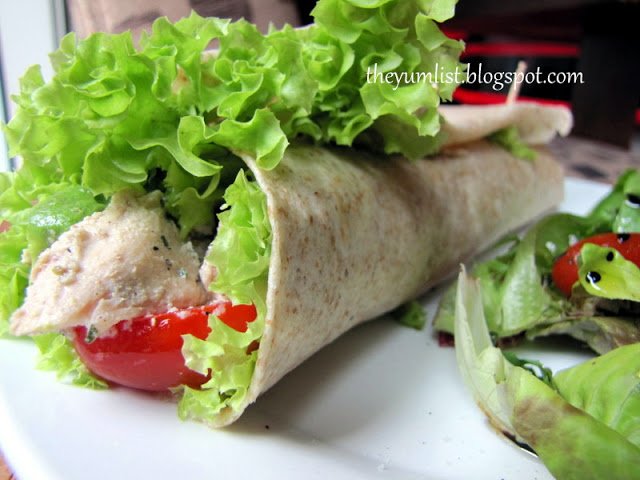 Chicken Wrap – grilled chicken and avocado wrapped in a multi-grain tortilla RM18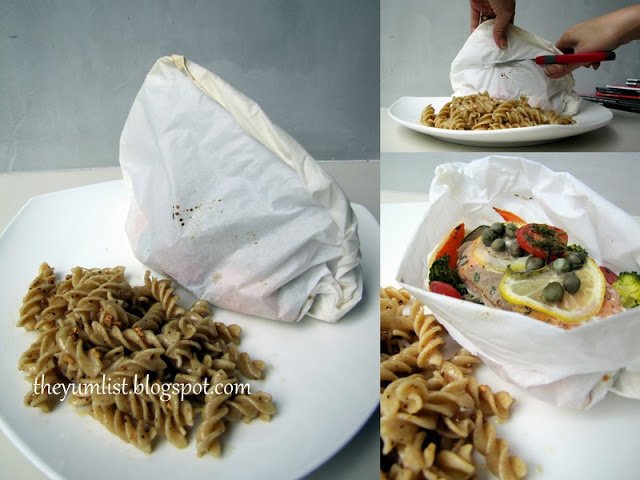 Freshly Baked Salmon Fillet with fennel and veg in a parcel served with wholemeal fusilli aglio olio RM25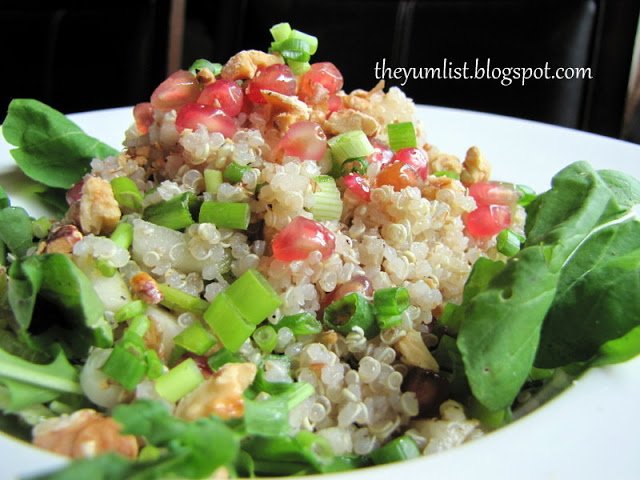 Quinoa Salad RM16 – a complete protein power food salad – quinoa, pear, toasted walnuts, rocket & pomegranate – heavenly!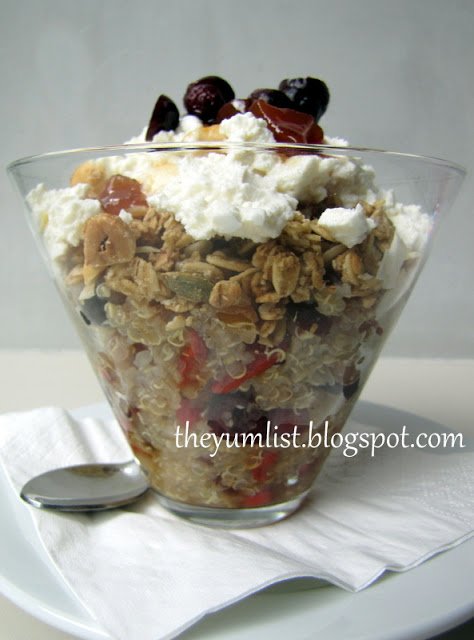 Power Pack RM16 – quinoa, fresh and stewed fruits and, granola topped with crumbled feta – if I lived nearby I would have a running order of this glass of deliciousness everyday.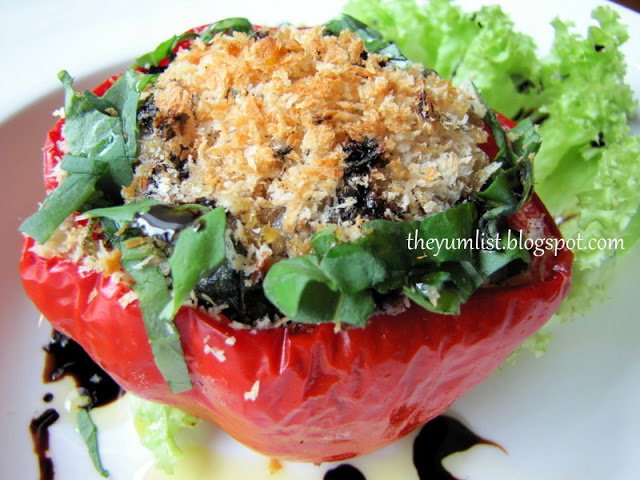 Stuffed Capsicum with tomato, greens, anchovies and bread crumb topping – who knew baked veges could be sooooo tasty!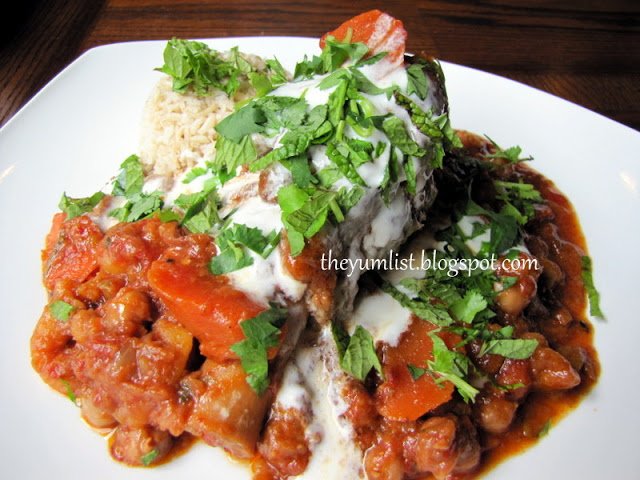 Moroccan Lean Lamb Shank, apricots, chickpeas & almonds served with brown basmati, RM32 – another dish that packs a powerful flavour punch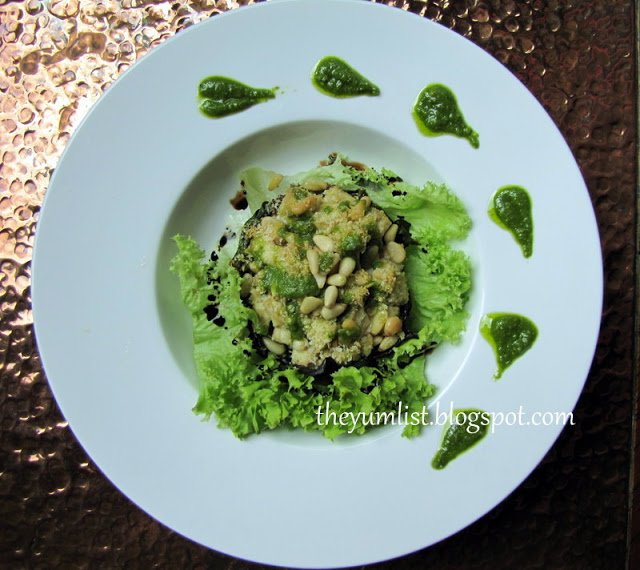 Portobello Mushroom with spinach, tofu, pine nuts and house made pesto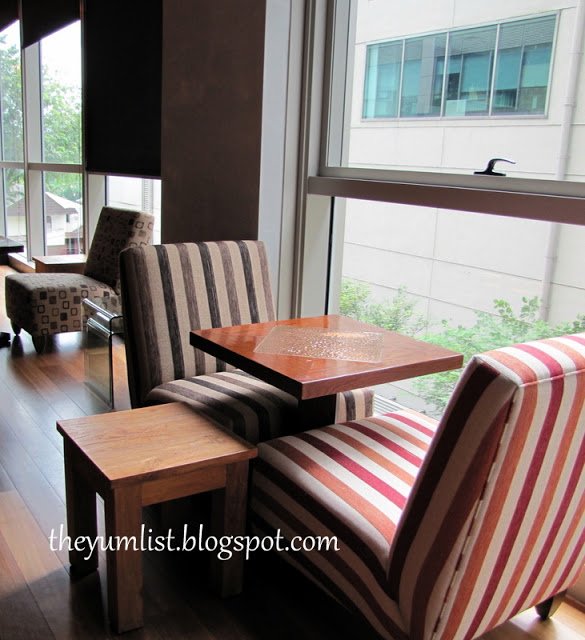 The Daily Habit Cafe – cozy spots for grabbing a nibble or a sip
The Daily Habit, Chi Fitness, Bangsar Shopping
Centre Office Tower
"Healthy Eating, Worth Repeating"
"Mon, you have to come try this place in Bangsar.
I'm eating there everyday and have tried the entire menu. You won't believe how
good it is! It's absolutely delicious and healthy too. You will LOVE it!" The
text message read. My foodie friend Nik has been a reliable spy of good
restaurants and strong critic of bad ones for years. So I knew, The Daily Habit
had to be found.
If you're in the Bangsar area, The Daily Habit
certainly is worth nosing out. Located in Chi Fitness Centre, it is often
missed by many as it looks as though the café is part of the gymnasium. Others
confuse it with the café directly outside the gym, House and Co. Whether arriving
via the third floor of Bangsar Shopping Centre or through the first floor of
the adjoining BRDB Office Tower, you need to walk through the sliding doors to
the reception of Chi Fitness and continue past the desk to the right. It's then
you'll see a naturally lit room with floor to ceiling windows, comfy lounges
upholstered with a mish mash of patterns and, a mingling of low coffee tables,
high benches and drawn out dining tables perfect for sharing a meal with a
small group.
Light boppy music extends the cheerfulness and two
passionate ladies, Elisa and Jacquie, greet customers as personal guests. The
Daily Habit exudes relaxed neighbourhood café charm. The location might conjure
harrowing images of super fit gym bunnies brandishing their pecs and six packs
in figure hugging Lycra – but it's just not the case. On our visit we saw an
older grander gentleman with a couple of kids enjoying wraps and juices, a teen
polishing off a smoothie, some foreigners and some locals in groups and on
their own, and yes a couple of gym goers breezed in and out, but they just made
eye candy for the rest of us. The crowd
is from all walks of life, having only one thing in common – the desire for
good food, reasonable prices and pleasant surrounds.
Made-on-the-spot sandwiches, light fare, vegetarian
options, some heartier meals and superb juices and smoothies have already
earned the Daily Habit a reputation for tasty, wholesome meals. Minimum
processing, a shunning of anything artificial and, food assembled or cooked
upon order, ensures freshness and flavour.
The trick to ordering here is to check out the menu
of staples, look at the Daily Special's board and, drool over the chiller
display to see what grabs your fancy. Everything they make with quinoa merits a
place on your table. Starting with The Power Pack, no foreplay is needed for
this mouthful of deliciousness as instant orgasms crescendo with the first
spoon. Chewy granola is sweetened with fresh and dried fruit (cranberries,
pears, wolfberries, pomegranate) and crunched up with a sprinkling of granola.
Ricotta cheese is crumbled on top or, alternatively, you can make yours into a
parfait by adding home made yoghurt instead. The Quinoa Salad provides equal
satisfaction. Aided by pear, toasted walnuts, rocket, pomegranate, macadamia
and grape seed oils and, pomegranate vinegar, this satiating salad might be the
source of never ending bliss.
The list of mouthwatering healthy delights goes on:
Mango, Apple and Chickpea Salad is served with a curry and yoghurt dressing, atop
a colourful base of crisp greens and shredded purple cabbage; the Portobello
Mushroom is baked with pine nuts, home made pesto, tofu and spinach; a Chicken
Wrap on a multigrain tortilla is also packed with avocado and crisp lettuce;
the Baked Red Capsicum is more than tasty with tomato, spinach, lettuce and a
crumbled topping of anchovies and bread crumbs; Baked Salmon provides a
heartier meal with capers, broccoli, carrots, zucchini, finely sliced lemon,
fennel and cherry tomatoes wrapped in baking paper sided with pasta spirals
and; another no-to-be-missed meal, the Lean Lamb Shank is flanked with brown
basmati rice and streams of a thick chick pea, apricot and almond stew.
Drinks are equally good. No sugar, only fresh
natural ingredients are the secret. Nicknamed by regular clients as Designer
Juices and Smoothies, these tall vases of colour are worthy of the label.
Easily predicted, hubby fell for the smoothness and creaminess of That's Amore,
while I loved the refreshing tang and sweetness of the Fountain of Youth. 16
ounce servings are filling stimulations, but if you'd like to turn your juice
into a meal, ground almonds, protein powder and wheat grass can all be added
in.
For now The Daily Habit is open Monday to Friday
8am – 5pm and Saturday 9am – 4pm. As they grow they hope to extend service
hours providing all day and evening nourishment, so do check their website for
updates.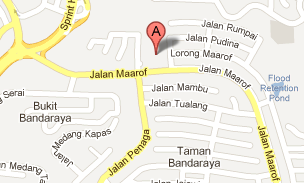 Map to the Daily Habit
Reason to visit: designer juices, delicious guilt free breakfasts, lunches and snacks, Quinoa Salad, Power Punch, Baked Salmon
The Daily Habit
Chi Fitness Centre
Lot 1-02 BRDB Tower
285 Jalan Maarof, Bangsar
59000 Kuala Lumpur, Malaysia
+6 03 2202 3219