Words by Lisa Mangelsdorf
Photos by The Yum List
*** Sadly, La Mexicana is now closed.
The wonderful owners of La Mexicana, Carmela and Stephen, are never content – and we are glad!  Always striving to improve and expand to their offerings of truly authentic Mexican cuisine, this lovely couple pour their heart and soul into a variety of wonderful new dishes.
Chef Carmela doesn't exactly look like the stereotypical Mexican Mama who is at home making cheese and chorizo while learning to butcher her own meat, but that is exactly what she is up to these days.  Her commitment to preparing food that is 100% authentically Mexican is unwavering.  From the way the meat is cut and the cheese is prepared, to where the chillies and corn are grown, to who cooks the dishes for the guests, no detail is too small for her attention.
You may have already had the pleasure of dining at La Mexicana, but if you haven't visited in a while it is time to go back and try some of the new dishes.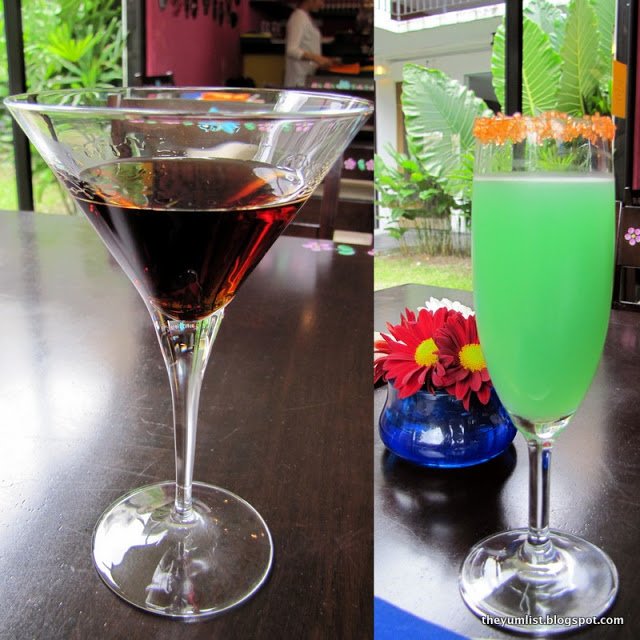 Cucaracha (perfect dessert replacement or after dinner drink – personally though, I could sip on this one all day long) and Margarita Cancun
La Cucaracha – when we think "Cockroach" we don't normally think deliciously smooth warm and sweet.  This combination of Tequila, Rum, Kahlua and Cointreau is given its name from the tradition of it being served late in the night, ending you limbs up like a cockroach – watch out!
Tequila Cancun – a classic margarita with a splash of Curacao to match the azur waters of Cancun and a sugar rim.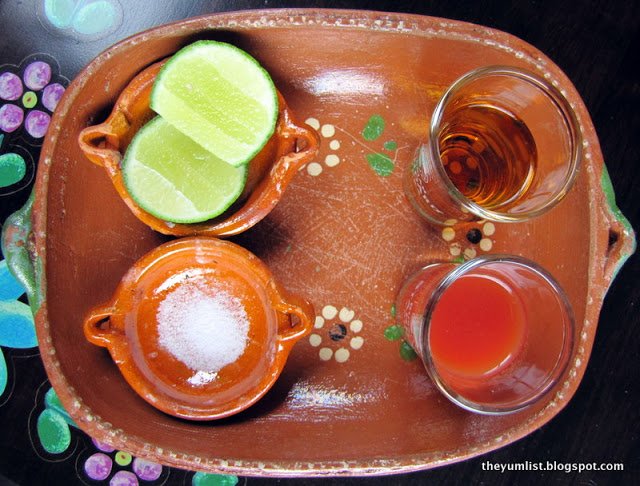 Tequila with Sangrita, Lime and Salt – not meant for shooting contrary to popular belief! Sipping slowly is the best method for maximum enjoyment.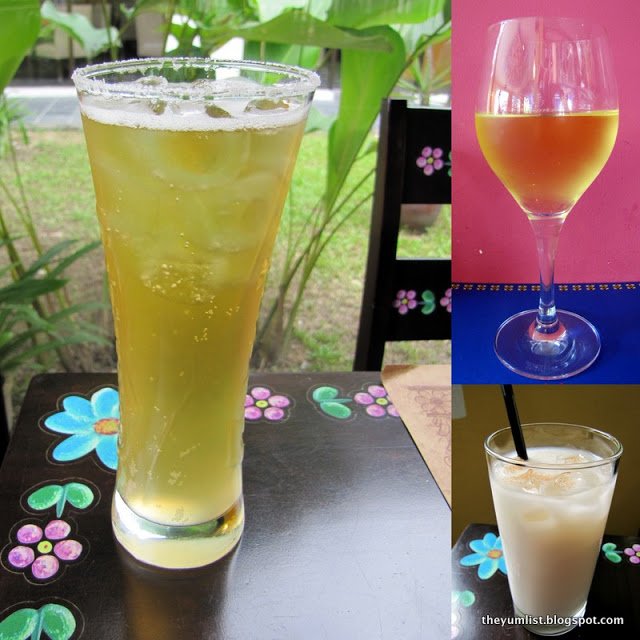 Beer, Wine, Rice Milk
Queso Panela and La Botema Mexicana – Who says cheese can't be good for you?  Queso Panela is a ricotta-like cheese that is made twice a week by Carmela from fresh milk.  The process even includes pasteurizing the milk herself while removing almost all of the milk fat. The result is a creamy, low-fat, white cheese that can be eaten all by itself or in a salad or tacos.  Even though it is a softer cheese, it is still firm enough to be grilled, as in "La Botema Mexicana" where it is paired with chunky guacamole and light and crunchy "Chicharron" (pork rind) for dipping.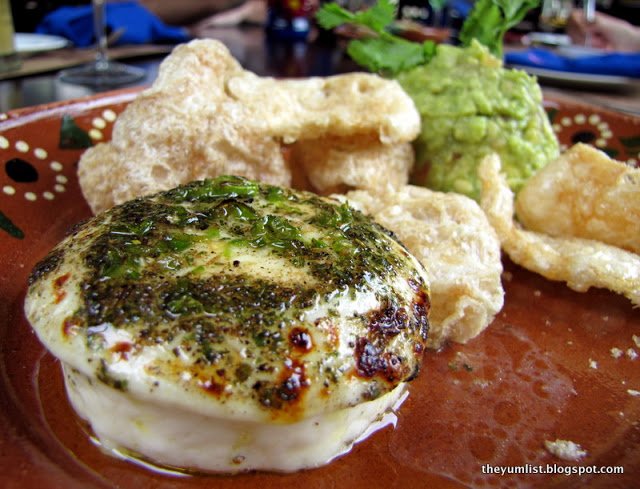 BOTANA "LA MEXICANA" – Guacamole with homemade grilled panela cheese accompanied with chicharrón (pork crackling) RM58
The Queso Panela is available for purchase on Wednesdays and Fridays!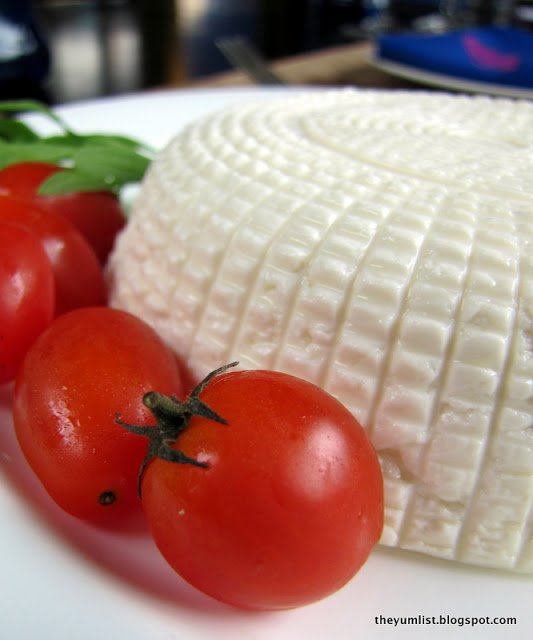 Queso Panela Casera – Home made white cheese – used in many dishes but also available for take away RM60 per 400gm
Not your ordinary tacos!  Two new taco creations have been added to the menu, each with it's own unique flavors and textures.
The first, Tacos de Bistec con Chorizo, features Carmela's incomparable homemade sausage along with tender beef steak.  What makes this dish so special though is the amazing Salsa Rojas on the side.  Like everything else at La Mexicana, this salsa is made on the premises with only authentic Mexican grown Serrano chilies, tomato, garlic and salt that gives a lively kick with a rich smoky flavor.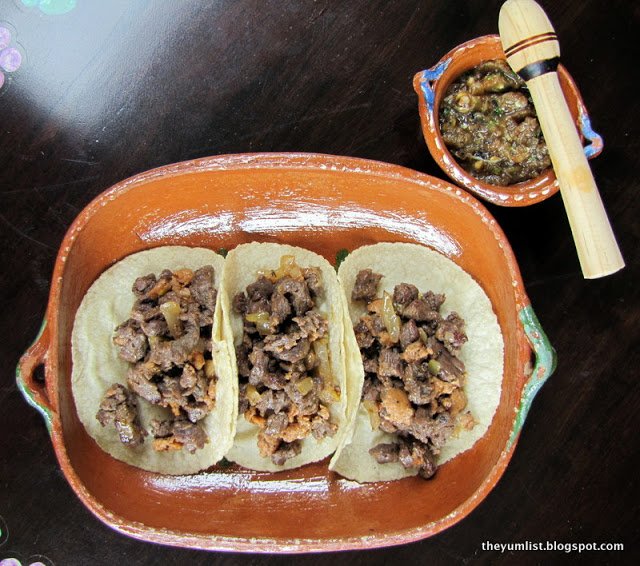 TACOS DE BISTEC CON CHORIZO – three tacos filled with juicy beefsteak and homemade chorizo served with coriander, onion and molcajete red sauce RM25
The second taco is vegetarian – Tacos de Nopalitos  – Cactus leaf Tacos.  Whether you are a vegetarian or not, these are a must try as a totally unique taco experience.  The Nopalitos look similar to chopped green pepper but have a slightly tart taste to them.  Not only do they taste wonderful, but they are known to reduce cholesterol and contribute to healthy hair and skin!  The tart flavor of the cactus leaf is perfectly balanced with creamy sweet double cream cheese called Cotija, made by Carmela – of course!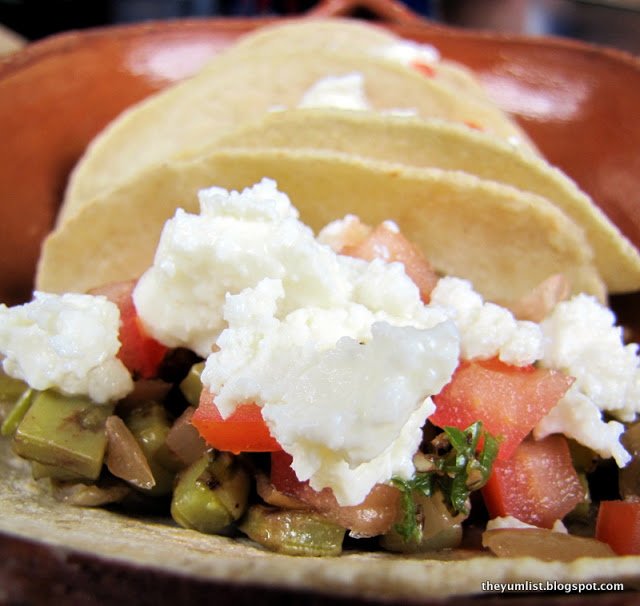 TACOS DE NOPALITOS – Chopped cactus leaf sautéed with Serrano chile topped with Cotija cheese RM25
Huarache – literally translates to "sandal". This dish may resemble a Mexican leather shoe but there is nothing tough about it!  The "sole" of the Huarache is a freshly ground and lightly fried corn meal base covered by the comforting flavors of refried beans, gouda and mozzarella cheese.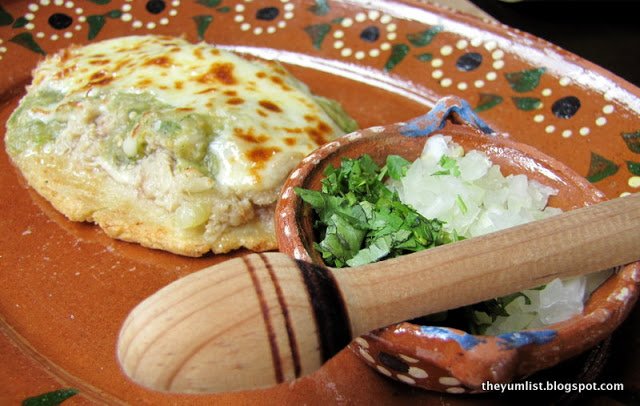 HUARACHE – A corn base stuffed with pork carnitas, refried bayo beans and salsa verde, topped with melted cheese and accompanied with chopped coriander and onion RM26
Enchiladas Rojas – another addition to please the vegetarian customers, but sure to be a pleaser to all!  The filling includes zucchini, Mexican corn, Salsa de Chile de Arbol and fresh onion.  This dish was best described by my friend who, after her second bite, said (and I quote) – "Ooohh, that's got a cheeky kick to it!"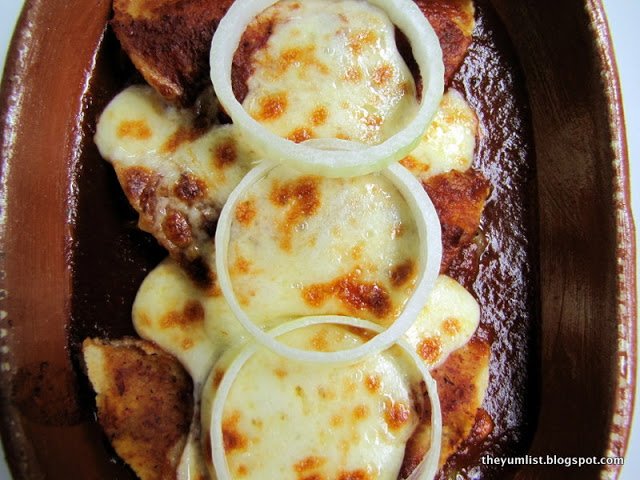 ENCHILADAS ROJAS – three corn tortillas stuffed with sautéed zucchini and fresh corn bathed in "Salsa de Chile de Árbol" and topped with cheese RM20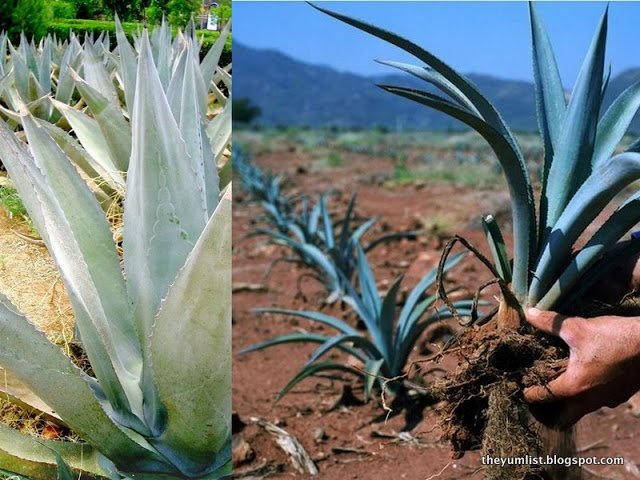 Cactus plants for making Tequila and Mezcal – both of which La Mexicana has some of the best offerings in the city


Reason to visit:  Authentic Mexican cuisine, one for one Margarita Happy Hours


La Mexicana
The Terrace at Hock Choon
Jalan Nibong (off Jalan Ampang)
Ampang, 50450 Kuala Lumpur
Malaysia
+6 03 425 35251