The Bar, Harrod's KLCC
Dedicated to Christina, Cocktails at Harrods, KLCC
Words by Carter James
Photos by The Yum List
A great cocktail needs two elements only – quality alcohol and more quality alcohol. Very simple formula really, but one that takes years to perfect. Be it a classic cocktails from the roaring 40s nostalgic of an era past, or one of our more modern concoctions designed to transport your mind to another vista, a great cocktail still uses quality alcohol, and plenty of it.
I happened across a gentleman who is as passionate about producing great cocktails as I am about drinking them – Kumar, our bartender at Harrods KLCC. A fan of the traditional cocktails, the classics, old timers, Kumar mixes one potent drop, in a style that I can only commend as "wow". "We like to make our drinks strong" he comments, "it makes customers feel at home". And yes, it certainly does. Possibly one of the strongest beverage mixes I have had outside of my own home, the team at Harrods build great cocktails – sticking to the all-time classics, with the occasional twist just to keep up with the patrons.
So, why Christina I imagine hearing you ask? And why did I dedicate this piece to a young lady? Well, Christina is not someone at the forefront of my mind, but rather an exquisite cocktail mixed at Harrods, with an equally interesting story behind it. Christina is everything a cocktail should be, as per the above, alcohol + alcohol + alcohol. In fact, that's all Christina is – three different alcoholic drops blended together in a state of perfection. Take three plump olives, immerse them in generous shots of Stolichnaya Vodka, Tanqueray Gin, and slightly more than a dash of Vermouth, and top with a lemon zest twirl. A very real sense of being British, and that's Christina. Nothing but the best for her. Now, for the story. Simply put, a regular at Harrods so liked this drink he kept asking the Harrods team to make it for him. As with everything viral, it got noticed, and others started asking for it, so, long story short – it's now on the menu. As for the real Christina behind the drink, we don't know who you are, but on behalf of cocktail enthusiasts the world over, thank you for inspiring perfection!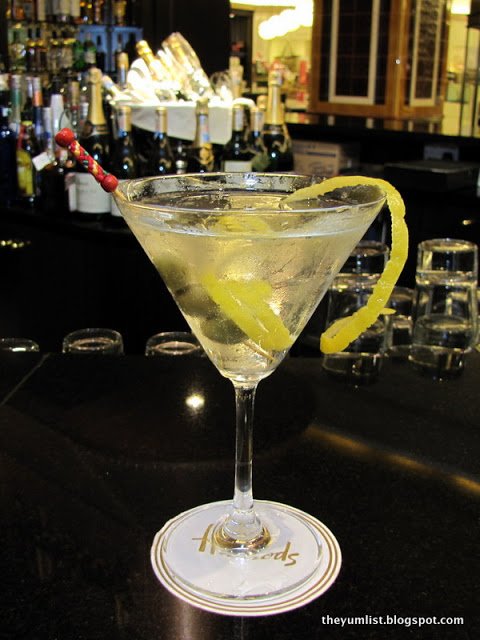 Christina
It wouldn't be fair to try just one drink, so we asked Kumar to recommend some of his favourites for us to sup as at the night progresses. Yes, the goal was to explore their mixology, but we got happily side-tracked along the way with the delightful breadsticks at the table – along with some delicious morsels from their menu as well.
Our next offering was the Grand Margarita. Definitely not a party time cocktail, rated adults only, this version boasts a very fine grain salt rim, with just a hint of sweetness. Ideal for an after work drink with friends, we tested this theory as we happily shared stories of our day at work. A definite fit, yes.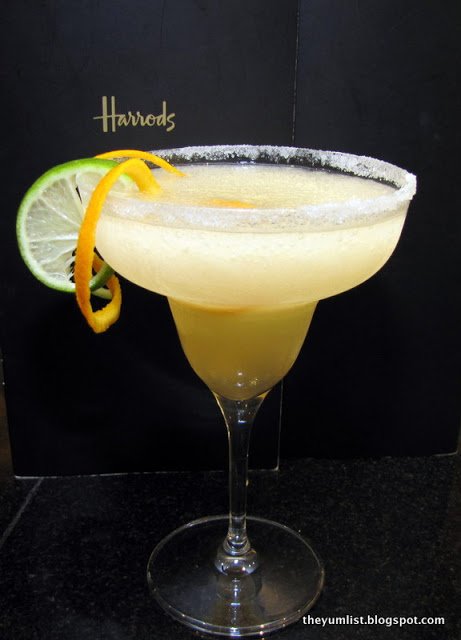 Grand Margarita
I have to say I loved the bar snacks. Simple warm roasted nuts gave the crunch, and the in-house dinner rolls accompanied by a creamy and mildly zesty tomato butter.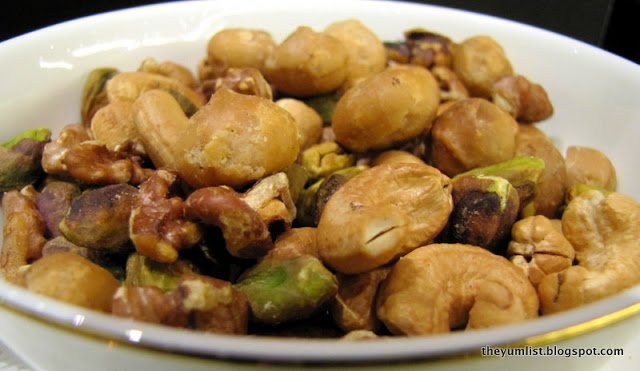 Roasted Nuts – Bar Snack
Then came out our after dinner drink, a simple Galliano Coffee. My childhood memories flooded back, as my Mum used to love Galliano, and I was always bemused by the unique bottle shape – the Eiffel Tower as I thought of it, a two foot high thin bottle, glistening with sweet Galliano. Freshly roasted coffee beans, brewed to a strong yet creamy texture, embedded with a generous shot of Galliano offered just the perfect end of meal coffee with a kick. The surprise was, this was served cold – not hot as one might expect, offering us a rare glimpse into the wondrous world of great liqueur coffees without heat – a serious must try for coffee lovers.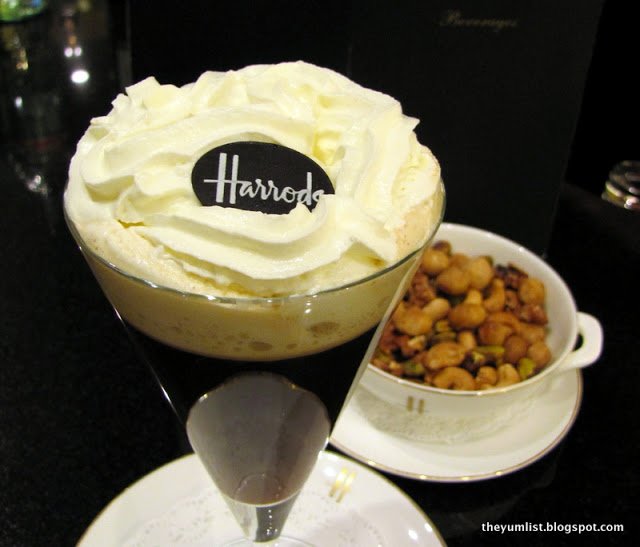 Galliano Coffee
Although I do love my alcohol, it was great to see that Harrods had an impressive range of mocktails for those who don't drink, or unlike me, would like to retain a level head during an evening session.
Definitely one thing can be said about Harrods – they deliver on strong drinks. At the end of a hard day, when a good stiff drink is what you need to keep you on track, Harrods is well worth a visit. But strength aside, it is about the little things, the attention to detail – maintaining the classics that we all recognise and love, staff that really know their flavours, and more importantly as in the case of Kumar, are able to hold a conversation and chit-chat with you, and a lovely restaurant and bar environment to sit and enjoy – these factors are what make Harrods super-special to visit, and are the reasons I plan to be back time and time again.
Reason to visit: strong cocktails – well suited to those who know have tasted more than a few in their lifetime.
The Bar
Harrods KLCC
1st Level, Suria KLCC
Jalan Ampang
50088 Kuala Lumpur
Malaysia
+6 03 2166 6000