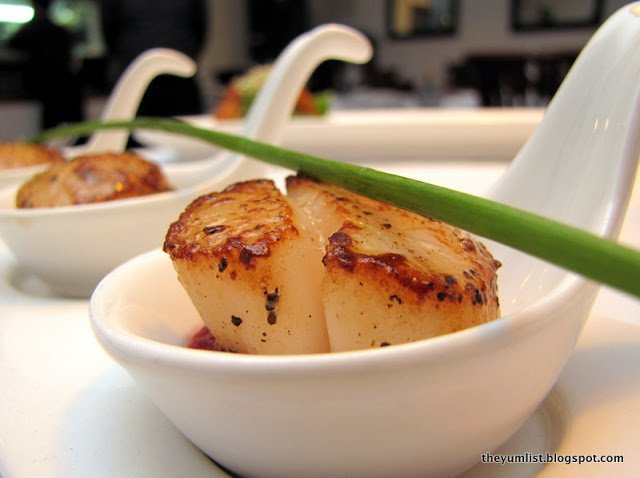 Rils's
Tiga Rasa Scallops RM28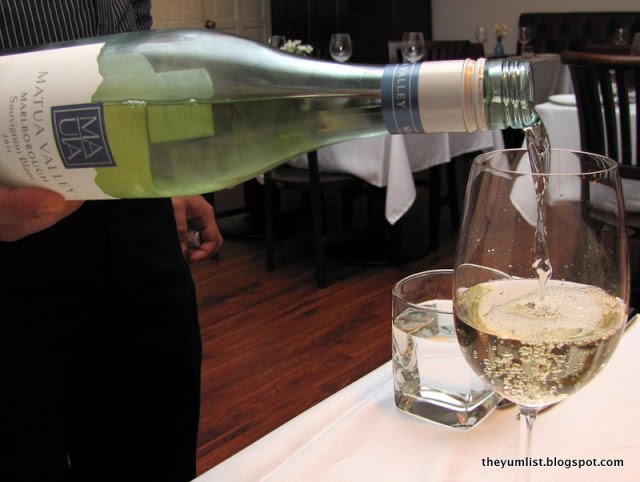 Matua
Valley Sauvignon Blanc (New Zealand) 2010/11 RM34 per glass, RM150 per bottle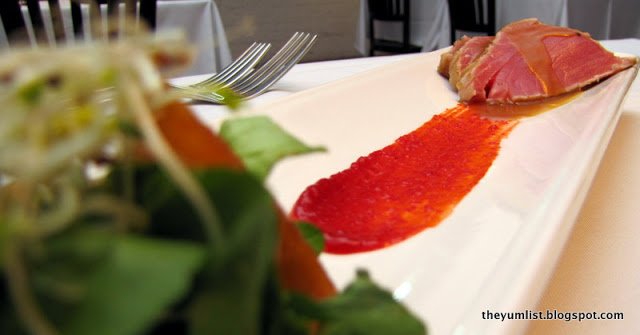 Tuna
Tartare RM28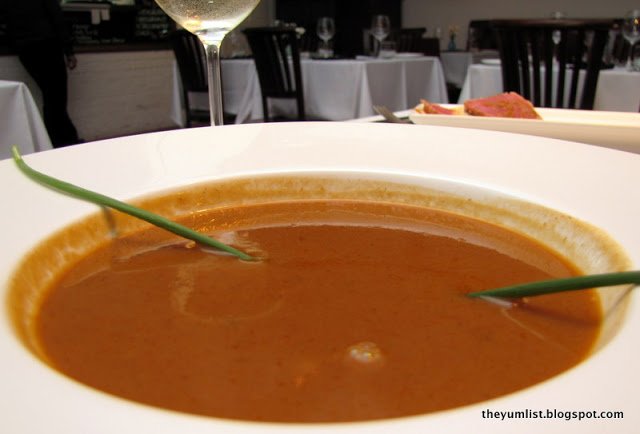 Lobster
Bisque RM28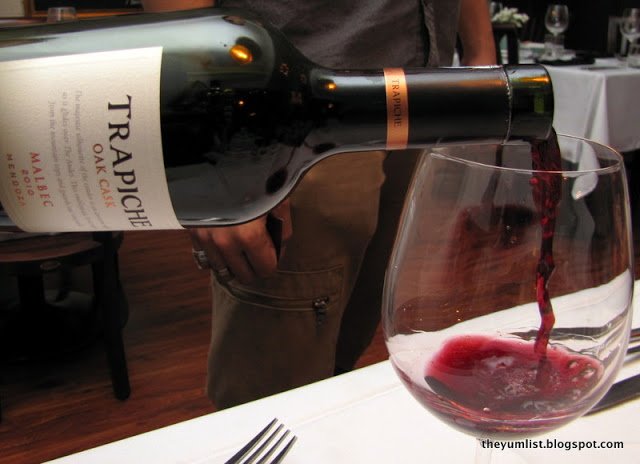 Trapiche
Oak Cask Malbec 2010 (Argentina)
RM30
per glass, RM140 per bottle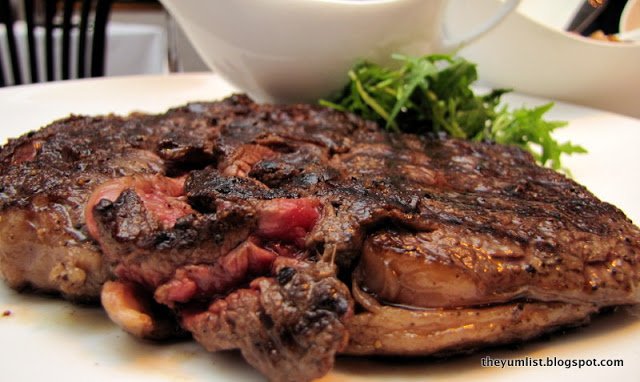 Australian Ribeye Grass-fed (yay!) 300g RM78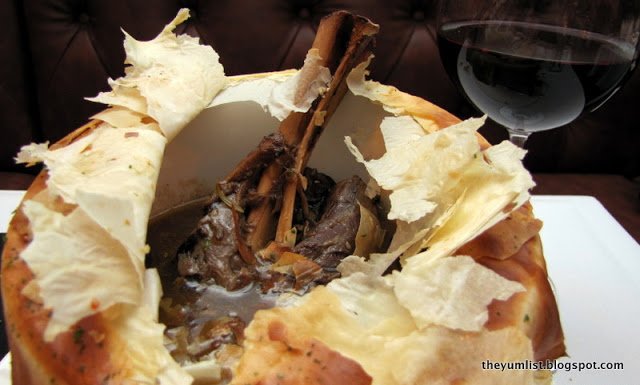 Lamb
Shank Pie RM68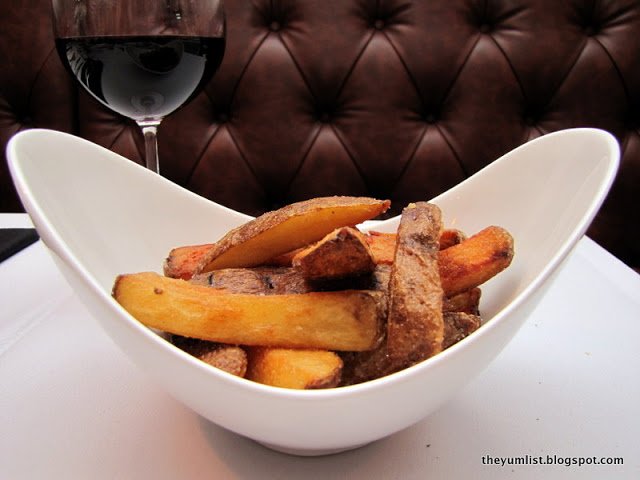 Chunky
Skin on Fries RM14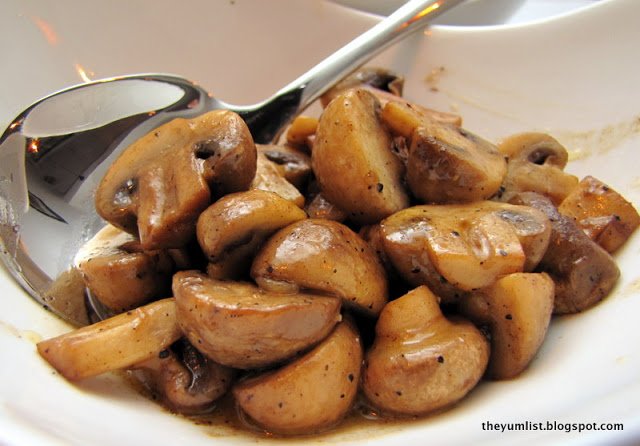 Sauteed Mushrooms in Butter RM16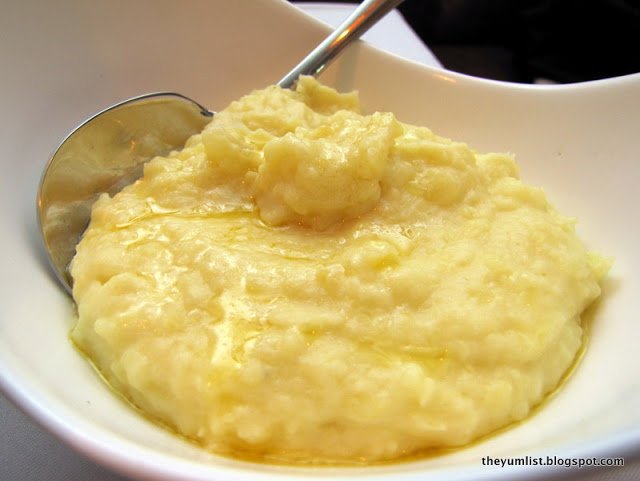 Truffled
Mashed Potato RM14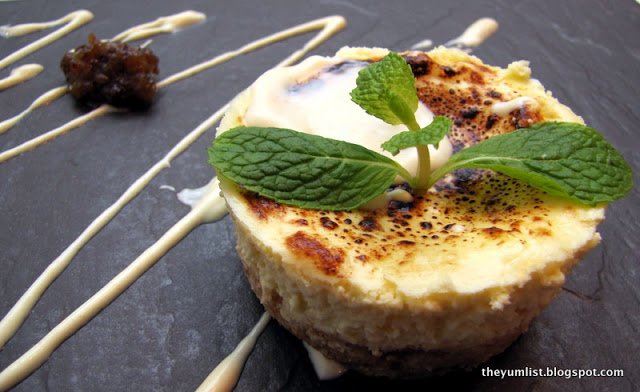 Mango
Ginger Cheesecake RM24
Ril's Bangsar
A spirited vibe purveys Ril's Bangsar. Upbeat 20's music quickly
makes you forget the harsh streets just steps outside and clever décor soon
clears your mind of the day's work. White linens dress the tables, prettified
with fresh floral bouquets in jade green vases. Drop down lighting and simple
chandeliers reflect off wine glasses and a mixture of studded burnt umber
leather and wooden seating add to the elegance.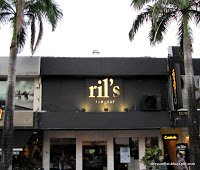 Ril's Bangsar
Clunking of utensils is heard from the partially open
kitchen and lively chatter buzzes from fellow diners. Upstairs is a dimly lit
bar and lounge with live Jazz Friday and Saturday evenings. If you have the
time, a pre or post dinner cocktail whipped up by bartenders decked in clothes
of old (including britches and bow ties) is a unique experience.
Downstairs Ril's offers an ample drinks menu with aperitifs,
digestifs, beer, soft drinks, teas, coffees, classic cocktails and a range of
reasonably priced wines. For special occasions, or those with cash to spare, a
Fine and Rare Collection offers champagnes, wines and spirits costing from
RM300 to RM4400 per bottle.
Service is fast and friendly and once we were seated, a warm
soft onion roll (made in house) soon appeared on our bread plates. A rainbow of butters – garlic, basil, tomato
and plain – was an encouraging start.
We took the wait staff's recommendations for starters and
were not disappointed. Rils's Tiga Rasa Scallops are one of their signature
dishes. The shellfish are seared till lightly brown and presented with a trio
of sauces – sweet, sour and salty. The Lobster Bisque was rich and smooth
and possibly one of the best I've had in KL. Tuna Tartare saw finely sliced
raw tuna accompanied with spicy marinated onions, a dragonfruit compote and a
ginger soy vinaigrette. – another winner for the beginning.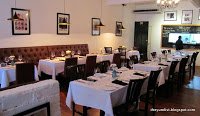 Ril's Bangsar Dining Room
Onto the mains, the Grass-fed Australian Ribeye caught our
eyes immediately. Overjoyed to see a more in-tune-with-the-earth option, it was
our first pick. Being fed grass (a cow's natural diet), not only means
healthier animals, but also better tasting steak. Borrowing a quote from the menu, it
was, "Simple, succulent and, ultimately satisfying." The Lamb Shank Pie is
another highly recommended choice. Rich and comforting, the stew is braised in
Guinness for six hours and served with root vegetables, mushrooms and barley.
Concealed with a thin flaky pastry, the only hint to what's inside is the bone
peeking through the veil.
Balancing out the carnivorous mains, is an assortment of
equally sumptuous sides. Sauteed Mushrooms in Butter, Truffled Mashed
Potato and Chunky Skin on Fries were all unfaultable.
Both food and wine on their own can be superb, but the put
the two together and the whole dining experience is elevated. Ril's Bangsar offers
an assemblage of wine by the glass allowing you to match your meal
appropriately. Befriending our appetizers, the 2011 Matua Valley Sauvignon
Blanc from New Zealand brought gooseberry and
passionfruit to the nose and tropical and citrus notes to the palate. It was a
perfect companion for our seafood start. Ideal for our red meat middle, was the
Argentinian 2010 Trapiche Oak Cask Malbec. Blackberry, plum and a hint of black
pepper first tickled the nose, and then a splash of smoke and vanilla filled
the palate. This velvety, long finishing wine complemented both the lamb and
the beef. Perfectly satisfied by our
meal so far, we eagerly looked to dessert.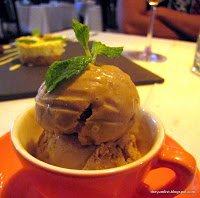 The
Last Polka Ice Cream RM16
– Salted Gula Melaka
Chefs in Kuala Lumpur seem to be cutting down on their sugar
intake and replacing it with salty twists in traditionally sweet desserts. A
bevy of savoury infusions have been popping up all over the city, from balsamic
sorbets to Parmesan ice creams. Fans of the 'not so sweet ending' are
delighted. Adventurous taste buds (such
as my own) and even the not so daring (hubby) will be tickled over Ril's Mango
Ginger Cheesecake. A velvety whipped cheese tops a crumbled biscuit base
imparting a contrast of textures. A faint creamy sweetness is the backdrop in
the mouth, with bursts of light spice from the mango chutney and a tang from
the lemongrass crème Anglais tossing in interest. A boutique label of locally
produced ice cream, The Last Polka, again stirs up the conventional concept
with varieties such as the Salted Gula Melaka. Hubby appreciated the creaminess
of the frozen ending, but, wanting his ice cream to remind him of childhood,
was not overjoyed with the salted finish. I, on the other hand, loved the
all-encompassing ability of this flavour to reach more taste receptors in one
bite.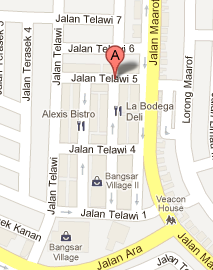 Map to Ril's Bangsar
Currently Ril's Bangsar is open for dinner from 6pm, with
future plans for lunch hours too. A small dining area means reservations are
advised, especially if you want to dine on a popular Friday or Saturday
evening. Parking can be tricky in Bangsar and the traffic police are ever so
efficient at handing out fines, so the easiest parking option is probably under
Bangsar Village or, alternatively, in the open air parking lot near the mosque.
Reason to visit: Lamb
Shank Pie, Australian Ribeye Grass-fed (yay!), Mango Ginger Cheesecake, Rils's
Tiga Rasa Scallops
Ril's Bangsar
30 Jalan Telawi 5
Bangsar Baru
Malaysia
+6 016 315 7195
+6 03 2201 3846