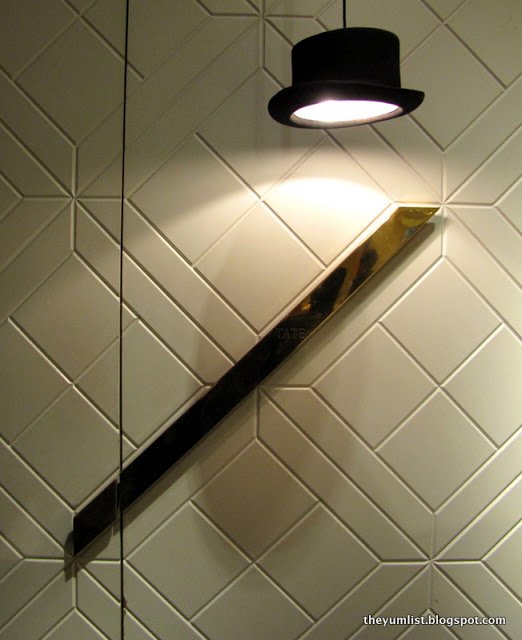 Look for the hat to find Tate
Cocktails at Tate
Words by Lisa Mangelsdorf
Photos by The Yum List
Tate is like something out of movie, set in the days of prohibition, when the "Speak Easy" was a place for a gentleman to escape the stresses of life, unwind, meet up with friends and, most importantly, get a good drink. Honoring the privacy of these clubs of the past, you will not find Tate too easily without knowing what to look for. Once you do spot the little black top hat and the carefully camouflaged door, all that Tate has to offer will pleasantly welcome you.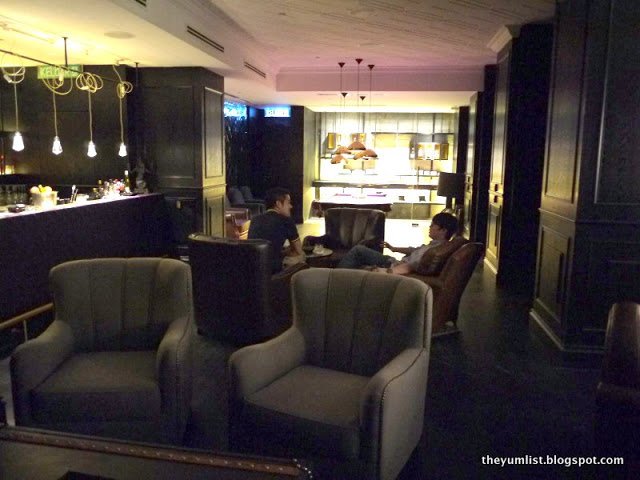 Lounge, bar and pool table at Tate
Although this modern day version of the gentlemen's club welcomes women too, Tate stays true to a very masculine ambiance. A life size knight's armor greets you on arrival; elegant, dark furniture is purposefully placed throughout the dimly lit room; a purple felt-top pool table is proffered for entertainment; and three private rooms complete with brass poles in the tables all set a definite tone to the place.
Popcorn bar snack
Owner Benjamin Yong of the Big Group takes pride in being involved at every stage of design from the architectural layout, to the handpicked table lamps, to the unique collection of Mohammed Ali memorabilia on the walls and Charlie Chaplin movies looping on the TVs around the room. To complete the setting Tate displays a large selection of fine cigars in the humidor room and an extensive choice of superior whiskeys from around the world behind the mahogany bar.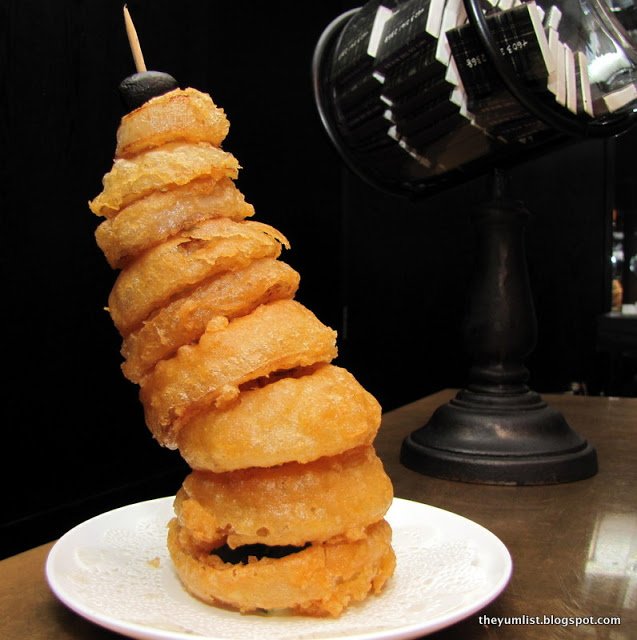 Bar Snacks – Onion Ring Tower
So the scene is set – comfort, luxury and privacy, but what about the drinks? Aside from the many choices of whiskeys, for which it is known, Tate has an impressive list of traditional, as well as original libations to offer. Priding themselves on creating new combinations with high quality ingredients, the mixologists at Tate have fashioned a variety of pleasing concoctions to help you unwind at the end of the day, enjoy as an aperitif before dinner, or perhaps spark up the evening!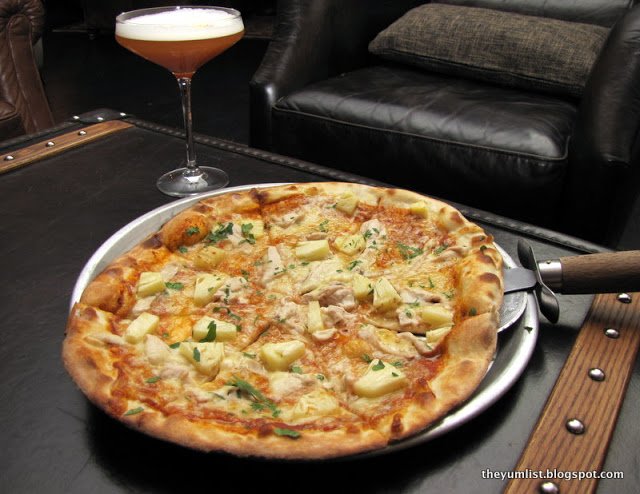 Pizza – it's always advisable to have a little in your stomach before the imbibement begins
Lemon Meringue Martini – This specialty designed in house is a best seller. The perfect balance of Ketel One vodka, Luxardo Lemoncello, fresh lemon juice and sugar is all shaken over rock ice and poured into a chilled martini glass and topped with frothy milk foam. The added touch of sugar sprinkled on top and then briefly bruleed adds lovely texture and color. Your first sip is creamy and sweet like the dessert, but it finishes with a tart lemony zing! RM34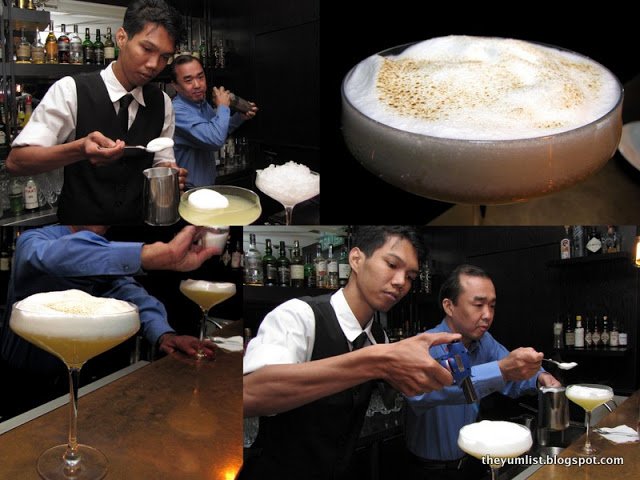 Lemon Meringue Martini
Pimm's Fizz – Pimm's No. 1, chartreuse, fresh lime and lemon juices and egg white for body shaken over ice then topped up with rocks and a thinly sliced cucumber garnish. A perfect aperitif or digestif! RM28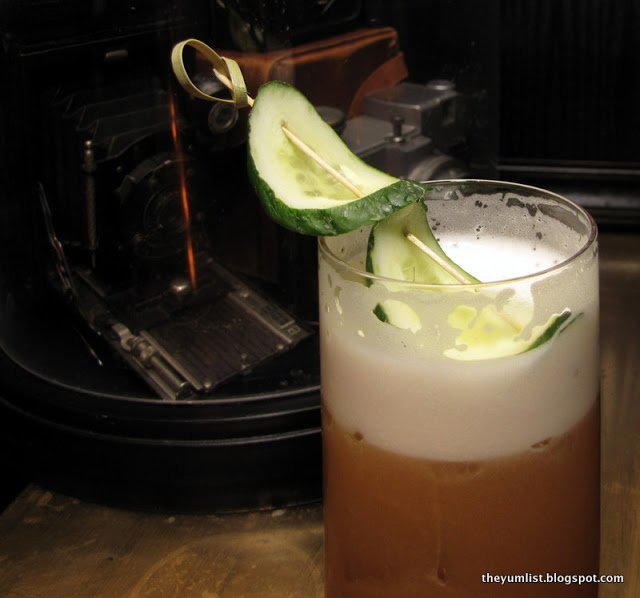 Pimm's Fizz
Ally Meet Early – Created in house – Tanqueray No. 10 has been infused with Earl Grey tea and shaken over ice with Lychee liqueur, fresh lime juice, sugar and egg white. All strained into a chilled martini glass and garnished with delicate orange rind stars. Lovely blend of sweet and bitter! RM48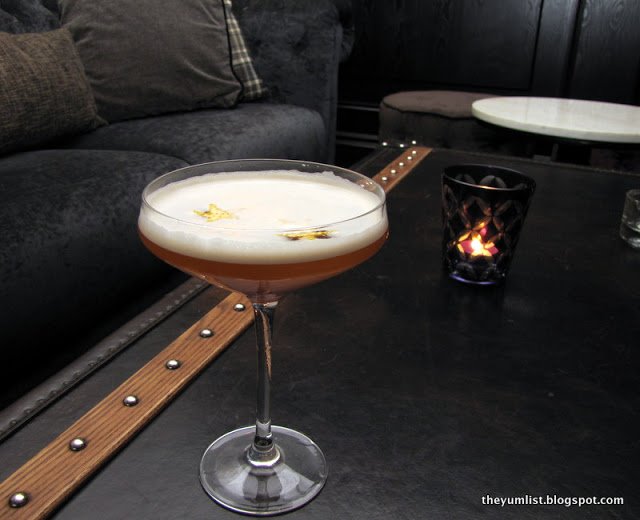 Ally Meet Early
Rio Passage – East meets West! Thai basil crushed with fresh mint and passion fruit, added to Cachaca (from sugar cane) and lime juice, shaken and served on the rocks with a plump juicy lychee garnish. Just the right amount of sweet to have more than one! RM40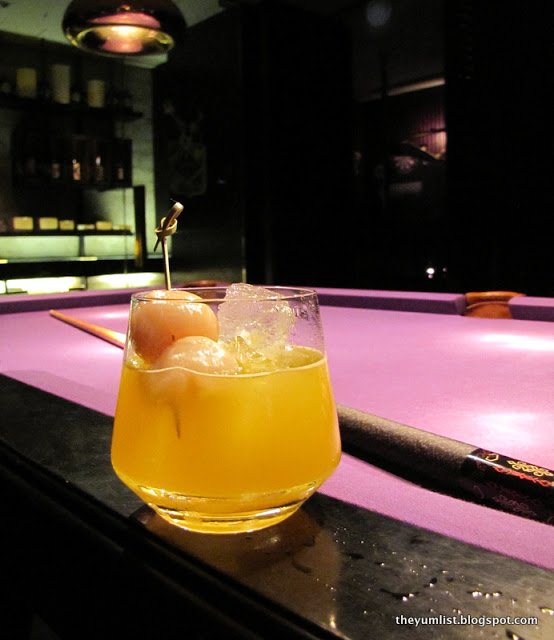 Rio Passage
Hibiki Whiskey – 17 years – aged in Mizunara oak casks, light amber color, smooth buttery flavor with citrus aftertaste. RM33/glass RM 580/bottle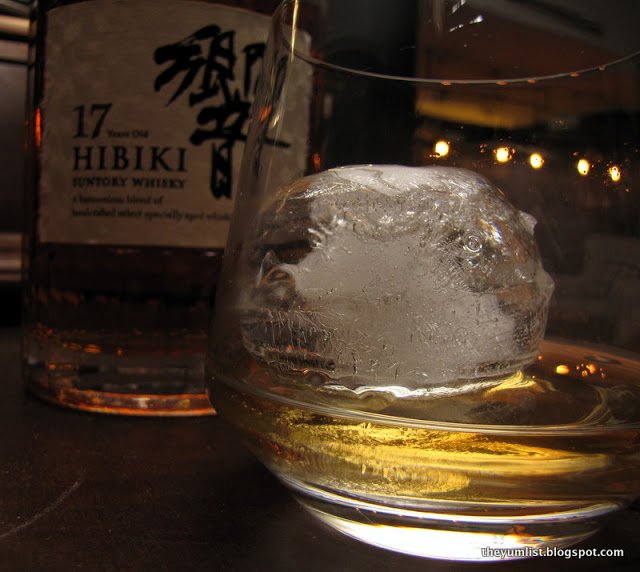 Hibiki Whiskey 17 Years
Every precisely prepared and garnished cocktail is created so that each ingredient can be distinctly noted while delivering a deliciously singular taste. Bar manager Hubert formulates each cocktail with exacting accuracy and care. Glasses are always chilled, ingredients are precisely measured and each garnish is freshly arranged upon order. This attention to detail ensures consistently delectable results!
Overall, Tate is just a great place to relax and unwind with friends while enjoying quality drinks in an elegant, sophisticated intimate environment.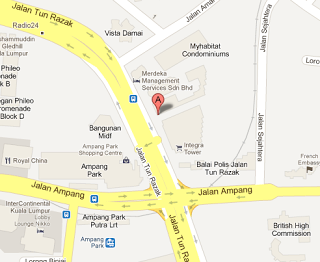 Map to the Intermark
Reasons to visit: Ambiance, originality, great cocktails and premium liquor list.
Tate
Ground Floor
Intermark
182 Jalan Tun Razak
50400 KL
+6 03 2161 2368