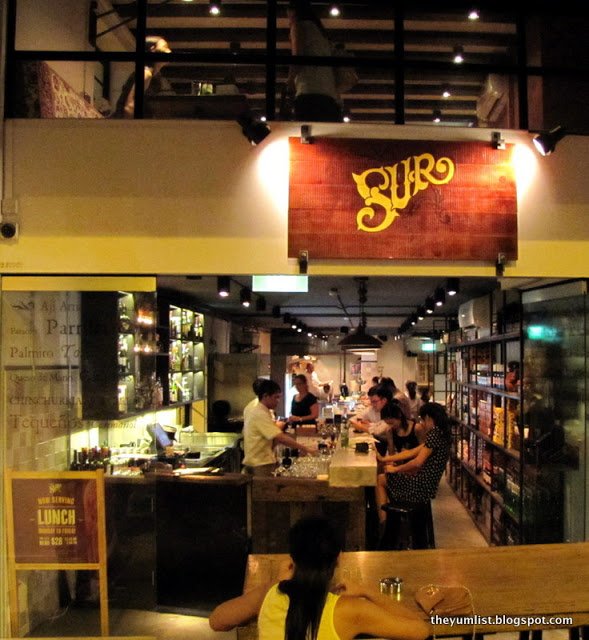 Sur, Nuevo Latino Kitchen
Sur, Nuevo Latino Kitchen, Singapore
By Monica Tindall
I have to admit I did the flap (you know, elbows tucked into
sides, hands fluttering like miniature wings in a state of excitement) when I
first laid my eyes on the menu at Sur, Nuevo Latino Kitchen in Singapore. Separated
from South America for nearing a decade, a browse of Sur's dinner menu, had me
salivatingly dreaming up delicious memories of the past.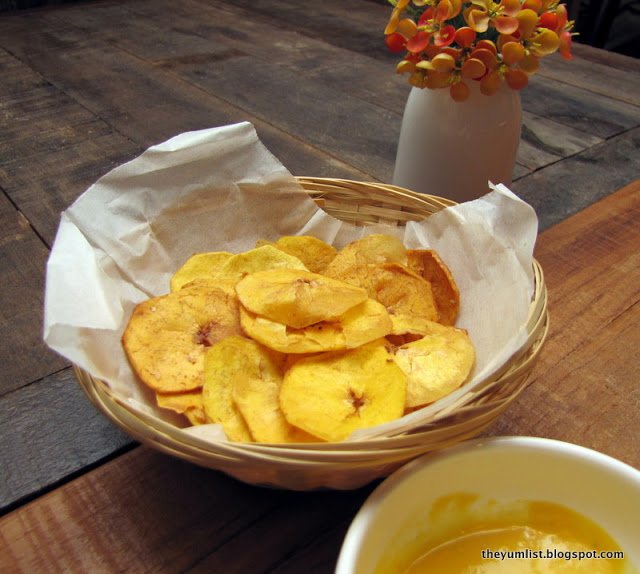 Plantain Chips and Aji Armarillo Sauce
In their small bites
section my eyes were drawn immediately to the Arepitas $8 each. This dense unleavened bread is a staple in Venezuela.
Much the same as rice in Asia, it is eaten at most meals, sometimes on its own,
sometimes slit in half and padded with any assortment of proteins. Perusing
further I saw my three favourite fillings – Reina Pepiada (avocado and chicken),
Domino (black beans and white cheese) and Carne Mechada (shredded beef and
gouda cheese)! Seeing many pages of the menu to go I restrained myself and ordered just
one, the Reina Pepiada. It came hot and golden in a petite woven basket. A
crisp crust gave way to soft dough and, bulging stuffing oozed from the sides. If there ever was a dish invented that pairs
perfectly with beer, this is it.
I dragged my dreamlike gaze away from the arepitas and saw
another plate that swept fond memories back into my heart – Chicharrones. Many a beach trip was
spent buying packets of these crispy fried pork skins from vendors on the side
of the road on the way to the sea. It was a snack reserved purely for this
journey and no adventure to the shore was quite the same without them. It also
came recommended by our sweet waitress but ended on our table different and,
much better than I had remembered. Instead of the skin, this version was pork
belly with a crunchy exterior and chewy succulent middle. Served atop a pond of aji armarillo crema (tangy yellow sauce)
and capped with thinly sliced green tomato and red onion, the contrast in
textures and flavours proved rousingly fresh.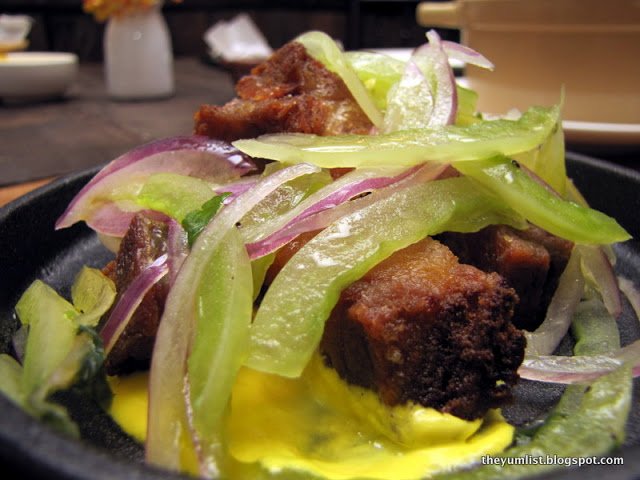 Chicharrones $10
Next I moved to the cocktail menu and spied Guarapita! Bursting with emotion, I received
a huge grin from hubby and a reminder that we were in public and I best at
least attempt to keep my bottom in my seat and soften my squeals to smaller
whimpers of delight. He however, knew my history with Guarapita and I his. This
Venezuelan rocket fuel is a rough mix of rum and passionfruit, ever so popular
by the sea. Home brews are shaken along the coastline of the Caribbean and
bought by weekend vacationers in two litre plastic bottles. It's most often consumed
party style with your feet in the sand as you dance to the rhythms of the local
tambor (drum) percussionists. This
cocktail is deceptively sweet and innocent. It's not until you stand that you
appreciate its full strength. Had to be
ordered.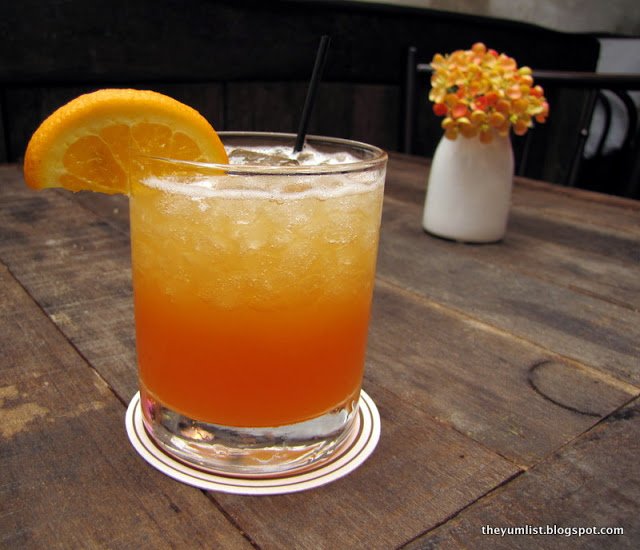 Guarapita $15
With wisdom that only age and too many experiences with the day after brings, we knew better than to request two, so an old favourite, the Pisco Sour got the next pick. Barsol Pisco, egg white, lemon and Angostura Bitters made a refreshing drop. Neither cocktail disappointed.
The evening went on and my excitement continued on a roller
coast ride of thrill and delight. Chorizo
Carupanero – spicy pork sausage, sautéed bell peppers and queso fresco (young white cheese) came
wafting to our noses. The smoky smell of deliciousness was so rich you could
almost consume and become full on the aroma alone.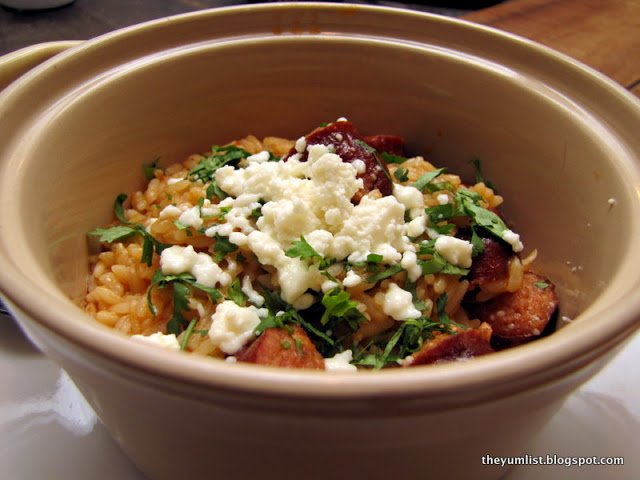 Chorizo Carupanero $16
A Degustation of Ceviches followed. Given a choice of three we opted for the: Ceviche Clasico- catch of the day, shaved red onion, cilantro, sweet potato and leche de tigre (citrus based marinade); Ceviche Nikkei – ahi tuna, avocado, jalapeños, Nikkei citrus marinade, cilantro and; Ceviche de Salmon – salmon, mango, citrus marinade, poached taro root, red onions, jalapeños and, cilantro.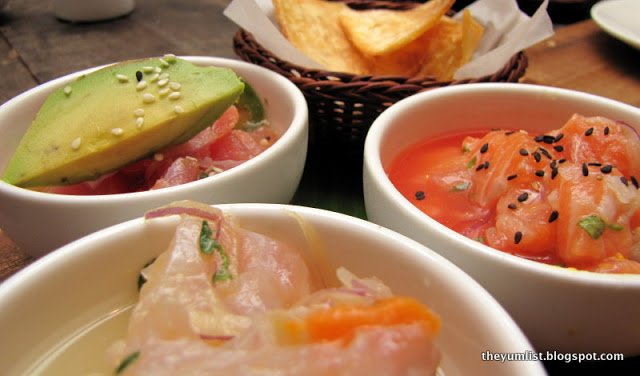 Degustation of Ceviches $24
Los Fuertes, "the
strong ones," mains came next. By this time, saying we were full was an understatement. Feeling deprived however, with so many
years without authentic South American cuisine, we ploughed on like there was
no tomorrow. Pescado Frito, whole
fried fish with tostones (fried green
plantains) and finely shredded coleslaw brought back more memories of Caribbean
fun and proved another perfect pairing with icy cold beer.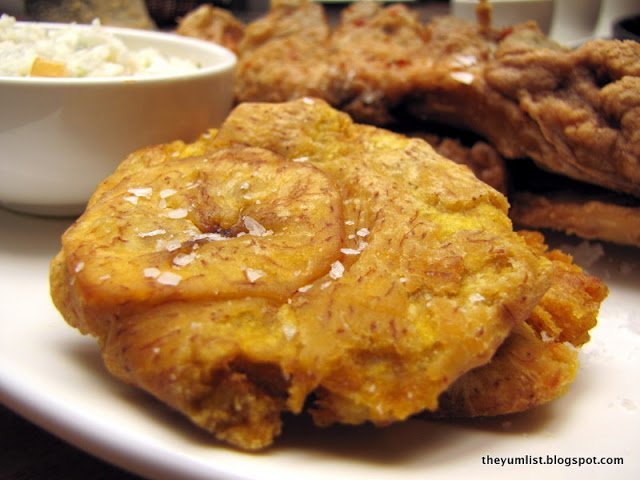 Tostones – up close – one of personal favourite beach snacks – go easy though – these babies are high in carbohydrate and take a little while to digest
Plato Parilla, a mixed grill of lamp chop, amazingly tender pink skirt steak, chicken breast, pork, blood and luscious pork sausages and, fried yucca was more than enough protein to last a month. Carnivore hubby, however, tore through the flesh with carefree abandonment.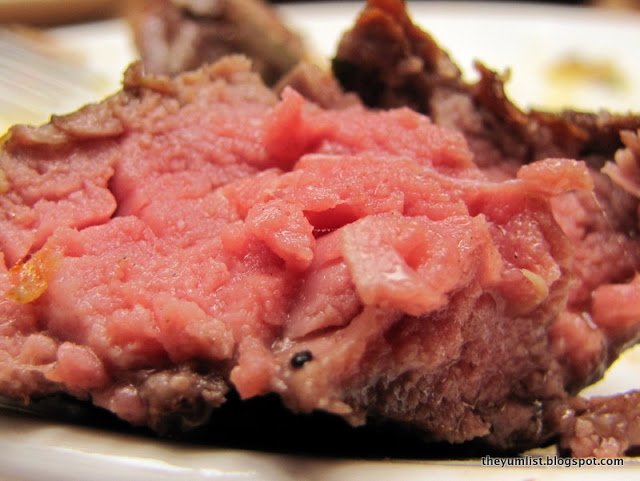 Close up of the Grilled Skirt – hubby's dream
Dessert was just as exhilarating and this round was hubby's
turn to lose control. Fond memories of childhood overtook his mumblings when he
saw Raspaito (shaved ice with syrupy toppings) on the menu. Hearing the
beginnings of (what I know can go on for hours) ramblings recounted from the
past of buying shaved ice from street stalls and misadventures he and his
siblings embarked on, I made a quick decision to order something a little more
grown up. The Panqueca de Dulce de Leche, Triple Sec flambéed caramel filled crepes with candied orange, roasted
nuts and ice cream, made a dramatic entrance. Flames a blast, a fiery hot pan
appeared on our table, and the smell of caramelized sugar hit our nostrils. The
oily nuts and citric zing married the creamy sweetness of the oozing caramel.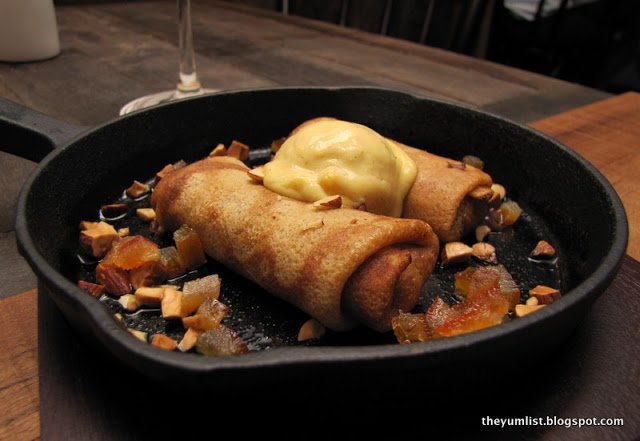 Panqueca de Dulce de Leche $14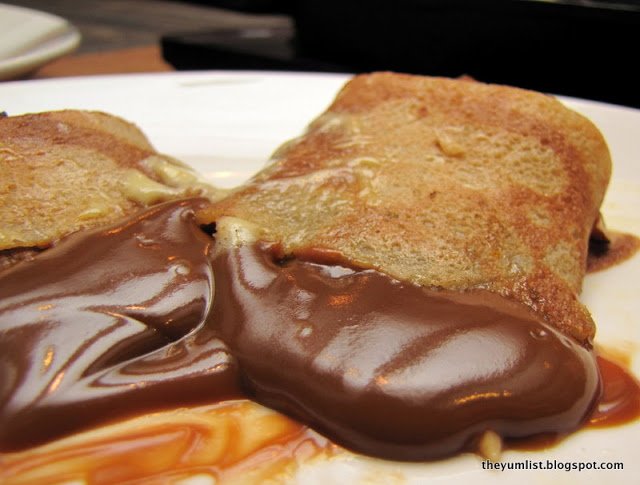 Close up of the luscious caramel in the Panqueca de Dulce de Leche
The giant sized Alfajors were our final indulgence. Light shortbread filled with dense caramel, rolled in toasted coconut can only be matched with a truly South American brew of Juan Valdez coffee – a model finale to an unsurpassable experience.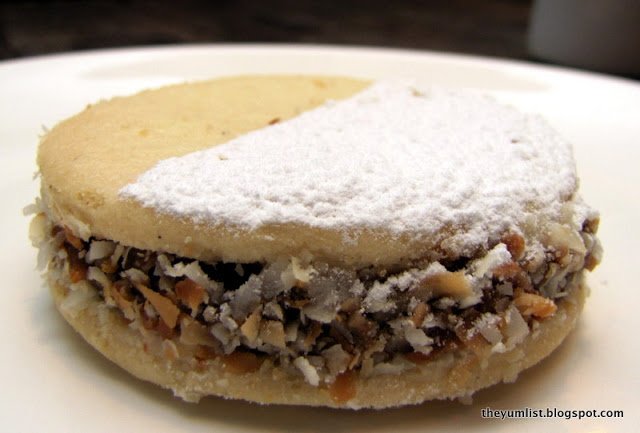 Alfajor $8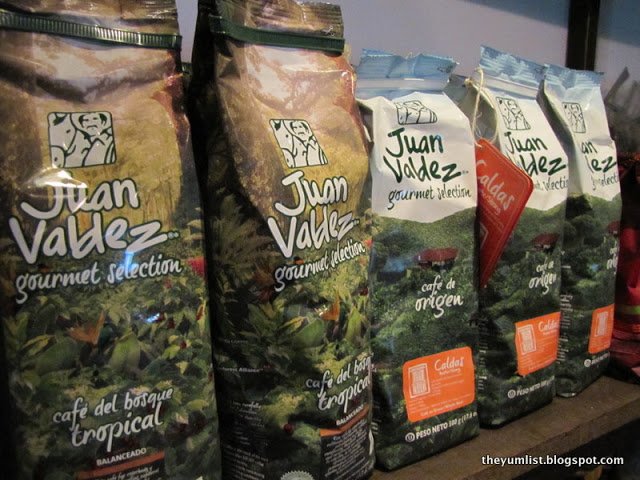 Juan Valdez Coffee – a truly South American experience
Sur, Nuevo Latino Kitchen in their own words is "bursting
with traditional Hispanic flavours and vibrant Latin flare!" Hubby and I are in
100% agreement.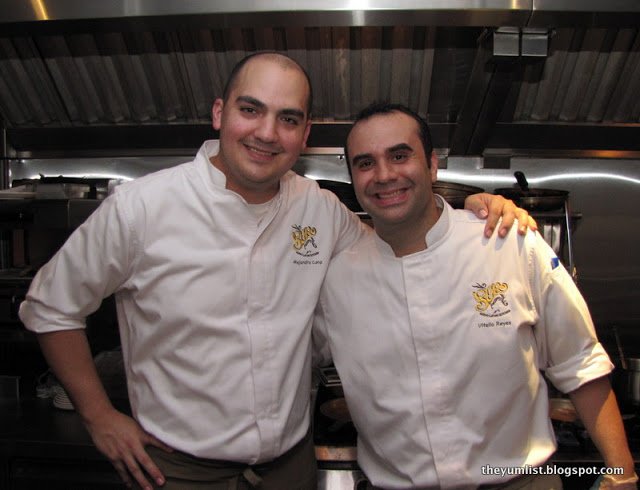 Alejandro Luna and Vitelio Reyes
Sur is open for lunch Monday to Friday from 11:30am to
2:30pm and, for dinner Monday through Saturday from 5:30pm to 10:30pm.
Reason to visit: authentic
South American cuisine, buzzing ambience, Latin cocktails, Arepitas, Chicharrones, Chorizo Carupanero, Plato Parilla, Panqueca
de Dulce de Leche, Alfajors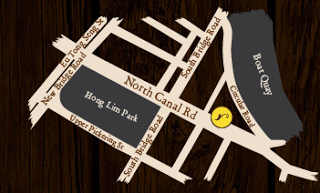 Map to Sur
Sur
Nuevo Latino Kitchen
13 North Canal Road #01-01/02
Singapore 048826
+65 6222 2897