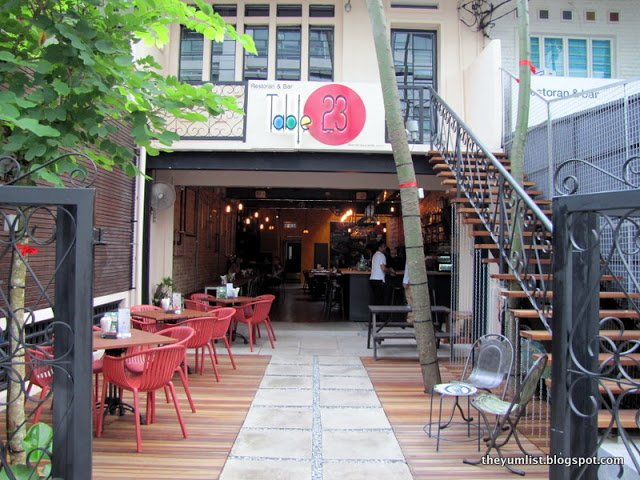 Table 23 Restaurant and Bar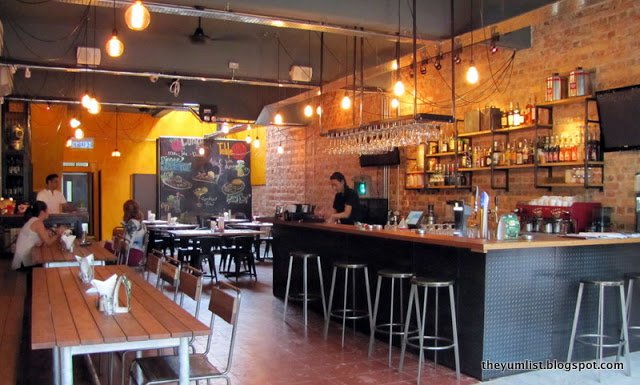 Table 23 Restaurant and Bar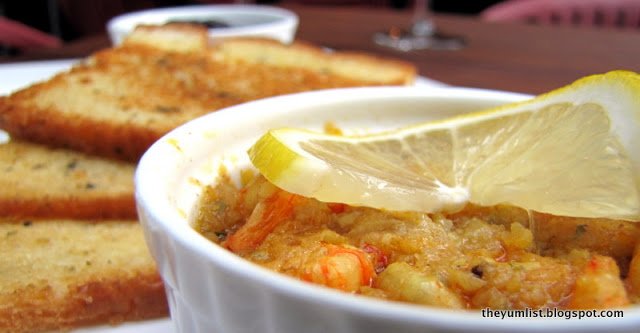 Potted Shrimp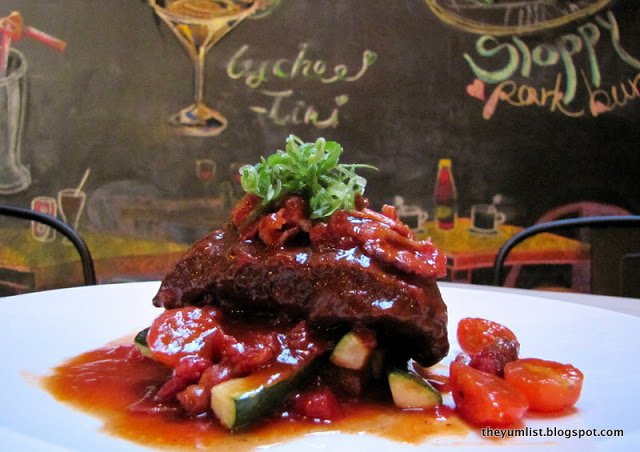 Beef Cheek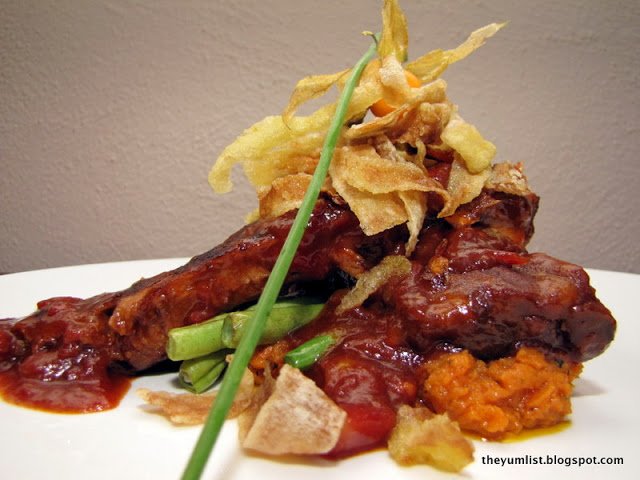 Braised Pork Ribs – NO LONGER AVAILABLE – THIS PLACE IS NOW PORK-FREE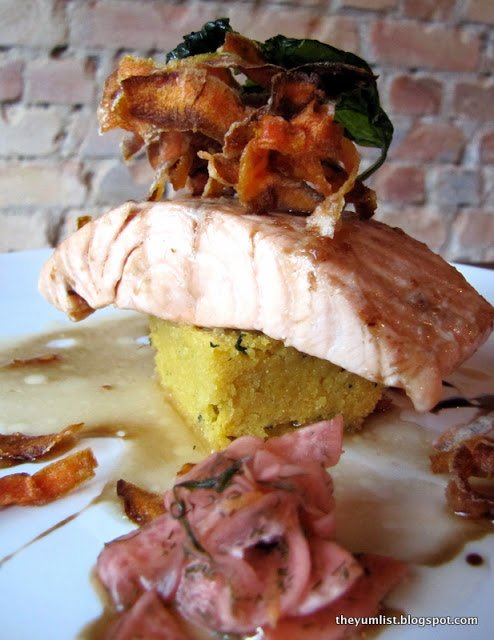 Poached Salmon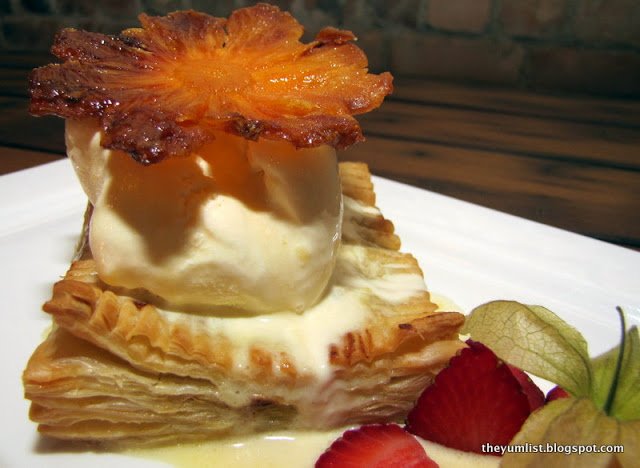 Apple Strudel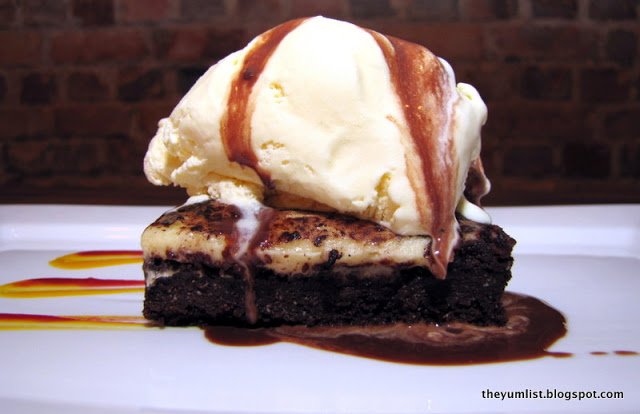 Guinness Chocolate Cake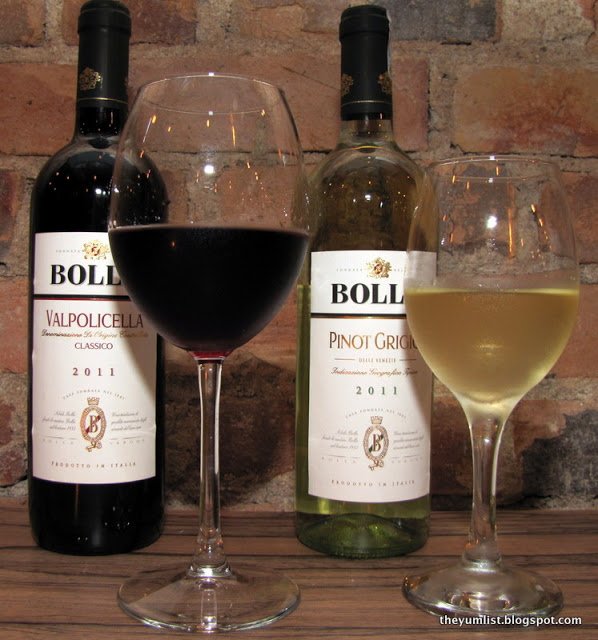 Italian wine by the glass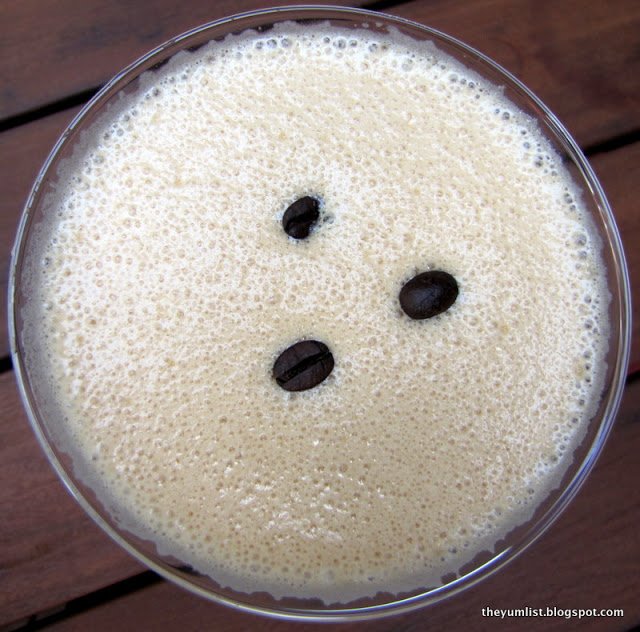 Espresso Martini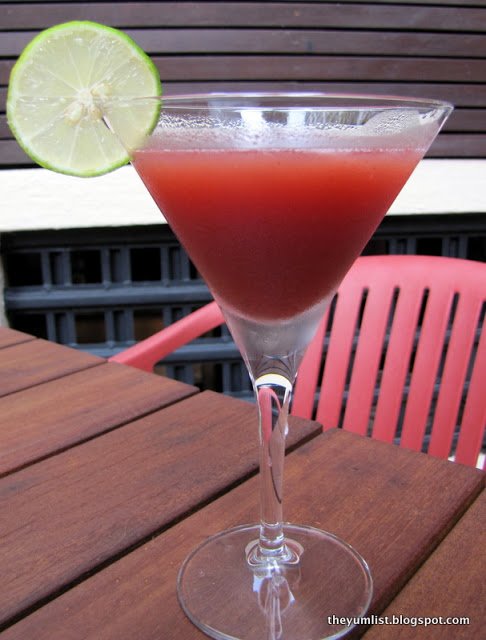 Strawberry Martini
Table 23, Jalan Mesui
Words by Kirsten Durward
Photos by The Yum List
PLEASE NOTE: TABLE 23 IS NOW PORK-FREE (October 2014)
The menu says 'we live by the motto good food, good service, good company.' Well let's see…
I'm taken by the ambience in the rustic and raw interior. Mellow brick walls are enhanced with metalwork and hanging filament light bulbs. Amongst more modern furniture are scattered a few antique artifacts and distressed wooden chairs. Sunlight streams through the dusk onto the original 1960's flooring from a skylight in the roof. Below, a colourful hand has painted featured foods on a giant blackboard set to the back against a vibrant orange wall. It's an inside, outside place with a hint of rural France and more than a touch of the Med.
Sherlene Siew is a focussed and friendly businesswoman. She bubbles with enthusiasm about her food, her staff, and the needs of her customers. I'm already sold, as the growling tones of James Brown are humming in the air. Sherlene piles on the appeal by describing her homemade pastries and promising fresh apple strudel to come. Now I'm eager to begin, knowing where I'll be ending.
Monica is here, and we're offered a cocktail, 'Why, we don't mind if we do…' Expresso Martini is foamy and cloudy. It has a kick and you sure can taste the alcohol in it. Its Strawberry sister is more subtle. A slightly limey sweet drink with strawberry undertones. A range of martinis on the menu so something to suit all tastes. Martinis RM23 ++
Table 23 offers a special Martini Night on Wednesdays with three flavours for RM50 ++ Bonus!
A London influence arrives in the form of Potted Shrimp in aspiring gastro pub style, with homemade chutney and toasted focaccia. The slender toasted slices, lightly brushed with garlic butter are crisp, but crumble in the mouth. Delicate lemongrass flavours the shrimp, but it's the chutney that gives the za za zoom to the dish. Sweet. Rich. Dark. (no sorry, that's the man I'm expecting…) Grape Chutney is exploding with taste and texture. I'm transported back to granny's kitchen and making damson jam. The three tastes and textures form an unexpected alliance, and it surely works! Enough focaccia left to mop up the juice… Chef Wong Soon Hwa has earned my first mmmm… Potted Shrimp RM13 ++
Sake Poached Salmon precariously balances on a perfect cube of polenta topped with a mound of carrot crisps. It's an artistically arranged fusion dish that's relaxed and fun on the plate. The sake sauce with mirrin, and a rosette of pickled radish add a sharp and sweet bite to the dish. The salmon is firm, the polenta herby, crispy carrot adding texture to the dish. Poached Salmon RM36 ++
It's a good job we're hungry for the next dish. A luscious deep red sauce thoroughly coats the slow braise of pork ribs and glistens onto the plate. Perky green beans peek out underneath. We delve in, flaking off soft pork from the bone, scooping out the sweet potato mash hiding below. The pork is home style and comforting, the mash with a buttery taste that lingers on the tongue, both meshing well with the sticky sauce. I name it a gluttonish dish. It pairs well with a crisp clean wine. Slow Braised Pork Ribs RM45 ++ PLEASE NOTE: TABLE 23 IS NOW PORK-FREE (October 2014)
I have to approve of a menu that's two thirds beverage. Sherlene selects two glasses from her impressive range. She keeps it European, with some Italian choices. A Bolla Pinot Grigio 2011 is just what the pork ribs ordered. It's light and clear, a cut above most of the house whites in the city. I feel a pleasant little buzz on my tongue and a clean refreshing taste. The red; a Bolla Valpollicella Classico. It smells delicious, with echoes of raspberry. Slightly chilled the taste reveals fruity notes, but light and fresh, perfect accompaniment to the hearty dishes. Wine by the glass RM25 ++
I take a moment to reflect over wine, enjoying the building ambience as more customers wander in. The playlist continues to please. This is a pleasant after-work hangout.
What's next? Beef Cheek, we are told, is one of the best selling dishes. We are eager to try this crowd pleaser. It arrives. Our eyes widen. It's huge! An entire Beef Cheek lies across the plate, crispy bacon sparkling on top, surrounded by a pool of glistening jus. It melts off the fork, revealing slender courgette chips and perfect potato cubes below. Beef Cheek proves glutinously meaty in the mouth; I enjoy the pop of the tiny fresh tomatoes surrounding the plate. Beef Cheek RM55 ++
At last – the promised land! Apple Strudel! A puff of pastry, a generous ball of ice cream, both elegantly crowned by a flower of candied pineapple, golden browned. A perfect miniature Phillip Treacy hat. 'Ooooh' we both slip out, eagerly wielding spoons. But wait! Sherlene asks could we manage another dessert? Her special Guinness cake? Guinness cake? How can we refuse? Our duty to the reader overrides our waistline concerns. I mentally add ten minutes to my planned exercise routine.
Guinness on the way, we return to the dish in front of us. First to fall is the sticky, chewy, toasty pineapple, then the spoon cuts through the soft ice cream to the crisp pastry below. Juicy apple spills out, I scoop it all up and mmm… It's light and moist with a slight cinnamon note. The salty vanilla cream balances out the sweetness to create a charming combination. Monica is moaning with pleasure. Apple Strudel RM15 ++
'Ooooh!' is all we can manage again when Guinness proudly appears. This is a first – I see Monica raise her spoon before her camera! Caught in time, she giggles naughtily and carries it off. Paparazzi moment over, spoons at the ready, we wade in. I know it's good from the sticky thick texture that I push through to carve my first mouthful. Dense, bitter dark chocolate coated in a thin layer of cream cheese is totally decadent. The Guinness note is there, but it's the long lingering taste of intense chocolate gooey chewy dessert that sets these Yum finders on fire. Other customers may choose strudel with their coffee, but we know what we are coming back for! Chocolate Guinness Cake RM15 ++
We've enjoyed good food, good service and Sherlene's been good company, so it's a tick in all three boxes for Table 23.
PLEASE NOTE: TABLE 23 IS NOW PORK-FREE (October 2014)
Reasons to visit: A great atmosphere for an after-work hangout, hearty meals, luscious desserts, fine quality wine, late night dining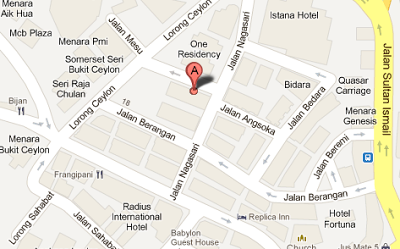 Map to Table 23
The kitchen at Table 23 stays open til 12 am Thursday – Saturday.
Closed on Sundays.
Table 23