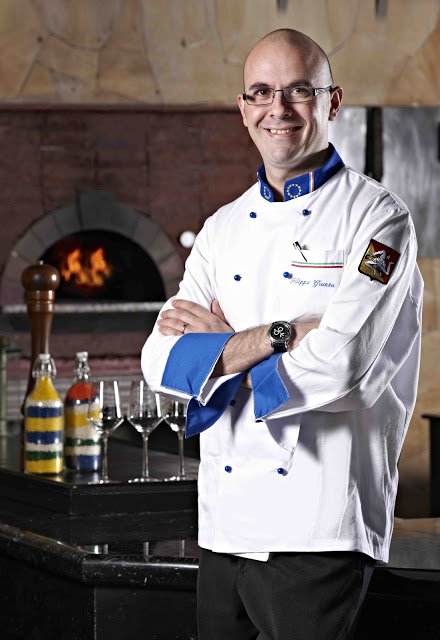 Chef Filippo, Senja, Saujana Hotel
The Yum List talks with Chef Filippo of Saujana Hotel's Italian restaurant, Senja about Italian cuisine and his experiences around the world.
What do you do and how did you get into the industry?
I'm an Italian Chef. I studied at the Catering School in Sicily and started my working career as a commis in a family restaurant.
Where have you worked around the world?
I've been working for 17 years in the industry. I started my working experince in Sicily. After that I moved to London where I spent about eight years working in the Latium Restaurant, Zafferano Restaurant, and Yauatcha Restaurant. After that in 2010 I joined the Oberoi Hotel in New Dehli as Italian Chef where I worked for two years. I joined The Saujana Hotel Kuala Lumpur in April 2012.
Share with us an interesting story from one of your postings.
I will never forget the experience of cooking for Donatella Versace and Naomi Campbell while working at Yauatcha Restaurant, London. Working in London is possibly the best working experience to date!
How do you find the food experience in Malaysia?
I really love the food in Malaysia and I've been trying so many local dishes but my favorite is Nasi Lemak.
What dishes do you miss most from home?
Well honestly I miss my mom's cooking. Moms will always be the best cook but I do miss the street food in the city of Palermo such as Arancine di Riso, Pane e Panelle, Stigghiola and Cannolo Siciliano, just to name a few dishes.
What's one of the most extravagant dishes you've ever made?
The most extravagant dish I have ever made was Prawns served in a warm potato carpaccio with thyme and sherry vinegar reduction. I made it while I was at the Oberoi Hotel and it was a well-received dish.
What's something you'd like people to know about Italian cuisine?
Italian Cuisine is all about cooking with love in a simple way, using fresh ingredients because every single ingredient contributes to making the dish taste good. Italian cuisine is also about cooking healthily.
What's your ideal food and wine/ liquor pairing?
Bucatini with Sardines (traditional dish from Sicily) paired with a glass of Sicilian white wine.
Your perfect day off would be…
At home watching my football team play and hoping that they'd win. Otherwise it wouldn't be a perfect day off.
What can guests look forward to in terms of Food and Beverage at Senja in 2013?
We are working on the menu to bring all the traditional recipes from all the regions of Italy (especially Sicily). We recently acquired a pasta machine where we are making all the selection of pastas homemade, guaranteeing freshness and a high quality of food for our guests. My cooking style is more concentrated on the Mediterranean style of cooking and this is what I would love for my guests to experience.
Thanks Chef Filippo! Home made pasta, Sicilian cuisine and healthy eating all sound more than worthy of a trip over to Shah Alam.