Ruffino Wine Dinner, Villa Danieli, Sheraton Imperial
The Tuscan wine establishment, Ruffino, famed for it Chianti Classico and Riserva Ducale, recently partnered their talent with one of Kuala Lumpur's most notable Italian restaurants, Villa Danieli. The match of two institutions, each celebrated for their excellence in product, had KLites salivating with anticipation. As a member of the press, The Yum List received a gracious invitation to experience the marrying of wine and food, as only Italians know how.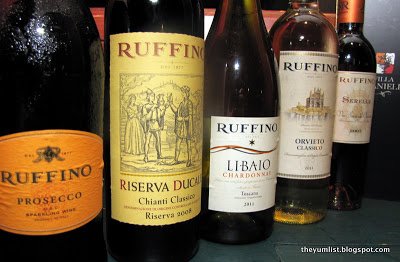 Ruffino Wines
Chef Alessandro just finished commemorating his first year anniversary with the Sheraton Imperial Kuala Lumpur last month with a splendid menu of his successes taken from the past year. On his toes again without a breath, he again wowed diners this month with a dazzling line up of dishes to complement the range of Ruffino wines highlighted at the Italian restaurant.
Through an alluring mix up of serving styles, guests had not a moment to yawn with the variety presented. An unceasing stream of dishes and liquid hit the tables in individual, shared, tapas and pass around arrangements. Each round brought a ballyhoo of flashes, typing of notes and, scribbling of tastings. Fortunately, for the rest of the guests, the media table was discreetly situated off to the side.
Here's what the fuss was about:
Ruffino Prosecco DOC kicked off the evening with a tasty Amuse Bouche – Burrata di Mozzarella di Bufala con insalata di pomodorini arrosto alla Mediterranea – Buffalo mozzarella`s Burrata with roasted cherry tomato salad done the Mediterranean way.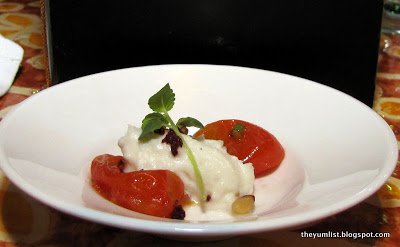 Amuse Bouche
A sharing plate of starters: Ceviche di Merluzzo piccante con emulsione di patate e polvere di Kalamata, foglie di calamari fritti, crema di peperoni all` aglio selvatico –spicy cod ceviche with olive oil potato emulsion, Kalamata olive dust and deep fried calamari on garlic bell pepper volute; Il Vitello Tonnato al Tartufo Villa Danieli – low temperature roasted Italian veal striploin, fresh seared yellow fin tuna carpaccio, tonnata sauce and fresh truffle; Carpaccio di manzo Wagyu con asparagi bianchi, mousse di parmigiano e pinoli , rucola e chips di sedanorapa, riduzione di aceto balsamico, cristalli di Fior di Sale – wagyu beef carpaccio, roasted white asparagus, parmesan cheese mousse, pine nuts, flower salt, arugula and celeriac chips with honey balsamic reduction; Terrina di fegato grasso d`oca al Porto In crosta di pistacchi, composta di fichi ed insalatina di bietole e lamponi, crostone di focaccia di patate dolci – pistachio crusted foie gras and Port terrine, fig compote, beetroot raspberry salad and sweet potato focaccia.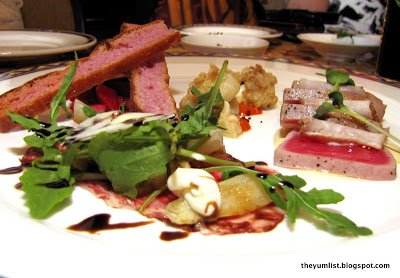 Starters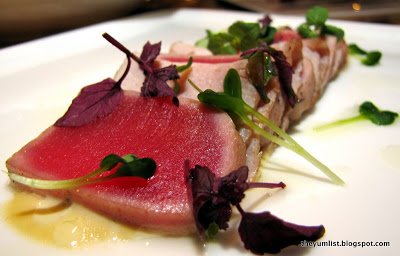 Tuna Carpaccio
Soup came next served individually in small cups alongside a white wine, Ruffino Orvieto Classico DOC: Crema di broccoli piccante, aragostelle padellate e pane alla cenere fritto – a deliciously spicy broccoli cream with sautéd rock lobster, fried charcoal bread and; Crema di funghi selvatici al tartufo con Shimeji croccanti, mousse di ricotta – a wonderfully thick wild mushroom soup scented with truffle and made with crispy Shimeji mushrooms and ricotta cheese mousse.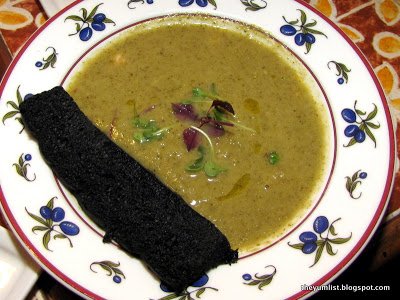 Spicy Broccoli Cream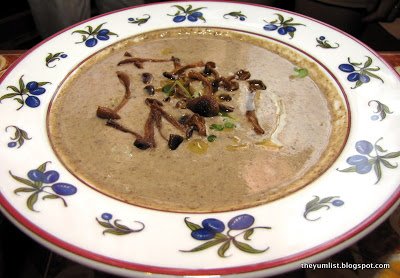 Wild Mushroom Soup
Pasta and risotto were up next. Some on a platter for sharing, others oversized in individual bowls: Tagliolini ai funghi Porcini e Shimeji con burro bianco al tartufo e scaglie di Parmigiano – taglioloni egg pasta with porcini and shimeji mushrooms in white truffle butter sauce and Parmesan shavings; Le fettuccine all` Aragosta di Boston dello Chef – the chef`s fresh egg fettuccini with pan seared Boston lobster; Rigatoni con ragout di manzo alla Fiorentina, con basilco fresco e olio al pepoeroncino – rigatoni pasta with spicy creamy beef ragout Florentine style, fresh basil and chili extra virgin olive oil and; Risotto allo zafferano con guancia di manzo fondente e porri croccanti – saffron risotto with melting beef cheek and crispy leeks.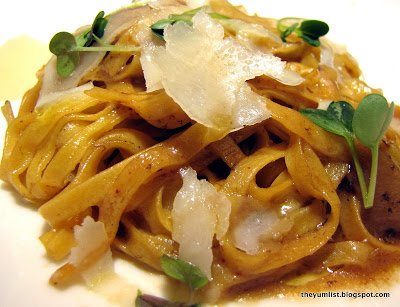 Taglioloni Egg Pasta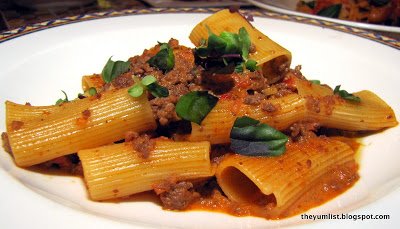 Rigatoni Pasta with Beef Ragout
Oven baked pasta came in small tasting dishes: Crespelle al Taleggio con funghi e asparagi – oven gratin folded crepe sheet stuffed with Taleggio cheese, mushrooms and asparagus and; Cannelloni al nero di seppia ripieni di triglie e broccoli con guazzetto di cavolfiori alle vongole picante – red mullet and broccoli, squid ink cannelloni with cauliflower and spicy clam chowder.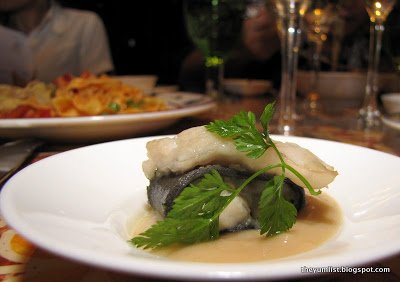 Squid Ink Cannelloni
Waiters next came passing out pizza. Brave media enthusiastically adjusted belt buckles and continued the indulgence with: Estiva Pizza – pomodoro, mozzarella, carpaccio di tonno pinne gialle e crudaiola di verdure alla Mediterranea – tomato sauce, mozzarella, yellow fin tuna carpaccio and Mediterranean marinated raw vegetable salad and; Piemontese Pizza – Mascarpone, Toma Piemontese, scaglie di parmigiano e tartufo Uncinato slamellato, olio al tartufo bianco – mascarpone cheese, Toma Piemontese cheese, Parmesan cheese shavings and, fresh black Uncinato truffle.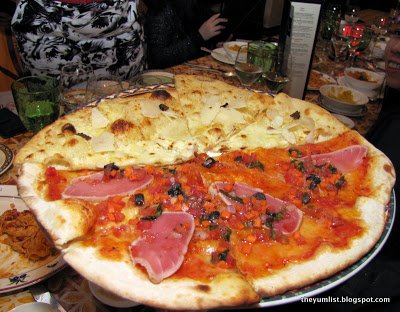 Pizza
The main courses again came on sharing platters. The white meats accompanied by the Ruffino Libaio Chardonnay Toscana, and the reds paired with the Ruffino Riserva Ducale Chianti Classico DOCG: Scottata di branzino al sale marinato, pomodorini confit e asparagi croccanti, emulsione di olive e finocchietto – oven baked sea bass carpaccio with a marinade of sea salt, cherry tomato confit and crispy asparagus, olives and fennel leaf emulsion; Controfiletto di Fassone Piemontese rosolato alle erbe, padellata di funghi misti, uova di quaglia poche` e fonduta di formaggi d` Alpeggio al tartufo, tartufo Uncinato – Fassone beef herb roasted Sirloin steak, mixed mushrooms sauté, poached quail eggs, Alps mountain cheese and truffle fondue and, fresh Uncinato truffles; Ossobuco di Vitello straccotto servito con il suo succo di cottura e polenta concia, gremolada – slowly braised veal Ossobuco, cheesy polenta and brazing jus, lemon parsley gremolada and; Medaglione di merluzzo alla Mediterranea con purea di ceci al limone – cod medallion stew with Mediterranean vegetables in tangy tomato sauce with a lemon chick pea mousse.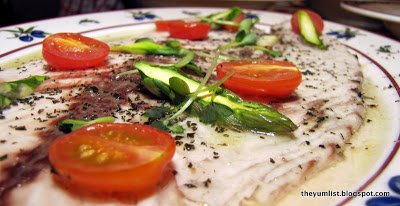 Oven Baked Sea Bass Carpaccio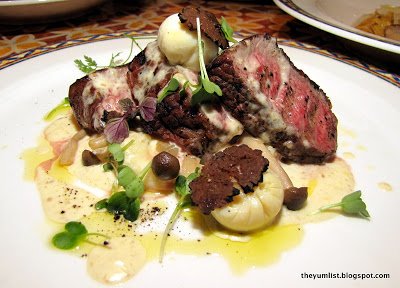 Fassone Beef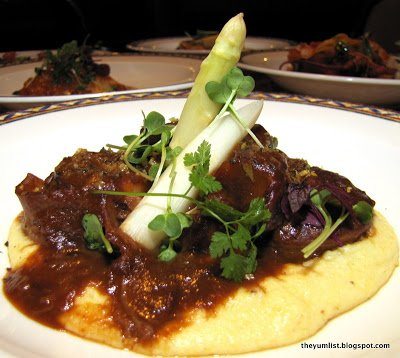 Veal Ossobuco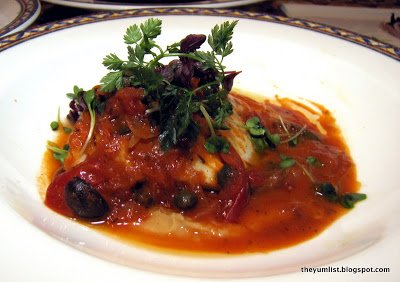 Cod Medallion Stew
There's always space for dessert and lucky for all involved it came as individual servings: Il tiramisu Villa Danieli – Villa Danieli signature tiramisu; Crema bruciata al rosmarino – rosemary crème brule and; Il cioccolatissimo dello Chef – the chef`s super chocolate combination. The dessert wine, Ruffino Serelle Vin Santo Del Chianti DOC served both as a digestive and sweet ending in itself.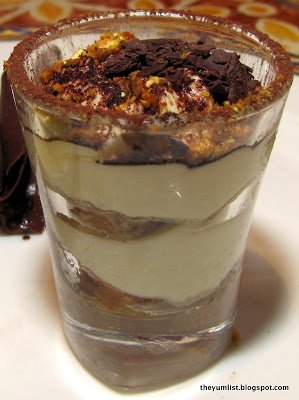 Villa Danieli Signature Tiramisu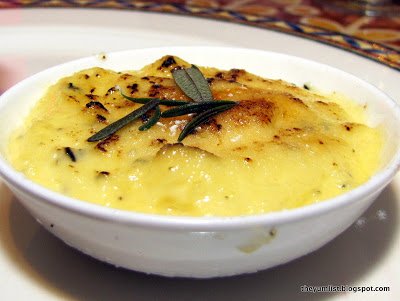 Rosemary Crème Brule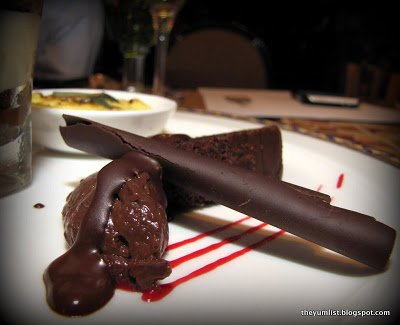 The Chef`s Super Chocolate Combination
Reason to visit: Burrata Salad, Spicy Broccoli Cream, Squid Ink Cannelloni, Saffron Risotto with Beef Cheek, Piemontese Pizza, Fassone Beef, Rosemary Creme Brulee, a fantastic selection of Italian wines and, a setting resembling an old Italian Villa.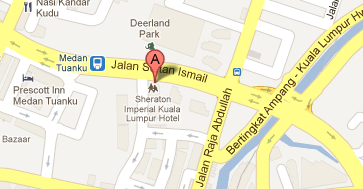 Map to Sheraton Imperial Kuala Lumpur
Villa Danielli
5th Floor
Sheration Imperial
Jalan Sultan Ismail
Kuala Lumpur
Malaysia
+6 03 2717 9900