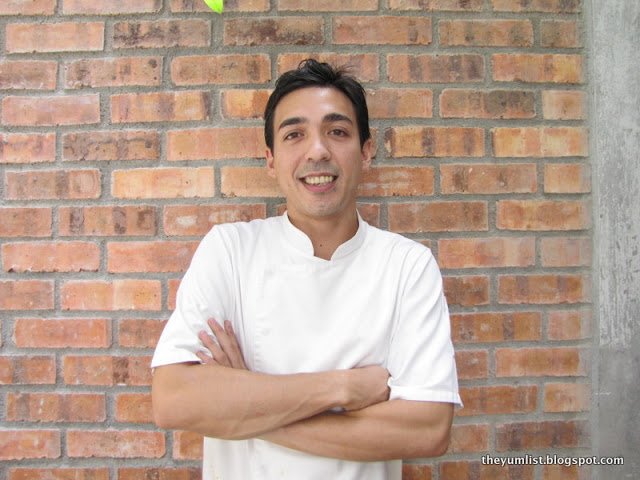 Chef Mashad Pino
The Yum List chats with chef Mashad Pino of Hit and Mrs., Bangsar, about life in general and his time in the kitchen.
How did you get into the industry?
As I was growing up my parents have always been in the F and B industry, running island resorts, restaurants and even expanding to Thailand. I was always surrounded by food and thus started to build a serious passion for it at a late age of 18.
Where have you worked around the world?
I've worked in many countries. Among them are Algarve-Portugal, Berlin-Germany, Vienna-Austria, St.Mortiz- Switzerland, Copenhagen-Denmark as well as the cruise industry on board The Queen Mary 2 & The Queen Victoria.
Which restaurant was your favourite to work at during your travel days?
Hotel Villa Joya was an amazing experience. Not only was it awarded 2 Michillin stars, it was also the best restaurant in Portugal. I was working in the pastry department and clicked very well with my pastry chef.
Share with us an interesting story from your F&B experience.
It happened the day we planned to leave Portugal for Copenhagen to embark on our culinary tour. We arrived that morning at the airport all ready to go but when we tried to check in the lady told me we were too early! Apparently I got the dates mixed up and our flight was the next morning instead. It's a two hour drive back to town with no accommodation. It was a very funny moment as were stressed that we were going to be late. We ended up sleeping at the airport terminal.
What's your favourite Malaysian food?
Cendol and durian. Both are dishes I rave about as I travel.
What's your personal favourite dish on the Hit and Mrs. menu?
I would say the Peanut Butter and Chocolate Texture. It's a dish that took some time to conceptualize. Its kind of fun having a number of textures and flavors combined. It makes it more awesome .
What's one of the most fun dishes you've ever made?
The most fun dish was made during my time on the Queen Mary 2. There was a cooking competition but not live cooking. So I had to do gelatine work and think on how to build our dish. It was really fun because it was the fist time I ever went into something like this, working with a dish that is cold that is supposed to be awsome when hot. I made an Indian inspired dish.
What's something you'd like people to know about the style of food you prepare at Hit and Mrs.?
Whoever is coming to dine in would need to know that it's a unique style of cooking and presentation. People should come in with an open mind knowing its not your regular steak and mash.
Your perfect day off would be…
When the sun shines in the morning, goes cloudy in the afternoon, rains at night and there's no traffic the whole day.
What can guests look forward to at Hit and Mrs. in 2013?
Guests can look forward to more combinations of unique and interesting pairings of food and flavours. We have a lot of work to be done and we've only just started.
Thanks Chef Mashad! The Yum List looks forward to seeing what new dishes you'll invent this year.