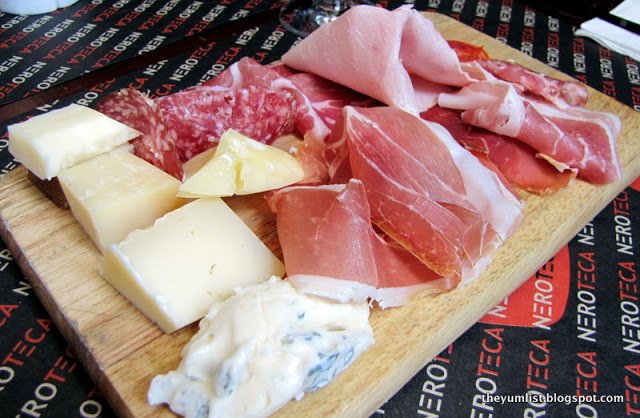 The perfect beginning – choose your own Italian Cheeses and Cold Cuts from the deli and staff will slice and serve them to you fresh and to order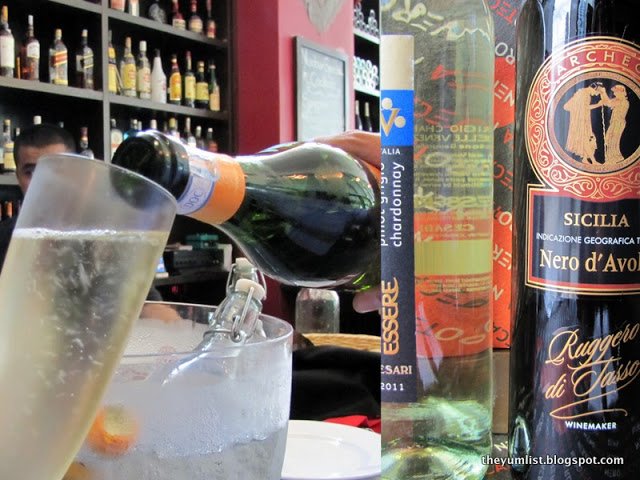 Choose your poison for the afternoon and you just may not need to go any further – Free flow prosecco, red and white Italian wines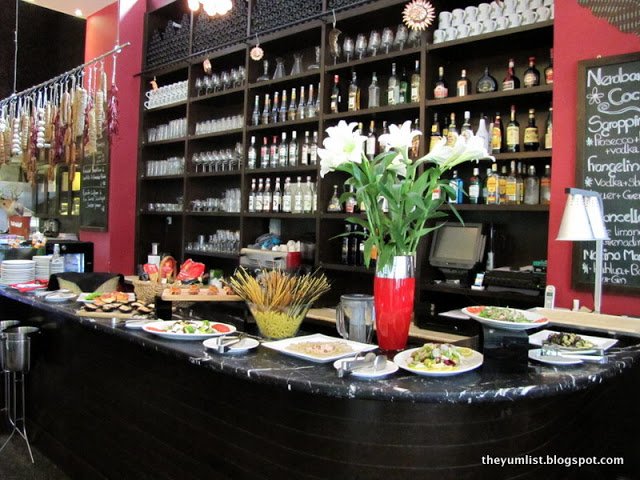 Antipasti Bar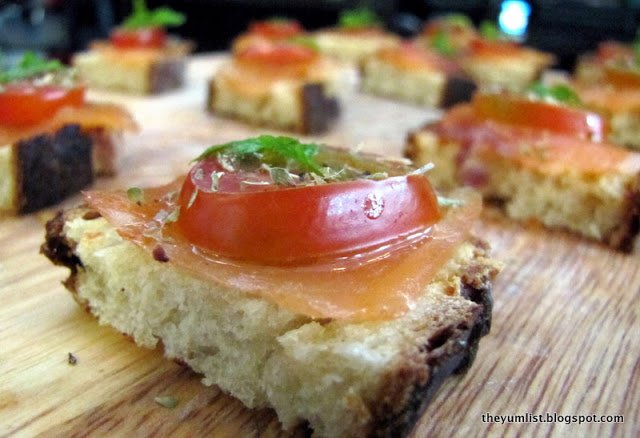 Antipasti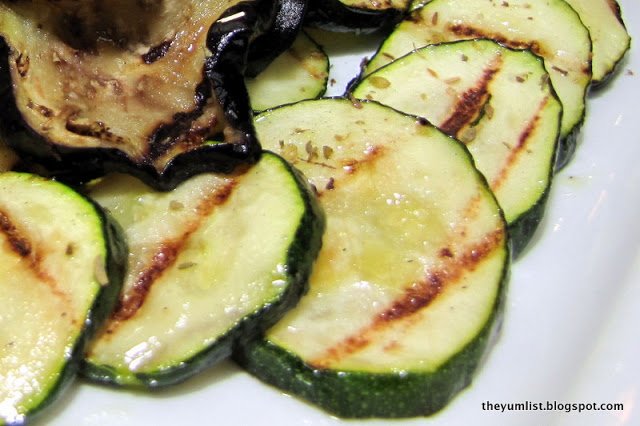 Antipasti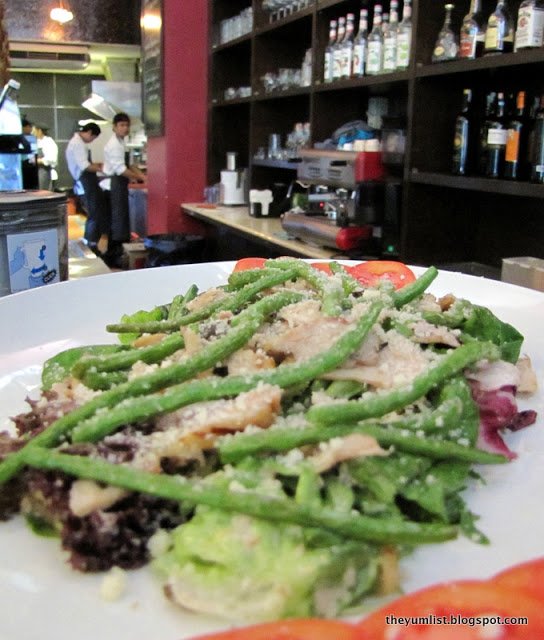 French Bean Salad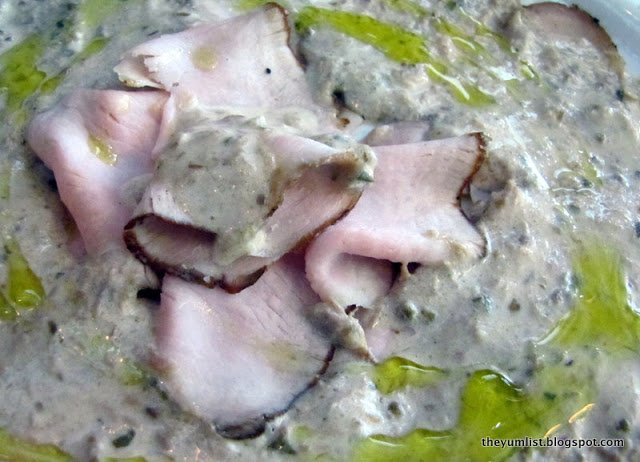 Antipasti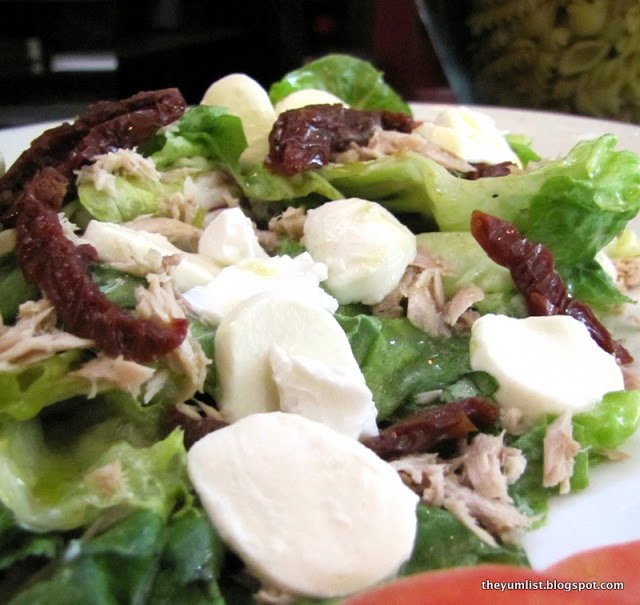 Nicoise Salad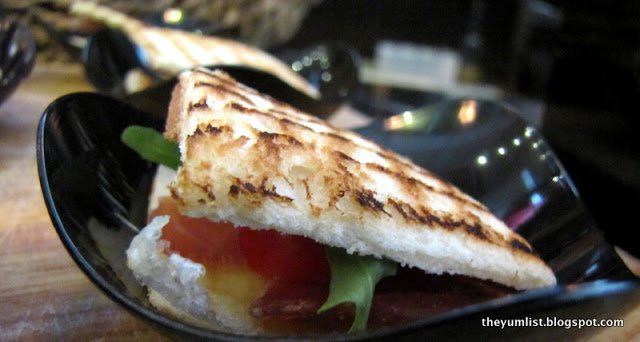 Panini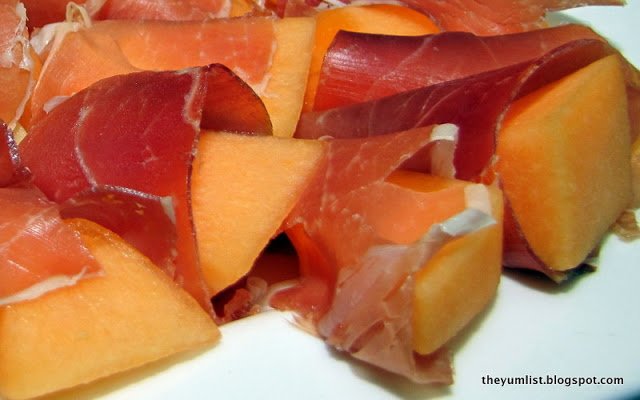 Prosciutto and Melon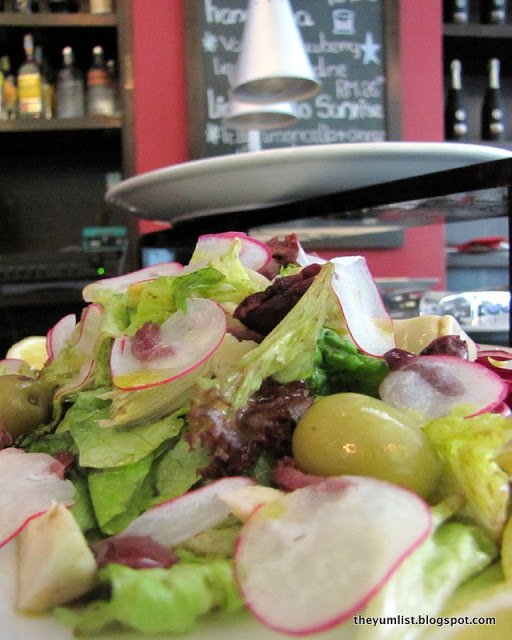 Salad with marinated green olives and radish shavings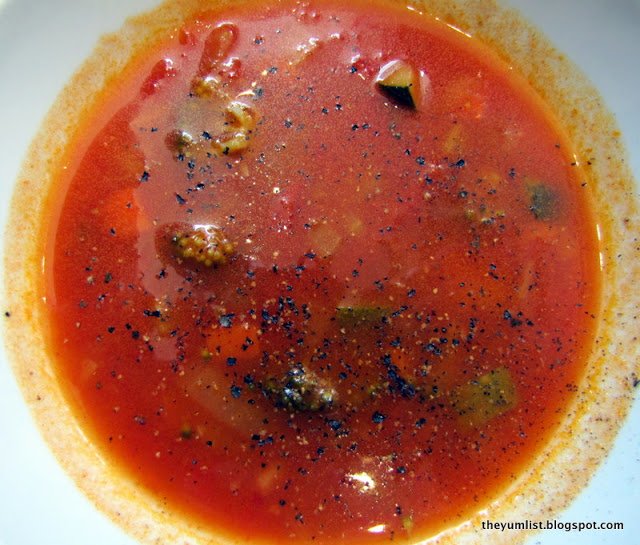 Minestrone Soup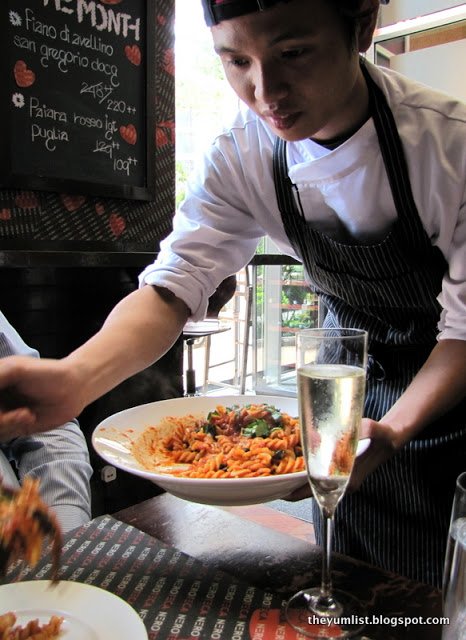 Fresh pasta and main courses are prepared on the spot and shared at tables as they're ready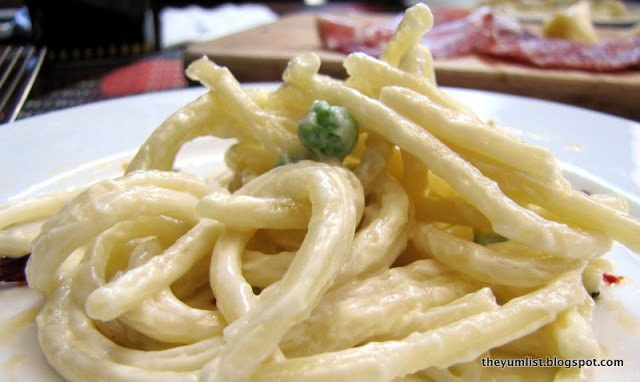 Creamy Pea Pasta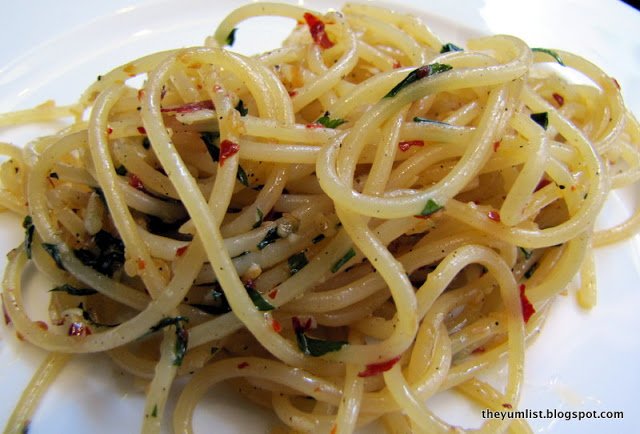 Spicy Spaghetti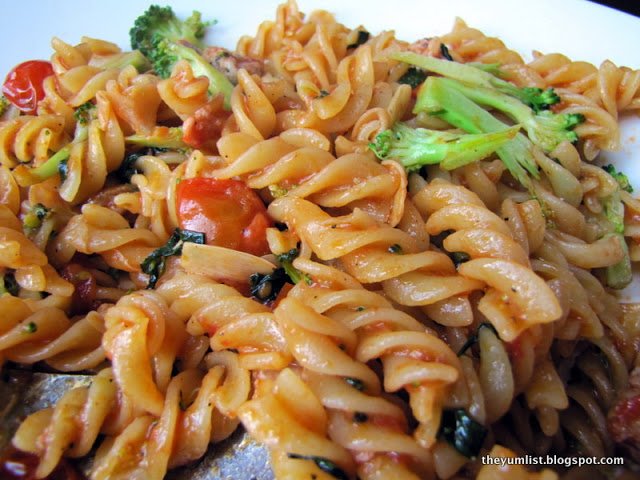 Spirals with Sausage, Broccoli and Cherry Tomatoes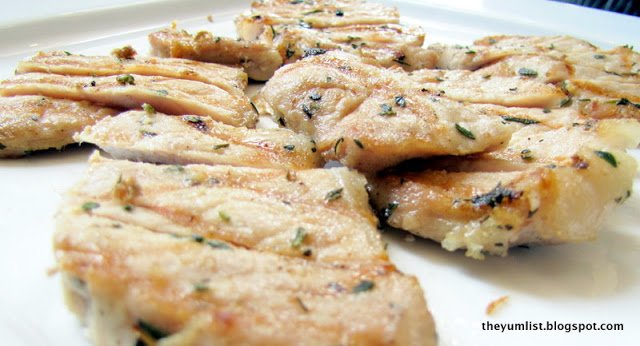 Chicken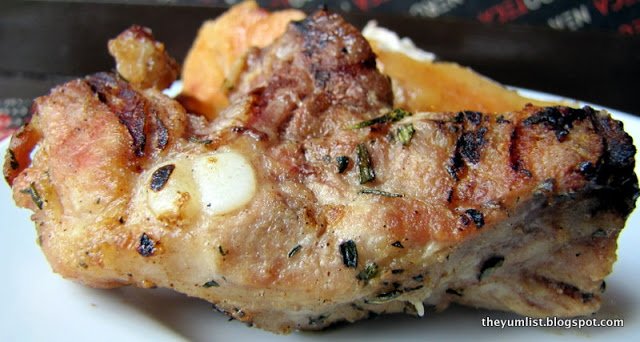 Pork Ribs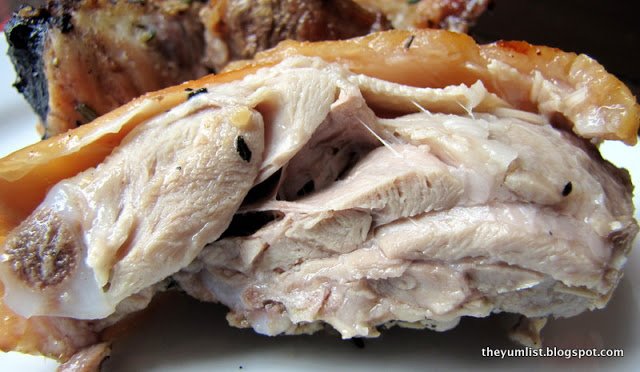 Suckling Pig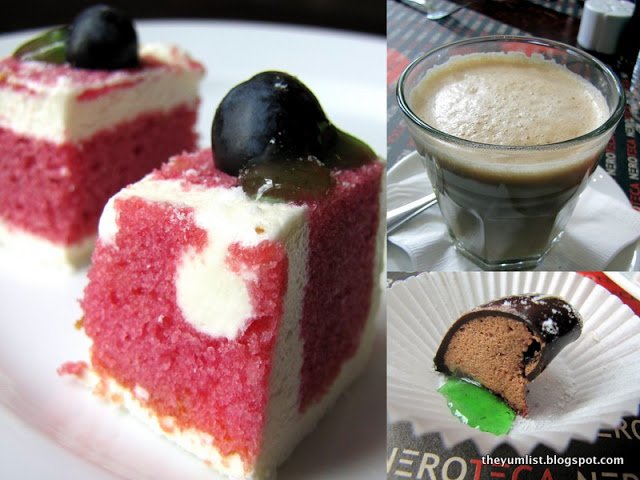 Coffee and Desserts
Sunday Brunch at Neroteca
Words by Carter James
Photos by The Yum List
You keep coming back to the same
restaurant and see the same old faces. Normal, right? Well usually it's the
diners you see on a regular basis, loyal customers who return regularly for
their favourite fix. But Neroteca is more special than that – the staff! Some
of whom have been working at the restaurant for years, and I've got to say,
they really make the experience special.
Brunch is a great meal. Some say
is a mix of breakfast and lunch, others say it's the meal in between. For me,
it is simply a long lunch that starts early, ends late, and often involves a
few glasses of wine. Today's extraordinary brunch at Neroteca was no deviation
from this – exceptional food, beautifully chilled Prosecco, and engaging and
lively company. The perfect way to spend a Sunday afternoon!
Based loosely on the antipasti
concept, Neroteca's Sunday brunch is an exploration of great Italian products,
covering the sweet, savoury, soupy, meaty, and alcoholic categories. With an
extensive display of cold cuts, freshly butchered meat cuts, cakes and
desserts, an extensive cheese selection, and platters and platters of antipasti
items, there is something in here for everyone. Certainly, with pork products
being a major highlight, it seemed that everything was for me. Priced at RM148++
per person, it is also exceptional value.
Before I could even take my seat,
our very attentive and personable host Alex handed me a glass of chilled
Prosecco. I knew right then that today was going to be great. Glass in hand, I
made my way to the cold cuts and cheese counter, selected a range of delicately
sliced salami, prosciutto, honey ham, along with cheeses representing the
gambit of flavours. Cheese and cold cuts platters are open and are constructed
according to guests requirements – no two platters are alike – which makes for
a very personalised experience. With the platter served at the table, we start
nibbling on these morsels. Quality was clearly paramount. Sliced with flavour
perfection in mind, each meat was definitely the best quality available. Absolutely
no complaints here, and the generous portions were appreciated – especially
when it came to a second (and third) helping later in the afternoon.
Checking out the antipasti platters,
there was a nice selection of bread, baked fresh on the premises daily, mini Panini
with thinly sliced pork, a potato and egg salad, selection of grilled
vegetables, and several other items which sadly didn't get to my plate. Oh,
there was plenty to eat – just my stomach wasn't big enough to try one of
everything.
Waiting staff are constantly
topping up our drinks. The service is amazing. Staff are attentive, speak great
English, and moreover, engage with their customers. It gives the feeling one
would expect in a real Italian Salumeria e Gastronomia – family with
homely food, no expense spared on getting the quality right.
At regular intervals the staff
brought to the table pasta selections, freshly roasted meat options, and their
in-house bread.
We got to experience three pastas
today. The aglio olio was a simple spaghetti pasta, olive oil, and powerful
chilli flakes. The bite of the chilli lingered for several seconds on the tip
of the tongue, and again in the throat, warming it up nicely. Not over the top,
it packed heat nicely and lifted the flavour of the pasta. Cooked al dente, as
all their pastas were, added to my satisfaction. A heartier spiral pasta with
tomato and pork sausage was served – somewhat a homely dish, again with the
right heat kick from the chilli flakes. Our third pasta was a cream pasta –
thicker spaghetti tossed in fresh cream with green beans. Pure delight. So
simple, but truly indulgent. Yes, seconds were explored, and if I could have
taken it away, that would have been my dinner too.
Mini roasts of suckling pig, with
exceptionally crispy skin were brought table to table. Pull apart pork, this
was stunningly mouth-watering. Although I had a knife in hand, it certainly
wasn't needed, as the meat fell off the bone with the easy guidance of my fork.
The best thing about this was the skin, crispy, but not too oily and not too
salty. I just wish I knew how to cook crackling / pig skin to that level.
Roasted short ribs followed, treated with a nice simple glaze. Then came sliced
pork with a mild aioli.
At this stage, I'm getting quite
full, but it wasn't the end of my gastronomic journey through Italy. Thick
minestrone soup was also served. The great thing about this brunch is that
there is no fixed order to the presentation of dishes – just help yourself as
you like to the offerings from the waiters and at the counter. That makes for a
much more pleasurable experience, as one can simply just sit and pick, knowing
full well that there will be more to come, and you will never miss out on a
dish if you pass it up. The minestrone was divine. Hearty, thick, and full of
flavour.
Neroteca is truly a place for
conversation. The food takes care of itself, the wine is refilled, chilled
water readily available. Although a narrow restaurant lot, its floor to ceiling
wine cellar display creates the optical illusion of space. High ceilings,
earthy colours, and just a sense of the comfort of home, simply creates an
environment to enjoy good company. Yes, there were even single bar top seats
for those who came alone – but I suspect that after a glass or two, you'd be
joining in at one of the tables, nattering away.
Map to Neroteca
Nero Teca has hit my list as one
of the most enjoyable brunch experiences in Kuala Lumpur. Food selection and
quality is excellent, and very generous servings too, great service and very
friendly staff. It really is a must visit.
Reason to visit: Excellent value bubbly brunch, Italians cold cuts and cheese, succulent pig, warm friendly service from a staff who have stood the test of time
Neroteca
Ground Floor, The Somerset
8 Lorong Ceylon
50250 Kuala Lumpur
Malaysia
+6 03 2070 2530