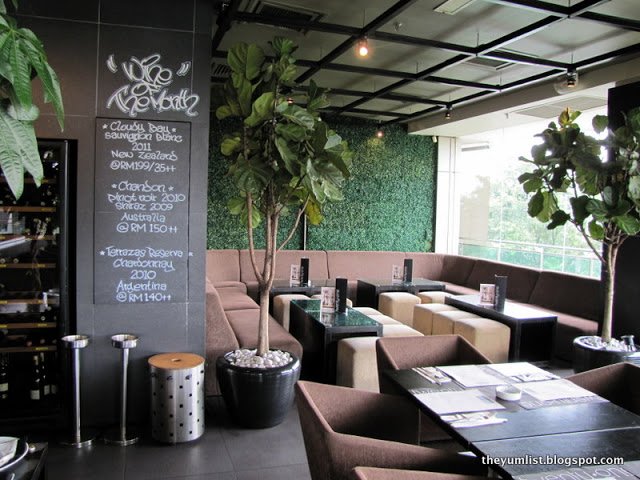 Twentyone Tables + Terrace
TwentyOne Tables + Terrace; Bangsar Shopping Centre
Words by Kirsten Durward
Photos by The Yum List
On a misty Sunday afternoon, through floor to ceiling
windows, the twin towers hover moodily in the distance. Turn the other cheek to
see the charming homes of Bangsar and, a striking silhouette on the horizon,
the so-called 'Shark's Fin.' The curved window at TwentyOne Tables + Terrace offers a
wonderful vista, and opens later to provide the Terrace that completes the
name. Inside, a rather stark white and black is relieved by soft brown and
beige seating, while actual live trees echo the outside greenery.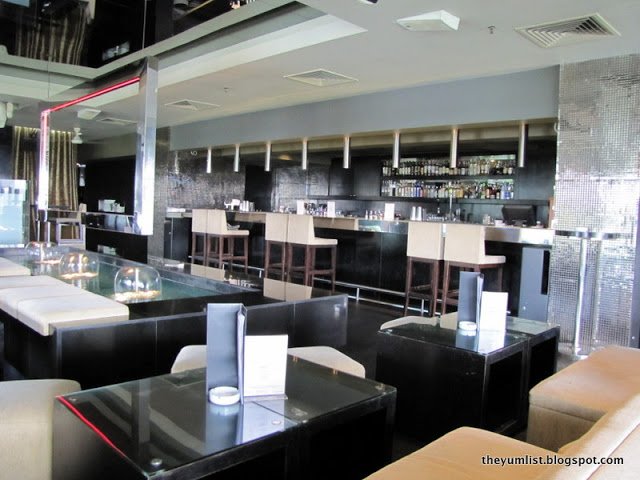 Twentyone Tables + Terrace
We're greeted by the delightful Janet, who walks us through
the menu while telling tales of culinary capers and entertainment events
galore. An upbeat but not intrusive
selection of background music blends with the soft flowing water feature in the
centre of the bar. We're waiting only
for the chink of cutlery and the chimes of glassware to complete our background
of sounds.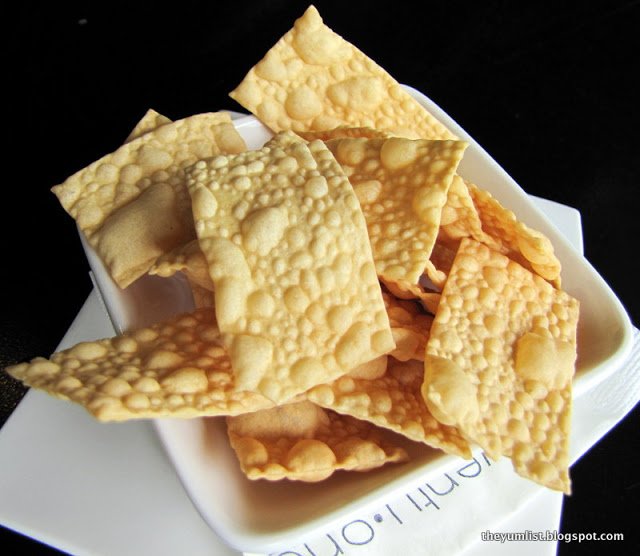 Table Bites
First to arrive are three interesting looking
cocktails. Berry Sparkle from the Virgin
Cocktail range is a cloud of muddled berries floating in a framboise
lemonade. Berry is sweet, but not
cloying; very refreshing – 'Now this is beautiful, I love it!' calls Caning.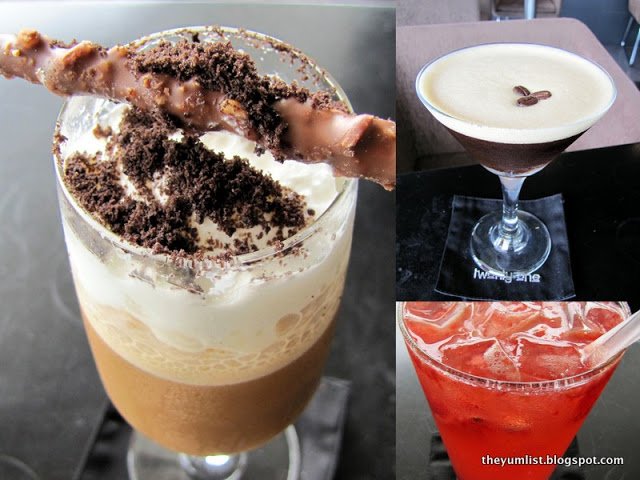 These cocktails bring new meaning to coffee – Do you think I could switch out my regular morning brew for this Espresso Martini instead?
A traditional Martini glass shows of the clean layers of
Vodka Expresso. A lone coffee bean lies perfectly on a smooth and creamy foam
atop the dark and dangerous heart of the drink. A coffee drinker's taste temptation; like your morning hit, it opens up
the senses, but beware that frothy lipped look…
Tiramisu slips down well with my two coffee loving friends;
Caning tips the glass to get the absolute last drops! Vanilla vodka is blended
with Frangelico, Baileys, espresso and milk cream. It's smooth; the flavours blend well together
for an afternoon delight.
Twenty One has an impressive cocktail menu featuring regular
flavours and new experiments. Janet explains that at times both bar staff and chef are able to playfully invent,
particularly for special events. This,
together with consistent customer feedback, keeps food and drink menus fresh
and relevant. There is certainly
something on the drinks list for everyone's tastes. All drinks are 2 for 1 every evening between
5 and 8 pm.
Our meal begins with a tidy stack of small flour tortillas
tied in a neat parcel and stuffed with goodies.
The duck is moist, the vegetables fresh and crispy, the hoi sin tangy
and sticky, all bodes well for lunch. Duck Spring Rolls (RM 18 ++)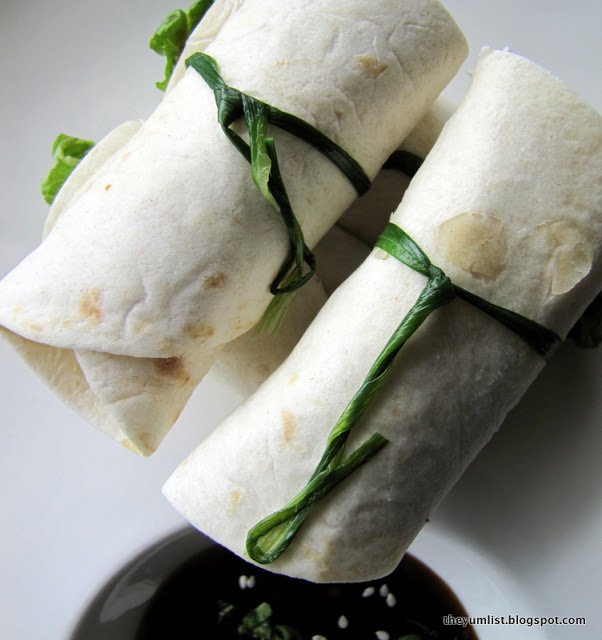 Duck Spring Rolls
The next choice; not so successful. Mozzarella and Tomato salad (RM28 ++) is
overcome with rocket, and confused with a pesto dressing. Crisp tomato and a dense mozzarella simply
served is a delightful dish. Some
classics need to be left alone.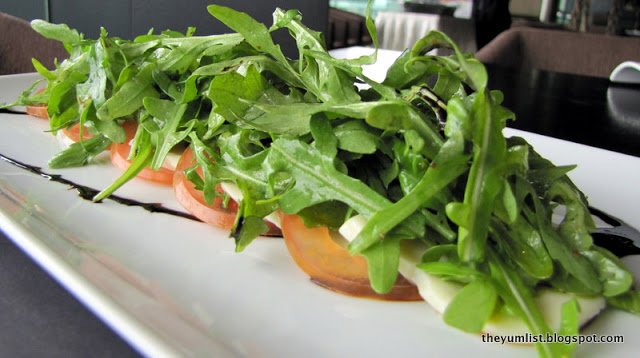 Mozarella and Tomato Salad
The generous Beef Burger on a large white bun is served with
mayonnaise and salad. A side of potato
wedges that have just the right amount of crunch and a fluffy centre. A chili tomato sauce gives a little kick,
but you can request regular tomato too. (RM28++) For families, and for fun, Twenty One offers a Burger or Hot
Dog with wedges deal for 10 RM on Sundays.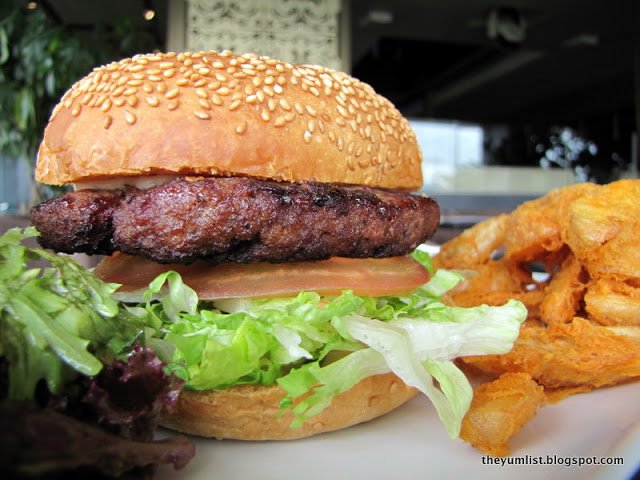 Beef Burger
A pretty picture on a shiny banana leaf, Beef Rendang is
tasty. A little sweeter than the traditional spicing; we are told, to suit a
more western palate. The spice balance is mellow and the sauce rich and thick,
though personally I'd like a little more to mix with the fragrant fluffy rice
dominating the plate. Acar Jelatah with pineapple pieces, gives a fresh and
tart balance to the overall dish. We can
see why expatriate visitors would appreciate this version of a local favourite.
(RM 24++)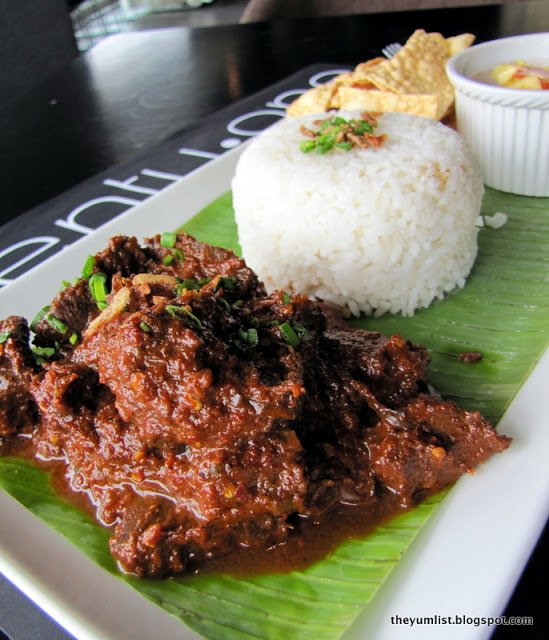 Beef Rendang
Pan Fried Seabass appears as a double stack of fish layered
under a small mountain of apple chutney, thinly sliced veg and turkey ham. Mango coulis attractively lattices the
plate. The crispy skin delicious, the
fish a little overcooked for our sensitive tastes, and certainly not enough bok
choy base for cod to rest on. Flavours
in this dish balance well, the sweetness of the apple chutney has a hidden
chili undertow that adds a certain interest. (RM36++)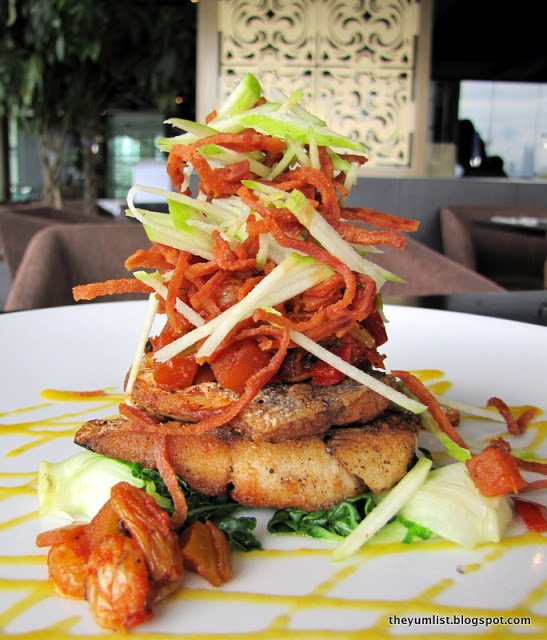 Pan Fried Seabass
Chef Chong's original Thai Green Risotto is everyone's
favourite main. Sticky Thai spiced chicken, crispy fried, sits atop a soupy
spinach risotto, the dish crowned by splinters of spring onion tempura. Cries of
'Awesome!' 'Delicious!' 'My new
favourite!' echo round the table as spoonfuls disappear. Anyone homesick for the Bayou would recognize
a soul food element to the comfort in this dish, which tastily combines eastern
and western flavours. A definite YUM!
(RM28++),
Thai Green Curry Risotto
A colourful quintet of shots arrives on a spanking board,
sparking all kinds of amusing comments around the table. We all want a taste of
each, so sip rather than tossing them down in the traditional fashion. Caning
loves Strawberry, Monica lingers over the Chipsmore; I waver between Peach and
Bloody Mary. The only thing wrong with
it is… Not enough Bloody Mary! The Chili vodka shot is an end of the night drink, fire fuel to get you home at
the end of the evening. We all admire the
bottle half full of green chili that is brought out to show. All vodka shots are infused on the premises,
and there is an extensive range on the menu.
Mmm! More to try next time…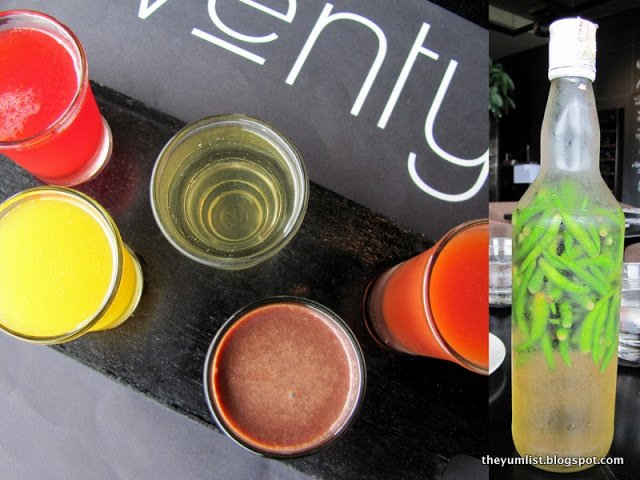 Spanking Board of Shots
We promised to leave a corner for dessert, and so glad we
did. I think I've died and gone to my
own personal dessert heaven. Other people might like fancy cakes, elaborate
concoctions or fruit sorbets. But my idea of pudding is home made, simply
served and tasty. The three dishes on the table now look so inviting that I
cannot wait to start! Spoons at the
ready… but where to attack first?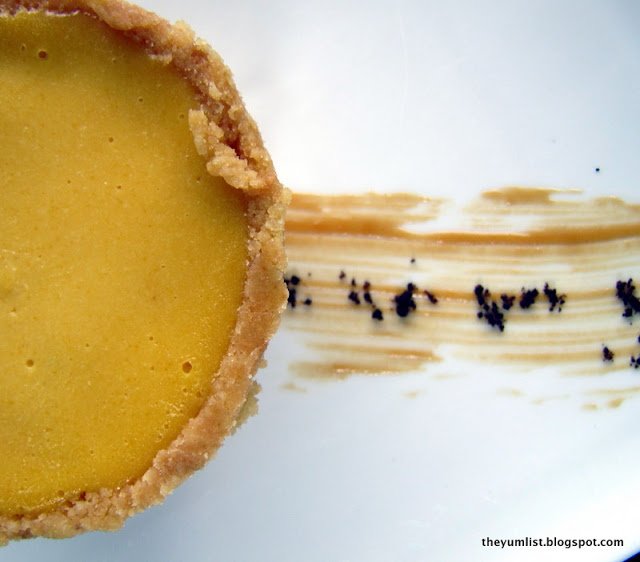 Apple Pumpkin Pie
Lemon Meringue Pie, plenty of creamy lemony filling and a
soft buttery shortcrust pastry that crumbles in a just right way, mmmm. It's messy but delectable. Even better is the Apple Pumpkin Pie. A smooth pumpkin cream tops a dense, juicy cinnamon
and apple filling. All encased in more
of that melt in my mouth pastry. I'm a
fusspot about pastry, as my granddad makes the best. I'll often eat the filling
and leave the case, but this time not a crumb is left behind. Chef Chong or his pastry chef has exceedingly
light and deft hands. I'm begging Janet to have mince pies made next Christmas season.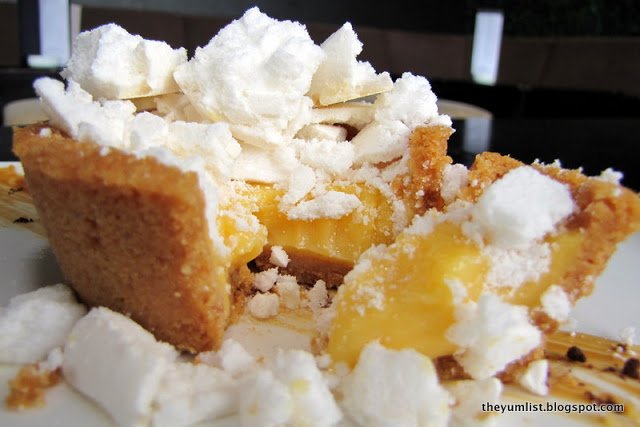 Lemon Meringue Pie
I save the best for last.
I have to tell you people; I'm a Crème Brulee aficionado, and if it's
not right, it goes back. It's gone back a few times in Malaysia; overcooked
eggy brulee is not a happiness maker.
It's hit or miss time. So hold
breath… Crack! The bruleed sugar top is reassuringly firm. But what lies beneath? No sign of scrambling… looks smooth… first
mouthful… mmmm…! A subtle passionfruit savour to the silky smooth
cream. Silence. It's a good one. Caning's eyebrows raise and
his spoon goes quickly back for more. 'Oh it's good,' I hear from somewhere. But we're not done! Passionfruit Crème Brulee is handsomely
accompanied by Italian Chocolate Mousse, as thick and dense as ganache. This somehow manages to linger and melt in my
mouth at one and the same time. It's the Ying and Yang of puddings and
happiness reigns securely.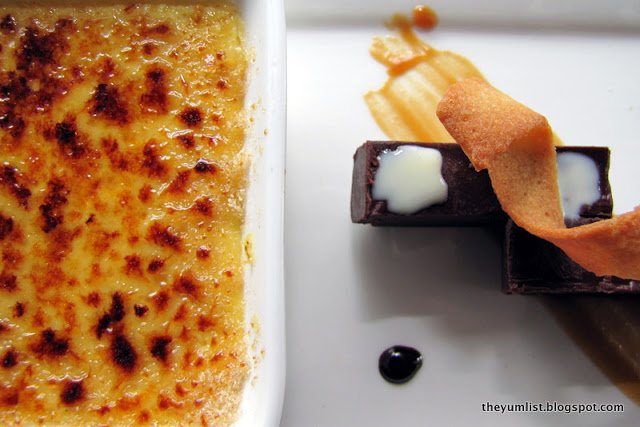 Passionfruit Crème Brulee
Desserts 16-18 RM ++, are also available as accompaniment to
afternoon coffee. As well as a range of options from the la carte menu we
tasted, Twenty One offers an amazing value inclusive lunch. A choice of simple mains, a dessert and a
soft drink or fruit juice for 29 RM ++
All round, I think hungry shoppers or after-work socialites
would be happy with a visit here.
Map to TwentyOne Tables + Terrace
Reason to visit: down to earth, down right delicious
desserts, a range of well-priced food, and happy hour on ALL drinks 5-8 pm…..
TwentyOne Tables + Terrace
t1, level 3, Bangsar Shopping Centre
285 Jalan Maarof, Bukit Bandaraya
59000 Kuala Lumpur, Malaysia
+6 03 2287 0021