The Gold Coast is famed for its surfing beaches, impeccable waters and amusement parks. The leisurely mood of the place usually means it takes a few years to catch up with other cities around the country. Recent times though have seen higher demands on the Food and Beverage scene and things are starting to pick up. Still, there are far too many tourist traps and it pays to bribe a local into giving up the hush on the spots they've been selfishly sequestering away from vacationer's eyes. The Yum List did some arm twisting and here we have:
The Best Spots to Eat on the Gold Coast – Avoiding the Tourist Traps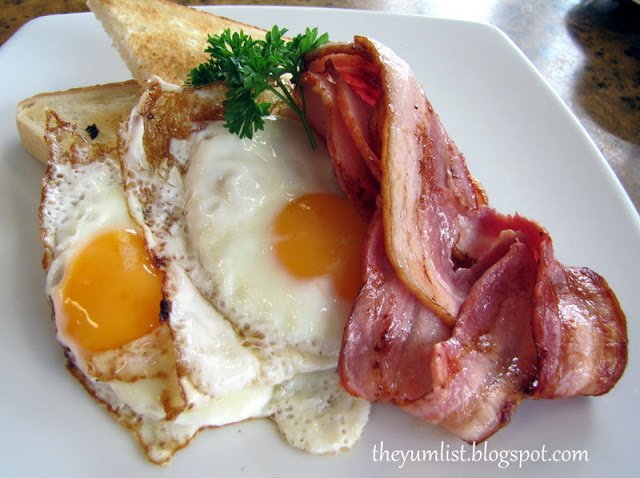 Best Value Breakfast on the Gold Coast at The Lounge Room, Mudgeeraba
The Lounge Room
Great value brekkies! $5.95 for bacon, toast and eggs done how you like them. Cheerful owners, without any reluctance display their cheeky good nature and jokingly good humour that many Aussies are known for.
* Sadly this cafe is now closed.
The Lounge Room
Shop 7/2 Bell Place
Mudgeeraba, Gold Coast
QLD, Australia
+61 07 5559 2014
[email protected]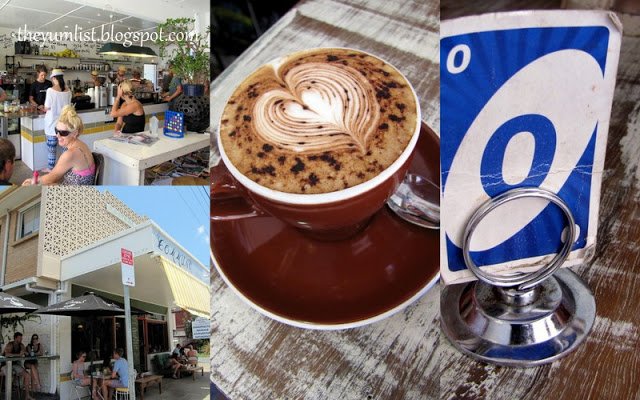 Commune, Burleigh
Commune Espresso
Hippy cool atmosphere with excellent coffee – cold drip too! The psychedelic music was a bit much for my dad, but our three younger companions were ungrudgingly bopping to the beat. Organic snacks were popular treats to eat on the recycled furniture and a cup of java accompanied every order.
Commune Espresso
1844 Gold Coast Highway
Burleigh Heads
QLD 4220
Australia
+61 07 5520 3377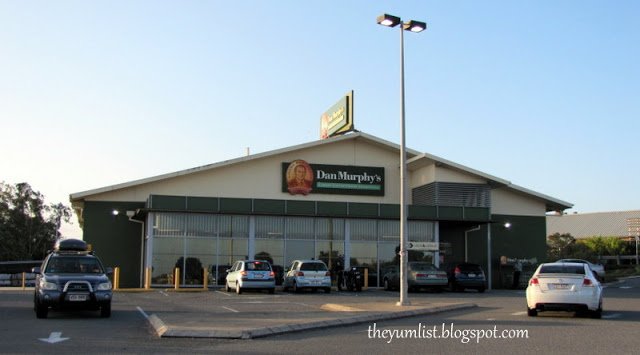 Dan Murphy's – the only place to get EVERYTHING!
Dan Murphy's Nerang
The size of a warehouse, Dan Murphy's at Nerang is my favourite liquor store on the Gold Coast. (Dan Murphy's is popular throughout Australia, however the one at Nerang has to be one of the biggest.) Besides being enormous and stocking just about every type of alcoholic beverage you can imagine, a handful of sommeliers are just itching to help you out with your selection. Tell them what you're looking for, (EG a white wine to go with a cold seafood platter around $15), and in minutes you'll have had the run down of at least five different wines that meet your requirements.
Dan Murphy's
53 Station Street
Nerang
QLD 4211
Australia
+61 1300 723 388
danmurphys.com.au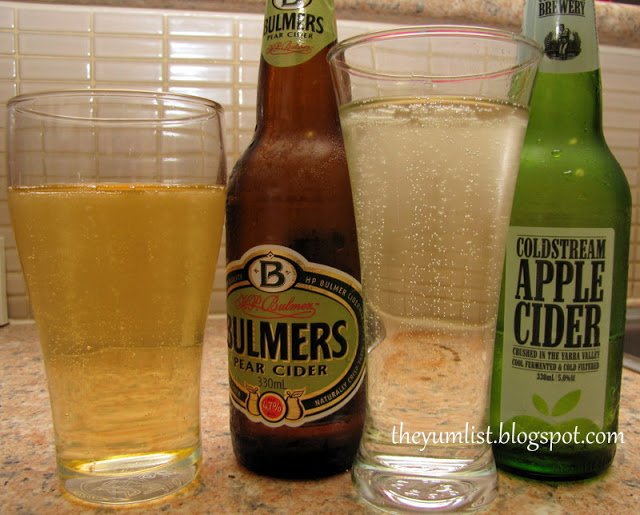 Ciders have stormed Australia. They seem to be taking up whole rows in liquor stores and are on everyone's New Year's Celebrations' shopping list.
Ciders
So the hip thing to do Down Under this year is to drink cider. Apple or Pear ciders are the classic drops but there are a whirl of flavours with an added twist, such as ginger, to experiment with. Grab a couple at Dan Murphy's so that you too can say that you are clued in.
Ciders
Check out Dan Murphy's for an entire isle full!
Do it yourself park barbecue
Do It Yourself Barbecue in the Park
As I've mentioned numerous times, Australia is not the cheapest place for a meal, but it also has some of the best outdoors locations in terms of pristinely kept parklands and beaches. Celebrate the local tradition of eating outside by cooking up your own barbecue in any one of the numerous and free grills provided by councils along the shore.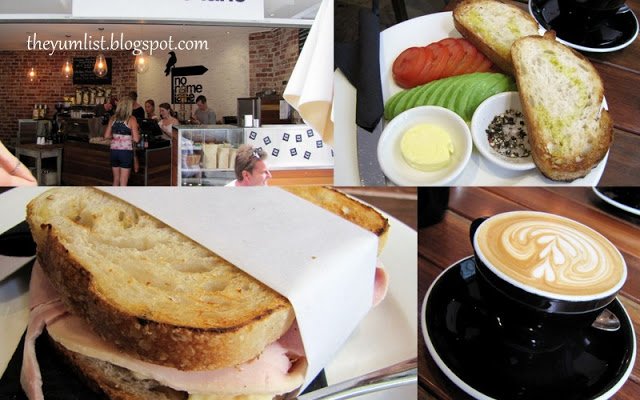 No Name Lane, Broadbeach
No Name Lane
No Name Lane has a reputation for vending the best coffee on the Gold Coast. You do pay a big amount for a small cup of their home branded Black Sheep Coffee, but by the number of people streaming in and out I guess many have deemed it worth it!
No Name Lane
Shop S132
3 Oracle Boulevard
Broadbeach
QLD, 4218
Australia
+61 02 5538 5221
Macadamia Nuts
Macadamias
One of the few foods native to Australia, the macadamia has to be one of the tastiest nuts around. Expensive if you buy them from the store, but quite reasonable if you purchase a bag from the roadside. Keep your eye out for signs while driving the back roads on the outskirts of the Gold Coast or on your way to Mt. Tamborine or O'Reilly's. Simply pull up to the gate, leave your money in the box and take a bag. Be prepared with a hefty nut cracker or hammer though as these things are tough to crack.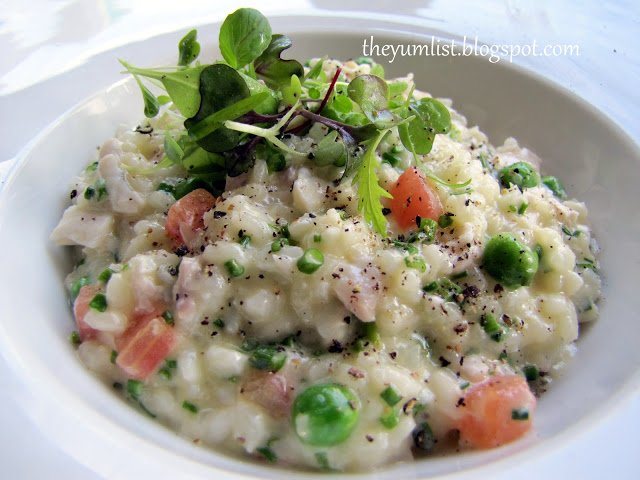 Rock Salt
Rock Salt
Various awards for best chef and best restaurant four years running has to be a good sign. Besides all of the prizes it was at the top of our local foodie friends' lists too. As you might imagine, with all of this prestige, it is pricey but in my opinion worth every cent. If watching your dollars, trying the lunch menu won't break the piggy bank but still allow you a sampling of their dynamic menu. For lunch you can choose two entre size plates and a glass of wine or beer for $40AUD.
Rock Salt
Shop 12 Aria Building
Broadbeach, Gold Coast
Queensland, 4218
Australia
+ 61 07 5570 6076
www.rocksaltmoderndining.com.au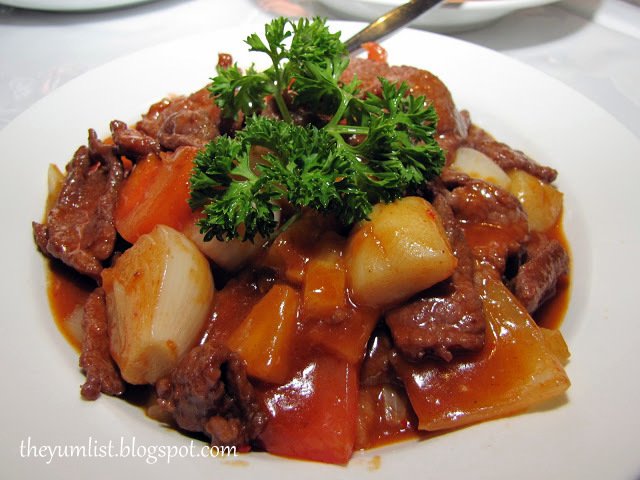 Kampung Malay
Kampung Malay
What a delightful surprise to find Kampung Malay in the quite suburb of Mudgeeraba on the Gold Coast. Just when we thought we had reached the top of food heaven with the high quality produce and excellent wine in Australia we were directed to this local hot spot. Packed with locals most evenings, with a line up for takeaway too, this restaurant has done a fine job of making Malay cuisine accessible to Aussie taste buds. The chef has adapted the spices (reduced the heat), uses quality cuts of meat (no grissle or bones) and taken advantage of top grade local ingredients to enable virgin Aussie taste buds to be gently initiated into the joys of Malaysian cuisine. Every dish on our table was devoured in moments, but a special mention goes to the rainbow beef which was so popular that seconds were ordered with some begging to also take a third batch home. I'm interested to know what a native Malaysian might think of these adaptations and if they would find the food equally enjoyable. My guess is yes!
Kampung Malay
16 and 17/ 2 Bell Central
Mudgeeraba, Gold Coast
Queensland, Australia, 4213
+61 07 5569 0085
www.kampungmalay.com.au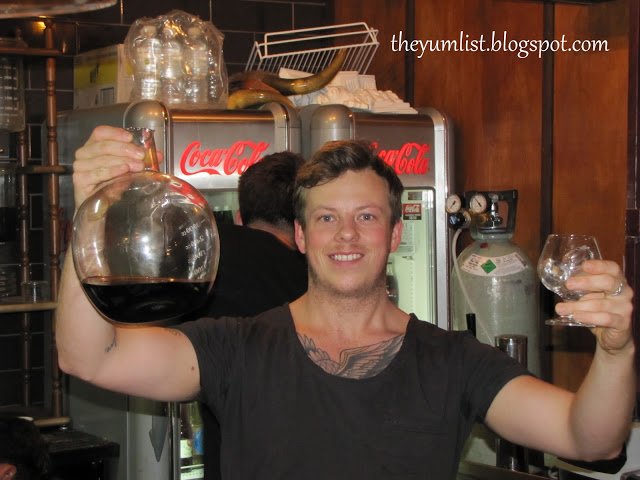 Black Coffee Lyrics
Black Coffee Lyrics
A funky cafe, located upstairs in a run down arcade, Black Coffee Lyrics seems to be one of the few spots with a bit of intelligent life left in Surfers. They serve strong coffee which was a winning start for me. But… their specialty is cold pressed coffee where the grounds are left to steep through a contraption for 24 hours making a wonderfully strong brew. It is refreshing served over ice with a drop of maple syrup but also worth trying with a dash of milk.
Black Coffee Lyrics
Shop 40 3131 Surfers Paradise Blvd
Gold Coast, Queensland, 4217
Australia
+ 61 0402 189 437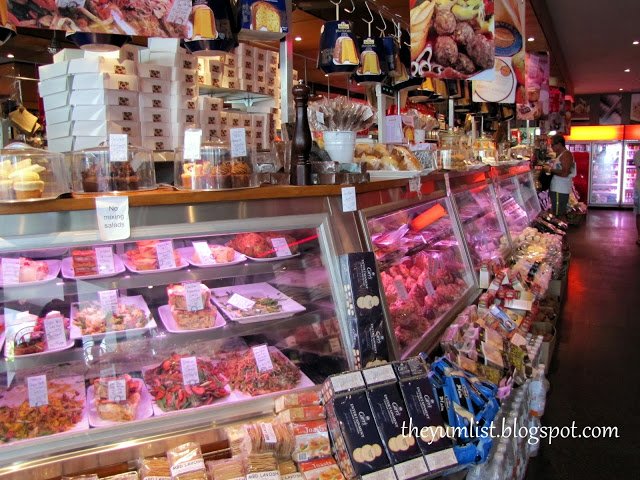 Manolas Brothers Delicatessen
Manolas Brothers Delicatessens
A sensory overload, Manolas Brothers Delicatessens is packed floor to ceiling with temptations that will leave any foodie with a puddle of saliva at their feet. House made salads, risottos, pastas and a whole bundle of sweets are ready for take away or to be eaten either at the long central coffee bar or al fresco under umbrellas on the street. Enter at your own risk and beware of the mesmerizing oversized dessert section at the front.
Manolas Brothers Delicatessens
17 a/19 Albert Ave
Aria Building
Broadbeach, 4218
QLD, Australia
+61 07 5538 8223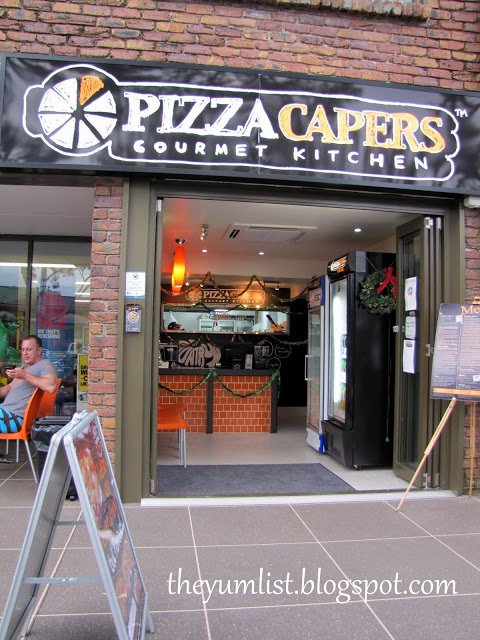 Pizza Capers
Pizza Capers
Best pizza on the coast! Gourmet pizza with loads of healthy options too. The Thai Prawn and Barramundi Pizza is divine – succulent prawns and generous chunks of fish drizzled with sweet chili sauce. Mmmm. Dine in or take away. Check their Facebook page for discounts.
Pizza Capers
Located all over Australia
134 74992
Burleigh Heads, an unbeatable setting for a coffee and bite from Borough Barista
Borough Barista
Known for great coffee, home made goodies but limited seating, grab your supplies to go and head across the road to the best setting around – the beautiful parkland and beach of Burleigh Heads. To the left you'll find the sprouting buildings of Surfer's Paradise, to the right the headland.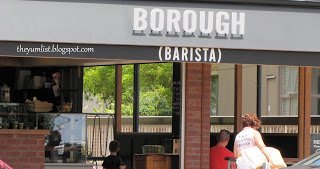 Borough Barista
Borough Barista
14 The Esplanade
Burleigh Heads
Gold Coast, QLD
Australia
For last year's visit to the Gold Coast and Mount Tamborine type either one in the search box in the top right corner of the blog.