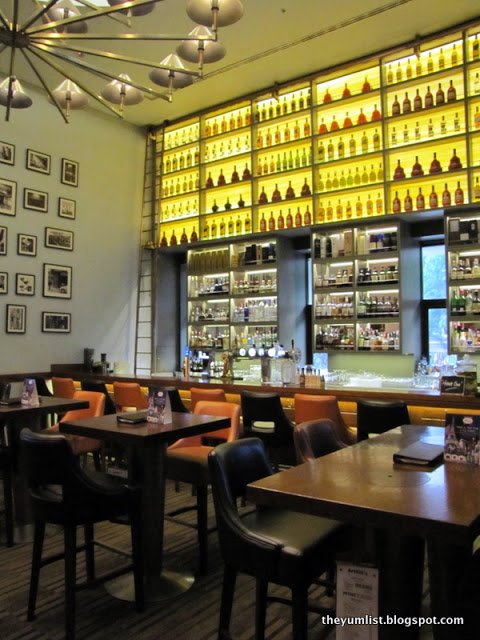 Arthur's Bar and Grill
Words: Kirsten Durward
Photos: Monica Tindall
Don't judge a book by its cover; this is no typical hotel bar, but a hostelry of character offering great atmosphere for an after work drink with tasty bar snacks, a down to earth pub meal, or just a place to hang out and watch the big sports matches. Arthur's is cleverly laid out in four distinct areas, appealing to a wide range of clientele. We walk past the high tables and bar stools surrounded by wall screens, admiring the impressively high shelves stacked with liquor. We walk past the comfortable low seats arranged in friendly casual groupings, and through the relaxed dining area where a chef puts the final touches to a prime rib on display. And we arrive at our table by the window, where we sit happily looking over the incoming storm.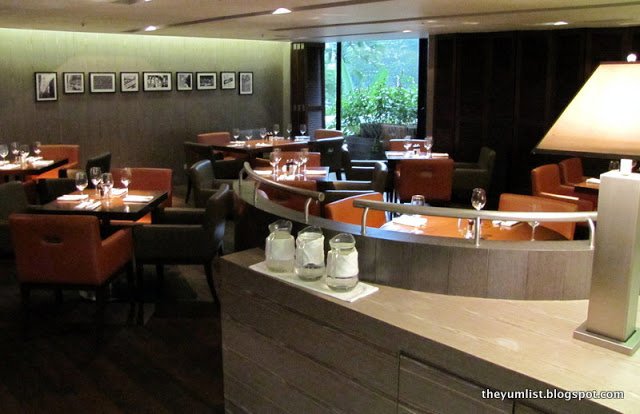 Dining Area
I love, love, love the bar pad where I can check off my own bar snacks. Quick to order and quick to come, which is good because we don't want the wine to hit too fast! Arthur's offers a decent selection of wine by the glass, including the daily pick, a showcase wine that changes daily. First to arrive of our choices is Arugula and goat's cheese melted across crispy crostini. It's smooth, then crunch with a deep flavour.  The fresh pop of cherry tomatoes brings the dish together. RM18++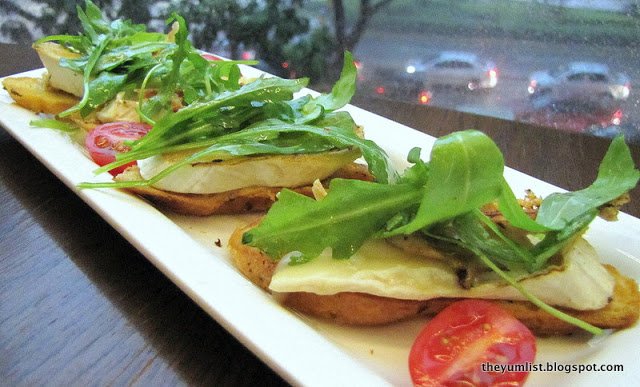 Arugula and Goat's Cheese
Fried Octopus with shichimi togorashi (RM17++) is nice and crumbly on the outside and just the right amount of chewy on the inside!  When pressed, chef picks it as his must eat on this menu and I have to agree, I've been back for it since we went for the review. The seafood brings out the limey passionfruit flavours in the Villa Maria Marlborough Sauvignon Blanc 2012 (RM45 ++). It's a fresh wine, which is slightly buzzy on the tongue.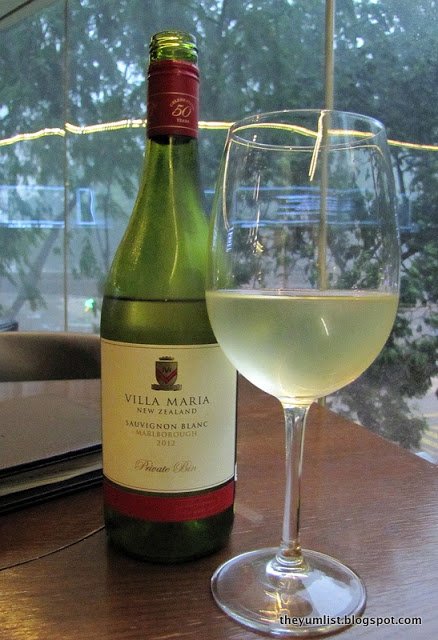 Villa Maria Marlborough Sauvignon Blanc 2012
Beef chorizo sausage with capsicum (RM18++) looks colourful and appealing in its dish with a delightful, welcoming smell. On tasting, it's slightly spicy and sweet, happy eating. The full round notes of the Cabernet Merlot from Tyrell's Old Winery New South Wales 2010 (RM45) plays up the sweetly spicy flavours of the dish and slips down a treat.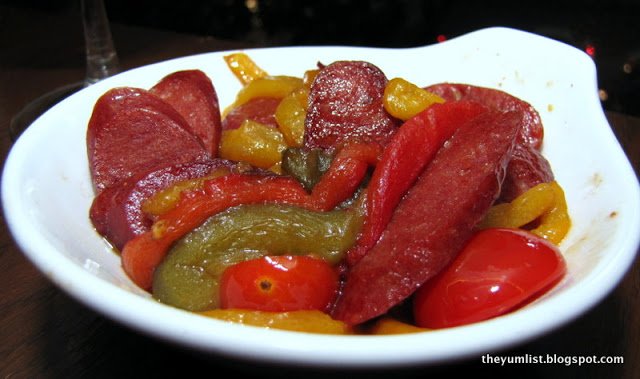 Beef Chorizo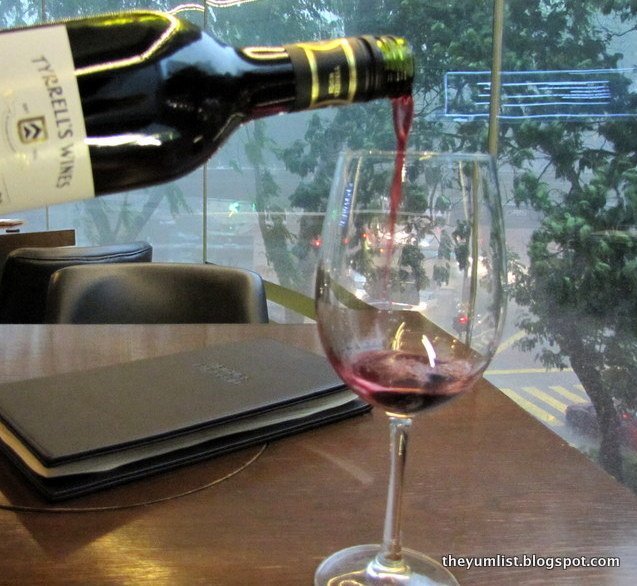 Cabernet Merlot from Tyrell's Old Winery New South Wales 2010
We are enjoying the calm upbeat atmosphere, the great company, the range of hot and cold snackings. We're being hosted by an amiable PR team and spirited food and beverage manager, and honoured by visits from executive chef Rudolf. Through the window we see a veritable gridlock in the storm and wonder why anyone would sit in traffic rather than enjoying an ambience and waiting for it to move. Our hosts are both waiting for the standstill to clear before heading home out of town.
Appetisers over, it is time for the central act. Caning arrives, slightly moist from the rain and we are glad to have his appetite for what follows. Puffs of bread freshly cooked mini loaf like a collection of little toadstool houses, crunchy on the outside and soft on the inside served with fresh tomato salsa. It's a lot of bread, and both rye and plain, are deliciously fluffy.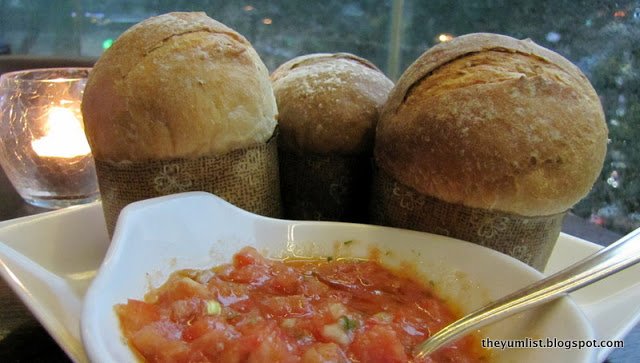 Fresh Bread
We are impressed by the size of the Cobb 'USA' Salad; juicy fresh shrimp combine with smoked beef, fresh lettuce, egg avocado and a sensational blue cheese dressing. It's a good filling main dish, and we are all very happy with our heaped forkfuls. RM38++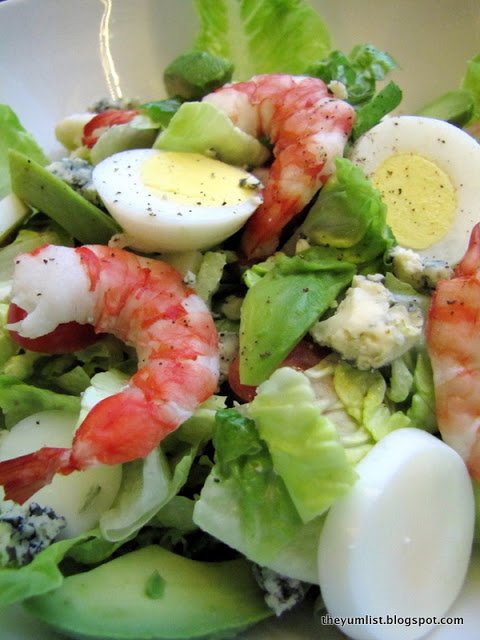 Cobb USA Salad
The Prime Rib has been grazing our noses and whetting our appetite since we walked past it. 'I'm ready – try me says the cover on the carvery.' So we do, on chef's insistence. In the traditional style, the meaty slice is served on a huge Yorkshire pudding, surrounded by sautéed green beans, grilled tomatoes, Béarnaise sauce and chunky cut chips. The Prime Rib is slow roasted and soft, with a deep juicy meaty flavour. We hear that it came on as a February special, but was so popular, the special continues. A hearty and filling dish for the hungry diner. RM78 ++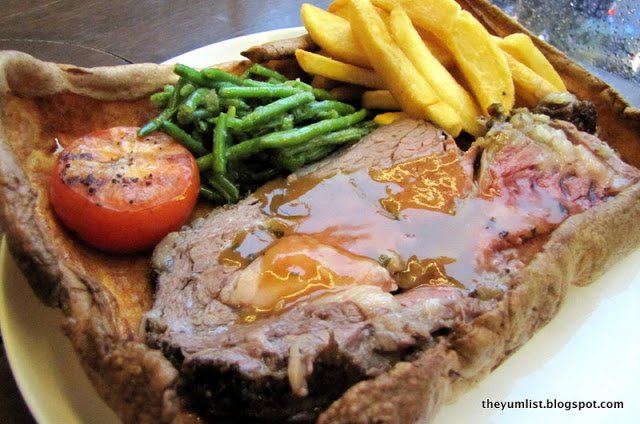 Prime Rib
Damien has recommended us to try the Hungarian Beef Goulash and I am so glad that he did. It's really yummy with its deep caramelized paprika taste and plenty of oozy sauce. Nice creamy textured mashed potato fills our tummies warmly on this blustery rainy day! RM38++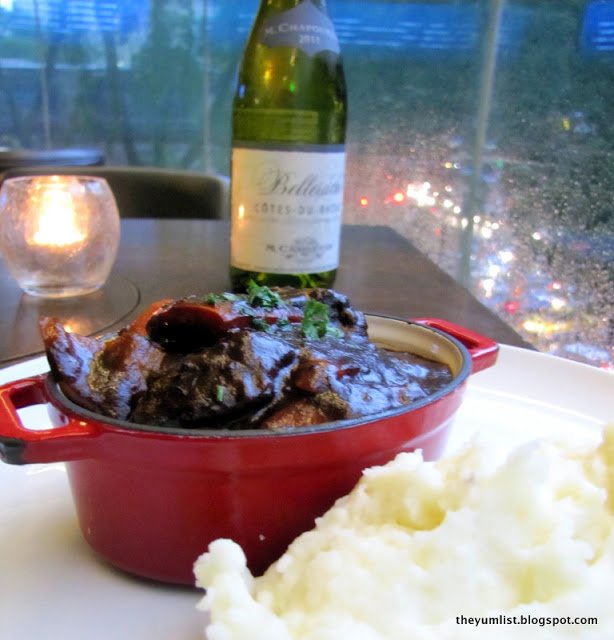 Hungarian Beef Goulash
Monica and I are both keen to try the fish and chips, she, because it is archetypal pub grub, me because I was raised on fish and chips and it still remains a favourite temptation to my healthy choices. The batter is delectably light, almost rivaling my granddad's. The fish is dense white cod, really well cooked. I love that the batter enhances the fish rather than overwhelming it. Another of chef's favourites too, he gives it the finger kiss seal of approval! RM56++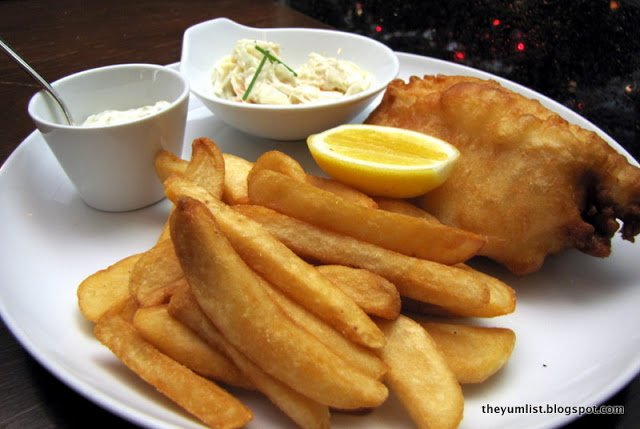 Fish and Chips
After this traditional British favourite we cross the Atlantic to try that archetypal American classic hamburger. 'The Works,' declares the menu, Seriously! One of the biggest stacks I've seen. It's a triple-decker with two patties, oodles of cheese, gherkins, fried egg and lashings of beef bacon. A giant feast, if you like burgers, you will love this one! Caning makes a determined attempt to put it in his mouth but it's just not feasible. Monica and I barely get to taste the moist firm patties before he demands it back. Arthur's Beef Burger is a hit. RM58++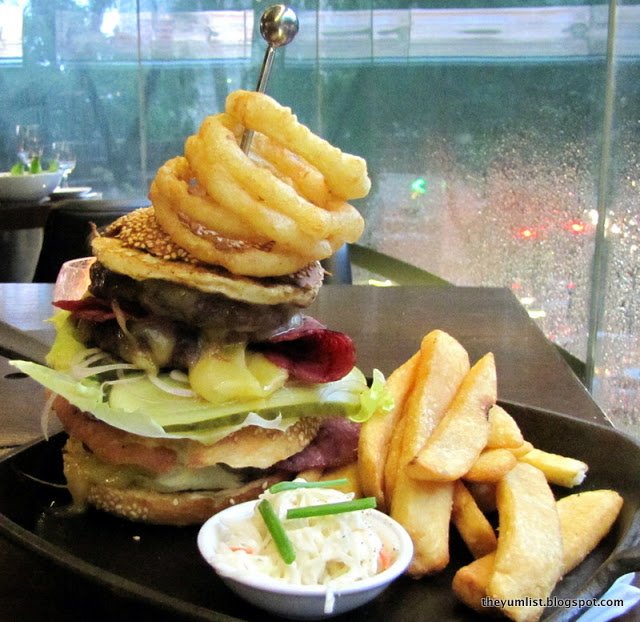 Arthur's Beef Burger
Our host insists we try a couple of his favourite wines by the glass, and, always eager to be educated, we acquiesce. Greco Bianco Feudi di San Gregorio, Campania, Italy 2011 is straw yellow, with a nose revealing spices, white fruit, and almonds. On tasting it is fresh with a good mineral – acidity balance. It's the kind of wine I can imagine spending an afternoon sipping.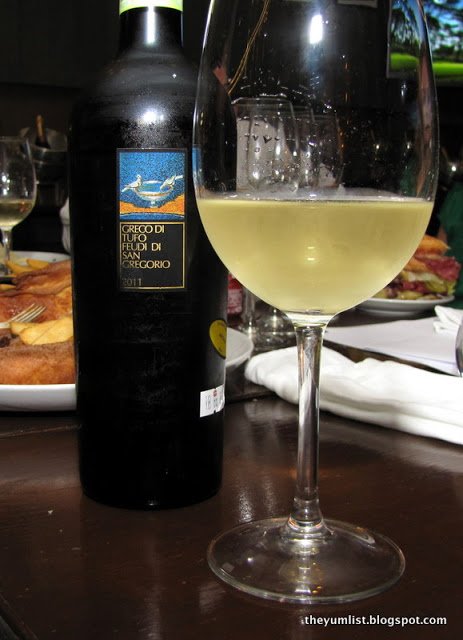 Greco Bianco Feudi di San Gregorio, Campania, Italy 2011
Ballesuche Cotes du Rhone Charpoutier 2011 has aromas of red cherry on the nose with tinges of liquorice and black pepper. Its firm and silky tannins slip nicely over the palate and it pairs well with the beefy dishes.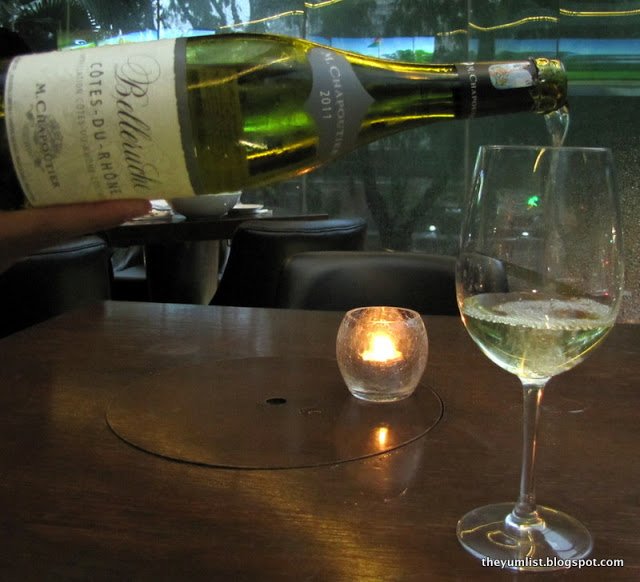 Ballesuche Cotes du Rhone Charpoutier 2011
The White Grenache is one of the better wines from this grape I've tasted. Treat your taste buds with vibrant flavours of fresh strawberry, watermelon and a touch of floral spice. Crisp and fresh with a smooth finish it is refreshing and great to enjoy either by itself or with a variety of food.
There is some serious discussion about wine and the temperature they need to be served at to bring out the right flavour. Happily we find at the Shangri-La, all wines are stored and served at the precise temperature for the particular grape. Well, I said we were being educated.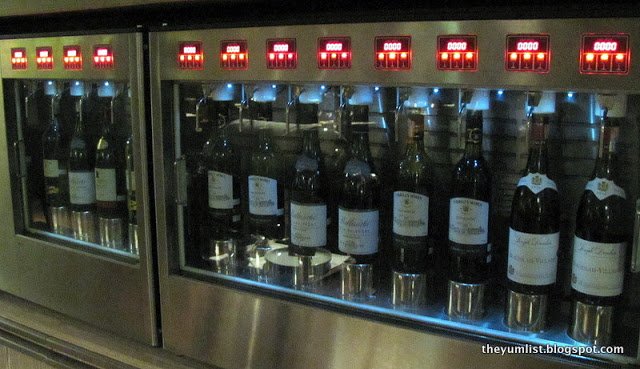 Many options of wine by the glass
And now we come to pudding. I know, I know, you can't believe we are still eating.  But there's always room for pudding, we all agree. We start by digging forks into a generous portion of soft carrot cake with tempered dark chocolate and a float of cream and strawberries. The chocolate melts into the cake, and Monica, our resident carrot cake expert, gives it the big thumbs up.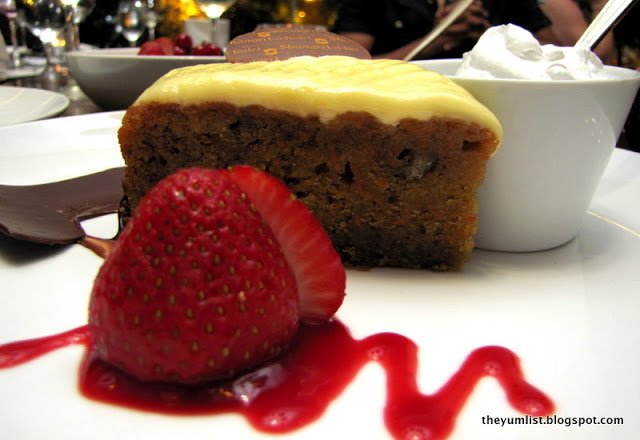 Carrot Cake
New York Cheesecake never fails to hit my sweet spot and this one is delectably light, smooth and luscious with the ooh factor of extra blueberries and strawberry sauce on the site. Have it clean or make it as sticky and fruity as your taste buds desire, both are great options. RM24++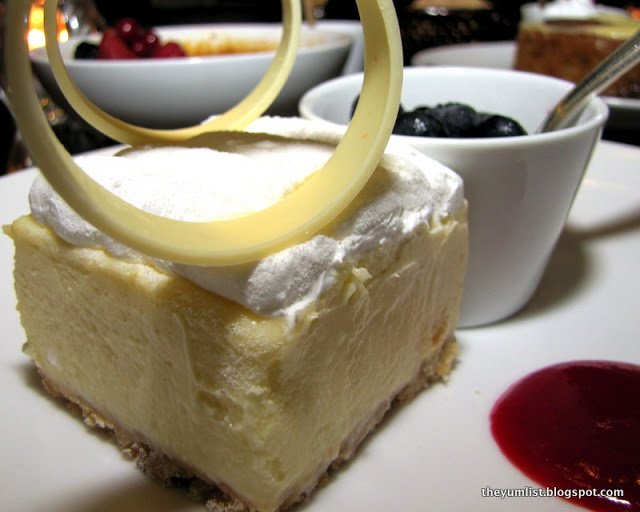 New York Cheesecake
Crème Brulee blows us away. We can't stop gaping at the size of it; I remark that it belongs on a buffet table. Seriously, this is the best value portion of Crème Brulee in the world! Bring your appetite or bring your girlfriends. The top cracks beautifully into oodles of smooth creamy custardy centre and each spoonful gets a little zing from the fresh fruit. Yummy. RM 26++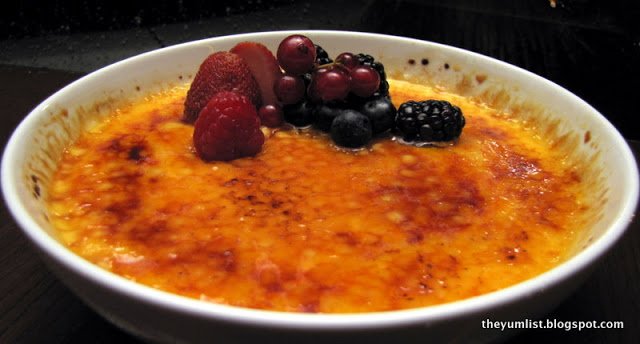 Crème Brulee
Our hosts tell us that they want to make people happy… and today they succeeded. I've received the same standard of service and experience on prior incognito visits; this is a very genuine establishment. It's a great place to finish the working day, or spend a wet weekend afternoon. Happy hour at Arthur's is 5- 8 pm and in my humble opinion one of the best in the area for atmosphere and choice. A bucket of half a dozen beers is offered at RM75, with a choice of six different types. Wine by the glass starts at RM25 for two, or push out the boat with a couple of glasses of Veuve Cliquot at RM125. Wednesday is Champagne day with Pol Roger offered on the very Malaysian promotion of 'buy one free one. In fact we are discovering that the Shangri-La has several bubbly bonanzas, but that's another story for another day.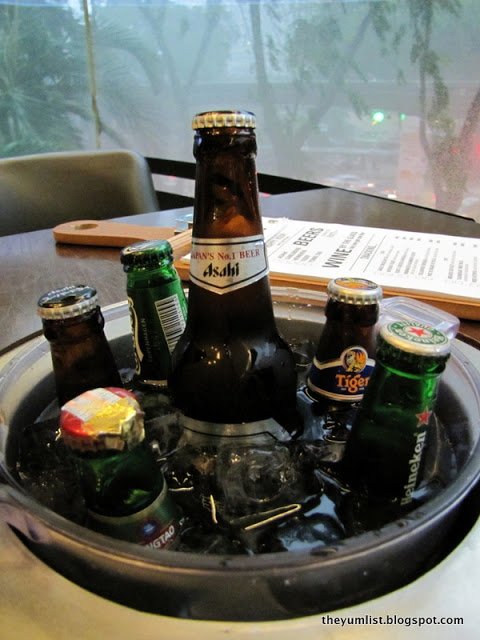 Happy Hour
Reasons to visit:  incredible value in a relaxed but classy atmosphere; simple tasty ingredients; hearty portions of good food; a wonderful range of wine by the glass.
Arthur's Bar and Grill
Shangri-La Hotel Kuala Lumpur
11 Jalan Sultan Ismail
50250 Kuala Lumpur
Malaysia
+6 03 2074 3900
Open 12 noon until late
*** Please note, before 5:30pm families are welcome, however after 5:30pm children under the age of 18 are not permitted.