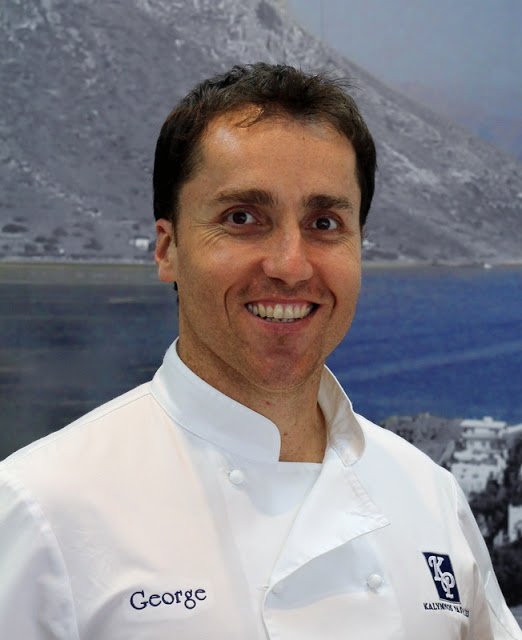 George Diakomichalis
Our good mate, chef/owner of Kalymos Pastries in Adelaide Australia, George Diakomichalis, chats with The Yum List about life as a Greek pastry chef, his favourite dishes and some exciting news about a visit soon to Kuala Lumpur!
What do you do and how did you get into the industry?
I am a fourth generation pastry chef who
has a huge passion for Greek rustic home style cooking. I opened Kalymnos Pastries in Adelaide,
Australia in 1995 after completing my training in Kalymnos, Greece. Our shop in
Kalymnos, was established in 1918 by my great grand father. I also run cooking classes and take food
hospitality tours over to Kalymnos, Greece annually.
What's the best/ worst part of your job?
The best part of my job is that I have a
huge passion for what I do and love it. I show people my love through my food
and pastries.
The worst part of my job is that there
aren't enough hours in a day or week to do everything I want to do.
What's your favourite Greek dish?
I always get asked what my favourite Greek
food or sweet is? That's like asking a mother, which child is your favourite?
You can't pick. My answer is always a smorgasbord.
Your perfect day would be…
… to get up and cross train really hard
for two or three hours. Then enjoy the beautiful company of my family and close
friends while sitting around laughing and enjoying nibbles and drinks.
Best food and wine/ liquor pairing?
I enjoy having a nice cold glass of retsina
or ouzo with mezethes. (Mixed dips, pita bread, olives, dolmathes, souvlakia
etc.)
A day in George's life…
I like to start my day by getting up early
and having a good breakfast. Then I go to work to do what I love doing, producing
beautiful pastries and cakes for our brilliant customers. I enjoy mingling and
chatting with staff and customers. I always end the day with a running,
riding, weights or stretching session.
How do you choose your ingredients/ what's the secret behind your delicious pastries?
My team and I take a huge amount of pride in
producing traditional Greek food and cakes for our customers. We cook and bake
like we're doing it for our family by using traditional ingredients and
methods.
We hear a rumour your returning to Kuala Lumpur! Do tell more.
I can't wait to come to Kuala Lumpur again.
It's a place very close to my heart. I'm looking forward to catching up with
some close family and friends.
The Prince Hotel will run a Greek Buffet Promotion from Thursday the 9th of May through to Sunday the 19th of May. We are also having a Mother's Day Promotion Brunch where you can spoil your mummies with some hearty Greek cuisine.
I am grateful to the Prince Hotel for
having the courage to go with this "Greek Promotion" and allowing me to share
our mouth watering food with you all J I am looking forward to building on last
years very successful promotion and seeing you all again this year.
When you come in, please be sure to ask for
me and say hi. Hope to see you all soon.
Thanks George! Our mouths are already watering for some of your famous Baklava and Loukoumades.