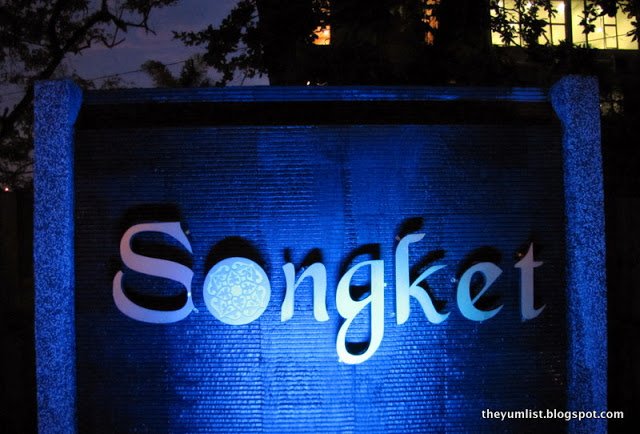 Songket Restaurant and Bar
Songket Restaurant and Bar, Kuala Lumpur, Malaysia
"True Malay Flavours"
We've all been in the situation of entertaining out of town
guests and not quite knowing what to do with them to make the most of their
stay. The more experienced travellers are easy to cater for as they've
generally researched the area beforehand, know what they want and, maybe just
want your company in finding it. The other, perhaps less worldly kind, (more than
likely family members!) often give the most annoying answer of, "I'm happy with
anything. I leave it up to you." Blah. That's sooo not true and, makes the job
of guessing what they want (reading their minds) so not fun. Then… in comes Songket Restaurant and Bar to the rescue.
Songket Restaurant and Bar provides a solid solution with a
few good hours worth of both culinary and cultural entertainment right in the
heart of the city. Meaning hand woven fabric with an intricate pattern of
metallic colours, Songket mirrors the image by way of a service that provides a
shimmering richness in the form of authentic Malay cuisine and traditional
music and dance (and passes just enough time to keep visitors engaged for a few
hours giving you a break from the unpaid role of tour guide.)
Located in an old style bungalow, there's lots of wood and
traditional architecture. Both an open indoor area with central bar and covered
patio make for a breezy, semi al fresco ambience. Gardens, lawn and a running
water feature add to the nature inspired feel.
The menu claims to offer traditional Malay flavours with a
modern twist. Not too spicy for unaccustomed taste buds, but not swaying too
far from original recipes, guests can be guaranteed an authentic taste of local
fare, without overwhelming heat masking all other intricate seasonings.
We tried a range of popular dishes from the menu. Appetizers vary in price from RM10 for simple
bean curd and veges to RM30 for a sampling platter. Pegedil (RM12) was a new dish for me. Fried
potato patties mixed with minced chicken are served with a homemade chili
sauce. For some reason this reminded me of a Spanish tortilla and I could see
them going well with a glass of sparkling Spanish cava or a medium to light
bodied Tempranillo. I'm not usually a fan of Otak Otak (RM15) but quite enjoyed
this version of steamed seafood mousse with kaduk leaf wrapped in banana leaf.
Rojak Buah (RM10) is another dish I've had mixed experiences with, mainly
because of unfamiliar tastes in the sauce. This one though, with fresh local
fruits, rojak paste, peanuts and sesame seeds suffered repeat tastings. J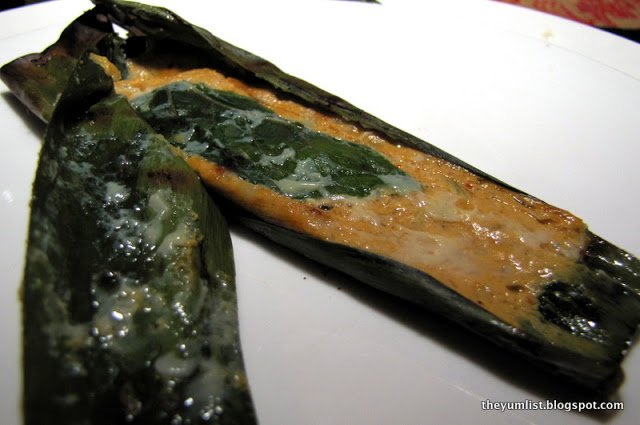 Otak Otak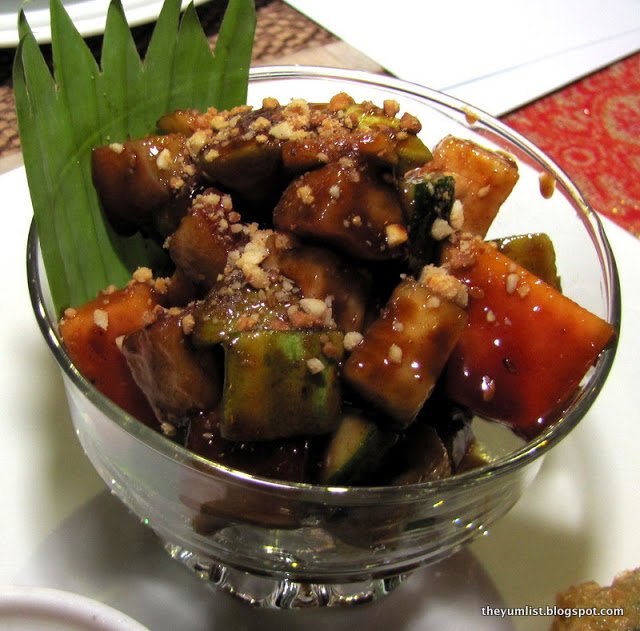 Rojak Buah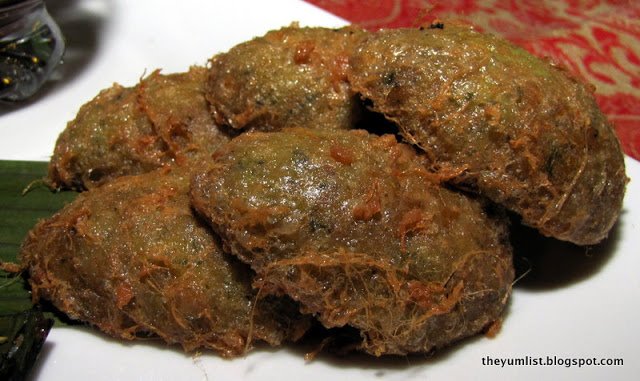 Pegedil
Mains are filling and mostly heavy with large quantities of
rice served as you call. Vegetables dishes start from around RM12 and meat and
seafood dishes head upwards to RM75 for king prawns. Ketam Bercili Gajus (RM55)
was a popular dish at our table, for those who don't mind getting dirty and
using a bit of elbow grease to uncover the shelled flesh. This flower crab was
smothered with chili, onion, curry leaves, spring onions and cashews and the
sauce was worthy of a spoonful all on its own. Stir Fried Kailan Goreng Sus
Tiram Bawang Putih (RM12), kalian with oyster sauce and fried garlic, provided
the necessary greens to balance the protein heavy mains. Rendang Daging (RM28)
is a must try for those new to Malaysian cuisine. This local favourite features
spicy dried beef curry infused with an aromatic fusion of spices cooked over a
slow fire. Beatis Kambing Masak Korma (RM45) is another popular plate. Braised
lamb shank in a mildly spiced gravy with lots of potatoes makes a hearty meal.
Chicken, fish, seafood, red meats and vegetable dishes are aplenty.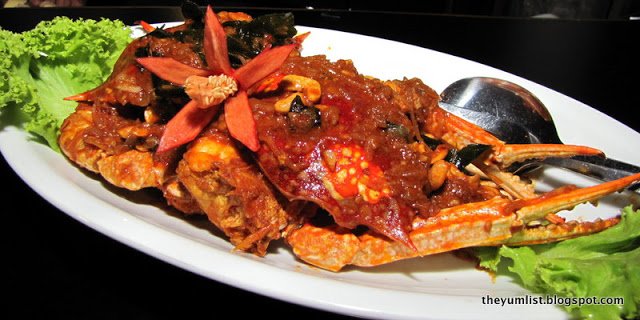 Ketam Bercili Gajus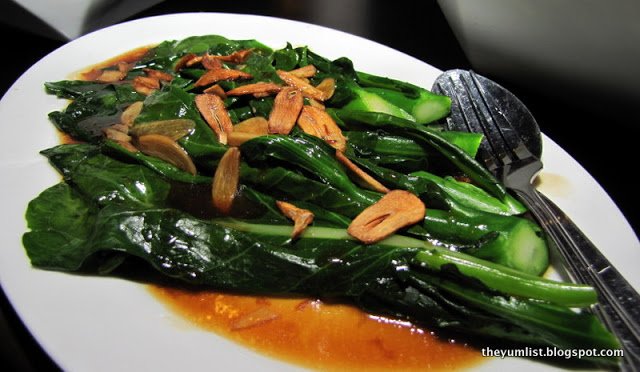 Stir Fried Kailan Goreng Sus Tiram Bawang Putih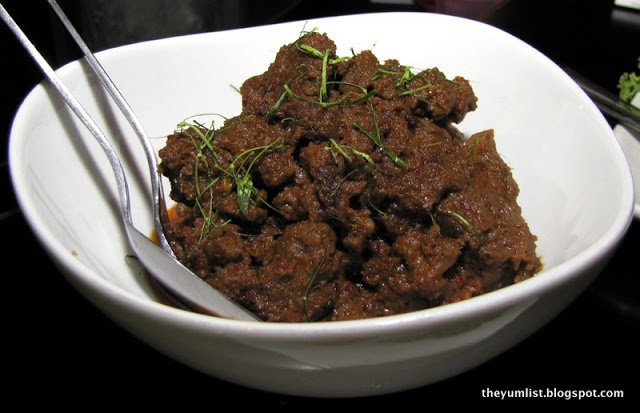 Rendang Daging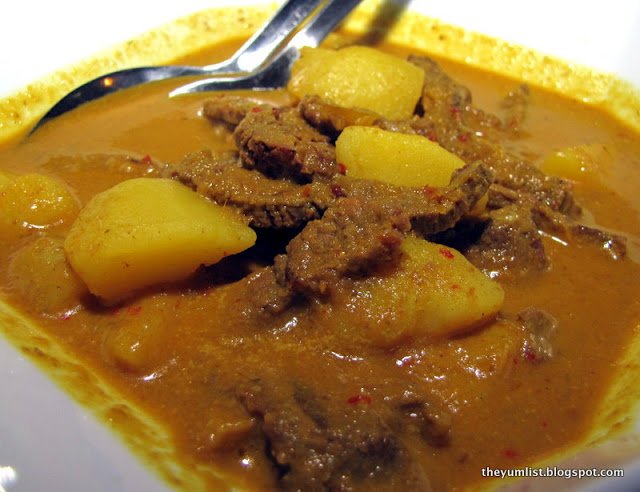 Beatis Kambing Masak Korma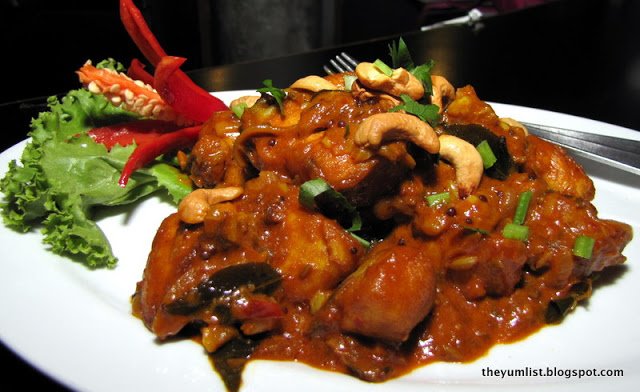 Chicken with Cashews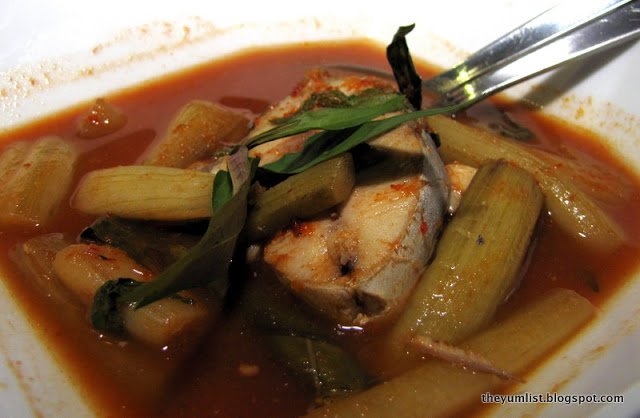 Fish in tangy sauce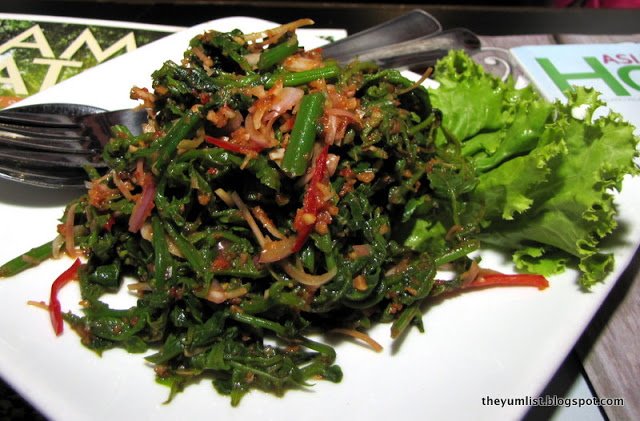 Green Vegetables
Personally I'm not a huge fan of Malaysian sweets. Just as
most Malaysians are probably not fans of my well-loved Vegemite, I believe the
mix of textures and combinations of sweet, with what I have grown up on as
traditionally savoury ingredients, is something you develop a custom for
overtime beginning way back in your childhood.
Hubby, on the other hand, is easily won over with all things sweet and
creamy. He scraped the bowl of the
Brulee Janung Kristal (RM12) – corn crème brulee topped with caramelized sugar
and left no remains of the Sago Gula Melaka (RM10) – chilled sago served with
coconut milk and palm sugar syrup. Possibly the most interesting twist on the
menu is the Durian Tiramisu (RM18). It won't ever be on my bill, but for some
of you more adventuresome out there, my local buddies highly recommend it.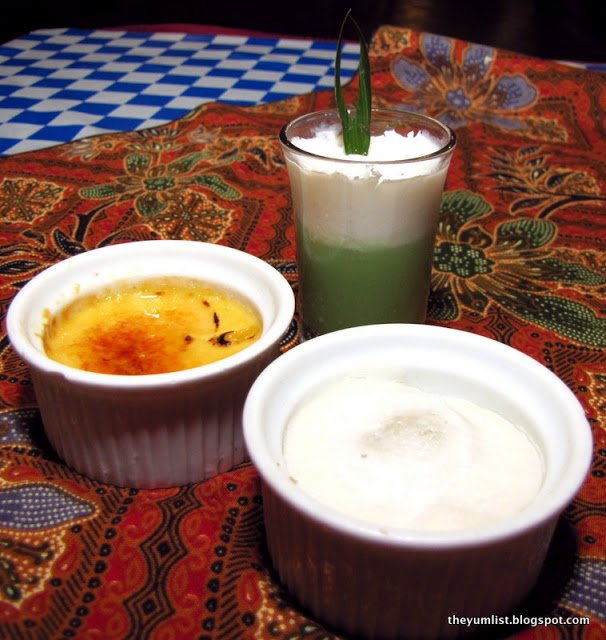 Malay Desserts
One of the bonuses here is that alcoholic beverages can be
ordered. There are but a few restaurants in Kuala Lumpur where this is
possible with Malay cuisine, so beer, wine and cocktails are much appreciated. A small selection
of house pouring wines, local beers and a few cocktails are not worth raving
about, but satisfactory accompaniments to a meal.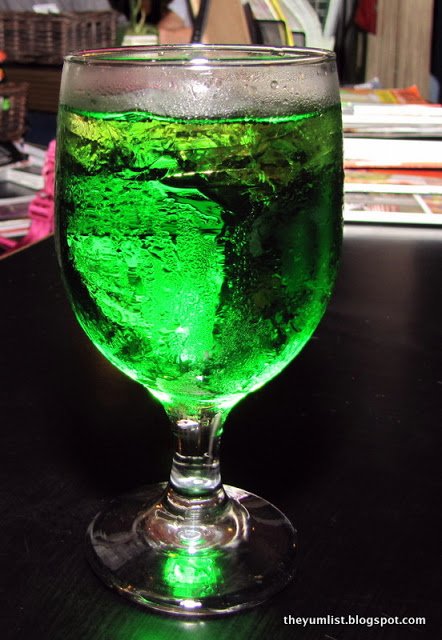 Sweet Cordial
Now here is the clincher for making Songket a fitting spot
to bring guests. Live entertainment in the form of dances from across Malaysia
runs nightly from 8:30pm – 9:15pm. Covering Chinese, Indian and a range of
Malay choreography from various states, diners can enjoy a sampling of the country's
diversity and even a chance to learn a couple of steps all in one location.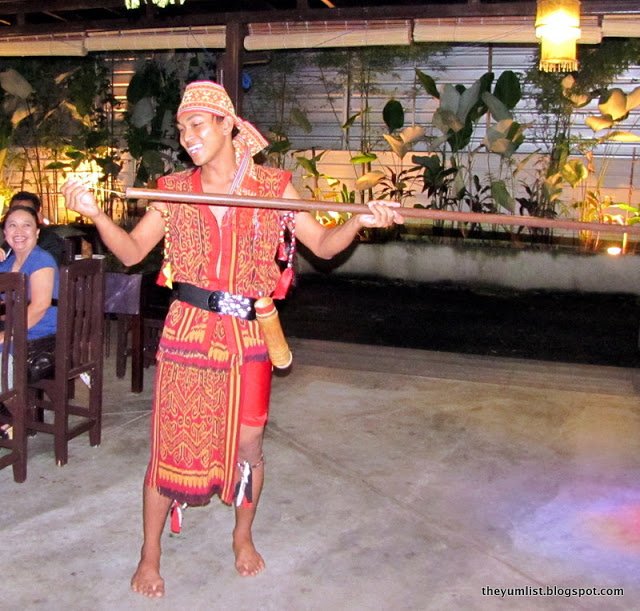 Entertainment
A cultural dance show, a good selection of local dishes and
a rare opportunity to enjoy alcohol with traditional Malay food, make Songket
an apt destination for those visitors that love to say, "I'll leave it up to
you."
Reason to visit: A spot to take visitors who want to see and
experience a bit of Malaysian culture in a short time, especially those
interested in local music and dance.
Songket Restaurant
and Bar
29 Jalan Yap Kwan Seng
50450 Kuala Lumpur
Malaysia
+6 03 2161 3331