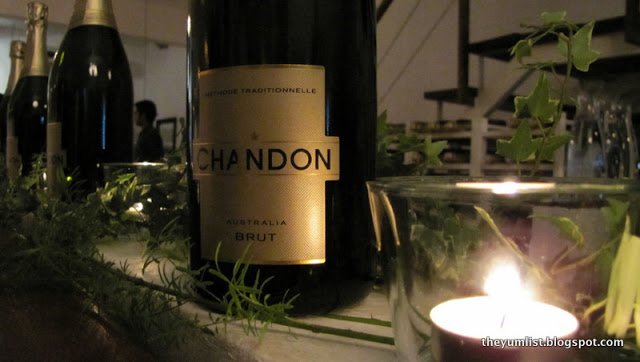 Chandon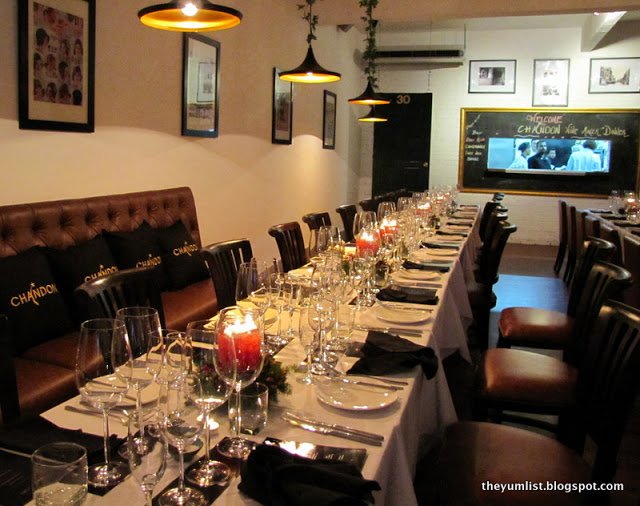 Chandon Wine Dinner at Ril's Bangsar
Chandon Dinner at Ril's Bangsar
In the past when I heard the word Chandon, a smile would tease the corners of my mouth as thoughts of
bubbles, good times and celebrations came to mind. I would hear the mini
explosion of a spuming bottle of sparkling and imagine the white foam of an
overfilled glass frothing down my wrist. Glenn Thompson, wine maker, however
changed that perception. Well, not quite changed perhaps, but modified my
mental file, adding more depth to the name than I had previously conceived.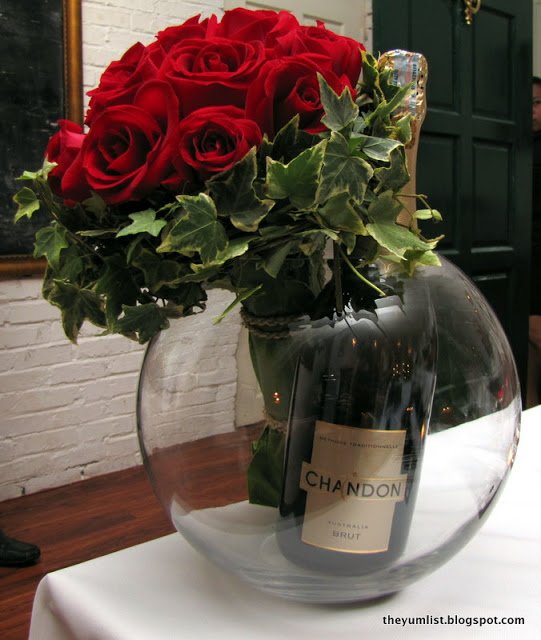 Chandon – lucky draw prize
A dinner at Ril's Bangsar with the wine maker introduced me
to the fact that Chandon produces both sparkling and still wines worthy of industrious
exploration. Linked to the famous, Moet Chandon brand, this Australian winery,
while maintaining meticulous French methods for producing their sparkling, harnesses
the distinctive southern terrain and climate to produce wines with a uniquely Aussie
character. Chandon alone refers to
the bubbly – Brut and Rose, while Domaine
Chandon is connected to the still wines – Chardonnay, Pinot Noir and
Shiraz. My wine paired dinner and educative conversation with Glenn taught me a
few new facts and added a couple more favs to my finicky list of coveted
consumables.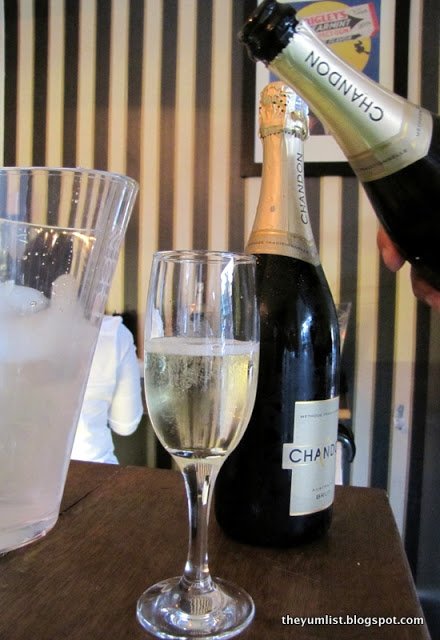 Chandon Brut
Guests were greeted with a standing cocktail. A glass of Chandon
Brut putting the gathering in the mood for the rest of the evening and playing
perfectly well into my preconceived notions of this effervescent party drink.
Fresh, with a liberal palate and a snappy finish, this graceful drop makes the
ideal aperitif and conversation lubricant.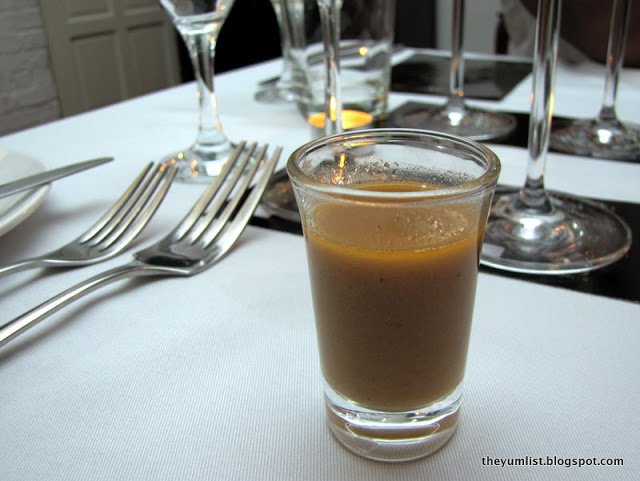 Amuse Bouche – Lobster Bisque
Once seated the first course, Sashimi of Red Snapper, came
accompanied with pink grapefruit, coriander and green chili pesto, extra virgin
olive oil and pink Himalayan rock salt. A citrusy, strawberry and vanilla
Chandon Brut Rose complemented this refreshing starter. While the crisp
generous palate of the wine mirrored the citrusy fresh fish, it also cleanly
sliced through the olive oil in the dressing.
Coral pink with glints of bronze, this Brut Rose does well paired with
food, but would also make a fine pre-dinner drink.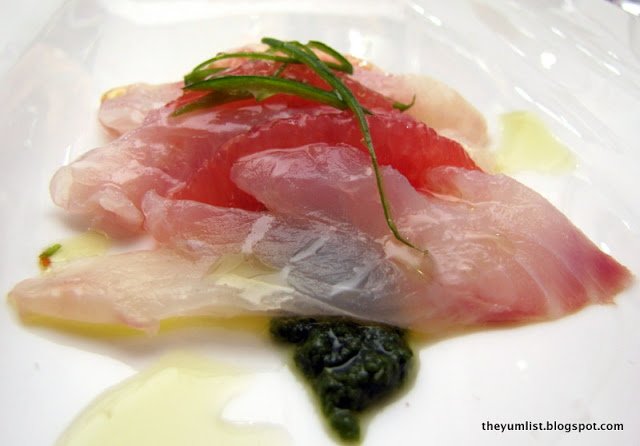 Sashimi of Red Snapper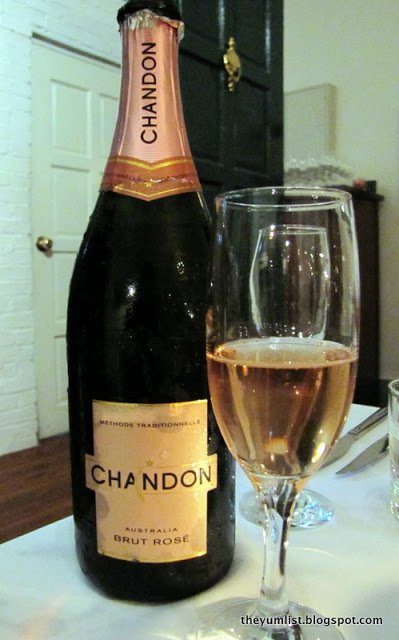 Chandon Brut Rose
The second course, Seared Foie Gras, was lifted to a new
level with the introduction of Domaine Chandon's 2010 Chardonnay. Pickled acar
salad, toasted peanuts and caramelized pineapple jam played well with the summer
stone fruit notes in the wine. Nectarine, peach, fig, almond and cashew all
glimpsed to the surface with each further bite and sip. This multi-layered cool
climate chardonnay matched the equally complex structures of the food. The wine
maker suggests that a yabbie soufflé or creamy crayfish risotto would also be a
flawless match. My first sampling of Chandon's still wines was a successful
one. This 2010 Chardonnay is a white I will now be looking out for.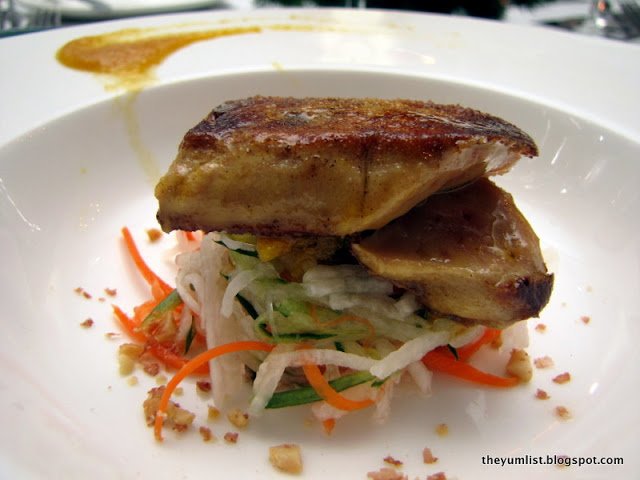 Seared Foie Gras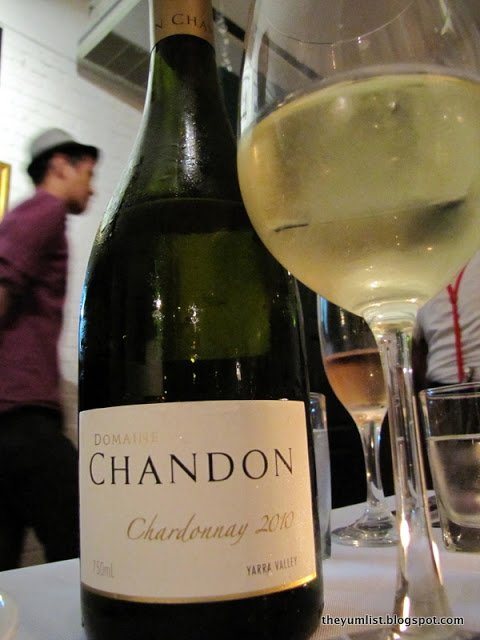 Domaine Chandon's 2010 Chardonnay
A shift to a Pinot Noir, Domaine Chandon's 2011 creation,
coincided with the move to a slightly more substantial dish of Whole Crispy
Quail. Served on a bed of braised
daikon, drizzled with a sticky soy-anise liquor and, sided with a spiced cherry
wanton and deep fried ginger shards, this plate offered enough complexity to harmonize
with the increasing intricacy of the wine. A deep pomegranate in the glass,
with berries and spice on the nose, and a mouthful of cherry and cinnamon, this
pinot noir has a lasting palate and a place in my notebook of wines to remember
to look out for.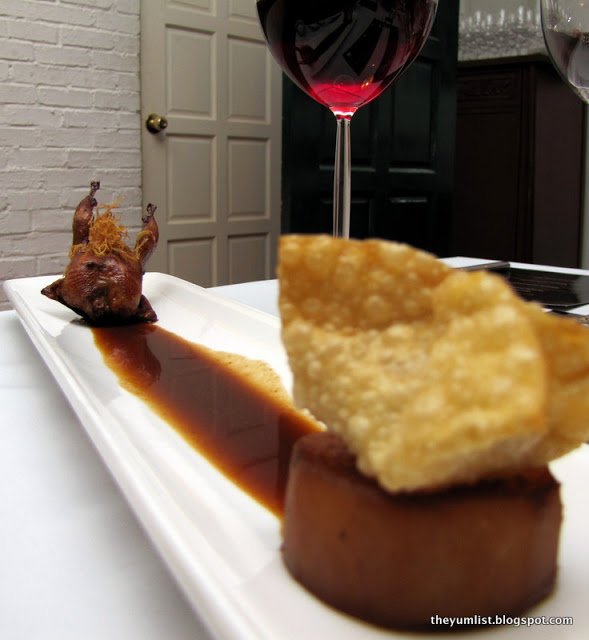 Whole Crispy Quail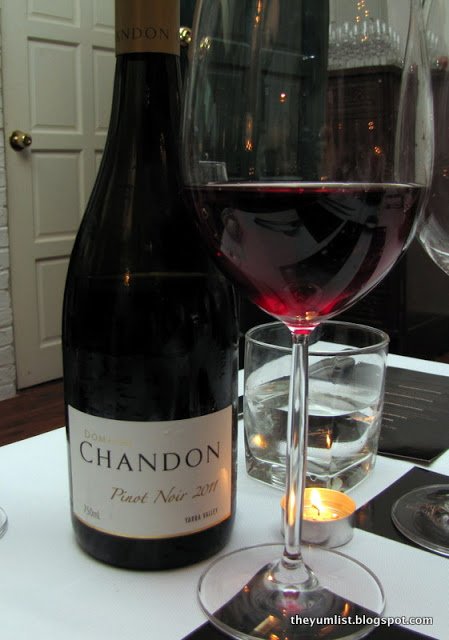 Domaine Chandon's 2011 Pinot Noir
A big meaty dish, deserves a bold vibrant red. Australians
do Shiraz well, and the Domaine Chandon version is further testimony to this
claim. MB 5 Wagyu Rib Eye is sliced thick and pink on the table. Crispy chives,
star anise and a ginger soy reduction bring both smoothness and zing. The
peppery Shiraz almost seasons the meat, with each being gutsy enough to stand
alongside each other, but friendly enough to complement rather than overpower. Cherry
and plum aromas waft to the nostrils, glossy ruby shines through the glass and
a wonderfully lengthy finish make this shiraz spunky bright and highly
drinkable.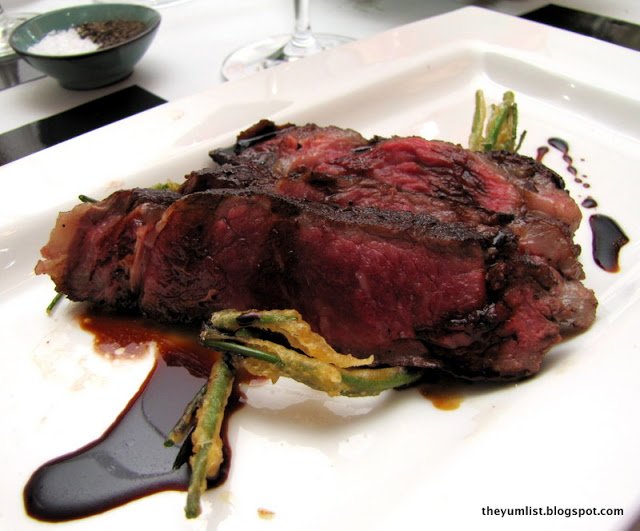 MB 5 Wagyu Rib Eye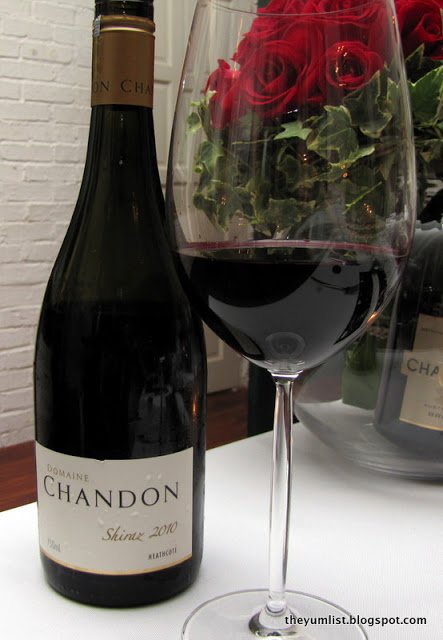 Domaine Chandon 2010 Shiraz
Ril's signature cakes are always worth guarding tummy space
for. This evening, a ginger and chocolate cake was chaperoned with a clever
cappuccino with the word Chandon drawn in the foam.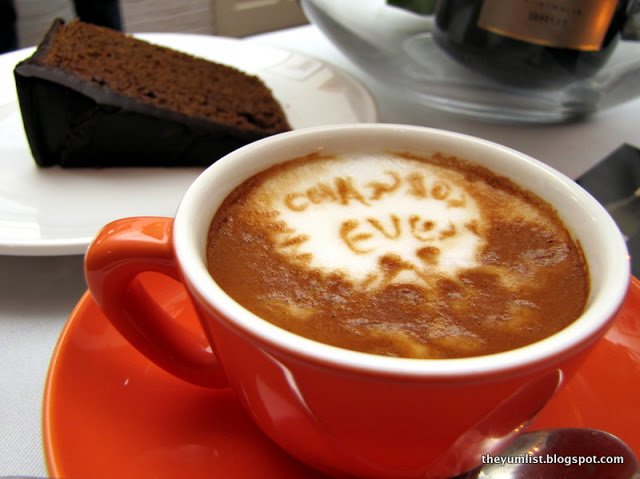 Chocolate and Ginger Cake, Cappuccino
A smile continues to light my eyes when I think of the word
Chandon, only now my smile is broader as my schema is deeper and, besides
bubbles alone, I'm now thinking of the many other possibilities the brand
offers – still wines and food pairing at the forefront.
Reason to visit/
imbibe: Ril's Bangsar proved themselves a worthy designer of food matches
for wine and also deserve the title of being one of better places in town for
steak. Besides their sparkling drops, Chandon opened my eyes to a range of still
wines worthy of exploration – especially the Domaine Chandon 2010 Chardonnay, a
new favourite.
Previous posts on Ril's:
Ril's Bangsar
30 Jalan Telawi 5
Bangsar Baru
59100 Kuala Lumpur
Malaysia
012 6471 491