Carter James and Monica Tindall
I can tell the passion of a restaurant by the vastness of its wine list. Restaurateurs with a hankering for finding, and making available, fine wine tend to put the same effort into ensuring their chefs do the same in the kitchen. Although, drinking an entire bottle of RM500 plonk is not always an option, it becomes special when you can purchase fine wine by the glass – allowing yourself that rare treat of a glass or two, when everyone else is on the sparkling water, San Pellegrino, of course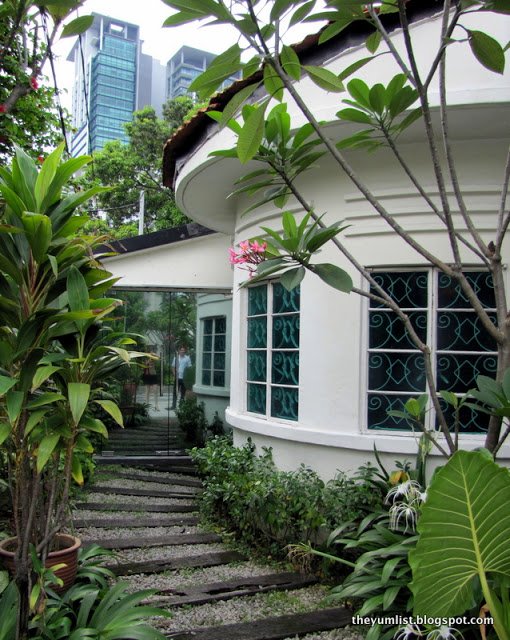 Entrance to the private room
My recent excursion to Sassorosso was one such example – a huge wine list, no, lets term it a cellar – wines of all ranges available by the glass as well as the bottle, and food that really impressed. Stepping through lunch was a delightful task – sampling great dishes, and matching these with some excellent wines, plus one or two specialty drinks too – I was just so grateful that I had help eating lunch.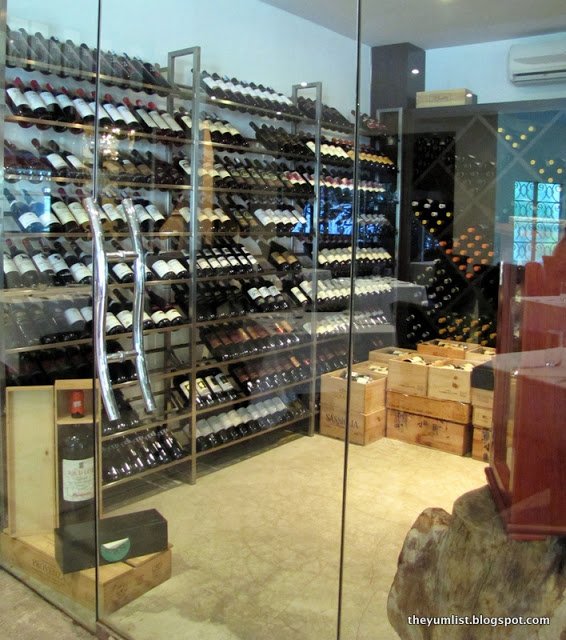 Impressive wine cellar with an exclusive collection of fine wines
As I parked my car and walked to Sassorosso, I could tell something was special. A quaint 1940's style bungalow, neatly manicured gardens, and an outside dining area complete with a wood-fired pizza oven – this place meant serious business.
Wood Fired Oven
Restaurant owner and host, Giovanni was an absolute gem. Not only passionate about wine (I suspect he had it running through his veins from a very early age), but extremely knowledgeable about the cuisine and the stories behind it too. Giovanni took us on a tour of Sassorosso, showcasing my third favourite pastime in life after food and wine – art. An exceptional collection of stunning originals, with an eclectic symbiosis of "just falling into place", adorned the various walls and unique surfaces that Sassarosso presented. Specialities "need passion" he quipped – I certainly see passion right throughout Sassarosso at every level.
We started our lunch with a sauvignon blanc, paired with a crab salad. The sauvignon blanc was crisp yet light, with defined passion fruit overtones, and just a hint of green apple at the end. The dish – chunky pieces of fresh crab, drizzled with a light mayonnaise, orange juice, white pepper and salt. A clean taste, with beautifully coloured presentation. If this is how today is heading, I am in for a treat. Honestly, I'm not a crab fan, but this dish may just have changed my mind – I would definitely have this a second time.
Laguna, our next wine was served in a fresh glass. Slightly acidic, but light to the palette, this is definitely an afternoon wine – something that should not be bound by the glass, but rather explored by the bottle. Giovanni stated something that I hadn't heard in a while – "raw meat needs to be paired with delicate wine" – I guess that was a hint as to what was to come. This stunning white number really did pair well with the Carpaccio of tenderloin – paper thin slices of marbled beef with a celery julienne and arugula. The melt in the mouth taste was evident on first bite – but then added with a few sips of the Laguna and the taste explosion launched like a rocket. I now understood the comment – yes, raw meat is best with delicate wine – they bring so much out in each other! Perfect synergy!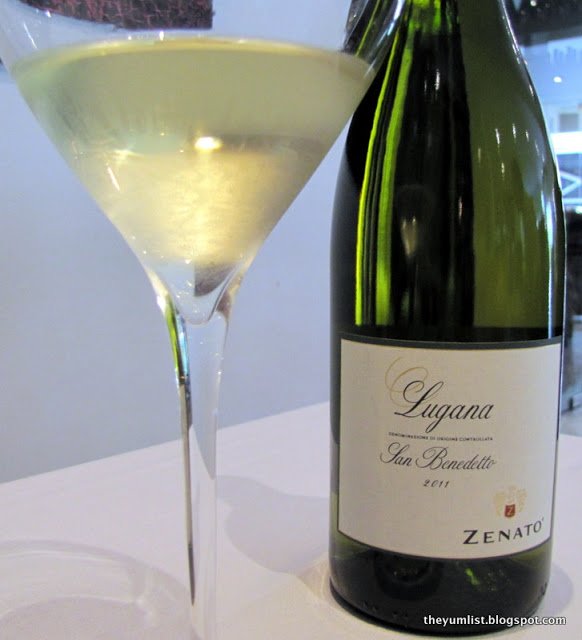 Lugana San Benedetto, Zenato, Veneto 2011
I guess I'm pretty fussy when it comes to dining etiquette, and one of the little things that impressed me the most about Sassorosso was the waiting staff's attention to detail. Ever ready to assist, they also ensured always to bring fresh cutlery and crockery for each new dish, and each new glass of wine was served in a fresh glass. It's these touches that leave an impression.
Next on our Italian journey was the Duck Ravioli. I don't think I have ever had duck ravioli before, so I was definitely excited. Duck is an amazingly versatile meat, hot or cold, and sits up there on my list of favourites to try through different cultures' cuisine. Delightful handmade ravioli, embedded with duck mousse. Surrounding the ravioli parcels, thinly sliced mushroom, tender duck breast, and a jus of boiled down and roasted duck bones. Just Beautiful!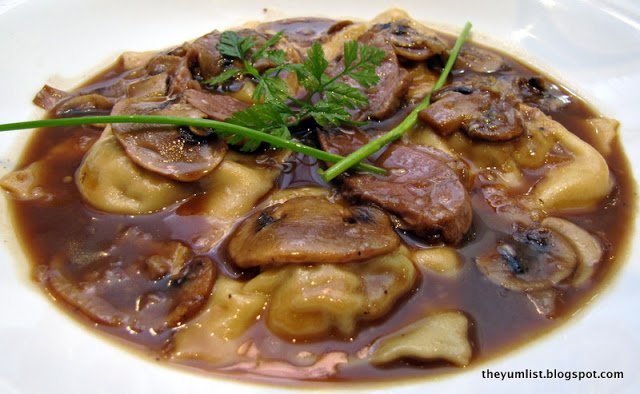 Fresh homemade duck ravioli with mushroom sauce and sliced duck breast
To match the duck, a Negresco Garda Classico Rosso was served. Medium to full bodied, this wine had the most amazing viscosity (legs, to those of us who prefer laymen's terms).
Negresco Garda Classico Rosso, Provenza, 2009
Next to be served was the gnocchi – small tender mouthfuls, creamy gems – some of the best gnocchi that I've had in years. I love the bite sized portions, allowing for one bite to release the inner flavour and soak up the sauce encasing it. Sage, gorgonzola and cream heightened this delightful combination, and together with a very generous helping of gnocchi, one knew one was truly experiencing Italian culinary passion.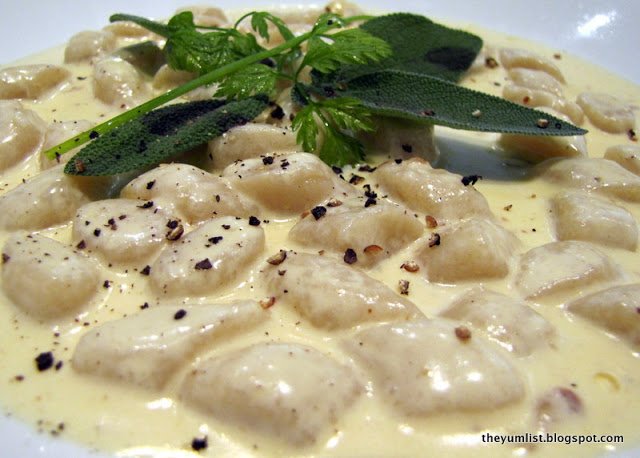 Potato gnocchi with creamy gorgonzola sauce, walnuts and fresh sage
Barramundi was served following – a first for me as I've never had this before. A nice firm fish, well seared; there were incredible bursts of flavour, especially when eaten with the blackened shallots served to the side.
But, my personal favourite of the entire experience – an exceptional Australian lamb with kalamata olive puree. Incredibly tender lamb, slightly salty, with a superbly crispy skin. Reminiscing about Sunday Roasts of decades past, this lamb bought thoughts of childhood rushing back, and with that, me seeking more. The olive tapenade was smooth, yet with a hint of texture. Mild, it blends well with the lamb, and if truth be told, I'd order it with fresh bread and treat it as a meal all on its own.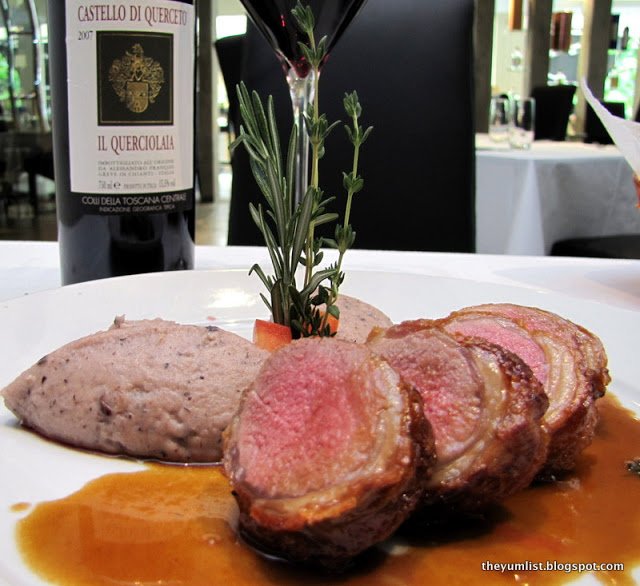 Oven baked Australian lamb noisette with Kalamata mash and fresh thyme sauce
Matched with a premium wine, a beautifully cloudy cabernet blend Castello di Querceto. At RM68 a glass, Giovanni explains how important it is to his customers to have options for all ranges of wine – quite often only one person at a table may be drinking, and they don't want to enjoy a full bottle on their own – so Sassorosso ensures a range of by-the-glass wines at every level on the menu. I for one truly appreciated this, as did my companions. Although, between us, I'm sure we drank a whole bottle anyway.
As we neared the end of our lunch,I was reminded of two very important traditions – grappa and dessert. I was prepared for one, but not for both – although, I definitely enjoyed both.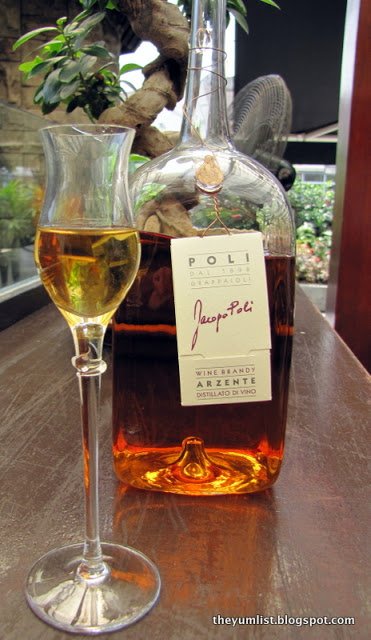 Poli Grappa – aged for 15 years – a beautiful finish
Sassorosso imports 35 different grappa's, in both white and brown. Brown, or algenta, was new to me. Algenta is typical grappa, made from moscato grapes, so naturally a little sweeter, and aged in oak barrels. Giovanni commented that it was not easy for Malaysians to drink grappa – although there was a growing appreciation of it – and with over 1000 bottles of grappa selling a year, I guess Sassarosso is doing its bit to educate people on the joys of this fine liquid.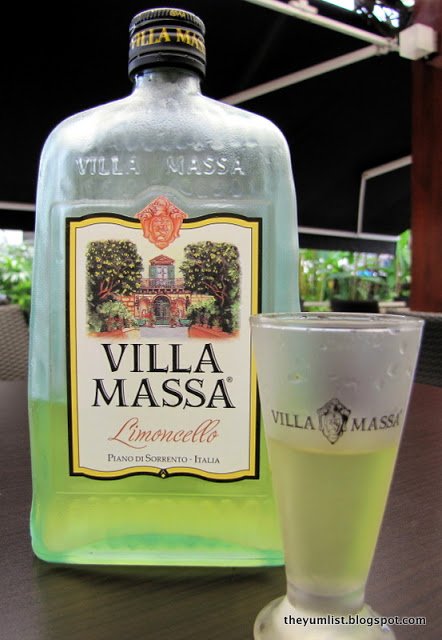 Villa Massa Limoncello
A trio of desserts were served. Chocolate lava cake with honey ice cream, accompanied by a sugar-free Passito dessert wine. As I burst the chocolate lava free from its host, then mixed it with the honey ice cream – boy I was in for a special flavour bubble. Alongside this, a crème brulee and a vanilla bean pannacotta. Both were light and fresh, and offered an amazing round-up to our meal.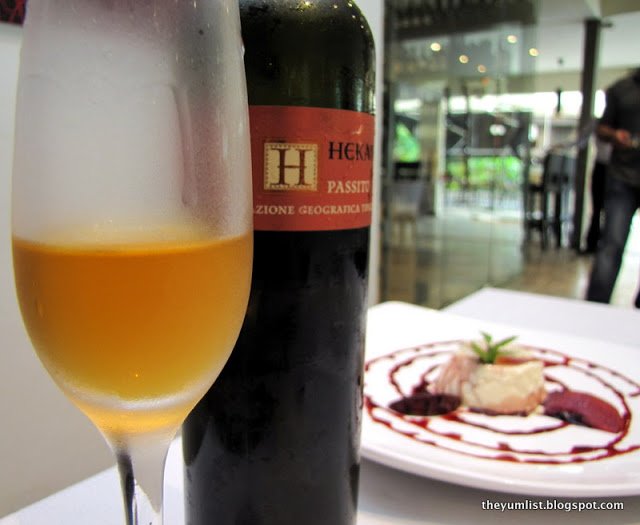 Passito Dessert Wine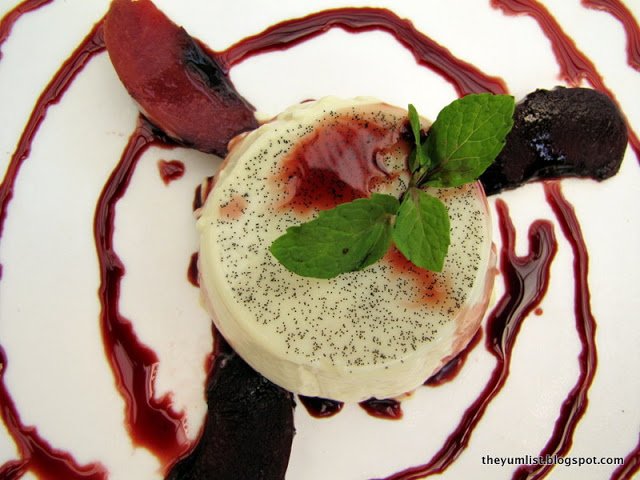 Panna Cotta
Special thanks go to Chef Giovanni – the inspiration behind our wonderful taste journey. Greek-Italian, and Milan raised, Giovanni is no stranger to top-notch kitchens, having worked in Hyde Park Corner at a time when it was the only one star Michelin restaurant in London. Now, we don't get this type of heritage every day. Giovanni, welcome to the Yum
List – you deserve to be here!
Reason to visit: incredible wine selection including an exclusive range of fine wines and too excellent wines available by the glass; duck ravioli; gnocchi; lamb; crab salad; chocolate flan… okay… everything!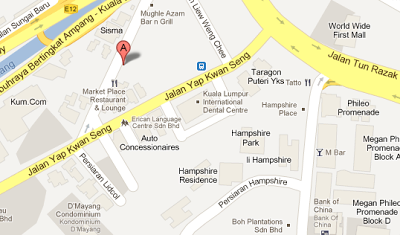 Map to Sassarosso
Sassorosso
9 Lorong Yap Kwan Seng
50450 Kuala Lumpur
Malaysia
+6 03 2166 6428
Open 7 days
Lunch Monday – Saturday 12 noon – 3pm.
Dinner Monday – Sunday 6pm – 11:30pm.
Excellent value three course set lunches including tea or coffee at RM48++ available weekdays.