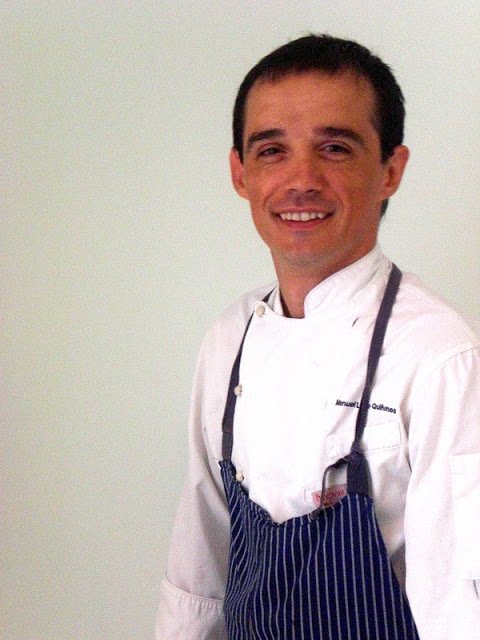 Chef Manuel Lopez, Frangipani
The Yum List chats with Chef Manuel Lopez of Frangipani and discovers his childhood favourite foods and passion for everything Spanish.
What do you do and how did you got into the industry?
I started working in a family catering company. My first job was washing and cleaning dishes. Step by step I advanced in the kitchen then I decided to take it to the next level and become a chef. I studied at Bellamar Hotel School in Marbella, Spain. After that I began to work for five star hotels and prestigious restaurants awarded with MIchelin stars in Barcelona, Ibiza and Madrid. Then came Morocco and the Caribbean until today here in South East Asia.
What's the best/ worst part of your job?
The best part of my job is that I enjoy it as much as the first day! The worst part is that I don't spend as much time with my family as I would like.
What's your favourite Malaysian food?
I think I like the Malaysian food in general but if I have to choose a plate I will go for the chicken rice which is a classic in this country.
What's your favoured food and wine/ liquor pairing?
A red Ventresca (tuna belly) on the grill (the tastiest and most tender part of tuna) with a good beer! Of course it has to be a red Ventresca from Cadiz in the south of Spain – definitely the best in the world… hehehe!
The perfect day off would be…
with my family on the beach or in the mountains, enjoying the family company and without any worries.
A life in the day of a chef is…
… somehow chaotic, stressing and hard, but what is even harder is the amount of hours of work from early morning to late night… finally the reward of the day is to see satisfied clients.
What's something you'd like diners to know about the cuisine prepared at Frangipani?
All our products have been selected thoroughly and we try very hard to bring the best Mediterranean cuisine to Kuala Lumpur.
What is your favorite meal/ drink at Frangipani?
Well, one of my favorite products here at Frangipani is the octopus because it's a dish I have eaten since I was a kid. I used to go scuba diving with friends on the beach nearby my house and we'd fish them then I take them to my mother and she used to cook them for me.
My favorite drink here at Frangipani is the wine Vega Sicilia de la Rivera del Duero from Valladolid, definitely one of best wines in the world… of course it has to be Spanish!.. hehehehe.
How do you select your ingredients and why?
I try to source the best products cause it's super important here at Frangipani. In Malaysia to find quality products is a little challenging because the climate is pretty much the same all year round. On the other hand in Europe we have four seasons, and each season you can find the products at their best stage or condition. We work with fruits, vegetables and birds from the local market but our meat and seafood comes from Australia and New Zealand. We also bring many products from Spain such as beef ham, Spanish anchovies (Boquerones), octopus, olive oil and so on. We select the best product of each country and with them we create our kitchen. Also we select our cheeses from France and the salmon from Norway in order to showcase in our tables the best Mediterranean food in Kuala Lumpur.
Thanks Chef Manuel! We have to agree with you about the octopus we love that too.. and your pumpkin soup and your cod and your tuna and … 🙂