Buffet Line Up – Eccucino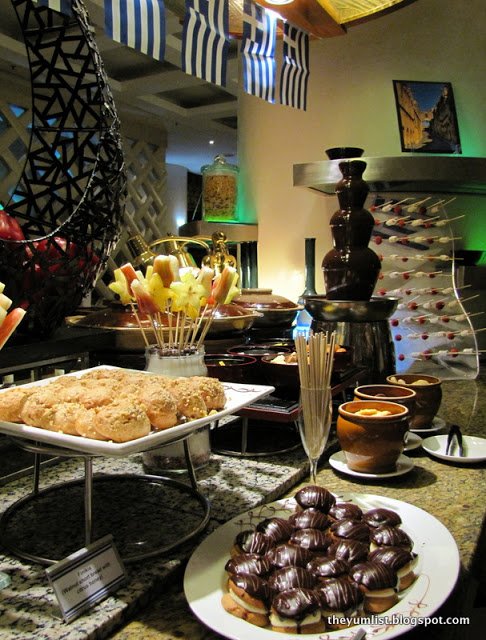 Dessert Buffet
Greek Wines and Ouzo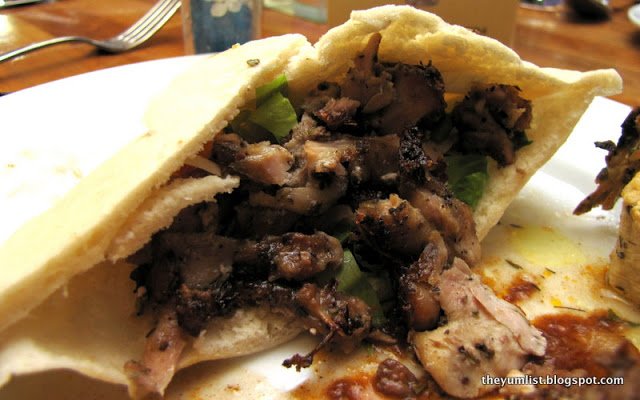 Pita Gyro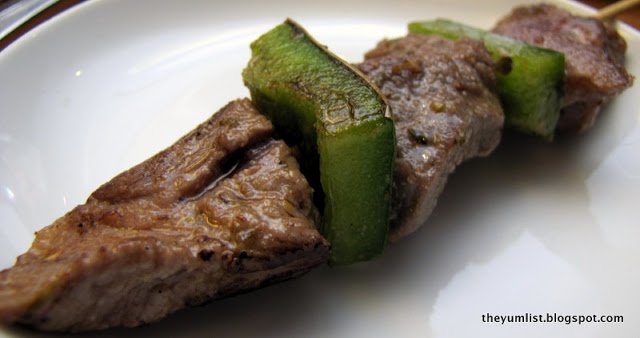 Beef Skewer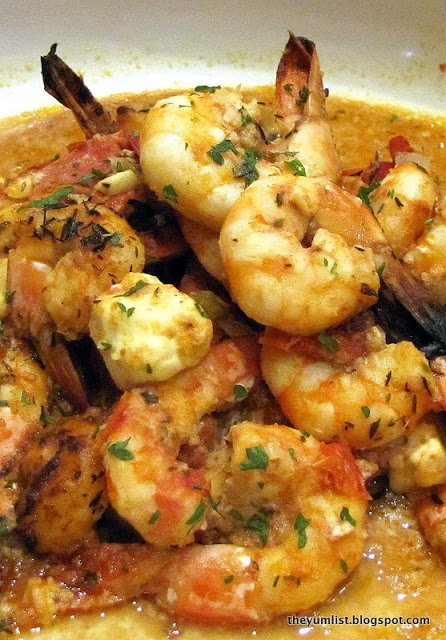 Prawn and Feta Hotpot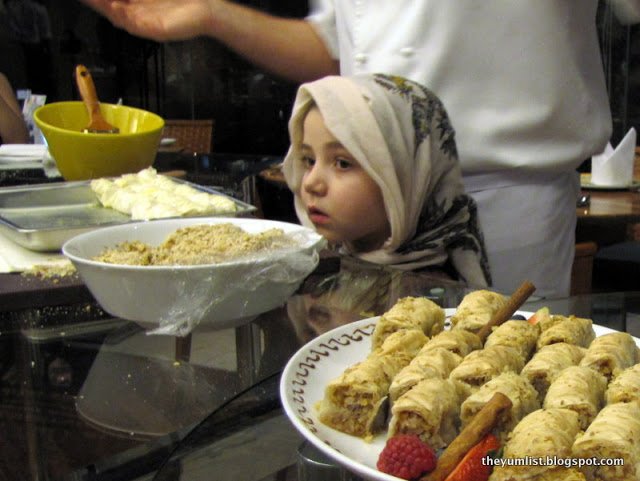 Cooking Demonstration with a little helper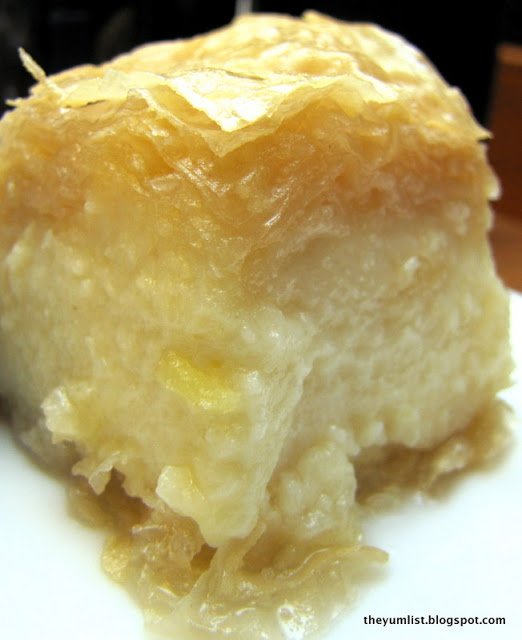 Custard in Filo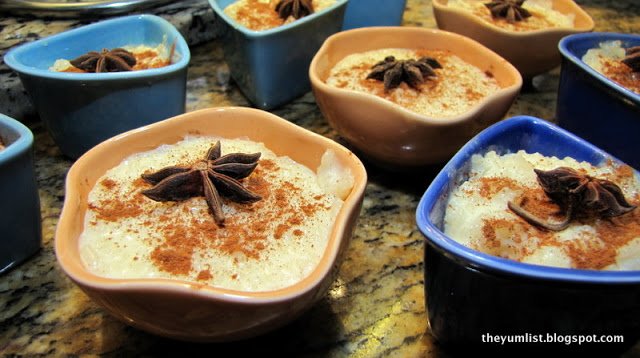 Rice Pudding
Greek Buffet at Eccucino, Prince Hotel and Residence
Words by Polly Szantor
Photos by The Yum List
Roll out the Dolmades and the Baklava; it's time for the annual Greek Buffet at Eccucino. Guest Chef George Diakomichalis returns to the Prince Hotel from Adelaide, (
see previous review May 12, 2012
) and he's brought several members of his family with him, along with his two beautiful daughters, to make sure the food is bountiful and good.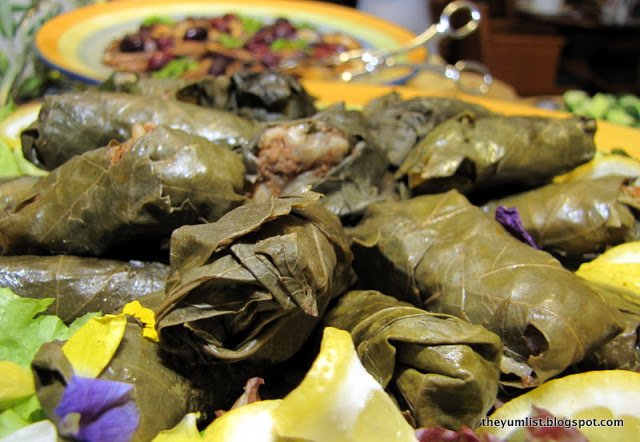 Dolmades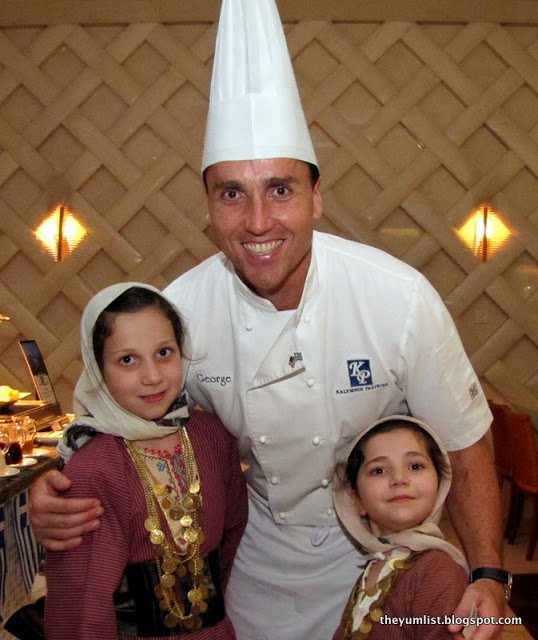 Chef George and his girls
Last year, Monica dove straight into the desserts, a priority since Chef George is a well-known pastry chef in Australia, however this year we deferred to my English sensibility and began at the beginning, with the aptly named Starters. I had a lovely mixed plate of Yogurt Pites (little vegetable pasties), marinated olives and feta, sweet peeled prawns, freshly shucked oysters and a very delicious salad of snapper, potatoes and vegetables combined with mayonnaise and lemon juice.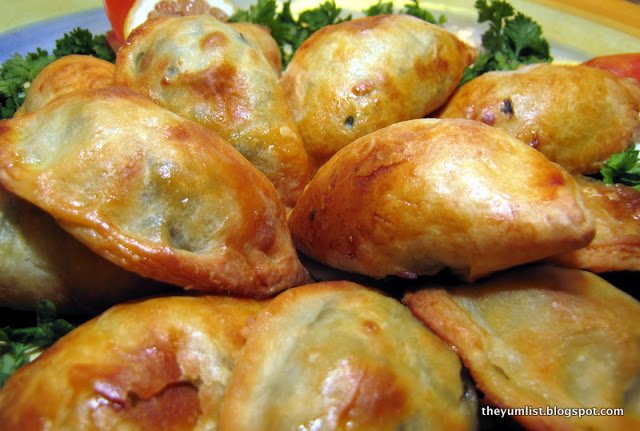 Yogurt Pites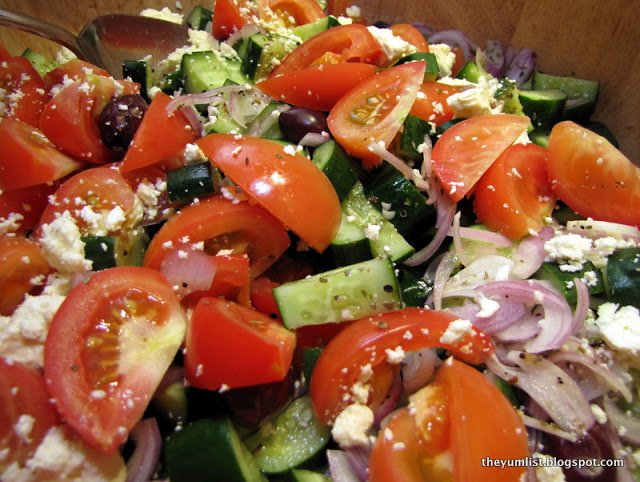 Greek Salad
The dips were divine: Taramasalata, Tzatziki, Skordalia, Domato and my favourite, Pepper feta, and they combined well with the Roasted Eggplant and Stuffed Vine Leaves. There were plenty of other choices on the cold table, such as marinated sardines and chickpea cakes along with several salad options.
Salads and Seafood
I like to make soup at home and I was very interested in the tasty Fasolotha, white beans in a piquant tomato-based herby broth, which combines beautifully with a slice of the crusty homemade bread; I only had a spoonful though, because there was so much more to try.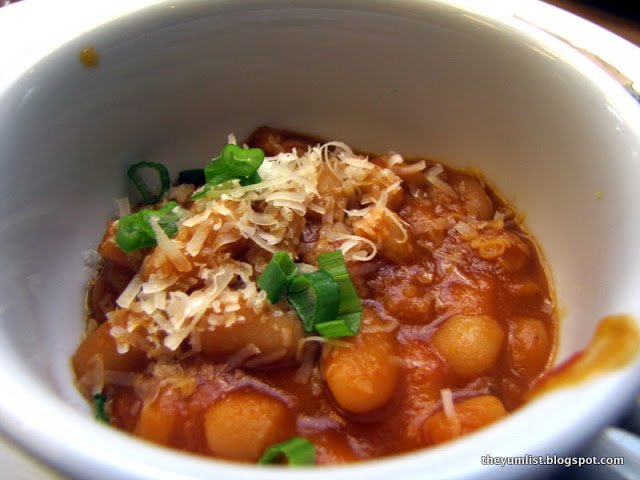 Fasolotha
Moving on to the mains, Caning was most impressed by the moist, smoky chicken, beef and lamb Souvlaki, freshly cooked to his specifications at the grill station. For me the Lemon Chicken with potatoes was a winner though the Moussaka came a close second. Some of the other Greek highlights included Prawn and Feta Hotpot, Swordfish with Oregano, tender Braised Beef in a rich cinnamon and tomato sauce, and let's not forget the classic Spanakopites, spinach and feta wrapped in filo pastry. I must confess that I focused entirely on the Greek food, but there were many local favourites too, hailing from all the main cuisines of Malaysia; honestly, there was too much to try at one sitting. As always at this time, I was thinking of dessert!
I went straight for the Baklava, that quintessential Greek pastry, sinful in its sweetness. I had a little taste of several other goodies too: Custard in Filo, Walnut Shortbread in Citrus Honey and Loukoumades, honey and cinnamon-drizzled fritters, sheer heaven if you have a sweet tooth. Chef George was busy at the cold stone, combining Vanilla Ice Cream with Baklava. Did you notice that I didn't mention Monica's favourite earlier? Can you guess what it was? Ha-ha, you're right! Baklava Ice Cream was a winner!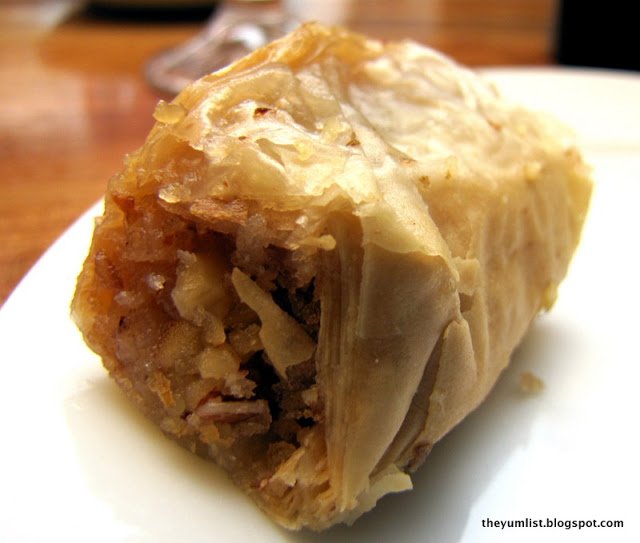 Baklava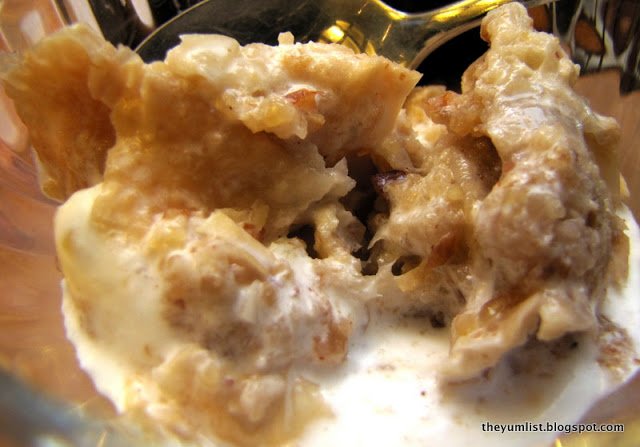 Baklava Ice Cream
Reason to visit: to take this rare opportunity to savour authentic Greek food, prepared with love by Chef George, a fourth generation chef, and his family.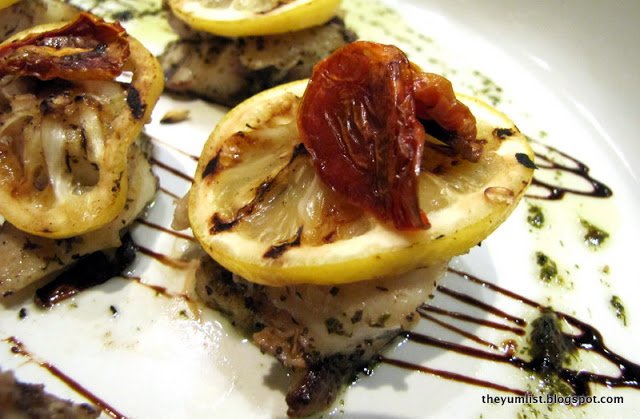 Swordfish with Oregano
The Greek Mediterranean Buffet Dinner is available for 10 days from May 9 to 19, 2013 from 6.30pm to 10.30pm. The buffet is priced at RM98++ per person and one child under 12 years old can dine for free with every paying adult. On May 12 from 12am to 3pm, there will be a special Mother's Day Brunch with Chef George's mum, Chef Poppy, along to lend a helping hand. There are Greek wines and Ouzo to accompany these special meals, ranging in price from RM15++ for a shot of Ouzo (RM300++ a bottle) to RM39++ for a glass of Alpha Estate Sauvignon Blanc (RM195++ a bottle).
Eccucino
Prince Hotel and Residence
Jalan Conlay
Kuala Lumpur
Malaysia
+6 03 2170 8888