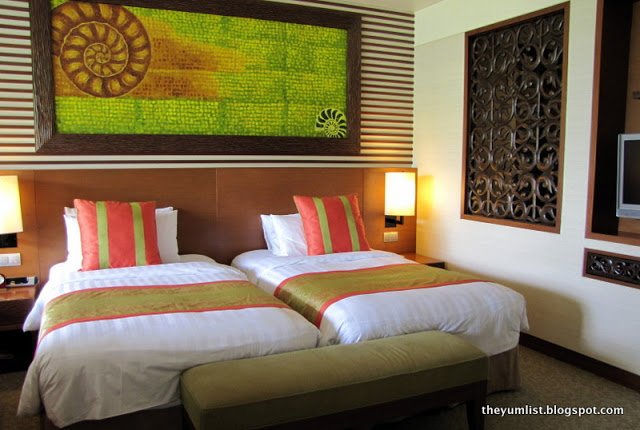 Ocean Wing Room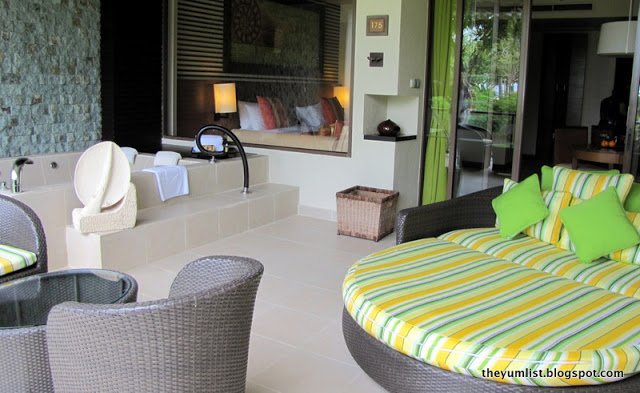 Balcony of Ocean Wing Room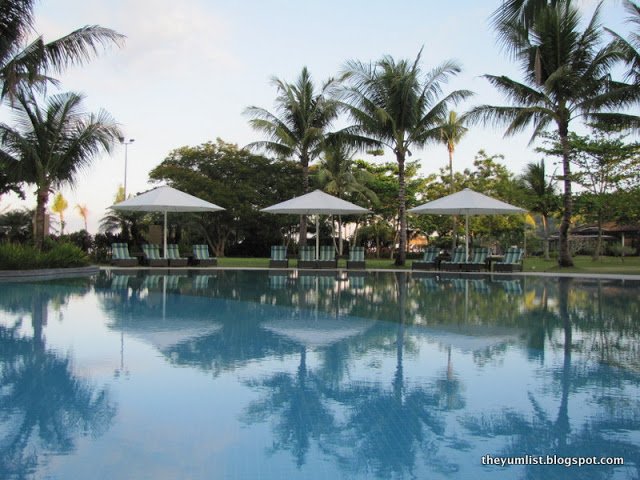 Ocean Wing Pool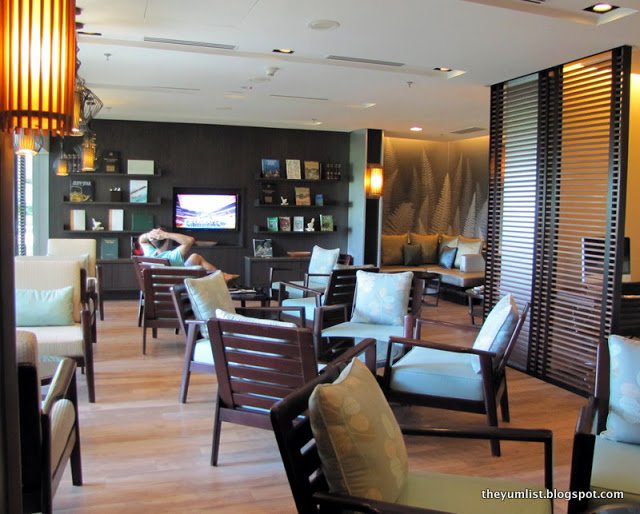 Internet Cafe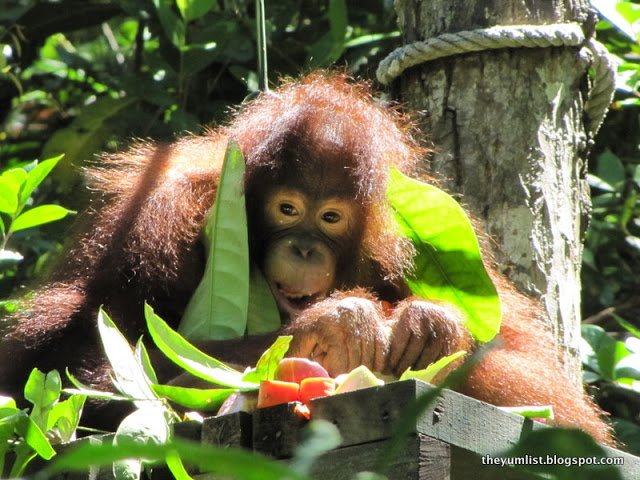 Orangutan Sanctuary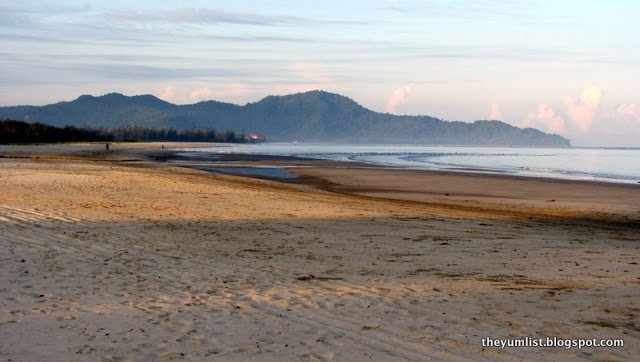 3km beach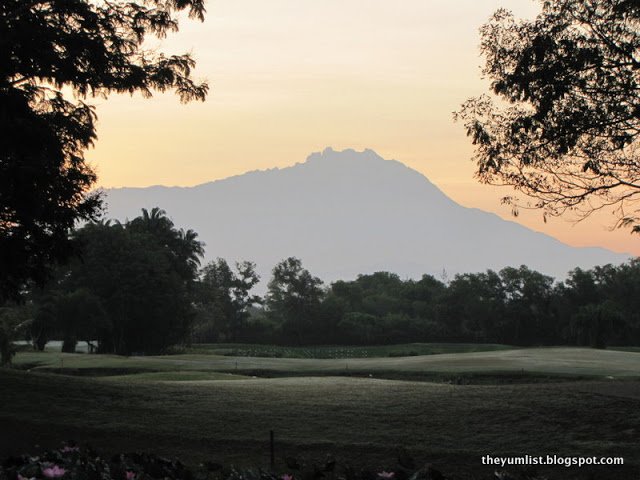 View of Mount Kinabalu from the golf course at sunrise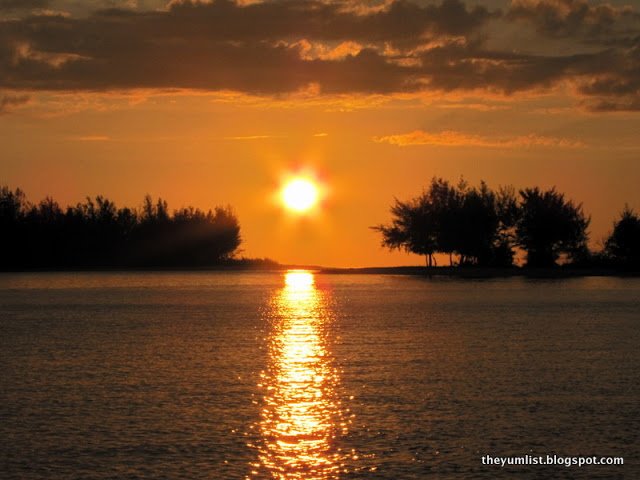 Spectacular sunsets
Shangri-La's Rasa Ria Resort and Spa, Sabah, Borneo
Words by Kirsten Durward
Photos by The Yum List
Flanked by jungle on all sides, Shangri-La's Rasa Ria Resort and Spa overlooks its own pristine 3km  soft white sand beach in a secluded cove, which according to my travel companion, ten years resident, is one of the cleanest in Malaysia. Not many hotels can boast this kind of location with the added draw of an on-site Orangutan Sanctuary and an 18 hole championship golf course.
On arrival, the gong is sounded, 'Welcome home,'  breathes our elegantly dressed hostess. We are taken straight to our rooms in the Ocean Wing.  The room is spacious, light and airy, in natural tones with splashes of vibrant orange and lime. Opening the door to the terrace we are surprised with our private Jacuzzi bath and garden/pool entrance. Verdant lawns and flowering trees lead the way to the glowing sand and sparkling sea.
Shangri-La likes to ensure that personal tastes are catered to. If the room scent is not to your liking, please choose a different aroma from the menu. We plump for passion fruit, which fills the room for the rest of our stay with a warm tropical glow. If you don't like feather pillows, please choose from the pillow menu. Monica exclaims at the expresso machine, and happily gets busy figuring out its mechanics. Should you need a restful evening, there is an extensive DVD menu available on request.
We love our spacious bathroom with huge mirror and double sink, and the luxurious body products combined with early travel, demand an instant hot shower. Refreshed and smelling of bergamot and lemon grass we step out to explore the environment.
The resort is extensive with many different locations to relax in, whatever your preference, be it beach, garden, pool, lounge or bar. The Ocean Wing is the quieter side, with adult pool bar. The Garden Wing is more appealing to families with an entertaining pool including several water slides. It's lively and the children are having fun.
Down to the beach where bright blue sunshades echo the sky, and pristine white sand sinks between our toes. In the calm of the morning enjoy a paddle on the flat ocean, while in the afternoon the wind gets up nicely, the ripples on the surface of the water enticing the sailors amongst us out for a whizz on one of Rasa Ria's colourful cats or windsurfers.
The Rasa Ria package includes breakfast, served either in the Coffee Terrace overlooking the garden or for guests in the Ocean Wing, at
Coast
on the beach. We are delighted with the choices. Monica takes three different mueslis – a raw, a toasted granola and a bircher. Being Scottish I start with a small bowl of porridge, delicious and creamy. We are spoilt for choice, as well as the regular cooked breakfast items, fresh fruits and wide range of breads and patisserie, we are presented with salads, smoked salmon, cold cuts local brie and camembert (quite good and strong). For the Asian tastes try local laksa or chicken noodle soup. I have to try the special of the day, the chocolate rice pancake with berry compote and conclude that it is delicious. Monica is happy with her eggs. Coast also offers a glass of sparkling with breakfast which mirrors the shimmering sea which is the view from our breakfast table.
Both lunch locations that we tried provided generous portions and a range of options on the menu. Tepi Laut Restaurant is open air and has a range of open kitchen areas from which you order a la-carte. Everything from local dishes such as Vegetable Mee Hoon (vermicelli noodles) and Prawn Kway Teow Goreng (flat egg noodles) through rocket salad and pizza to fish and chips and burgers is served here with a beach vista, outside atmosphere, holidays atmosphere under the shady trees. If you prefer indoor and are aching for the air conditioning, then you can try the Coffee Terrace, which serves a range of European and Asian dishes moderated for western tastes.
Golfers enjoying the pristine greens can take lunch or drinks at the golfers terrace situated at the Dalit Country Club, a short walk or drive from the main resort.
Dinner is a choice of two buffets, which we heard from fellow guests that they were spoilt for choice, or three a la carte restaurants.  Indian restaurant Naan comes with a great reputation, having been voted best Indian restaurant in Malaysia by the Tourism Ministry. We tried
signature restaurant Coast
, which takes an elegant underwater theme and provides for gourmet high cuisine tastes. I would say the experience warrants a trip from town for the non-resident dinner guests.
Teppan-Yaki Kozan
, serves as the name implies, mainly teppanyaki with a few other options including shabu shabu.
With all these delightful food options, we make full use of the spacious gym. Monica enjoys morning runs on the beach, and around the golf course, while I take advantage of early morning swimming in the warm pool waters. The guests at Rasa Ria need never be bored with a vast range of activities both on and off site to choose from. Tired parents can delight in an inclusive kids club for 4- 12 year olds.  Your time here can be as lazy or as active as your needs require.
See here for our list of favourite activities
and
here for a trip to the spa
.
I sleep both nights away on my specially requisitioned contour pillow, and each night Monica mumbles 'Mmm these beds feel great.' The bookmark on my pillow reads, 'He was enjoying that pleasant ringing of physical ease and mental alertness which seemed to him, of all sensations, the most truly civilized.  So far the appointments of Shangri-La had been all that he could have wanted.' We couldn't agree more.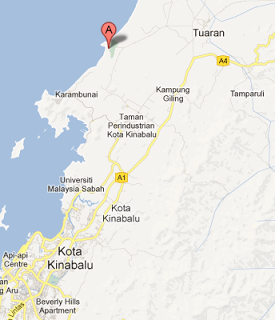 Map to Rasa Ria
Reason to visit: Gorgeous resort with its very own orangutan sanctuary, three kilometer pristine beach and golf course with views of the great Mount Kinabalu.
Shangri-La's Rasa Ria Resort and Spa
Pantai Dalit Beach
Tuaran
Sabah 89208
Malaysia
+ 6 088 797 888
www.shangri-la.com/kotakinabalu/rasariaresort