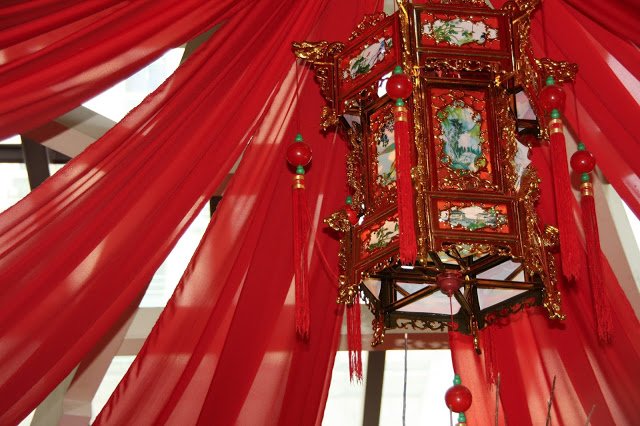 Written by Lisa Mangelsdorf
Photos by Chris Wright
Tucked away on the quiet 3rd floor of the
Sheraton Imperial is a traditional looking Chinese restaurant cloaked in warm reds and
browns with a cozy, comfortable dining atmosphere . Here you will find an extensive Dim Sum menu (over 40 different items) that offers many old favorites,
however, there is much more to this menu than first meets the eye!
Experienced Chef Ken Liew blends traditional Dim Sum with modern flavors and presentation styles to bring this menu to life. Chef Ken has worked for almost 4 months to create 11 new items that each have a unique color, taste and elegant presentation with noticeable influences of east and west.
When asked about his vision to create fusion Dim Sum, Chef Ken said that he wants to "offer Dim Sum with a modern twist that will appeal to the younger crowd". And since the menu is Halal, he has been motivated to be more creative with chicken, seafood and even lamb to replace the more traditional pork filled dumplings and potstickers.
With exotic ingredients like squid ink and beetroot juice to color the dumpling skins, Dim Sum has never looked so attractive and colorful, but the beauty is more than skin deep! Fillings offer surprising hints of other Asian flavors such as coriander puree, Thai chili, tom yum and Miso.
A variety of beautifully presented dumplings and pot stickers, each with a unique twist!
Yam puff with minced chicken, shrimps and mushroom in miso filling
Glutinous rice dumpling "Ham Tsui Kok" with Tom yam seafood filling
Grilled stuffed honey glaze dried chicken meat served with steamed "Man Tou"
DIY style comfort food!
Crystal beet roots juice "Har Kao" topped with crispy shredded fried scallop
Squid ink scallop dumplings topped with mini abalone and salmon roe
Crispy kataifi with scallop and avocado served on a bed of melon
The variety of flavors, textures, preparations methods (steamed,stir fried, deep fried and grilled) and presentation styles delighted all our senses as we sampled each and very new menu item!
At the end of the day some favorites around the table emerged –
Crispy Kataifi – Scallop and avocado surrounded by lightly fried noodles and served on a cool crisp bed of melon.
Imperial style lamb pot sticker – appeals to the diner looking for heavier, comforting flavors and textures reminiscent of a Sunday roast.
And most certainly – the glazed Chicken served Japanese style but with a thin steamed "Man Tou", light as air chicken floss and tangy sweet Thai dressing for building your own tasty morsel!
A great place to take the family or friends for a group meal or enjoy a quiet lunch for two!
Dim Sum prices start at 13 RM each and are offered daily from 12:00 – 2:30.