Mai Yai Thai Orchid Restaurant Kota Kinabalu Waterfront
Words and Pictures by Kirsten Durward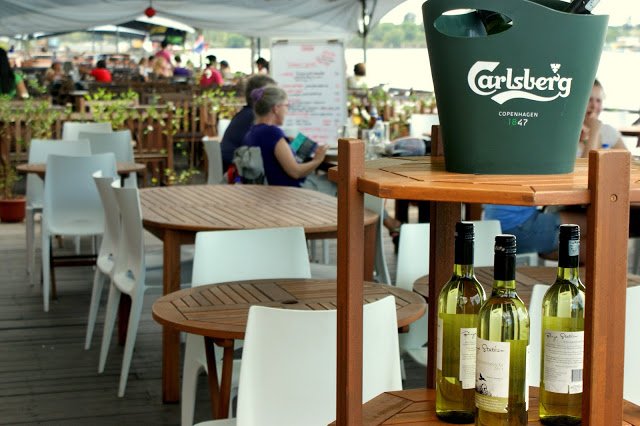 The Waterfront
Sit on the Waterfront and
gaze out to sea as the evening light glistens on silvery waves. Enjoy the colourful display of local fishing
boats bobbing at anchor. Soak up the growing
atmosphere on the cusp of nighttime pleasures. And yes, please, enjoy some
freshly prepared seafood, Thai style.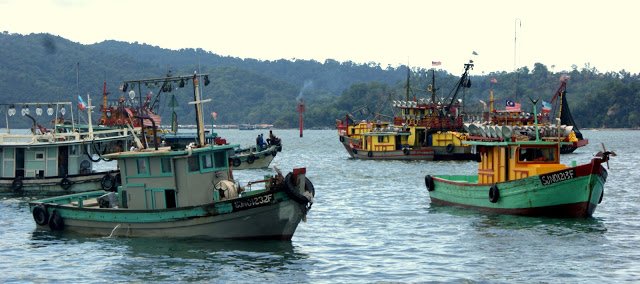 Colourful fishing boats bob on the water
After a little consideration I
set down the surprisingly decent wine list and settle on some of the house specialty
cocktails. They proved to be worth the
gamble, better than many I've had in more upmarket KL bars.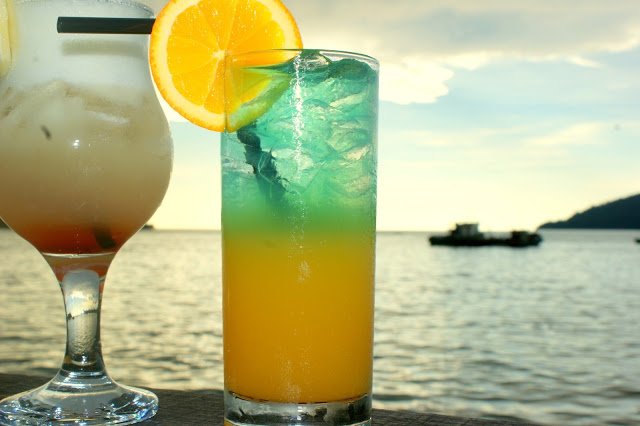 Sundowners at the Waterfront
A foamy pale peach Beach Tropical
is light and coconuty; smooth and easy drinking for those with a slightly
sweeter tooth. Unlike a lot of Malaysian cocktails it is not too syrupy for
me. A blend of pineapple, Malibu, vodka
and triple sec. With just a splash of
Sangria mix. RM17 ++
Ice Montokum, a local
liqueur, tops the Kinabulu Cooler with a blue curacao tone. It's a visually pleasing drink against the
gilding sky. The rum, passion fruit and
lime combination is a sure fire hit for me. A potent drink, which leaves a
pleasant tang on the back of the tongue. I'm happy! RM16 ++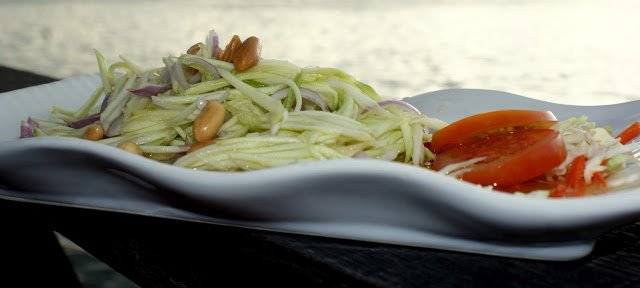 Yam Mamoung
Slender strands of fresh
green mango and crunchy peanuts are served dripping in delicious fresh lime
dressing. Yam Mamoung is sweet, sour and spicy all at once. A true Thai style
salad, both refreshing and stimulating. I love this dish, particularly the tiny
fresh chilies, but if you are not a spice fiend they are easy to pick out
too. A great pick. RM 12.90 ++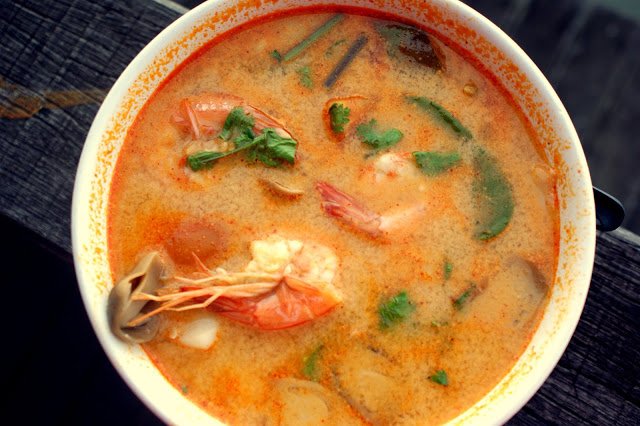 Tom Yum Seafood
The fresh produce market has
been plundered well for my bowl of Tom Yam Seafood. Generous amounts of succulent Chinese mushroom,
juicy fresh prawns and delightfully soft squid, soupy broth. I love it when Tom Yam is chock full of fresh flavours
and this one excels. I identify fresh lemon grass, coriander and Thai
basil leaves, together with ginger slices and teeny tiny pieces of bird's eye
chili, all combining for a lip tinglingly good flavour. Every mouthful is a
fresh delight and the end I cannot stop myself from lifting the bowl and downing
the last delicious gulps. Not only is
this dish a total YUM, it's a total bargain too. RM 7:90 ++
I decide to eschew my regular
Thai favourites in order to offer the reader the visual pleasure of Kaow O
Sapparod (Pineapple Fried Rice with Chicken and Vegetables). Saffron rice, steaming hot fills a scooped
out half pineapple. Crunchy vegetables,
dried fruits, and soft chicken combine with pineapple and cashews to create a
hearty dish topped with a little candy floss of dried shrimp. It's suitable for those with low spice
tolerance but equally satisfying for all. The volume of the dish defeats me – it's a
two-person share and would be wonderful with any of the Thai curries on the
menu. RM 22.90 ++
I'm not sure if my glow of
perspiration is from the sultry tropical air, the spicy soup or the potent
cocktails. But who cares? It all feels good!
Reason to visit.
Colourful atmosphere, sea views, genuine Thai food, good drinks selection.